What are the best sunset locations around the world?
If you didn't already know, we love sunsets! 🙂
We felt it was much needed to create this list of our top 10 best sunset locations.
These are all places we still want to get our sunset picture from.
All images are from varied sources and will update this article as we arrive at each new location.
We got some great sunset pictures in Australia and the Philippines.
There's always something magical and beautiful about the setting sun.
Perhaps this is one of the reasons why sunsets are often depicted in some of the most beautiful paintings or made as background to some of the most iconic films ever created.
If you are fond of watching the setting sun, here are the ten best sunset locations in the world you must visit in your lifetime. They are in no particular order.
10 Must-See Places for Sunset Lovers
10. Taj Mahal, India – Best Sunset Locations
The Taj Mahal is an architectural masterpiece that is quite beautiful in itself. But when viewed against the setting sun, its beauty multiplies tenfold.
Dulcet tones of yellow, orange and pink enhance the warm glow emanated by the Taj Mahal, serving as an ethereal backdrop against the structure's white marble and delicate carvings.
Taj Mahal is located on the south bank of the Yamuna River in Agra, India.
It was built by the Mughal emperor Shah Jahan in 1632 to house the tomb of his favourite wife, Mumtaz Mahal.
Designated as a UNESCO World Heritage Site in 1983, Taj Mahal is a famous tourist destination, attracting 7 to 8 million visitors annually.
9. Santorini, Greece – Best Sunset Locations
Santorini is a Greek island well-known for its gorgeous sunsets that will make you tear up just by simply looking at them.
If you want to get the best view of these sunsets, you should head for the town of Oia.
For the very best viewing experience, consider getting up high on the cliffs or going out to sea on a boat.
A volcanic island in the southern Aegean Sea, Santorini is about 200 kilometres from mainland Greece.
Apart from its magnificent sunsets, the island is also famous for its distinct architecture, clear blue waters, and the black sand beaches of Perissa.
8. Empire State Building, USA – Best Sunset Locations
Contrary to popular belief, you don't have to go to remote places just to enjoy beautiful sunsets because even one of the busiest cities in the world has them.
The Empire State Building is one of the best places to view the New York City sunset.
There's an indescribable feeling you'll get as you watch the sun goes down on one of the most vibrant and exciting cities on the planet atop the building's viewing deck.
The Empire State Building is one of the most iconic buildings there is, because it has been featured in some Hollywood films.
It is located in Midtown Manhattan, on Fifth Avenue between West 33rd and 34th Streets.
7. The Maldives – Best Sunset Locations
With more than 1,000 islands, 200 of which are inhabited and 105 serving as resort islands, there is no shortage of excellent sunset viewing spots in the Maldives.
Widely known for its white sand beaches, crystal clear waters, and coral reefs, this tropical paradise is perfect not just for sunset lovers, but for every traveller who appreciates the beauty of nature.
Officially known as the Republic of Maldives, this island country is located in the Indian Ocean, just south-west of India and Sri Lanka.
It is the smallest Asian country regarding land area and population and is one of the world's most geographically dispersed countries.




6. Bora Bora, Tahiti – Best Sunset Locations
When you hear the words "Bora Bora," the images of white sand beaches, mountaintops lining the background, and crystal clear lagoon immediately come to mind. Of course, there are also the magnificent sunsets unlike any other.
Sunsets don't get any more picturesque in this South Pacific island. The last bits of daylight filtering through palm trees, before pulling back and painting the sky with vibrant warm hues are indeed a sight to behold.
A major international tourist destination, Bora Bora is an island in the Leeward group in the western part of the Society Island of French Polynesia in the Pacific Island.
It is located about 230 kilometres north-west of Papeete and is widely famous for its aqua-centric luxury resorts.
5. Stonehenge, England – Best Sunset Locations
Nobody knows exactly what the Stonehenge in England was used for or why ancient people built them.
However, nobody can deny that this place has some of the best sunsets in the world.
On clear days, the sunset is always a spectacular sight, but if you want to see something special, wait until solstices and equinoxes, when modern-day druids, pagans, and visitors flock to the site to marvel at what the ancient people saw thousands of years ago.
The Stonehenge is a prehistoric monument found in Wilshire, England, which is about three kilometres west of Amesbury and 13km north of Salisbury.
Archaeologists believe that it was built from 3,000 BC to 2,000 BC.
4. Angkor Wat, Cambodia – Best Sunset Locations
From the UK, we go to Cambodia to see another ancient site that is considered one of the most beautiful in the world. Angkor Wat is a historic temple complex that is enchanting all day long.
At sunset, however, it becomes even more magical.
There are more than 30 vantage points around the complex to see the sunset and from nearly every available point, you can see the sky turn from yellows and oranges to soft purples, serving as a great contrast to the temple's ridged tops.
Angkor Wat is a UNESCO World Heritage site and is a very popular travel spot.
People from across the globe travel to Siem Reap just to see the temple's ancient architecture and religious markings that were made in the 12th century.
3. Tanzania – Best Sunset Locations
If you're a fan of the Disney movie "The Lion King," you'll love the sunsets at Tanzania, the home of the Serengeti and Mt Kilimanjaro.
The sunsets here are an achingly beautiful sight as they cast a warm glow over the vast spread of acacia trees and herds of animals.
The view from Barafu Camp on Mt Kilimanjaro is otherworldly.
It is as if you're in heaven when the sun sets into a sea of clouds.
Officially known of the United Republic of Tanzania, Tanzania is located within the African Great Lakes region in Eastern Africa. As of 2014, it is home to more than 51 million people.




2. El Valle de la Luna, Chile – Best Sunset Locations
El Valle de la Luna, or Moon Valley, in Chile, is one of the best places to view sunsets in South America.
A popular site for visitors who want to see the sun set and the stars glow, this place gives off an ethereal glow once the sunset casts its waning light onto the valley's endless rocky outcroppings and sand dunes.
If you want to get another view, you can drive up to the El Tatio geysers and watch the sun disappear amongst the sun dunes.
El Valley de la Luna is located some 13 kilometres west of the Chilean town of San Pedro de Atacama.
It is widely famous for its various stone and sand formations that were carved by wind and water for hundreds of years.
1. Uluru, Australia – Best Sunset Locations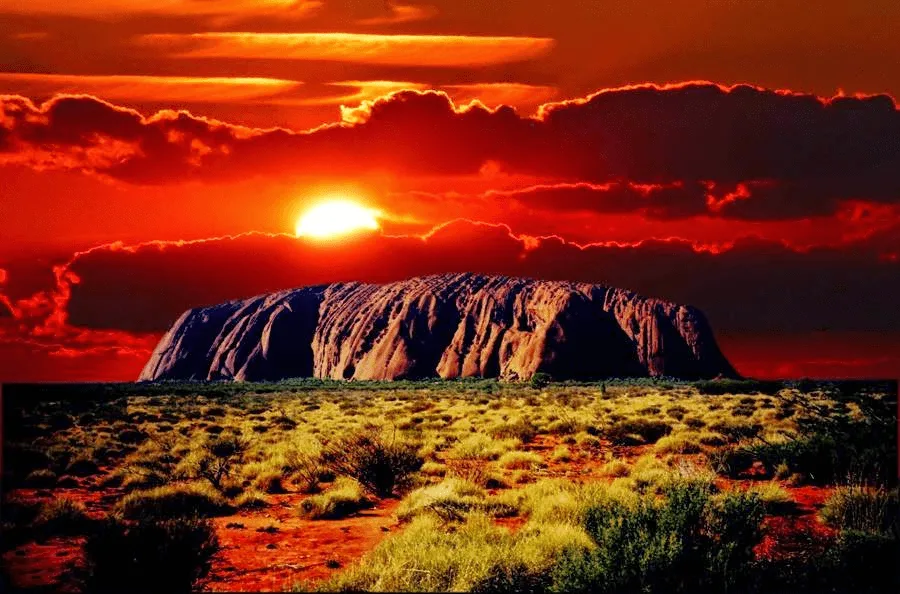 This massive monolith is known to change colour depending on the position of the sun.
The sunset here is particularly special because it is when Uluru literally glows and pulses as the light changes. Because of this, Uluru has often been considered the heart of Australia.
Also known as Ayers Rock, Uluru is found in the southern part of Australia's Northern Territory. The nearest large town, which is Alice Town, is about 335 kilometres away. Thousands of people visit this UNESCO World Heritage site every year.
Pack Your Bags and See These Spectacular Sunsets
So what are you waiting for? If you want to see the world's greatest sunsets, be sure to pack your bags and book a plane ticket to one of these gorgeous destinations.
What is your favourite sunset location from this article?