We have been living here since November, and an article on things to do in Cascais has been on our to-do list for far too long.
Cascais(pronounced Cash-caysh) has to be one of our favourite places in the world!!
We visited for the first time back in 2015 and on a day trip from Lisbon and loved the place so much we said if we ever get the chance, we would move here for a year.
Luckily starting a travel blog has given us the ability to do just that and want to share the best things you can do in Cascais.
You can fit a lot of these in a day trip but to get the full experience of Cascais we recommend staying for a few days in one of the many Airbnb's in downtown or Estoril.
If you are posting any pictures use #sunsettravellers on any Instagram posts, we would love to see some of your pics!
But first, how do you get to Cascais from Lisbon?
The easiest way to get to Cascais from Lisbon is by train from Cais do Sodré(just next to time out market)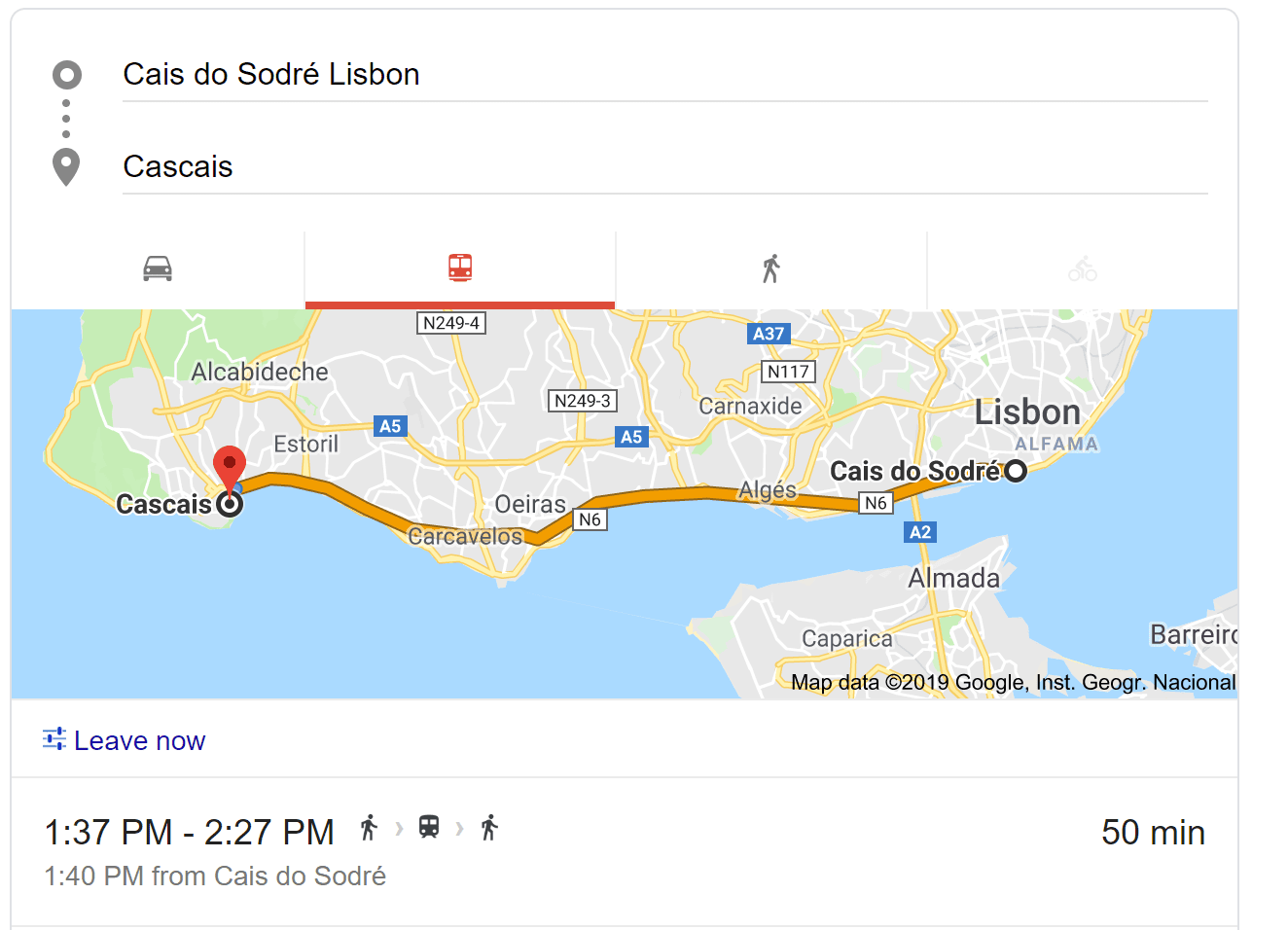 It takes around 50 minutes to an hour but is very nice and goes right along the coast.
A single ticket from Lisbon to Cascais passes through four fare zones and costs €2.25/€1.15 (adult/child).
There are no return tickets, so the price of a return is €4.50/€2.30 (adult/child), the price of two single tickets.
However, if you are planning to make a few trips on the train it is worth to a purchase of the Viva Viagem card for €0.50, you can then add a balance(credit) to it.
We recommend just putting €5 – €10 depending on how many trips you are doing.
It is a public train service; therefore, tickets cannot be pre-booked and are purchased on the day of travel.
There is no need to pre-book as there are always seats available, and there is sufficient space for luggage.
Our tip – Get off two stops earlier at Estoril and walk up along the boardwalk to the town. You will walk past many incredible beaches and restaurants, and the walk takes about 15 – 20 minutes.
Bonus tip: If there is three or four of you, it can be easier to grab an Uber(€5 off here)
Now then let's get to the all-important information on the most incredible things to do in Cascais:
1. Explore the vast selection of museums, forts and castles(and stop in Boca de Inferno)
While you might be thinking we would suggest the beach straight away the museums of Cascais are just incredible to see.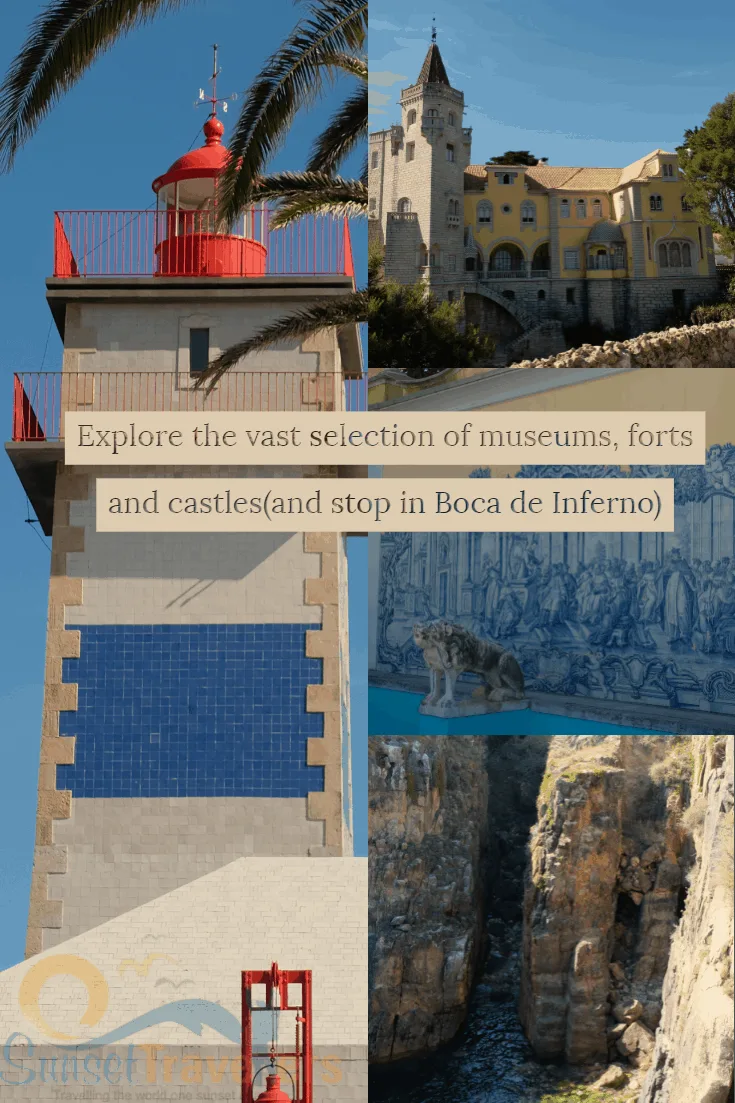 We had no idea just how many incredible museums there was to see when we first got here.
But luckily we ventured out one day to Museu Condes de Castro Guimarães and were blown away!
It is located inside the Marechal Carmona Park; the Condes de Castro Guimarães Museum is the oldest museum space in the county of Portugal! (wow).
It was established in 1931, and we highly recommend you visit.
If you are lucky enough to be in Cascais on the first Sunday of any month all museums in the Cascais region are entirely free! If you were to visit them all, it would cost you €20+ per person.
But rather than just going straight there, we recommend the following walk to get there.
For some reason, Google maps will not let us put the walking route in so we just drew a lovely purple line of our recommended walk.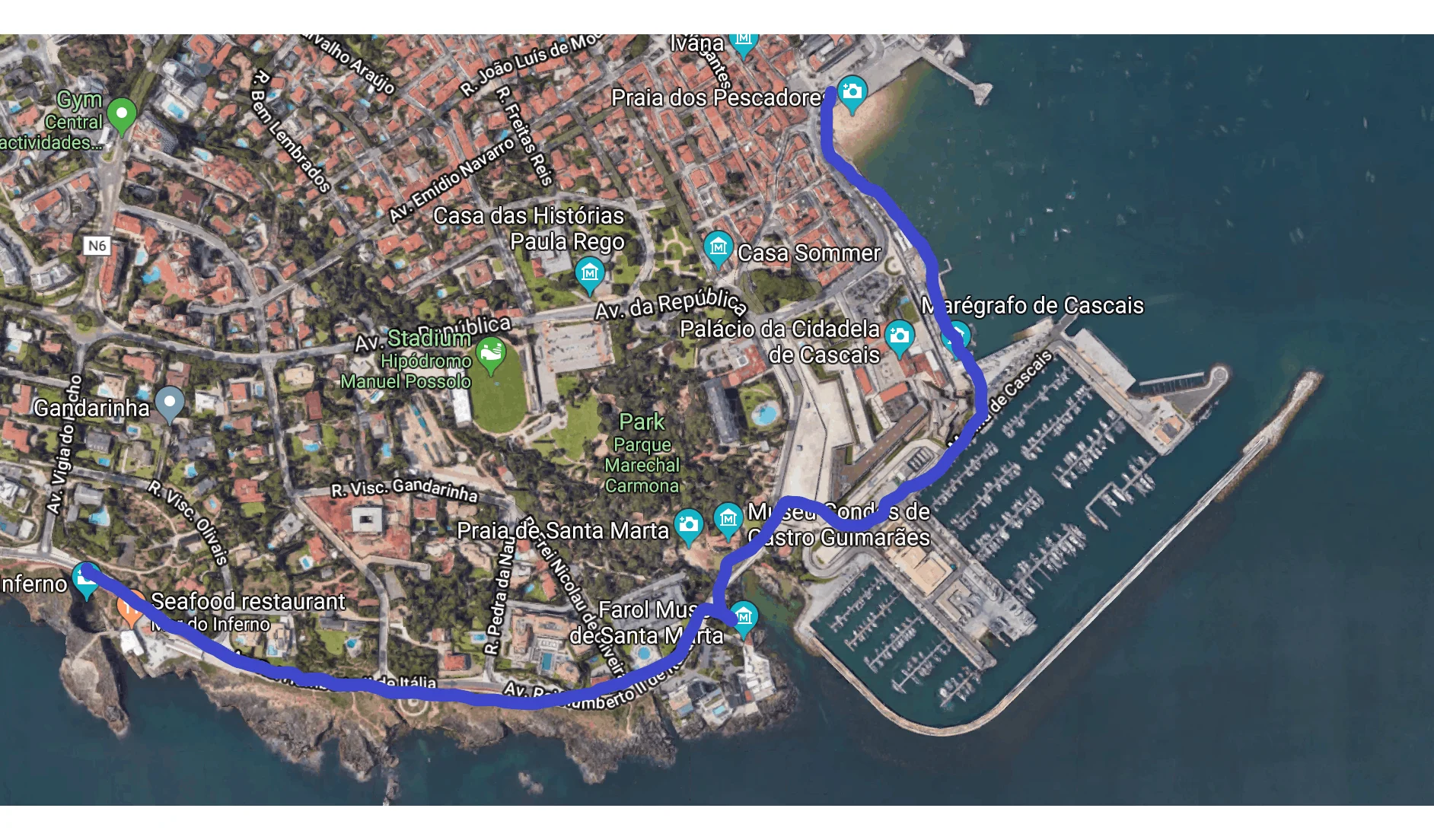 Start in the main square of Cascais(this is the square with O'Neil Irish pub, Paul's cafe and hotel Baia)

Then walk to the right of the main beach up the hill with the palm trees.
Keep going and walk past the statue of King Carlos(the captain with the moustache).
Walk all the way to the white staircase down to the Marina and take a right.
Walk through the marina and follow all the way. Entry is €4.
Then stroll across the incredible old bridge stop in the Santa Maria museum and do a tour of the lighthouse next door. Entry is €5, but this includes admission to both of them.
Then continue up the cycle/walk track to Boca Do Inferno(Meaning Mouth of Hell). It is an exciting cliff formation that is great to see. If there is a particularly big swell, the waves can make for an impressive sight along the cliff face.
If you are hungry, continue walking about 15 minutes further past Boca Do Inferno to Casa Da Guia which has a flurry of excellent restaurants.
Our personal favourite has to be Paladar Da Guia and LovIt(great sushi and burgers!).
Grab a seat outside if you are lucky and enjoy an ice cold super bock.
Other museums in Cascais that are worth to check out:
Casa Das Historias – Paula Rego – this gem of a

museum

, devoted to the work of

Paula Rego, Portugal's most celebrated living artist (but based in the UK). Plus it gets extra points for exciting architecture.

Museo do Mar (Museum of the Sea) – Not much to say about this one. If you enjoy anything related to the sea and fishing you will enjoy it.
Antigo Convento de Nossa Senhora da Piedade
If you have time, make sure to add any of the above museums to your things to do in Cascais.
You can see a full list of museum prices and group discounts on the official website here.
2. Have a day out at one of the MANY beaches
So many beaches!!! If you took our advice above and walked from Estoril train stop to Cascais, you will likely have seen some of our favourite beaches. It is impossible to say which is the "best beach" to go to.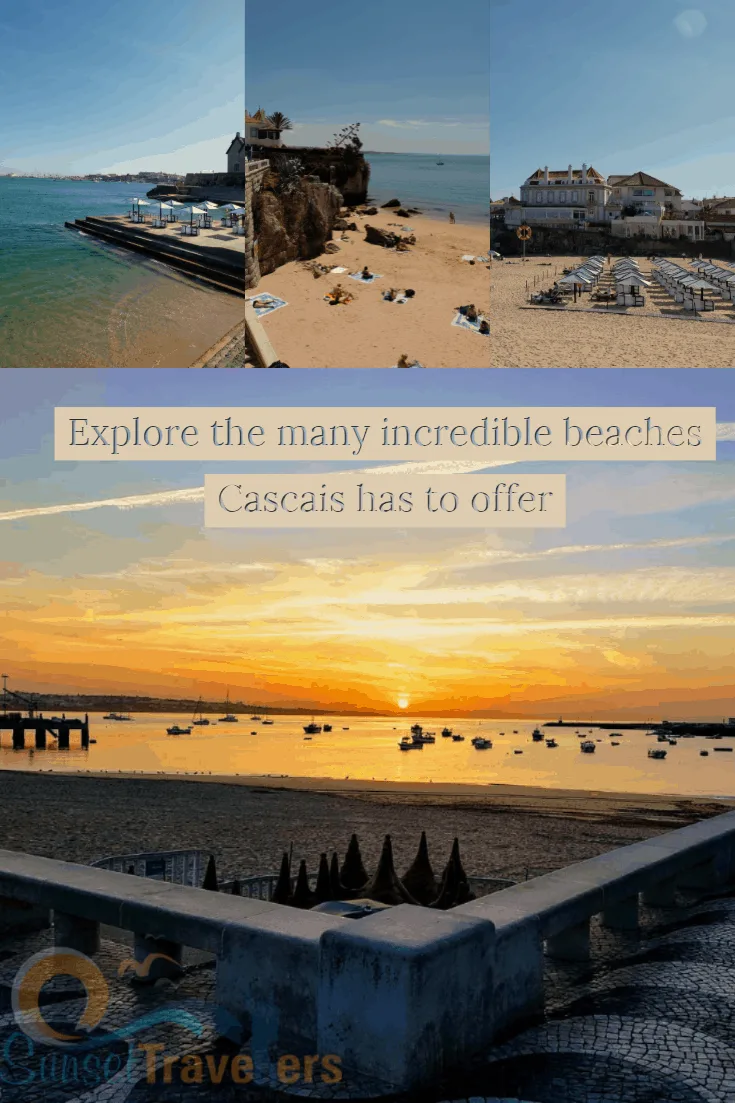 Instead, we recommend just picking the one you like and enjoy a lovely day on the beach.
If you feel like a drink, open bottles are allowed on public beaches, which is great, don't forget your cooler box as it gets hot in the summer!
If you do get take away beers from any of the many bars, make sure to shop around as some can charge as little as €2 to over €5+ per pint!
The beaches are not lifeguarded from October to May, but from May onwards you will see a lifeguard at pretty much all of the beaches.
Praia da Conceição is also our favourite beach to go to for a beach day.
There is a lovely promenade from Praia da Conceição to Praia da Azarujinha.
It makes for a lovely 1-hour walk to the end and back. You will find endless bars and restaurants along the way and not to mention over a dozen beaches.
You will not be disappointed as this is one of our favourite things to do in Cascais!
And if for some reason you get bored of the many beaches in and around Cascais, hop on a train from the central train station to Carcavelos(about 10 mins by train).
Carcavelos Beach is the largest stretch of sand on the Estoril coast.
It also has excellent surf. A very consistent beach break, however in the summer months it is typically flat but great for learning on smaller days.
3. Rent a bicycle and cycle to Guincho beach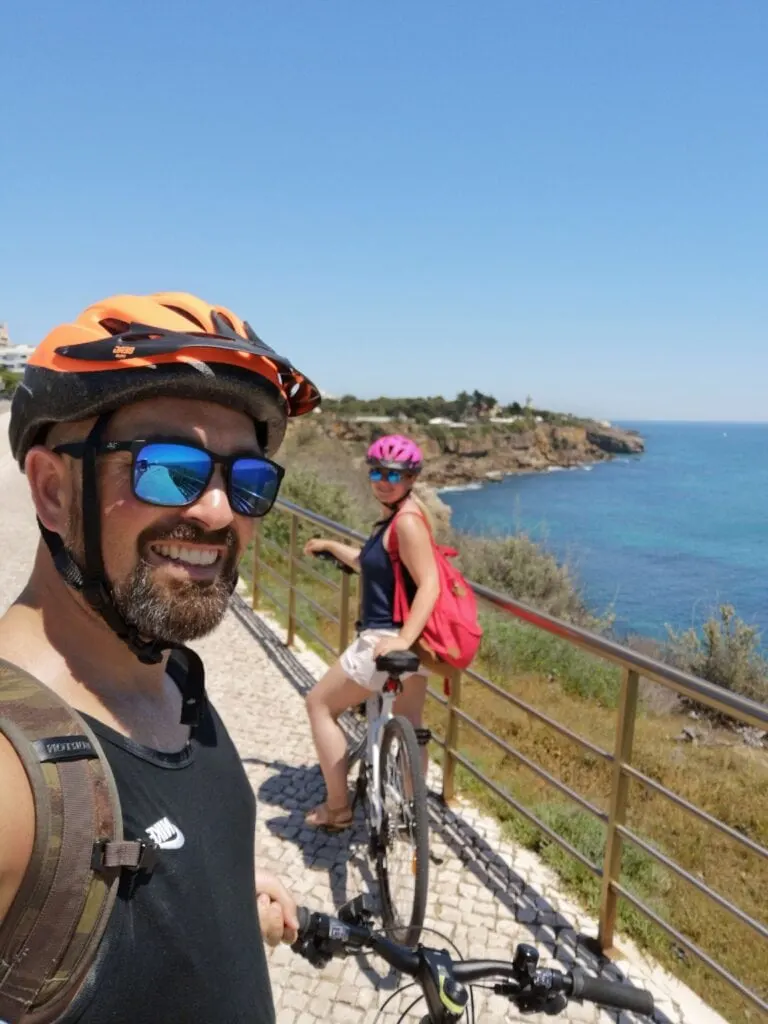 Guincho beach is a bit away from the main square in Cascais, but the cycle there is just incredible.
While there are hundreds of places to rent bicycles in Cascais we normally get them from the Marina de Cascais as it makes for a great start/finish point.
The shop SLAM has a great selection of mountain bikes and electric bikes.
The overall journey is relatively flat with a few hills, you don't have to be super fit for this cycle, but it is not by any means easy.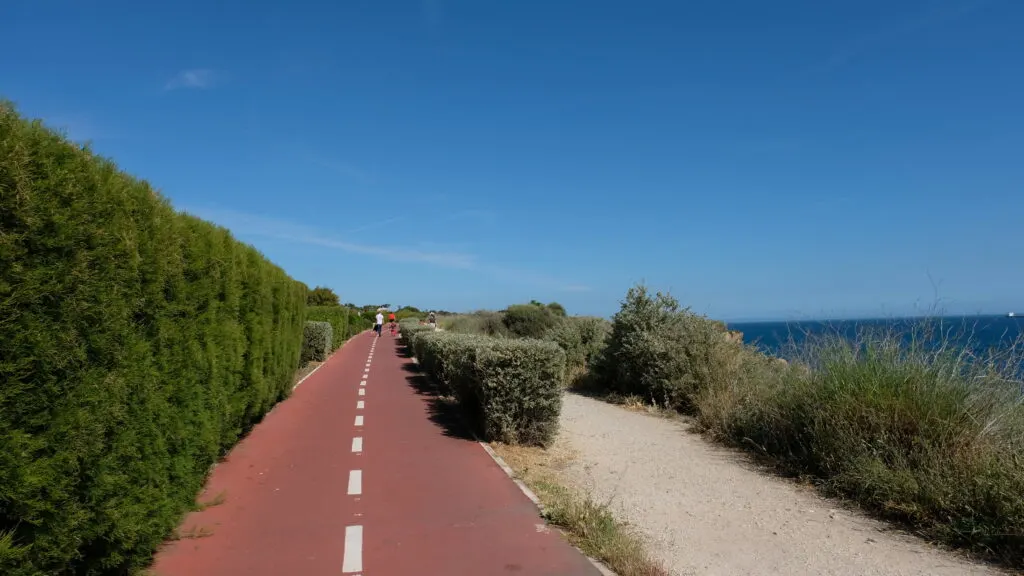 That said even if you start and don't make it all the way to Guincho beach, it is still worth the trip.
Literally the entire way there is a lovely cycle track and endless views of the ocean. It is much easier cycling back as there is a slight decline on the way back.
Unfortunately, Google maps make it hard to show you the distance as it appears the track does not exist haha.
So here is a trip we did back in February.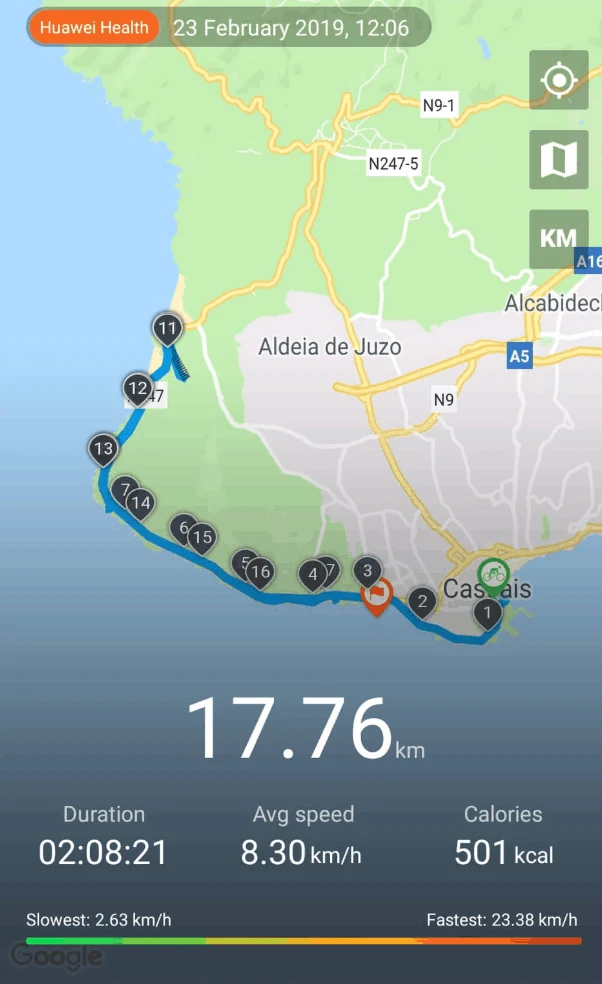 We took it easy on this day and definitely burned more than 501 calories! Haha.
There is (again) an endless selection of seafood restaurants along the way.
Just keep in mind some of the seafood restaurants are for the high rollers(meaning super expensive).
If you are short on time or doing it as a half-day trip, we normally cycle there have a beer somewhere and stop in Casa Da Guia on the way back.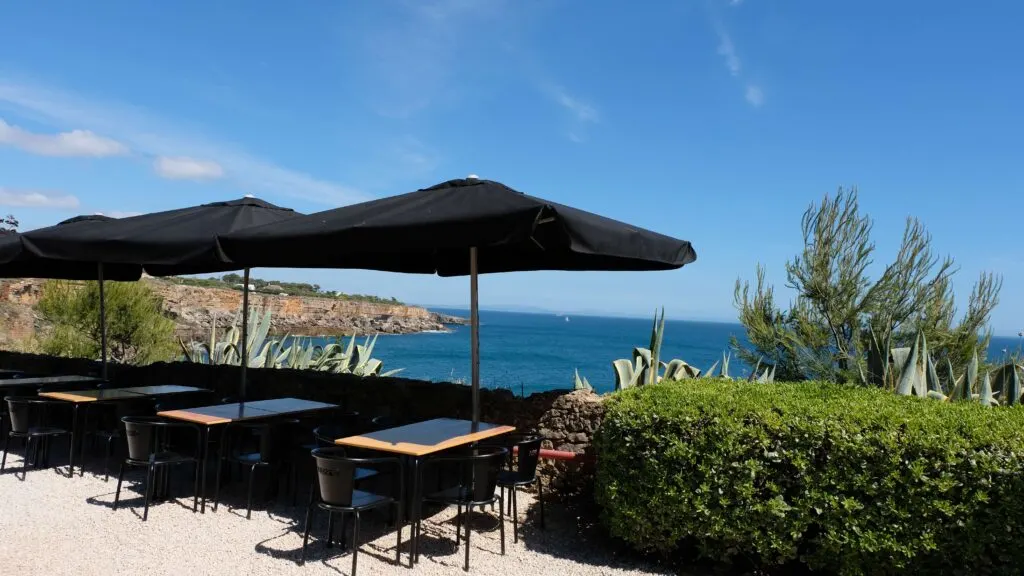 Just keep in mind you will be starving by the time you get there!
Make sure to do this cycle if you are able it is a great thing to do in Cascais.
Lastly, if you are not the best cycler or feel like taking it easy, just rent an electric bike.
They are a bit more expensive but will take the stress off so you can enjoy the journey.
It is a holiday after all 🙂
Make sure one of you has a photo ID as they require this plus usually a small deposit for the bikes, but their service has always been excellent!
If you are a surfer – Guincho beach has some consistent surf but can be blown out with strong winds, so be sure to check the forecast before you make the trip. More suited for intermediate/experienced surfers.
Free bicycles to rent in Cascais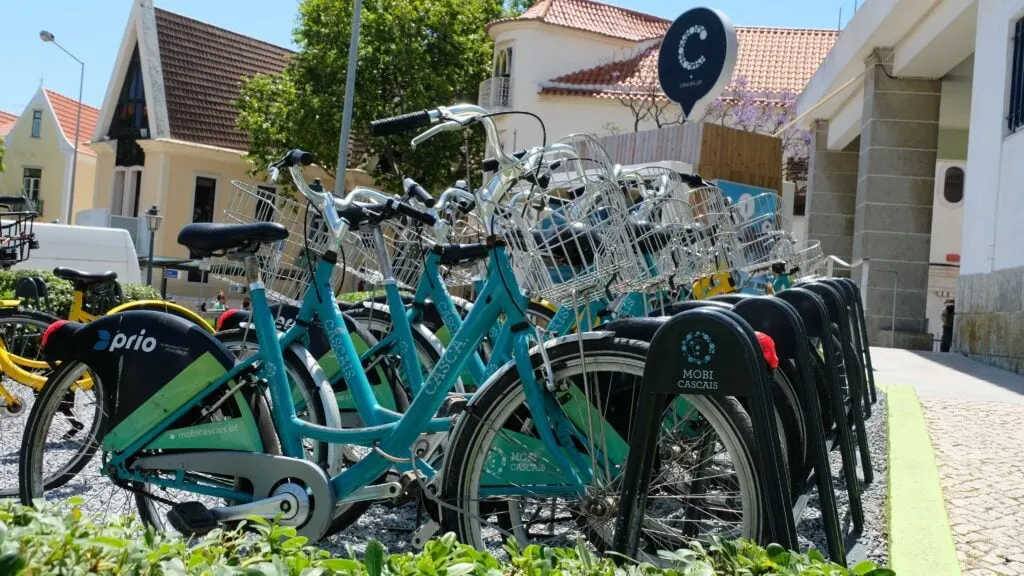 Yes, you read that headline right! If you arrive in Cascais early, you can snag one of the free bicycles from the tourist information box right next to the train station(on the opposite side of the roundabout when you come outside)
These bikes can be rented for the whole day and need to be returned before the office closes.
Keep in mind the free bikes are very basic and have no gears or safety equipment provided.
You can't reserve them either you just have to get one before they are all gone.
Personally, you are better off renting from one of the many companies; the free bikes are fine for just cycling around but for a long cycle to Guincho beach you are better off to pay the money.
4. Walk around the new dune walkway at Guincho beach
If you are not too tired after cycling or if you drove to Guincho beach it is worth to have a stroll around the new Dune walkway.
It was built in such a way that it doesn't interfere with the natural landscape. There are lovely views of the Sintra mountains and a lovely Cafe at the top.
It is only about a 30-minute walk and not too difficult.
5. Eat some of the best seafood in the world!
Whenever family or friends come to visit they are blown away by just how incredible the food is in Cascais(and Portugal for that matter).
We usually have to take a small break from seafood after a visit, haha. As it is a fishing village, Cascais has delicious fresh seafood year round.
Just don't order Sardines before the season in June as they are all stored from frozen until then.
Now then recommending a seafood restaurant is a challenge as there is SO many! But also there are so many amazing choices!
Here are some restaurants in Cascais we can personally recommend:
Hífen(we really like this one!) , Baía do Peixe, Polvo Vadio, Taberna Clandestina Cascais, Dom Diniz, Moules & Gin(Mussels and Gin YUM!), The Tasting Room($$$), McDonald's(Haha just jokes), Capricciosa – Cascais and many at the Cascais Marina.
All the above links open in Google maps for your convenience.
We will have a guide coming out soon on our top 10 restaurants in Cascais so stay tuned.
Many of the above restaurants are tapas style, so we recommend just ordering a bunch of dishes and sharing with family and friends.
We are now starving writing this article haha. Depending on the time of year you arrive in Cascais it is normally better to book a table then not to. Either give them a call or pop in to reserve a table.
6. Get active – SUPs, Surfing, Windsurfing, Yoga on the beach(SUP Yoga), Outdoor gyms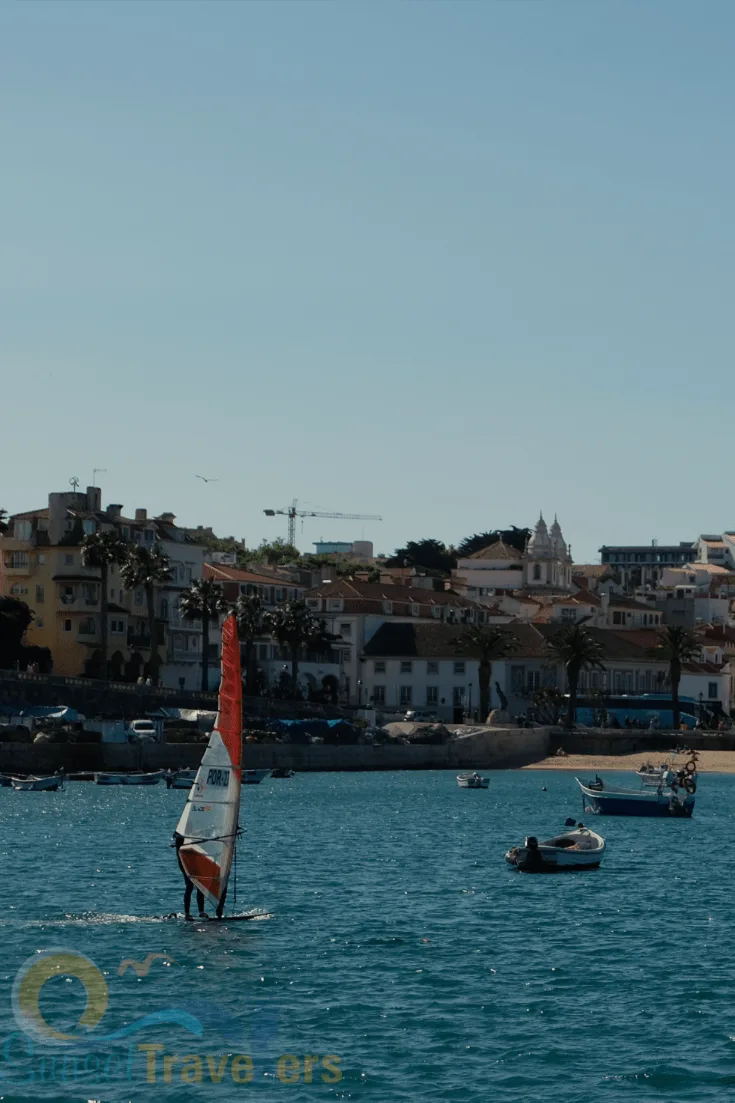 If you are craving a good outdoor workout or a morning run, there are plenty of options available to you.
During the summer months(May to October), you can rent stand up paddle boards from Praia da Conceição. They also do SUP Yoga (which we have yet to try) and SUP tours.
If you are a runner we do a short 6km run along the promenade or you can run along the cycle track all the way to Guincho beach and back if you wish(around 20km's!).
Both are excellent choices just keep in mind depending on the time you go the promenade run can be full of people!
Outdoor Gyms in Cascais
There are two smaller outdoor gyms along the promenade – you will find pull up bars and other equipment.
The one we recommend going to is passed Boca de Inferno on the cycle track. It features many different types of pull up bars, kettlebells, dip bars and more.
It doesn't show up on Google maps, but it is around this location.
All with a lovely view of the Atlantic ocean on the edge of a cliff. One of our favourite places to work out! Just get there early as it can get busy!
Yoga in Cascais
There are quite a few Yoga studios in Cascais. Some offer classes in English, such as Yoga Cascais.
There is also some Yoga on the beach occasionally in Estoril and Carcavelos. For these, we suggest googling each area for updated times and schedules.
7. Walk the sensational cobblestone streets of the old town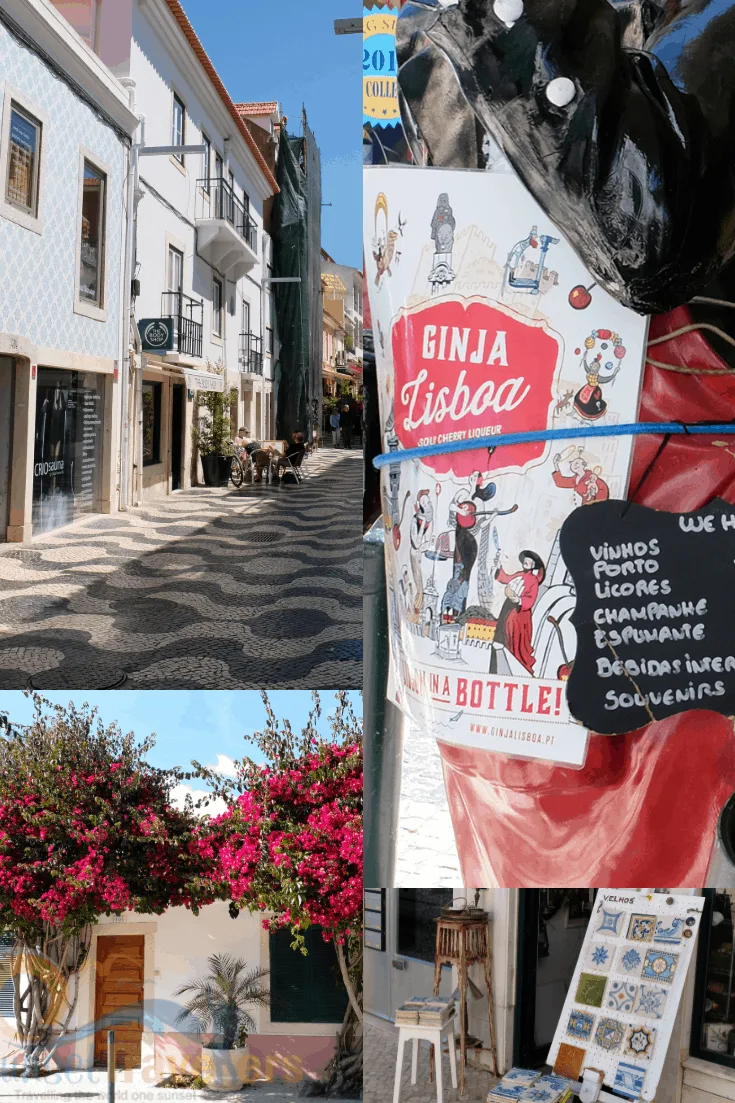 As long as you are not wearing high heels, the streets of the old town are so much fun to explore. From tiny winding corner streets to tiled houses.
Even though we have walked these streets probably hundreds of times at this stage, we still spot new things nearly every time.
There is the main "shopping" street which is filled with small boutique shops and every type of restaurant from Indian to Italian.
It is well worth to explore the side streets and find a quirky bar or restaurant; you will be glad you did!
8. Do a bit of shopping at Cascais shopping
If you feel like doing some shopping about 10 minutes away by car is a massive shopping centre called Cascais shopping. We usually take an Uber there(costs around €5 each way).
They have a lovely cinema there(all movies are in English!) and every shop you will need. If it's raining or you have an extra day, it can be worth a visit.
9. Pop into the fresh food markets on Wednesday or Saturday
Every Wednesday and Saturday Mercado da Vila de Cascais(or the Cascais market) comes alive with the largest selection of fresh produce we have ever seen.
There is also a fantastic selection of freshly caught seafood and butchers.
One of our favourite things to do is go to the market, stock up on our food for the week, grab a quick coffee and pastel de nata and talk about how great Cascais is(haha).
There are also some lovely restaurants on the second floor of the market. Pop into Local a lovely modern restaurant with all authentic ingredients.
Or you can grab a lovely beer/wine and sit down outside.
Bonus tip: They have recently built this lovely walkway behind the market. If you head into the carpark and keep going, you will get to a beautiful wooden walkway that goes right through the valley for about 5 km. Here is the rough location on Google maps again; it just doesn't show up if you search for it.
Along the way, you can spot many of the farms where the fresh produce comes from. A lovely walk and relatively flat with a slight incline.
If you are looking for organic markets in Cascais – The only organic one in Cascais is the Mercado Biológico" on Saturday mornings at Parque Marchal Carmona(the peacock park). We only recently discovered it and were pleasantly surprised.
10. Pop into the Casino Estoril – Where James Bond was first thought of!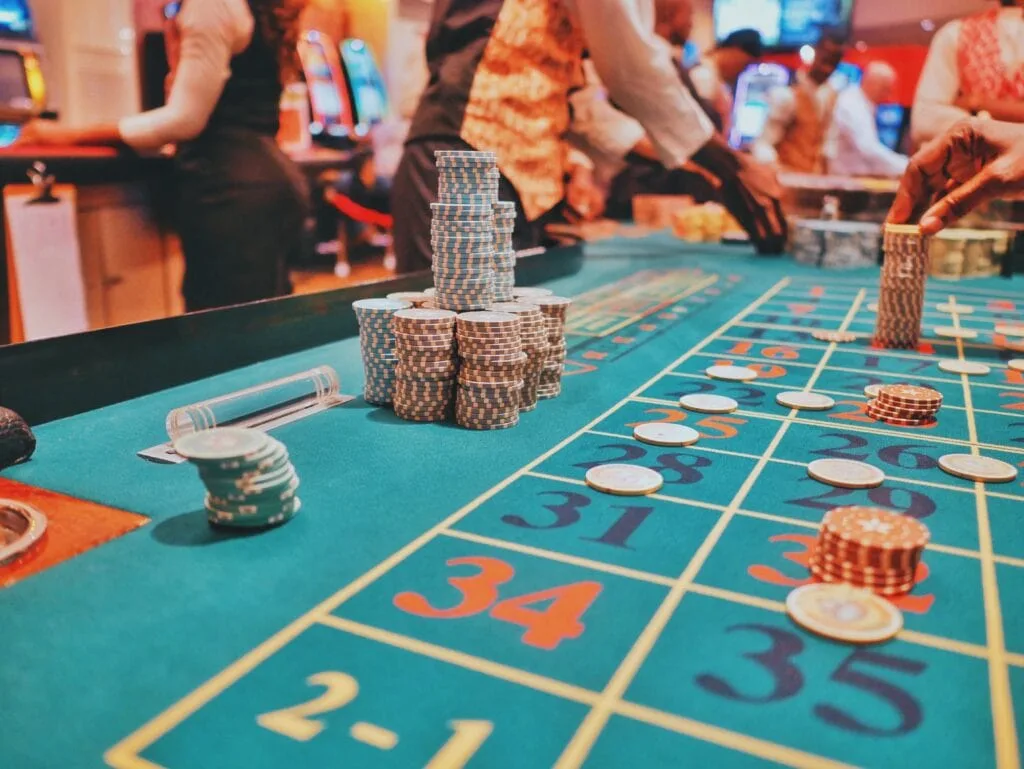 The Casino Estoril is worth a visit if you have time. It is Europe's largest casino! The whole area of Estoril is also worth a stroll around.
The English writer, Ian Fleming, also a journalist and a British Naval Intelligence Officer, is the author of the James Bond character.
He created in his first book, "Casino Royale"(1953), inspired by the spies, also Estoril Palácio Hotel guests, where Fleming was staying at the time of World War II.
The James Bond film series debuted in 1962, with "Dr No".
In the movie On Her Majesty's Secret Service(1969), James Bond (played by George Lazenby) stays at the Hotel Palácio Estoril.
With Estoril being so close to Cascais, we recommend you make a visit.
11. Have a stroll around Parque Marechal Carmona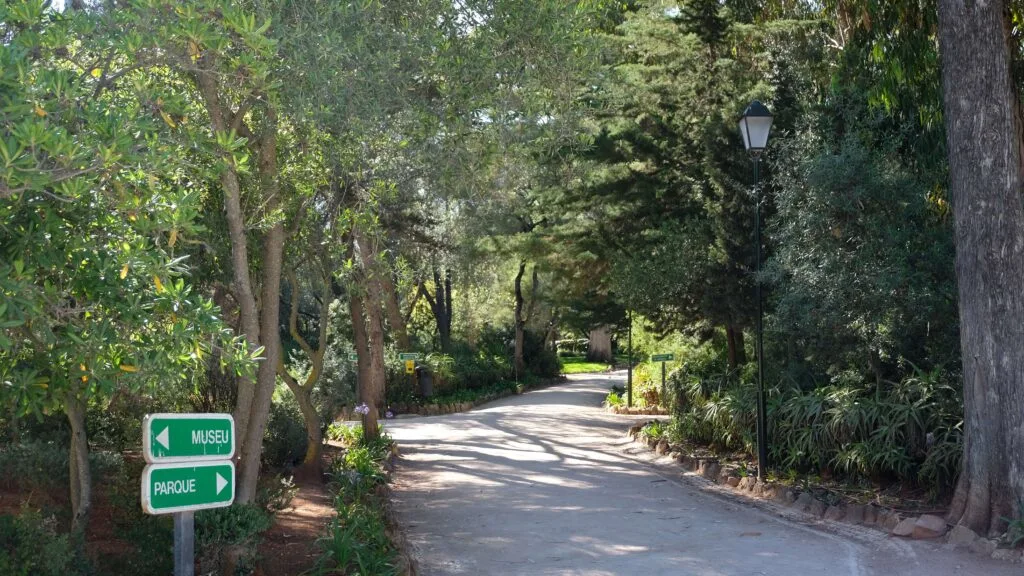 We like to call this the Peacock park as there is quite a few of them wandering around the grounds.
We somehow didn't know this park existed until we wondered by one day. It has two main entry points, one by the Museu Condes de Castro Guimarães and one on the opposite side at this location.
It is entirely free to enter, and there is plenty of lush flower beds and tranquil benches.
There is also a lovely coffee shop right in the middle and a big open space for kids to run around.
If you are looking for organic markets in Cascais – The only organic one in Cascais is the Mercado Biológico" on Saturday mornings at Parque Marchal Carmona(the peacock park).
12. Get ice cream at one of the oldest ice cream shops in Portugal
If you do a search for "Santini's Ice Cream" you will regularly see phrases such as best in the world, absolutely incredible ice-cream, Amazing the best ever and so on.
More than 60 years ago, Attilio Santini, perhaps not fully realizing the importance of his undertaking, opened the doors to what is now, without a shadow of a doubt, the most famous ice cream parlour in Portugal.
So after being told over and over by people to try this famous gelateria we did! It did not disappoint.
You can normally spot it in the summer months by its mile-long queues. The queue does move very fast so you won't be waiting for too long.
With over 70 flavours you will be spoilt for choice. The ice cream cost for two scoops and three flavours was just over €3.
Time out say
You will remember the name forever after your first lick of this ice cream.
Santini now has two locations in Cascais, one in São João do Estoril, one in Carcavelos, three in Lisbon and one in Porto. Open year round!
You can find Santini's exact location here.
13. Head to Cabo da Roca the most western point of the European continent
If you have a rental car this day trip is one of the best things do in Cascais.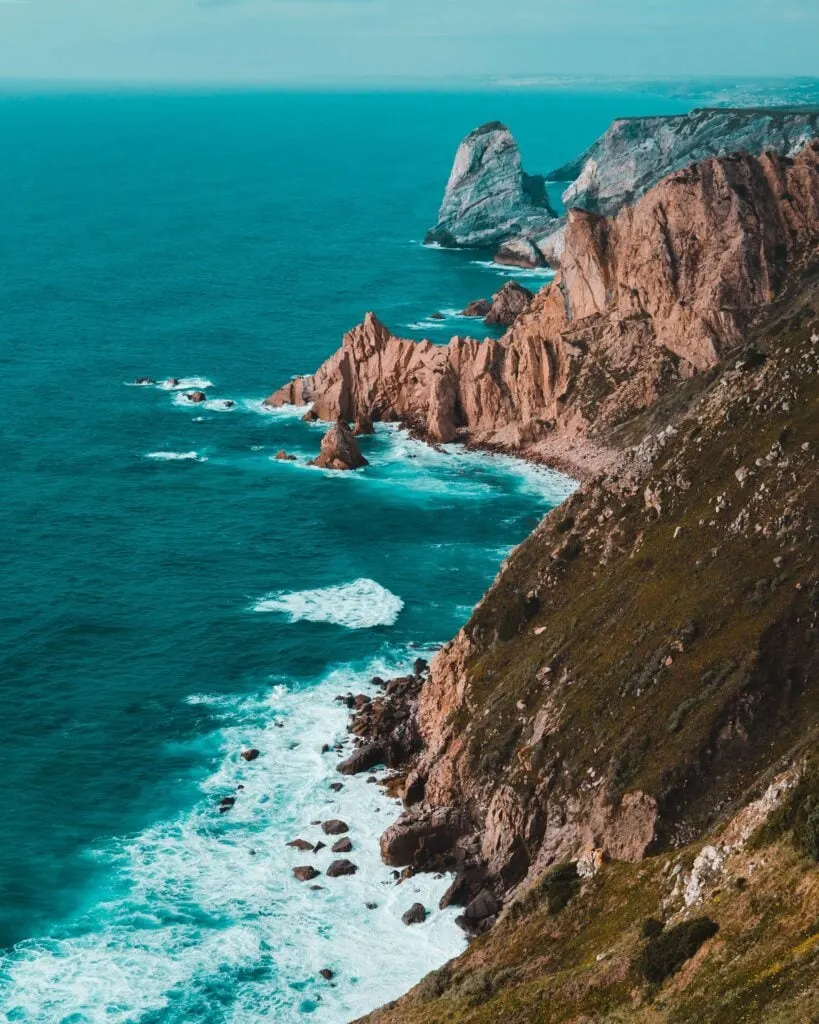 Cabo da Roca or Cape Roca is a cape which forms the westernmost extent of mainland Portugal.
A short 25-minute drive from the centre of Cascais and you will be there.
This is in the province of Sintra, so if you did want to venture to the Sintra mountains from here, it is only another 30-minute drive.
Alternatively(and our recommendation), you could head further north after the viewpoint to the lovely little town of Azenhas do Mar.
There right at the water's edge at the bottom of a cliff, you will find a simply incredible seafood restaurant named Azenhas do Mar.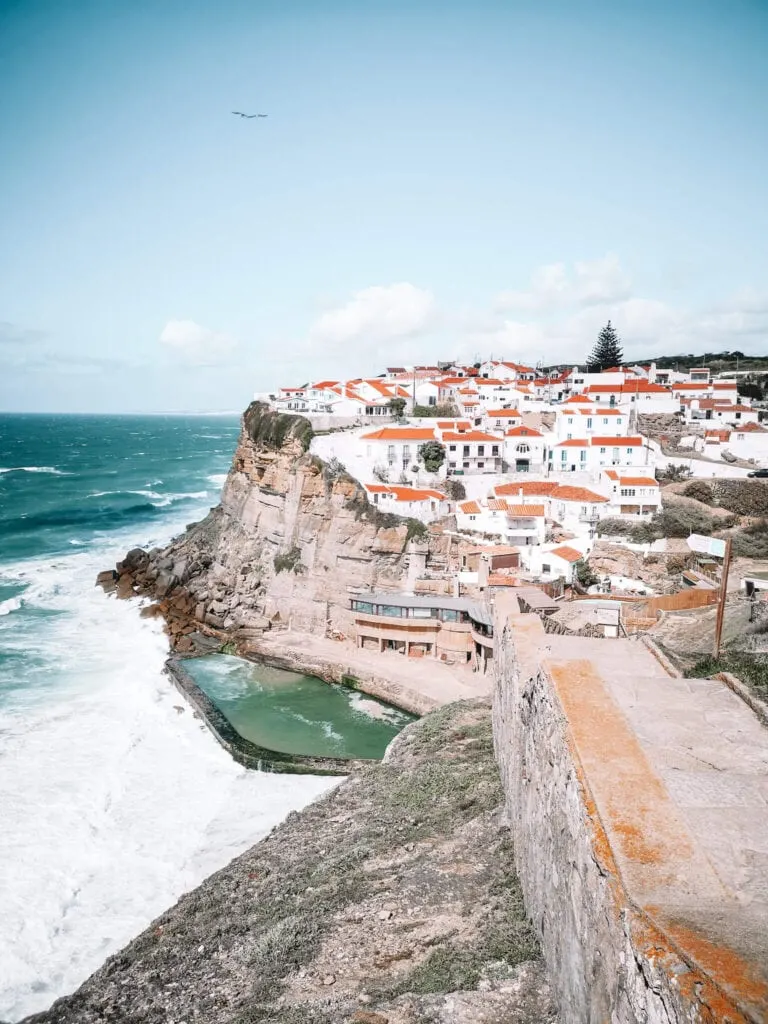 Just be sure to book a table and expect not very cheap prices. It is expensive but WOW.
We made this trip with a rental car a few months ago and opted a seafood stew which was reasonably priced. It was also the best seafood stew we ever had in our lives haha.
Just to summarise our day trip what we did is headed to Sintra. Saw a few palaces while trying to find parking(parking is super hard in Sintra!) then drove to Azenhas do Mar and finally down to Cabo da Roca for an evening viewing with endless views of the Atlantic ocean.
Just be prepared to sleep very well after this day trip 🙂
How to get to Cabo da Roca by bus from Cascais
At Cascais main bus terminal, under the shopping centre(that looks like waves on the roof) right next to the train station. You can get on bus 403 bound for Sintra, and vice versa if you're heading from Sintra instead.
Within half an hour, you'll reach Cabo da Roca, which is easy to tell as most people will be getting off here.
Typically the bus runs every 30 minutes but check in with the bus station for up to date times. Especially if you are heading to Cabo da Roca in the winter time.
14. Have a game of golf at one of Europes best golf courses
Cascais even has a few world-class golf courses at your doorstep. Yet another reason to visit!
If you are a big golfer and enjoy endless views of the Atlantic ocean while playing Golf(who doesn't!) then we recommend checking out Oitavos Dunes.
Steve has yet to play there, but a weekend trip is scheduled in the not too distant future. They have discounted rates on green fees if you are staying there.
Here is a list of their green fees.
Be sure to use #sunsettravellers on any Instagram posts(Steve will appreciate it haha)
15. Go on a deep sea fishing trip or do an incredible Airbnb experience!
In the Cascais Marina, there are a few options for fishing trips. From half day's to full day private tours.
We have yet to do this, so cannot give recommendations. We will be sure to update this article after we have.
By now we think you have a pretty good grasp on things to do in Cascais.
One of the best things we recently started doing is Airbnb experiences!
While there are not too many in Cascais, there are a few options for Sintra and Lisbon, including this jeep safari.
If we were doing Sintra again, we would not recommend driving as parking is a nightmare there.
In Lisbon, we did this amazing sunset sailing tour with Valter and had a delicious food tasting experience here.
But our highlight on Airbnb experiences was with João on this Lisbon wine tour.
We learnt SO MUCH about Portuguese wine that day. João is a fantastic host, so be sure to give this experience a go.
Now, yes the above experiences are not in Cascais, but we just wanted to share them with you.
If you are yet to use Airbnb you can get €11 off your first experience with Sabina's link here.
And of course, if you are looking for more amazing Lisbon day trips read this post.
Have an amazing time in Cascais!
We hope that you have enjoyed this guide to Cascais.
It took quite a bit of time to put everything together.
Be sure to share this with friends or family or anyone who is planning a visit to Cascais.
Have a great trip and thanks so much for reading!
Looking for more day trips you can do from Lisbon? Read our latest post on 6 incredible day trips from Lisbon.
All the best,
Steve and Sabina
P.S Do you drive to the Algarve? Why not try this alternative Portugal road trip we just did!