Our favourite mountain quotes to inspire the adventure in you.
We love travelling and exploring new places around the world. As much as we love unique beach destinations, we can't get enough of mountains.
There is something inspiring in them that makes you want to get to the top.
After hiking the Canadian Rocky Mountains, climbing Bulgarian and Polish peaks, seeing beautiful views from the top of volcanoes in Central America, we love the sense of accomplishment that comes with reaching the top.
We recently put together a post of sunset quotes & adventure quotes and decided to do the same and list our favourite mountain quotes we think of when climbing them.
It feels like we came a long way since the start of our travels back in 2013, where we were lost not knowing what we really want in life.
Starting our blog was one of the best decisions we ever made as it gave us a purpose and helped us realise what we really want for our future to look like.
Steve and I love to travel and we can't imagine our lives not being able to explore the world.
We are so grateful to be able to accomplish our dreams while helping others get inspired.
We really hope you will enjoy our mountain quotes and that they will give you the inspiration to get you out there and explore the world.
Here are our best mountain quotes!
1. "Somewhere between the bottom of the climb and the summit is the answer to the mystery why we climb." – Greg Child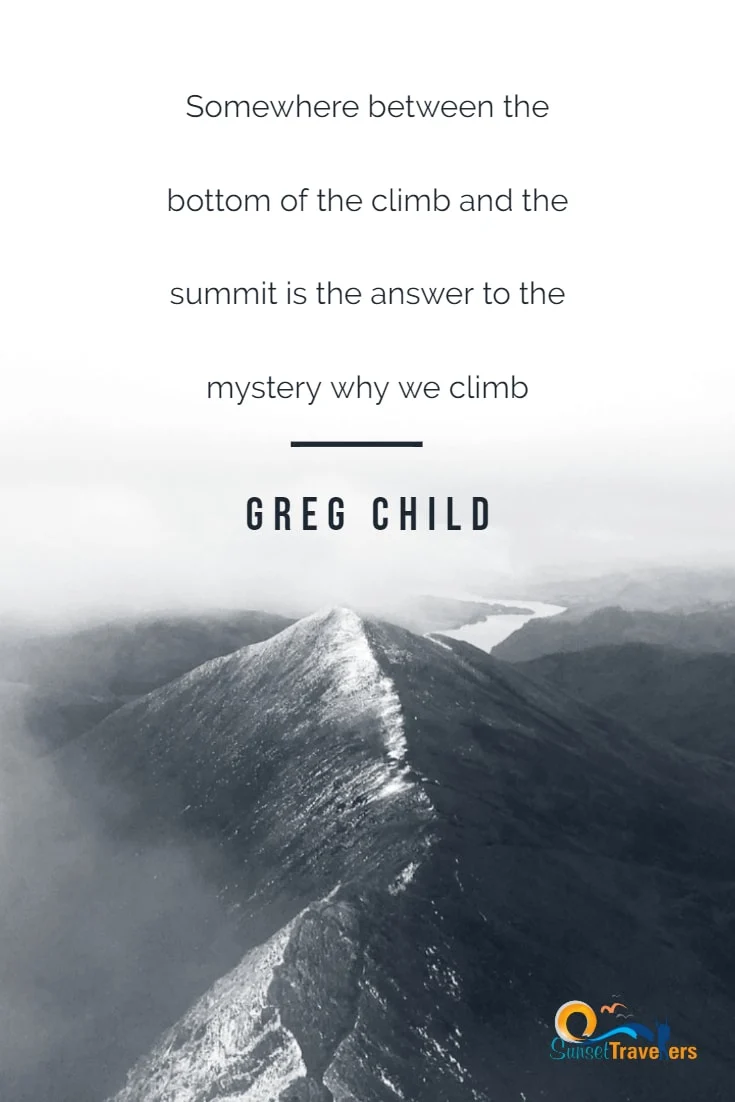 2. "Mountains are not stadiums where I satisfy my ambition to achieve, they are the cathedrals where I practice my religion." –Anatoli Boukreev
3. "You have to conquer every obstacle before you can reach the top of the mountain." – Lailah Gifty Akita
5. "Only those who will risk going too far can possibly find out how far they can go." – T.S. Eliot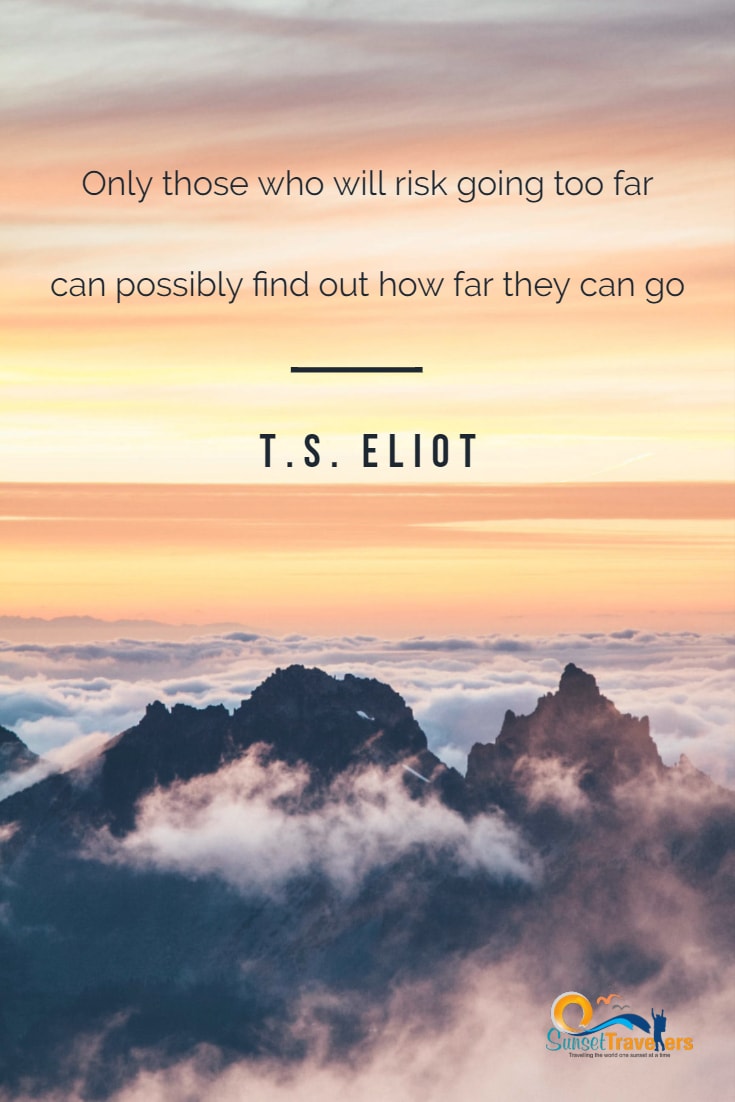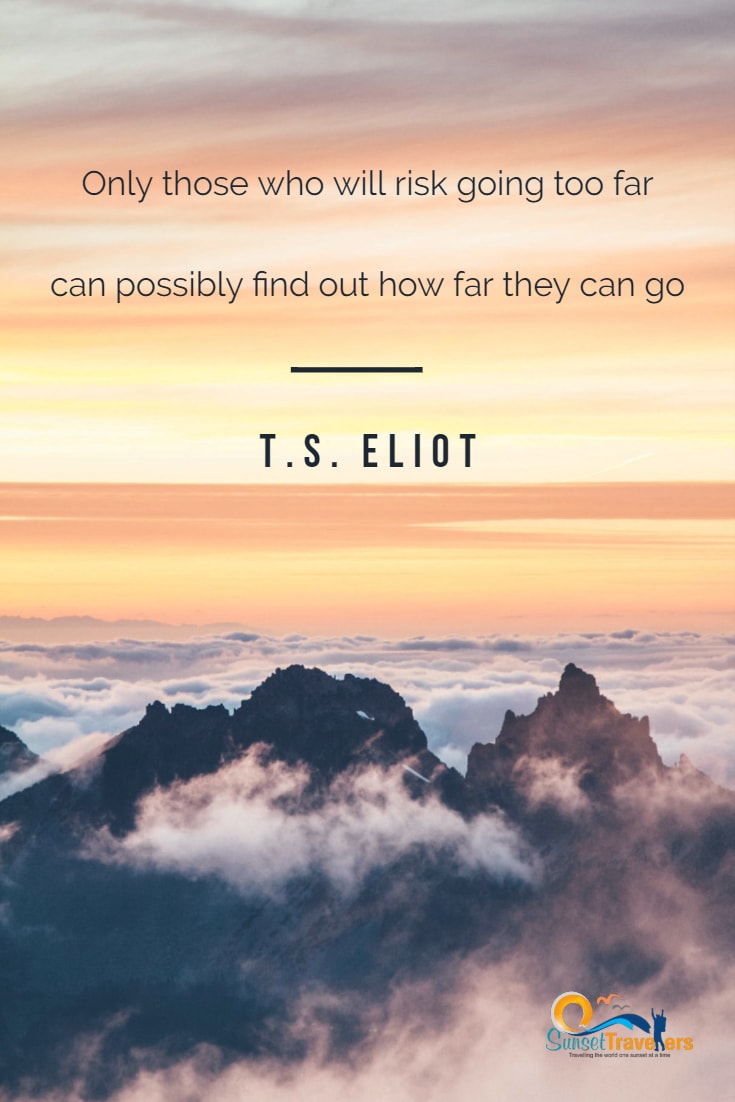 6. "He who climbs upon the highest mountains laughs at all tragedies, real or imaginary." – Friedrich Nietzsche
7. "It isn't the mountains ahead to climb that wear you out; it's the pebble in your shoe." – Muhammad Ali
8. "Over every mountain, there is a path, although it may not be seen from the valley." – Theodore Roethke
9. "Climb the mountains and get their good tidings." – John Muir
10. "Every mountain top is within reach if you just keep climbing." – Barry Finlay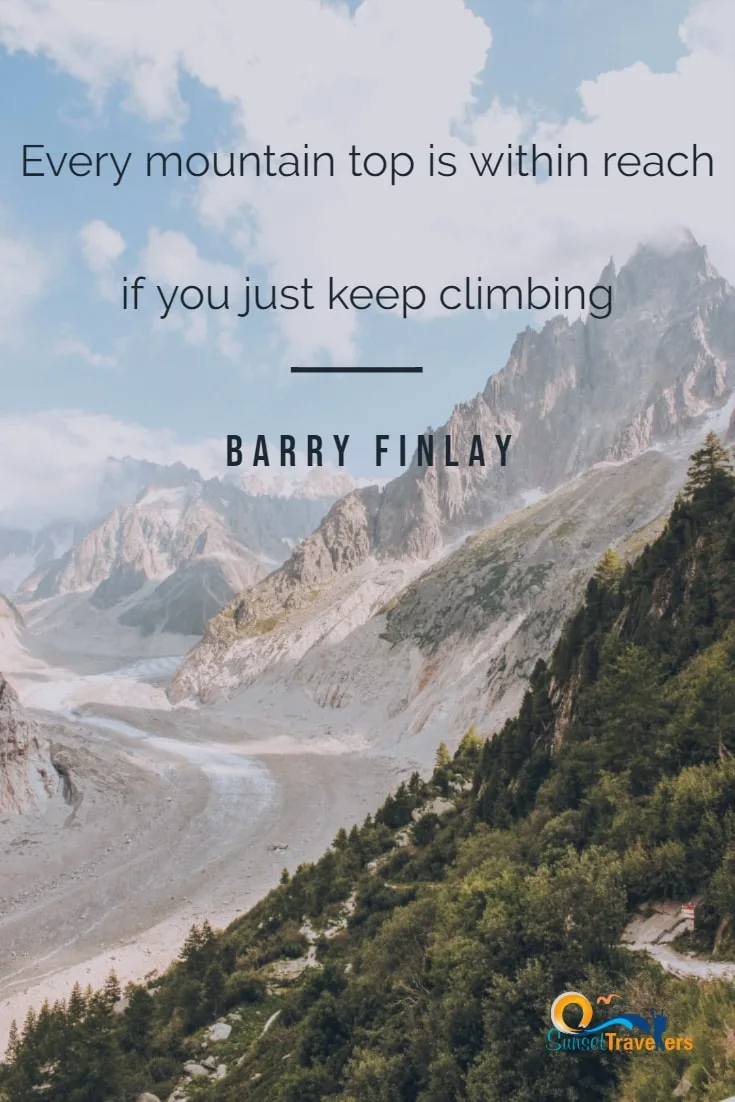 We absolutely love this mountain quote!
You can relate to these words in every aspect of your life. We recently did our first half marathon in Lisbon and although it was a scary journey leading up to the day, we both run well under our usual times.
Mountain quotes can really translate to many aspects in life and even the highest peaks can be reached as long as we don't give up and keep trying.
11. "The top of one mountain is always the bottom of another." – Marianne Williamson
12. "Climb the mountain not to plant your flag, but to embrace the challenge, enjoy the air and behold the view. Climb it so you can see the world, not so the world can see you." – David McCullough Jr.
13. "Human life is far more important than just getting to the top of a mountain." – Edmund Hillary
14. "When the sun is shining I can do anything; no mountain is too high, no trouble too difficult to overcome." – Wilma Rudolph
15. "Adventure isn't hanging on a rope off the side of a mountain. Adventure is an attitude that we must apply to the day to day obstacles of life." – John Amatt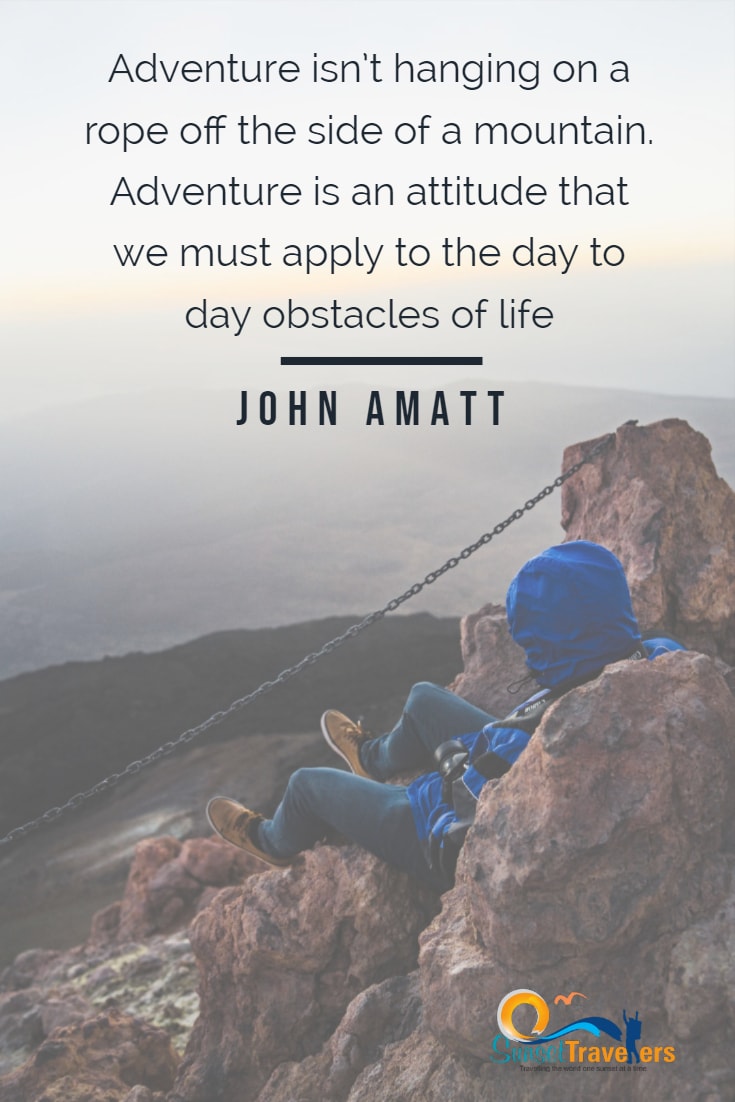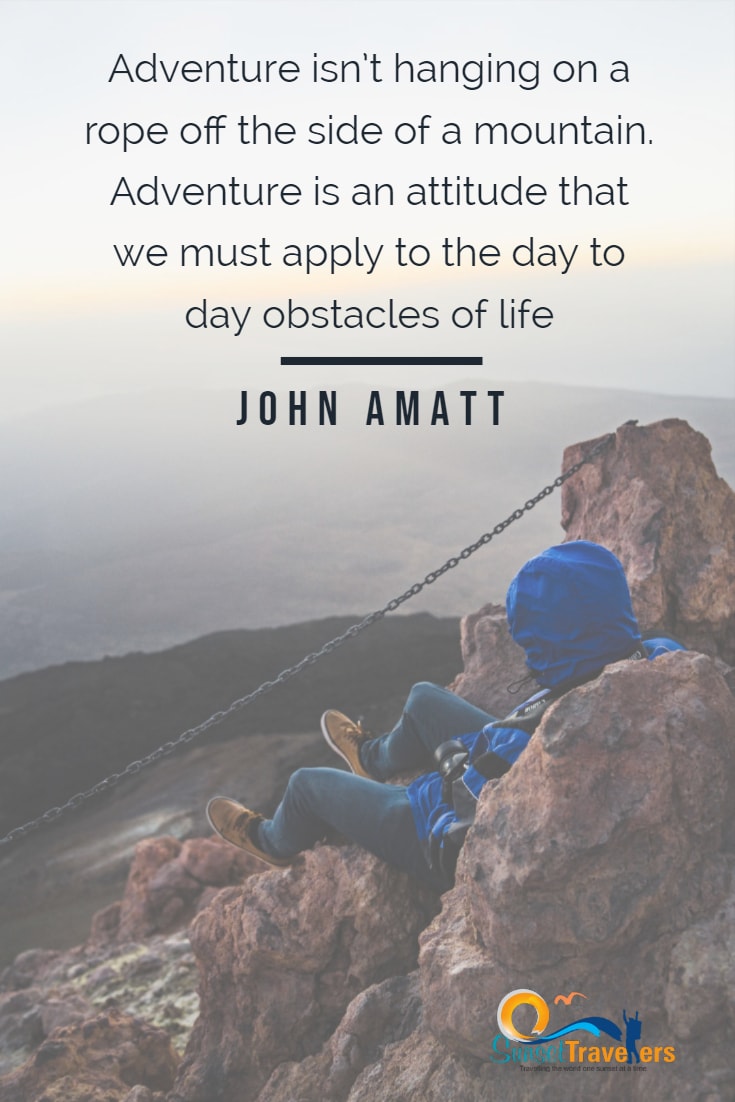 16. "Stop staring at mountains. Climb them instead, yes, it's a harder process but it will lead you to a better view." – Author Unknown
17. "How wild it was, to let it be." – Cheryl Strayed
18. "I go to seek a great perhaps" – John Green
19. "Life is a mountain of solvable problems, and I enjoy that." – James Dyson
20. "There are far better things ahead than the ones we leave behind." – C.S. Lewis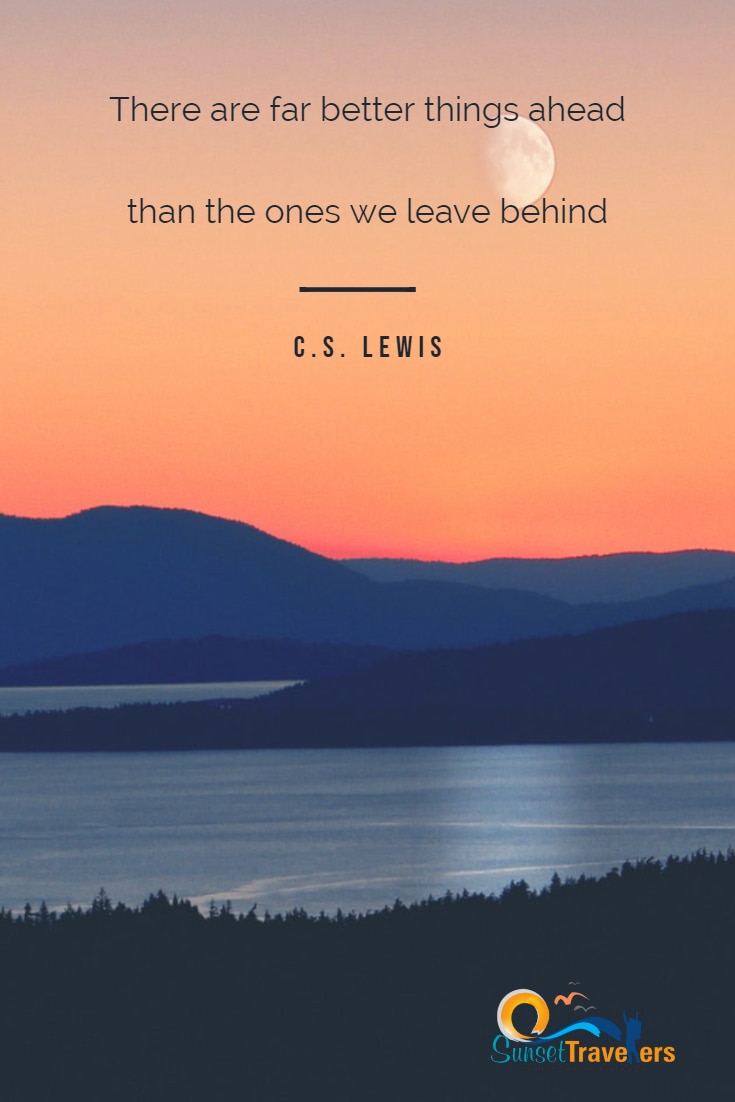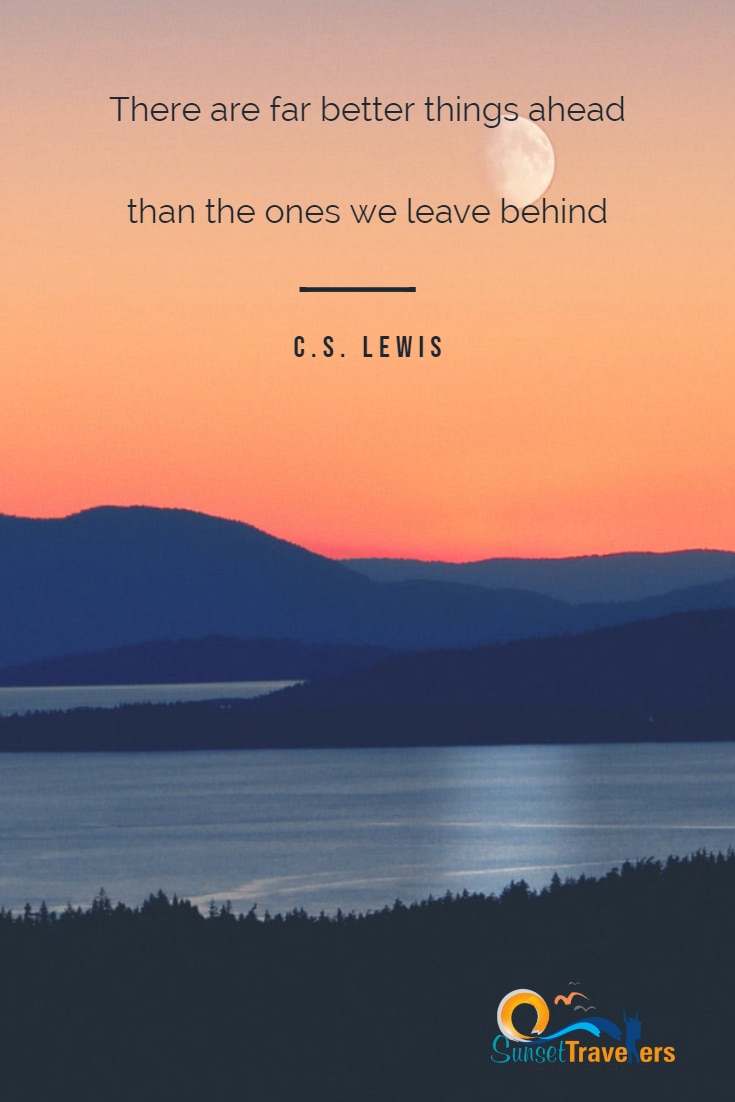 One of the best mountains quotes out there in our opinion!
Last year we've spent a winter season in Bansko, Bulgaria. We actually heard about this place through social media and decided to check it out for ourselves.
No one we knew really heard about the place and thought we are crazy to go somewhere we don't know.
We love challenges and places people don't usually go to live, so we decided to stay there for 5 months.
We signed up a lease on an apartment we haven't seen, packed our bags and headed to snowy Bulgaria.
Let us tell you, this is one of the most incredible, charming and friendliest countries we've been to. We can't wait to head back there next season and call this place our home once again.
Bansko has a special place in our hearts and always will be since this is where Steve proposed to me too!
21. "May your dreams be larger than mountains and may you have the courage to scale the summits" – Harley King
22. "The best view comes after the hardest climb" – Author Unknown
23. "Mountains are freedom. Treat them respectfully." – Conrad Anker
24. "Summit of a mountain is not the upper end of that mountain because every mountain has a soul higher than his body" – Mehmet Murat Ildan
25. "It is not the mountain we conquer but ourselves." – Edmund Hillary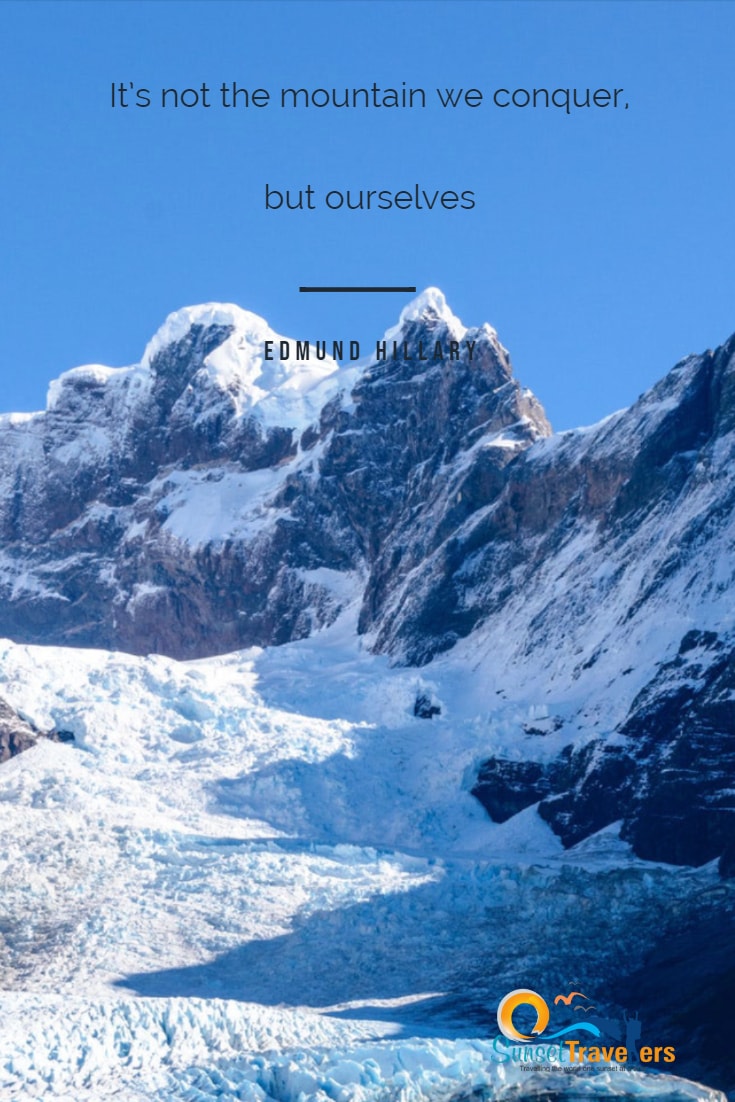 26. "Every great achievement is but a small peak in the mountain range of contributions" –Dale T. Mortensen
27. "Mountains have a way of dealing with overconfidence." – Nemann Buhl
28. "Each fresh peak ascended teaches something." – Sir Martin Conway
29. "The cliche is that life is a mountain. You go up, reach the top and then go down" – Jeanne Moreau
30. "I like the mountains because they make me feel small. They help me sort out what's important in life." – Mark Obmascik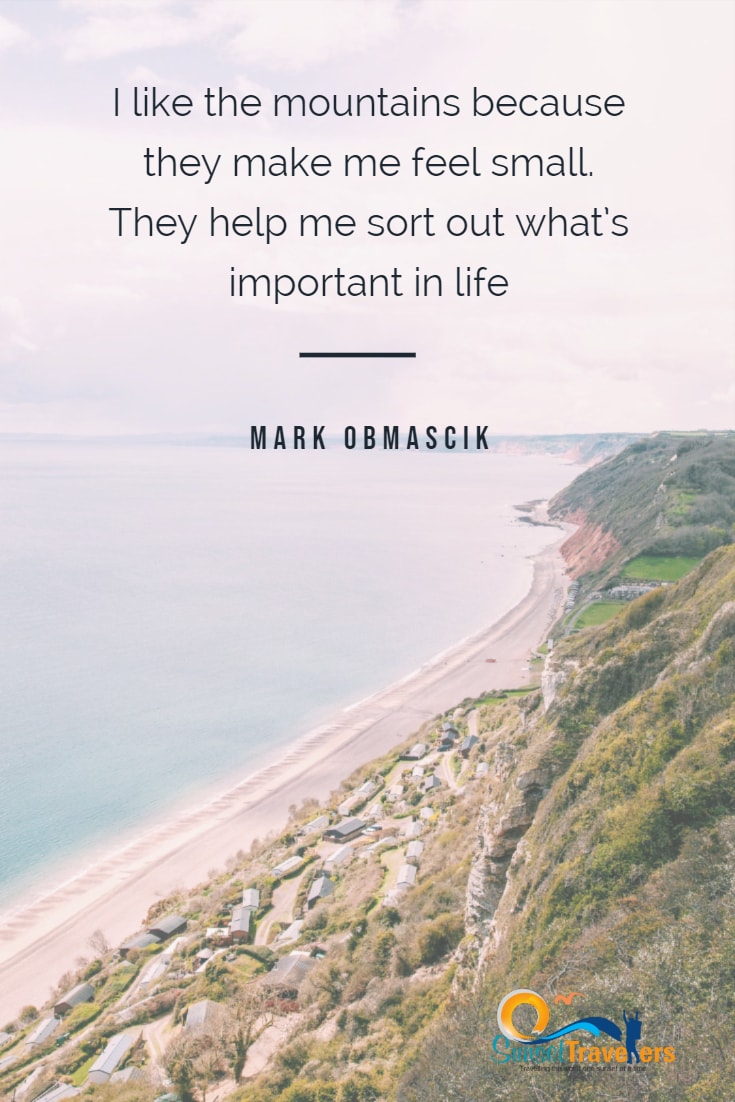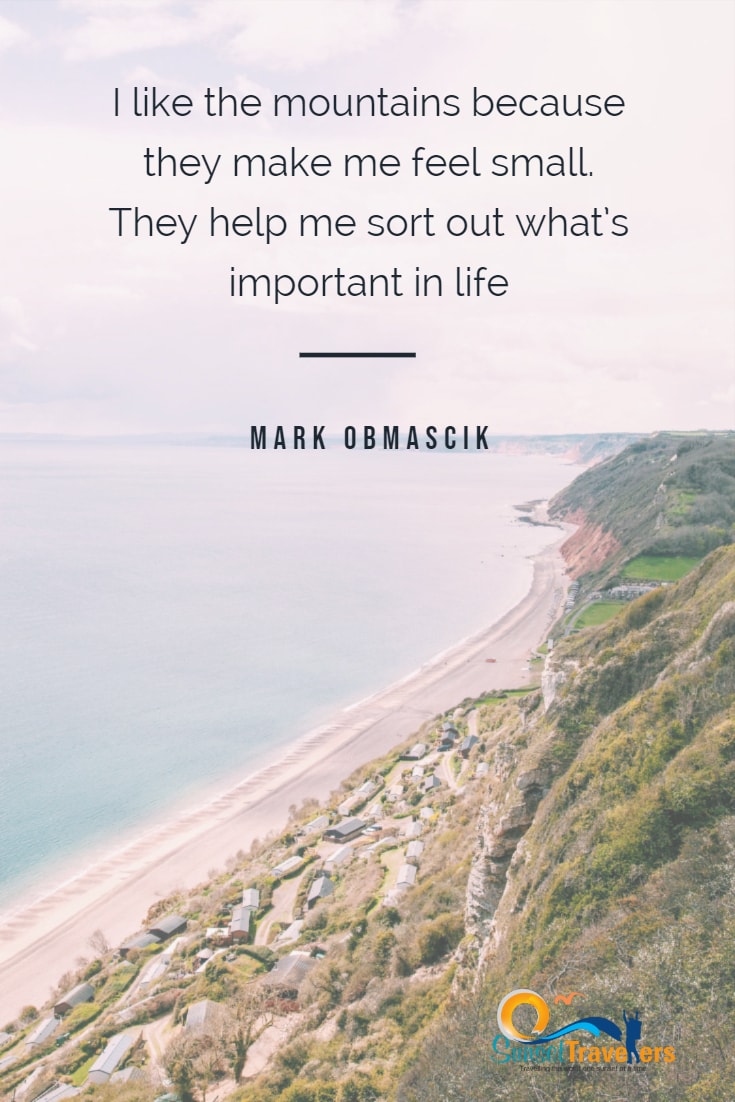 31. "The mountains are calling and I must go." – John Muir
We hope that you enjoyed this post. Feel free to pin and save any of these mountain quotes images.
We wish you safe travels and remember to never give up as the top is always within reach!
Cheers
Sabina and Steve
P.S Still looking for inspiration? These inspirational travel quotes will do the trick!