Sunset quotes were always playing a big part in our everyday lives and constantly encourage us to see new places.
Travelling isn't always easy and those who travel all the time sometimes lose the sense of wanderlust and forget how important it is to them.
There's something magical about sunsets, they tend to relax us and inspire.
No wonder there are so many great sunset quotes out there!
Here are our top 50 inspiring sunset quotes related to travel: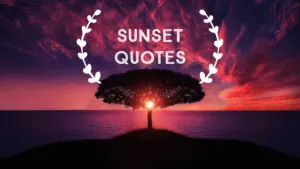 Inspiring quotes about life:
These quotes are a true reflection on life!
1. "Twenty years from now you will be more disappointed by the things you didn't do than by the ones you did do. " – Mark Twain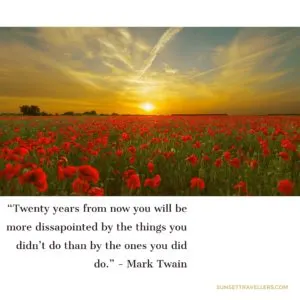 2. "Clouds come floating into my life, no longer to carry rain or usher storm, but to add colour to my sunset sky." – Rabindranath Tagore
3. "We travel, some of us forever, to seek other places, other lives, other souls." – Anais Nin
4. "Travelling – it leaves you speechless, then turns you into a storyteller." – Ibn Battuta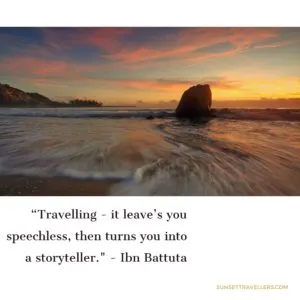 5. "The use of travelling is to regulate imagination with reality, and instead of thinking of how things may be, see them as they are." – Samuel Johnson
6. "Know what you want to do, hold the thought firmly, and do every day what should be done, and every sunset will see you that much nearer to your goal." – Elbert Hubbard
Sunset quotes to inspire you:
If you need a bit of inspiration, these quotes are here to help you with finding thee motivation to pursue your dreams.
7. "The world is a book, and those who do not travel read only one page." – Saint Augustine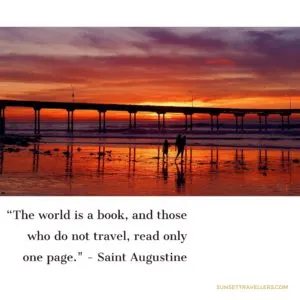 8. "Never waste any amount of time doing anything important when there is a sunset outside that you should be sitting under." – C. JoyBell C
9. "Travel is the only thing you buy that makes you richer." – Anonymous
10. "To travel is to discover that everyone is wrong about other countries." – Aldous Huxley
11. "It is not down in any map; true places never are." – Herman Melville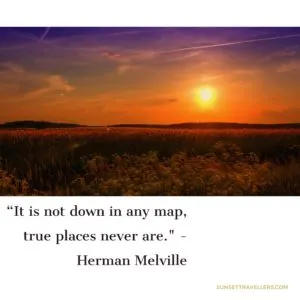 12. "Sunsets are not a rare commodity they come and go every night, so I compare you not to sunset for you come once in a life." – Daniel Cook
Meaningful sayings and quotes to motivate you:
Looking for some motivation? One of these quotes below is exactly what you are looking for.
13. "Stuff your eyes with wonder, live as if you'd drop dead in ten seconds. See the world. It's more fantastic than any dream made or paid for in factories." – Ray Bradbury
14. "You don't have to be rich to travel well." – Eugene Fodor
15. " Sunsets are proof that no matter what happens, every day can end beautifully." – Kristen Butler
16. "People don't take trips, trips take people." – John Steinbeck
17. "The strange thing about the sunset is that we actually don't want the sun to set, we want it to stay right on the horizon, not below it, not above it, just right on it."
–

Mehmet Murat Ildan
18. "To my mind, the greatest reward and luxury of travel is to be able to experience everyday things as if for the first time, to be in a position in which almost nothing is so familiar it is taken for granted." – Bill Bryson
19. "Man cannot discover new oceans unless he has the courage to lose sight of the shore" – Andre Gide
Sunset quotes and sayings that will urge you to explore the world:
20. "Stop worrying about the potholes in the road and enjoy the journey." – Babs Hoffman
21. "Remember that happiness is a way of travel – not a destination." – Roy M. Goodman
22. "Enjoy the beauty of a sunset nature's farewell kiss for the night." – Sharon Rene
23. "A journey is best measured in friends, rather than miles." – Tim Cahill
24. "I haven't been everywhere, but it's on my list." – Susan Sontag
25. "Nobody can discover the world for somebody else. Only when we discover it for ourselves does it become common ground and a common bond and we cease to be alone." – Wendell Berry
26. "It is almost impossible to watch a sunset and not dream." – Bern Williams
27. "Nature is painting for us, day after day, pictures of infinite beauty if only we have the eyes to see them." – John Ruskin
28. "Two roads diverged in a wood and I took the one less travelled by." – Robert Frost
29. "Take only memories, leave only footprints." – Chief Seattle
30. "Even the most beautiful days eventually have their sunsets" – Author Unknown
Romantic sunset quotes:
Because who doesn't like a bit of romance in our lives?
31. "That was her magic — she could still see the sunset, even on those darkest days." – Atticus
32. "Meet me where the sky touches the sea." — Jennifer Donnelly
33. "Because when you stop and look around, this life is pretty amazing." – Dr. Seuss
34. "Her heart was made of liquid sunsets." – Virginia Woolf
35. "Nothing can dim the light which shines from within." – Maya Angelou
36. "We can always be chasing the sun." – Sara Bareilles
37. There are too many things I haven't done yet. There are too many sunsets I haven't seen." – Sara Bareilles
38. "Every one of a hundred thousand cities around the world had its own special sunset and it was worth going there, just once, if only to see the sun go down." – Ryu Murakami
39. "All I ever wanted was to dream another sunset with you." – Mayday Parade
Short sunset quotes:
Because we do not always have much time in our busy lives!
40. "A sunset is the sun's fiery kiss to the night." – Crystal Woods
41. "Every sunset brings the promise of a new dawn." – Ralph Waldo Emerson
42. "I just need you and some sunsets." – Atticus
43. "Her heart was made of liquid sunsets." – Virginia Woolf
44. "Never go too long without watching a sunset." – Atticus
45. "Sunset is the opening music of the night." – Mehmet Murat Ildan
46. "When the sun has set, no candle can replace it." – George R.R. Martin
47. "There is nothing more musical than a sunset." – Claude Debussy
Quotes about nature's beauty:
The perfect quotes to reflect on.
48. "Bursts of gold on lavender melting into saffron. It's the time of day when the sky looks like it has been spray-painted by a graffiti artist." – Mia Kirshner
49. "Sunset is so marvellous that even the sun itself watches it every day in the reflections of the infinite oceans." – Mehmet Murat Ildan
50. "Let the sea breeze blow your hair, let the sunset bring tranquillity to your heart, let the distant places you travel allow you to explore yourself." – Somya Kedia
Hope you enjoyed these inspiring and romantic quotes.
Most of these sunset quotes accompany us on our adventures every day.
Whether you are planning your short break away or a long trip, do not forget to appreciate every moment of your journey.
We feel like quotes are one of the most helpful ways to express yourself if you lack for words.
Sometimes we all need a little bit of extra inspiration in our lives, and as long as we stay positive and appreciate what we have, every sunset can bring the promise of a new dawn.
It was sunsets that taught me that beauty sometimes only lasts for a couple of moments, and it was sunrises that showed me that all it takes is patience to experience it all over again.
A.J. Lawless
Did you enjoy this post on sunset quotes? Read our adventure quotes to inspire you even more.
We have also put together a list of our go-to mountain quotes.
Looking for more inspiration? These 100 inspirational travel quotes are just what you are looking for.
Planning to travel soon, we always book our holiday destinations with Airbnb.
If you are new to Airbnb here is $74 discount off your first stay with this link. Enjoy!
If any of these inspiring quotes have inspired you please hit like and share with someone to inspire their day.
Fan of Irish proverbs and sayings? Read this post for some more inspiration.