Planning our Perth To Melbourne road trip wasn't the easiest thing we have done, especially that the road trip from Perth to Melbourne is around 3500 km long and if you take the longer route, you are adding another 500+ km to your trip.
Every backpacker dreams about travelling the East Coast of Australia, but many people don't realise how unique and beautiful is the road leading from Perth to Melbourne.
From white silica sand beaches, turquoise waters and breathtaking landscapes, to unique wildlife, longest straight roads and pink lakes.
The Perth to Melbourne road trip is one of the most beautiful stretches of the road waiting to be explored.
Things to know before driving from Perth to Melbourne
The Perth to Melbourne road trip is long – 4027 km long to be exact if you take our recommended route.
We recommend 14-day road trip to get to Melbourne from Perth or the other way around.
There is a lot to see on this coastal route. Therefore you will need at least two weeks to explore this beautiful part of Australia.
Well, once we told our friends that we are going on a road trip from Perth to Melbourne in an old $ 900 car (which was about to break down), they weren't too impressed.
As you can imagine everyone was telling us to fly (as responsible people would do) and sell the car, but we had no intention of selling the car, and it looked way more fun that way.
What's the worst that can happen, right? – at the end of the day, it is only an adventure.
Especially after finishing our dreadful farm work, we needed a break from the craziness.
These were the most common misconceptions we heard about driving from Perth to Melbourne:
"You won't see anyone for hours if not days on the road."
"The petrol stations are so far apart. You will need a spare tank with you."
"Dingos are so wild and dangerous- just don't get out of the car if you can."
"Don't trust anyone!"
"When you break down, it can take days before someone comes to pick you up."
Before the road trip friends showed us movies like "Wolf Creek" or "Catching Milat" – and if you are planning to go on a road trip, we advise that you DO NOT WATCH THEM!
So listening to friends, we decided the day before our journey, to go shopping for so-called "survival kit" (in case we did get stuck somewhere).
We must have been hungry as all we came out with was six cans of tuna, two bags of crisps, 1 x crackers, a box of water and beers 🙂 …So probably not the best "being stuck and hungry" box.
On the other hand, we managed to invest in a torch and 5-litre fuel canister. – Can tell you straight away that we didn't need to use it.
It took us just over 14 days to get from Perth to Melbourne.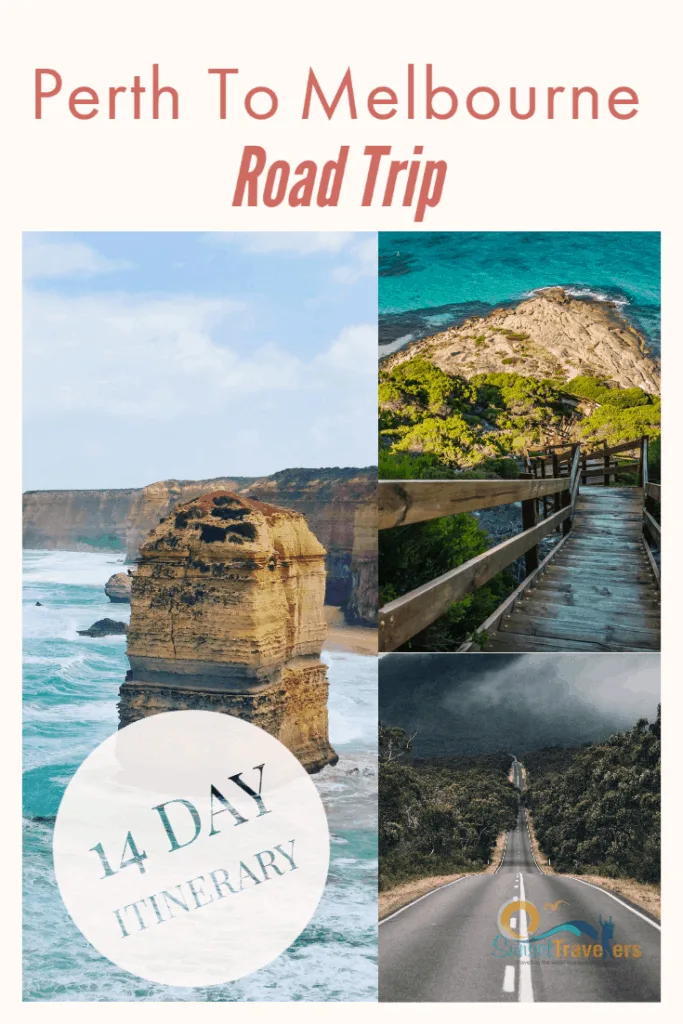 We could have done another two weeks and make it a month-long road trip. Unfortunately, we had commitments and had to be in Melbourne by a specific date.
From Perth, we drove down to Albany for two nights stay at Airbnb.
If you are new to Airbnb, make sure to use this link to get $74 discount off your first stay!
We also used CurrencyFair to transfer our savings from home account to Australia and have enough funds for the road trip.
If you haven't used CurrencyFair before, we highly recommend reading this guide to international money transfers.
Also, you get the first 10 transfers free with this link. Enjoy!
All the photos are our own in this article, so be sure to pin them to your Pinterest boards or follow our road trip board.
14 day Perth to Melbourne road trip itinerary
Stop 1 – 2 nights in Albany
We stayed two nights in Albany, but you can easily divide the trip and stay for one night in Margaret River and one night in Albany.
Best things to do in Albany on Perth to Melbourne road trip
Relax at Two Peoples Bay Nature Reserve
We spent a few hours here just relaxing on this beautiful beach, but you can take your picnic basket with you and enjoy this empty beach for the day.
Discover the Albany Wind Farm
The Albany Wind Farm station has excellent views worth checking out.
There is a nice wind farm walk offering spectacular views of the eco-friendly turbines along the Torndirrup Peninsula and Sand Patch.
See the Gap and Natural Bridge
The Gap and Natural Bridge are one of the most spectacular natural wonders.
This place has one of the best views of the Southern Ocean and the Bald Head coast leading to West Cape Howe.
Find the Dog Rock
This granite rock in the shape of a dog's head is one of the most recognised landmarks in Albany.
You can find this formation along Middleton Road between Middleton Beach and Albany city centre.
See the Blow Holes
The Blow Holes are part of the Torndirrup National Park and are a result of water being forced up into a crackling in a granite.
Here you could sit for hours watching the power of the waves. Keep in mind that the blowholes only work in certain weather conditions.
From Albany, we drove for 5 hours to Esperance where we stayed for 4 days.
We highly recommend that you spend more time in Esperance and preferably camp in the Cape Le Grande National Park.
In Esperance, we booked a great deal with Tripadvisor.
Stop 2 – 3 nights in Esperance
Things to do in Esperance on Perth to Melbourne road trip
See the Pink Lake
Located about three kilometres west of Esperance and bounded by the South Coast Highway to the east. This site attracts many people each year looking to see it.
Although the lake supposed to be very pink, we were unlucky, and it rather looked very ordinary.
To find out more about this unique site, visit Australia's tourism website and guide to the Pink Lake here.
Swim at the Twilight Beach
The Twilight Bay holds one of the locals most loved beach. Here you can look at unbelievably clear turquoise waters as far as the eye can see.
Explore the Cape Le Grand National Park
Only 45 minutes drive from Esperance, you will find the most pristine beaches in Australia.
The park is well known for its stunning scenery and idyllic beaches perfect for a relaxing break.
To find out more information about the park fees, please visit the official Australia park website here.
Driving from Esperance to Madura, Border Village and Ceduna – Perth to Melbourne road trip
After a few fantastic days in Esperance, we drove to Madura for an overnight sleep.
Stop 3 – 1 night in Madura
This time we decided to prebook our accommodation via Booking.com as they had a much better deal on.
From there we continued to Border Village the following day and onwards to Ceduna.
Passed the Border Village you will find Bunda Cliffs viewpoint described as 'the edge of the continent'.
See the Bunda Cliffs
The Bunda Cliffs extend for over 100 kilometres along the Great Australian Bight from Border Village to the east of Head of Bright.
Formed over 65 million years ago when Australia separated from Antarctica, make for spectacular and very dramatic scenery.
After 5 hours drive (400 km) from Border Village, you will eventually get to Ceduna.
Stop 4 – 2 nights in Ceduna
We decided to stop in Ceduna for 2 nights stay to explore the area and relax before the next long drive.
Things to do in Ceduna
Ceduna is a small coastal town, and it's Australia's Oyster Capital.
We highly recommend stopping here overnight as the town has several accommodation options.
There is quite a lot to do here, so we recommend extending your stay to two nights.
Make sure to visit the Aboriginal Art and Culture Centre, where you will find artwork from over 100 different indigenous artists.
The town is also home to the Nullarbor Links Golf Course, world's longest golf course stretching for 1 365 km.
If you love a 4WD experience, head to the Googs Track for a thrilling adventure.
Driving from Ceduna to Port Augusta and Adelaide – Perth to Melbourne road trip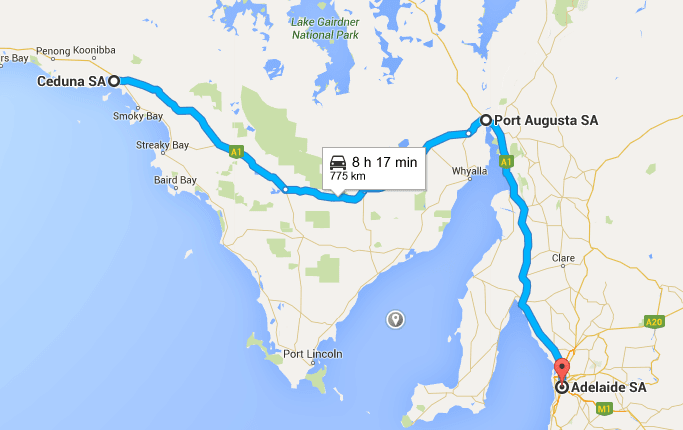 From Ceduna, the road took us to Port Augusta, where we decided to continue straight to Adelaide.
As you can imagine, this was the longest 8-hour stretch (773 km long), and we got to Adelaide wrecked!
We highly recommend taking your time and exploring the Eyre Peninsula. You can easily add two nights to the itinerary.
There is a lot to do in and around Port Lincoln, and you can learn more about things to do in Australia's seafood frontier here.
Stop 5 – 2 nights in Adelaide
The next day we did a little bit of sightseeing and shopping in Adelaide.
Being in Adelaide for the second time allowed us to relax, take the days slowly this time, and gear up in warm clothes for upcoming winter in Melbourne.
From some of Australias best rooftop bars, restaurants to world-renowned Barossa Valley, Adelaide has it all.
If you can, add two days to your itinerary and explore Kangaroo Island located just outside Adelaide.
Best things to do in Adelaide
Explore the Botanical Gardens
Take a walk along the river
Venture into Chinatown
Take a day trip to the Adelaide Hills
Enjoy some quality wine at the Barossa Valley
From Adelaide, we drove for approximately 6 hours through Mt. Gambier to Portland for one night in a local B&B.
If you are planning Perth to Adelaide road trip:
If you are short on time and need to get from Perth to Adelaide fast, the Perth to Adelaide shortest drive distance is 2 696 km.
This is the shortest driving time and it takes 29 hours to get from Perth to Adelaide by car.
We recommend at least 7 days to get to Adelaide from Perth.
The minimum time recommended is 5 days drive from Perth to Adelaide or the other way around.
Stop 6 – 1 night in Portland
Because it was a low season, we got very lucky and found a place without advance reservation (probably not recommended in a high season).
Driving from Portland through The Great Ocean Road to Melbourne – Perth to Melbourne road trip
Ok, now it's time for the part that is on everyone's bucket list and the most amazing drive :
Stop 7 – 2 nights on The Great Ocean Road
The Great Ocean Road stretches for 243 kilometres and is one of the world's most scenic roads.
We recommend at least 3 days to explore the Great Ocean Road as there is a lot to see here.
The Great Ocean Road Twelve Apostles are probably one of the most recognised landmarks in the world.
Here are the best places to see on the Great Ocean Road trip, so make sure not to miss them:
The Apostles
Gibson Steps
Loch Ard Gorge
London Arch
The Grotto
The Arch
Port Campbell National Park
Bay of Islands
Triplet Falls
Kennet River
Lorne
Teddy's Lookout
Apollo Bay
Mariners Lookout
Bells Beach
Things to know before going on a Perth to Melbourne road trip
Average accommodation cost on Perth to Melbourne road trip
An average night with Airbnb and Booking.com will cost you between AU$70 – $150 per night.
Where to stop on Perth to Melbourne road trip
There are plenty of stops, the longest we have driven without anything in between was 150-200 km.
It is a good idea to fuel up at each station even if you are half full – slim chance you ever run out of petrol but a good chance of paying more at the next stop.
Also, be prepared for a steady increase in fuel prices as you get further. One place we paid nearly three times the regular price of fuel!
Cars on the road are regular, and people are friendly.
Phone reception on the Perth to Melbourne trip
Deciding on our journey only a few days upfront, we never gave a thought if there is going to be phone reception or not. And guess what – there wasn't.
Only halfway through (past Esperance) we realised that only Telstra has coverage in the Outback, but it was too late.
We highly recommend getting pre-paid Telstra sim card in case you need phone reception.
Wifi is only available at roadhouses and hotels (but not all), and usually, there is an extra fee to use it.
Wildlife on the road and journey from Perth To Melbourne
You will most definitely come across dingoes, kangaroos, emus, koalas, snakes, spiders, eagles, wombats.
We do not recommend driving at night as it is very hard to see wildlife on the road.
Where to eat on a Perth to Melbourne road trip
Well, there is no chance of starvation, more so be prepared to gain weight.
Forget about your usual healthy dinner. Here you will indulge in cheese toasties, fries, burgers and all sorts of yummy greasy food. You will have some of the best toasties you ever had.
You may also want to stock up on music, audiobooks and podcasts.
Fill your USB and phone with downloads.
Keep in mind that there is no radio reception between Esperance and Adelaide.
Use Google Maps along the way as opposed to Apple Maps. We tried both and Google was best.
How far is it from Perth to Melbourne by road?
According to Google maps, the best sightseeing route from Perth to Melbourne is over 4 000 km long.
It takes well over 48 hours to get from Perth to Melbourne. The shortest driving time between Perth and Melbourne is approximately 3 000 km long.
Allow 7 to 14 days to get to Melbourne from Perth, depending on the route you decide to take.
Please share and pin this article if you found it useful. It means a lot to us.
Steve and Sabina