So you are planning to travel the East Coast of Australia?
Awesome! There is a lot of East Coast of Australia must do's, and it is one of the most popular backpacker routes.
We spent a month travelling the East Coast of Australia and attempted to see everything it has to offer.
From pristine white-sand beaches, lush rainforests, natural wonders to iconic sites and cosmopolitan cities, it is one of the best road trips anyone could do in Australia.
What cities are on the East Coast of Australia?
The East Coast has a lot of larger and smaller cities worth exploring. From the famous Sydney to lesser-known places such as Seventeen Seventy.
Here are the top 10 cities to include on your East Coast itinerary:
Cairns
Magnetic Island
Whitsunday Islands
Fraser Island
Rockhampton
Rainbow Beach
Sunshine Coast
Gold Coast
Coffs Harbour
Sydney
Here are the most important tips for travelling the East Coast of Australia
How long does it take driving up the East Coast of Australia:
As I'm sure you know, Australia is huge so make sure you plan out how much time you have (sounds obvious but it can be a lot bigger than you think!).
So how long is Australia's East Coast???
The distance between Cairns and Sydney on the coastal route is almost 2 600 km which is about 30 hours of solid driving time.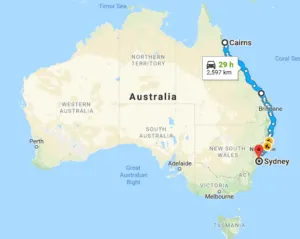 You could easily drive the distance in a week, but you won't be able to explore what the coast has to offer.
Ideally, you need a month or two to travel the East Coast of Australia and truly explore it.
If you are on a budget and have less time, two-three weeks will also be sufficient enough. It will just mean that you won't be able to spend too much time sightseeing.
Most of the popular destinations such as Cairns, Whitsundays and Sydney will require at least three+ nights to experience these places.
We highly recommend at least one month.
Best time to travel the East Coast of Australia ( Australian weather):
The most popular time to travel the East Coast of Australia is during the summer (December-February), however, it is also the hottest and rainiest season in tropical Northern Queensland.
We recommend travelling in the offseason, spring (September-November) or fall (March-May), when there are fewer crowds, prices are lower, and the weather is still good along the coast.
Make an actual plan on where are you are going to make your stops, what you want to see, and how much you wish to spend in each place.
Travelling up or down the east coast of Australia can be a nightmare if you are short on time!
Ideally, you are looking at 48-72 hrs+ at each location.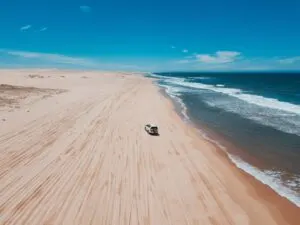 How to travel the East Coast of Australia on a budget:
Well, you can make it as cheap as you want or splash out a stay at Airbnb's and hotels. Keep in mind Australia is expensive, so expect to pay top $ for accommodation.
The most popular cities are going to be much more expensive than you might be prepared for.
Unless you seriously budget you are looking at 2-3k+(depending on how long you are travelling and where you are going to sleep).
Here are typical prices you will find on the East Coast road trip:
$20-40 per night in a hostel dorm booked via Hostelworld.
$90-200 for a hotel room via Booking.com.
$4 for a long black coffee.
$10 for a pint of beer ( you might want to opt-in instead for the goon, i.e. boxed wine).
$10-20 for a main course in a restaurant.
If you are on a budget and relying on hostels, you might want to buy your own groceries and cook your own food to cut down the costs.
Don't worry we will talk about prices and give you more info on how much everything costs further down.
Driving the East Coast of Australia:
Here are our five best ways of getting around Australia's East Coast:
Car
Campervan
Greyhound or Premier busses
Hop on Hop off with Oz Experience, Loka or Stray Travel
Go on a fully guided tour
The best and cheapest way to travel is in your own car or a campervan.
If you don't own a car, hiring a campervan in Australia might be your best option.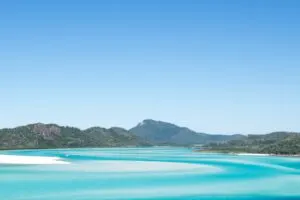 There are a lot of budget-friendly campervan hire websites, such as :
If you are very flexible, you can get a relocation deal where you hire a campervan for $1 a day. Here you usually get 5-7 days to travel from point A to B.
Keep in mind that there is usually $1000 deposit required and little to no fuel allowance.
If you want to know more about relocations read this guide.
Cost of fuel on the East Coast of Australia can be high. Expect to pay $500-700 for fuel depending on the length of your journey.
To find free and low-cost campsites make sure to download CampsAustraliawideApp and check CaravanTour.com.
Greyhound buses in Australia are another great option for the east coast of Australia. They do 'hop on hop off' passes.
Cairns to Sydney pass, for example, costs $469 and you have three months to travel.
Keep in mind that with these passes there are few rules:
the first day of travel must commence within 12 months of purchase date
they are valid for one-way travel only
valid for 90 days from the date the first sector is travelled
the pass is non-transferrable
once you have started travel, you cannot change direction
If you have little time, we recommend looking into flights, they, however, tend to be expensive.
We always use Skyscanner to find the cheapest deals.
Don't forget to join as many Facebook groups as you can; people constantly post spare seats there.
Accommodation options on the East Coast of Australia road trip: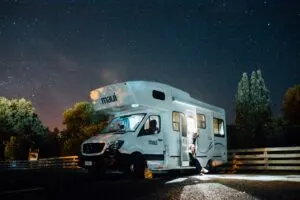 The options are limitless, but if you want to stay within a budget, then hostels are your best bet.
Hostelworld.com and Tripadvisor are the most popular websites when it comes to finding a discounted place.
Hostel dorm prices start at $20-50 and up. Depending on the city and location, the prices may vary.
Keep in mind that Sydney is one of the most expensive places when it comes to accommodation, therefore, expect to pay $50+ for a bed in a dorm.
We usually book via AirBnB as the accommodation is not too expensive, in great locations, and you get excellent advice from the locals.
Food cost on the East Coast of Australia road trip:
If you are staying in hostels or self-contained accommodation, then it's easy (well besides the cooking part).
Food is expensive, and if you add parties to it, then it is easy to spend $70-150 a day!
Yes, we know that from our experience, again that's for two people.
There is a lot of fast food places where you can get a burger for $5. When it comes to restaurants, they are more expensive, and a meal can cost anything from $10-30+ depending on what you want to order.
Here is a list of the best restaurants on the East Coast of Australia.
We recommend buying cheap drinks such as 3l of goon (boxed wine).
Connecting with other travelling the East Coast of Australia backpackers:
There is a great app called Backpackr that can help you chat with others like-minded backpackers and get good advice on where to go, what to see or where to eat.
The app helped us a lot, and you can meet cool people near you for a coffee, pint or just to hang out with.
Make sure to join Facebook groups to find travel mates.
What are the best places to visit on the East Coast?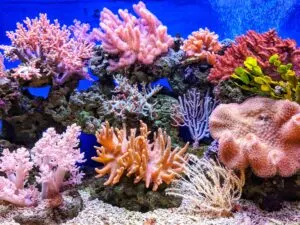 Australia East Coast must-see places:
The perfect East Coast of Australia itinerary for 4 week's holiday
Cairns – 4-day itinerary
The main reason most people travel to Cairns is to explore The Great Barrier Reef and pristine white sand beaches.
Cairns doesn't have a beach, but there is the Cairns Lagoon where you can relax, go for a swim, have a picnic or BBQ.
It is a very lively backpacker town packed with great bars, restaurants, hotels and tour agencies.
There is a lot of travel desks offering cruises to the reef. We did a lot of research before decided on the company.
Here are the best Great Barrier Reef snorkelling or diving cruise companies:
If you are thinking about a cheaper company, make sure that they are going to the outer reef as the waters are much clearer there.
Cairns also has an amazing Rainforest, and you can explore it via rail.
The Kuranda Village, located in the rainforest is accessible via the Kuranda Scenic Railway. On the way back, we decided to take a cable car called the Skyrail.
The price is about $116.50 per person for both experiences and a return transfer to your hotel, well worth it!.
In high season, book this tour in advance, as it gets fully booked.
Also, make sure to experience it in the order we did, as it's the most amazing experience you will ever have!
While in Kuranda visit the markets, art galleries and the Butterfly Sanctuary.
While in Cairns, make a trip to Fitzroy Island.
You can take a ferry there for the day since is close to mainland or book overnight accommodation. It's a lied back place, great for relaxing and getting a bit of tan on the beach.
Just make sure you won't go there to experience the reef as you will be disappointed.
Townsville and Magnetic Island – 3 day itinerary (approximately 4 hours drive from Cairns)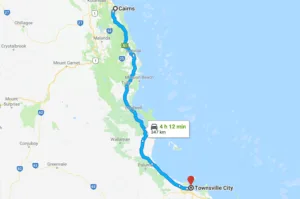 Magnetic Island is located within 30 minutes ferry ride from Townsville. The island is famous for hiking and exploring nature.
The main trails include The Forest Walk where you can spot koalas in their natural habitat and the Radical Bay.
The second walk goes from Horseshoe Bay and to get most of it, make sure to return back to the base before sunset as the Horseshoe Bay is famous for its stunning sunsets.
To book the ferry to the island simply go to Sealink Queensland website. The return ferry costs $30 per person.
The island has plenty of accommodation and you can find a nice Airbnb for as little as $20 per night.
Airlie Beach and The Whitsunday Islands – 4-day itinerary (approximately 3-4 hours drive from Townsville)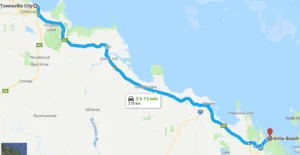 Airlie Beach is the getaway point to Whitsunday Islands. We stayed here for 4 days at an Airbnb.
There are other accommodation options, however, most of the centrally located hostels and hotels host parties until late at night.
The Whitsunday Islands are East Coast of Australia must do!
To explore the islands we recommend a cruise with Cruise Whitsundays.
For an all-day package including breakfast on Daydream Island, lunch on Hamilton Island and all afternoon at Whitehaven Beach we paid $200 per person.
Airlie Beach is also well known for Great Barrier Reef day cruises to Reefworld.
We highly recommend this cruise as you get to explore the most beautiful parts of the reef.
If you have more time book a sailing cruise through Whitsunday Sailing Adventure. They have amazing deals for sailing trips around the Whitsundays!
For those on a very tight budget looking to see the Whitehaven Beach, therefore we recommend checking some of these tours.
Rainbow Beach and Fraser Island – 3 day itinerary (approximately 11 hours drive from Airlie Beach)
Since there isn't much between Airlie Beach and Rainbow Beach, you can drive this distance in a day.
We, however, don't recommend doing so.
Instead, split this distance into two parts.
Part one: Arlie Beach to Rockhampton (approximately 6 hrs drive)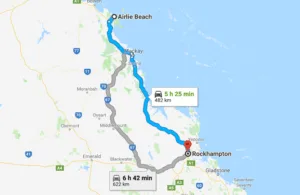 Here stay at campground, hotel or hostel and explore the Capricorn Caves.
Part two: Rockhampton to Rainbow Beach (approximately 5.5 hrs drive)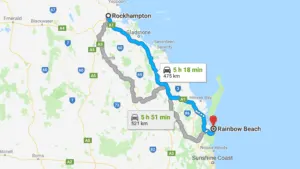 On the way to Rainbow Beach stop at the Bundaberg Distillery.
Once you reach Rainbow Beach, there are several companies available to explore Fraser Island.
East Coast of Australia tour companies worth checking out:
Prices for the two-day tours usually start at $350 per person. It isn't one of the cheapest experiences, but if you can afford it we highly recommend to do 2+ day trip to Fraser.
Make sure to book your tour well in advance, most of all we want you to avoid disappointment.
Fraser Island is worlds biggest sand island, therefore you simply cannot explore it in one day.
Sunshine Coast – 4 day itinerary (approximately 2 hours drive from Rainbow Beach)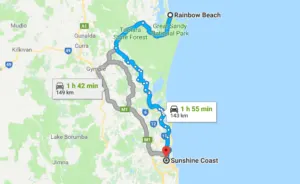 Sunshine Coast has the perfect beach – mountains combination and it is a perfect stop on the East Coast of Australia trip.
Make sure to first explore the long stretches of golden sandy beaches and then wander into Glasshouse Mountains and the Blackall Range (download pdf map here).
Spend a day at the Kondalilla National Park, the park has incredible mountain views and stunning waterfalls. There is usually no one around the park during the shoulder and offseasons.
You will also find here Steve Irwin's Zoo where for $59 (adult general admission), you can explore this world-famous attraction.
The Gold Coast – 3 day itinerary (approximately 2 hours drive from Sunshine Coast)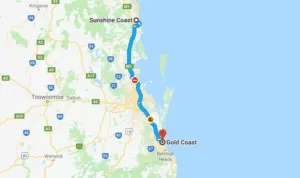 Gold Coast is famous for Surfers Paradise, skyscrapers, number of theme parks and endless walking/cycling tracks.
Make sure to rent a bike for the day and explore the area. On day two, cycle all the way to Miami and Burleigh Heads.
Burleigh Heads is a much quieter area, where you can relax at small cafes or soak up the views of Gold Coast from the beach.
Gold Coast is packed with bars and restaurants and has a lively nightlife.
If you are here for something different and looking to relax, head to one of the World Heritage-listed parks such as:
Tamborine Mountain
Springbrook
Lamington
Sydney – 7 day itinerary (approximately 10 hours drive from Gold Coast)
The distance between the Gold Coast and Sydney is over 800km, therefore, it might be a long journey for one day.
Instead, we recommend splitting it into two days.
Part one: Gold Coast to Coffs Harbour (approximately 4 hours drive)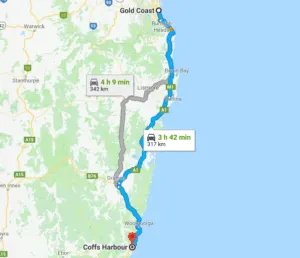 Here take a detour to nearby Dorrigo National Park (one hour drive from Coffs Harbour) and explore this World Heritage-listed rainforest.
The park has a beautiful waterfall, plenty of breathtaking viewpoints and lots of rest/BBQ areas. It's a perfect destination for all nature and bird lovers.
Part two: Coffs Harbour to Sydney (approximately 5.5 hours drive)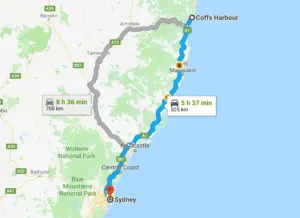 We spent over a week here and highly recommend 5-7 days Sydney itinerary to explore the city.
Accommodation in Sydney is very expensive (in fact, one of the most expensive so far), therefore we decided to take Airbnb as the prices were much lower in comparison at the time.
While here go to the worlds biggest IMAX Cinema screen.
Take 'Sydney Hop on Hop off' bus to Bondi Beach and explore each area (about $40 per adult for a day pass).
Also, don't miss out on checking out Sydney Opera House and the famous Sydney Bridge.
Make sure to visit Manly Beach reachable by ferry for about $18.20 per person/return.
If you are looking for something different and close to nature, then go to the Blue Mountains.
The Blue Mountains are only 2 hours outside of Sydney and are easily accessible via train (less than $20 one way).
If you want to take a great picture of the Opera House at sunset, go to a park by Mrs Macquarie's Chair. You don't have to take a boat tour to get excellent pictures.
If you are going to Manly by ferry, you will swim right by Sydney Opera House, probably the best selfie opportunity.
See as much as you can and spend some time in each place so that you will never regret that you missed something!
Wondering what is the best month to go to Australia?
The best months to visit Australia and travel the East Coast are in the off-season. In particular spring (September-November) or fall (March-May), seems to be the cheapest and best to travel to Australia.
Seasons in Australia are opposite to those in the Northern Hemisphere, with summer from December through February, and winter from June through August. The exact type of weather you'll experience depends largely on the region.
Useful links for your East Coast of Australia road trip:
Airbnb – We love Airbnb and use it everywhere you travel! If you are new to Airbnb follow the link for up to $76 discount of your first stay.
Booking.com – Perfect alternative to Airbnb when you need a short place to stay.
Hostelworld – If you need a cheap place to stay where you can meet other travellers, Hostelworld is the best.
CurrencyFair – Our favourite money transfer company. They are 8x cheaper than banks. Follow the link for 10 free transfers with CurrencyFair.
OFX – Another great money transfer company for larger transfers. We use them for large lump sums. Follow the link for free transfers for life over 1k.
SafetyWing and TrueTraveller – The best travel insurance companies on the market! We personally used them both and can highly recommend them.
Sendmybag – Best company to ship your excess luggage to and from Australia. Follow our link for 5% discount of your shipment.
Be sure to Pin this image 🙂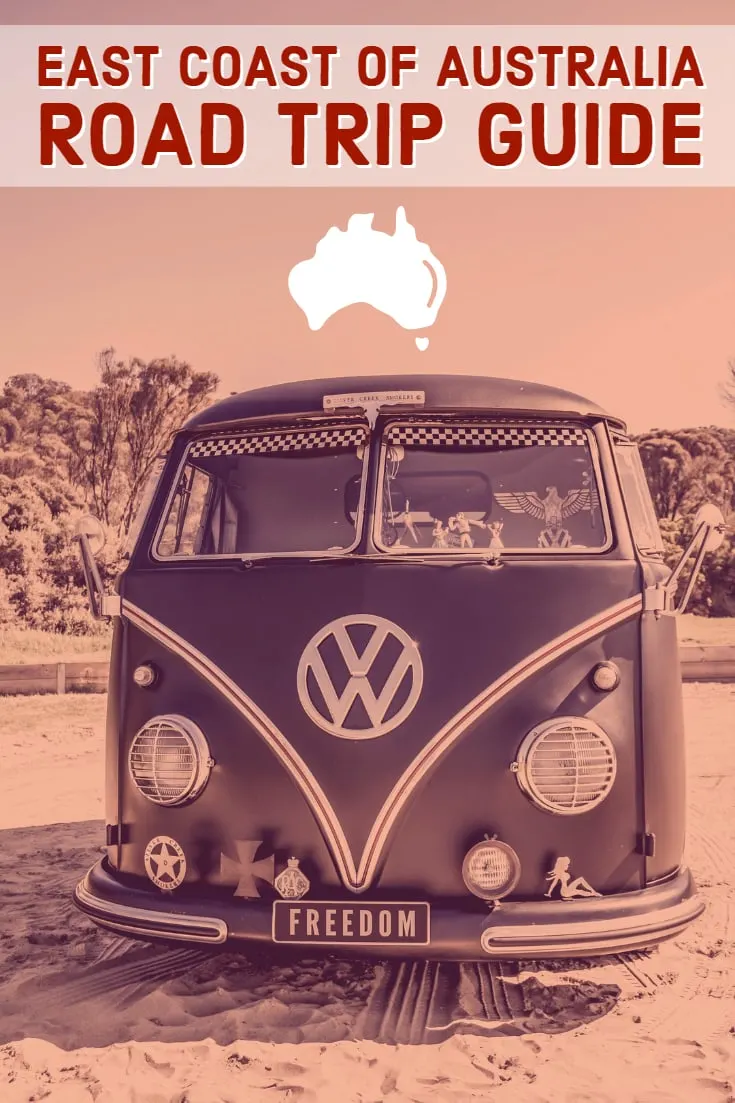 Safe Travels,
Steve and Sabina

Be sure to share this if you found it useful; we appreciate it.