Planning a trip to Sintra, Portugal? You came to the right place!
Sintra, located in the stunning Portuguese mountains of Serra de Sintra, became one of Portugal's best places to visit.
Filled with stunning views, medieval castles, magnificent palaces, country estates and gardens, the town truly feels like it's out of this world.
Sintra is home to not one, not two but to more than ten national monuments.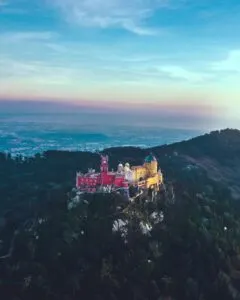 The area is packed with ancient ruins, hiking trails, stunning beaches, and impressive architecture.
Famous for its picturesque castles, it is also one of Portugal's most popular luxury tourist destinations.
Sintra became one of the wealthiest municipalities in the country and is known for the numerous extravagant events hosted in this town.
Sintra is regarded as one of the best day trips from Lisbon, and a visit to this wonderful town must be included in your holiday plans to Portugal.
Here you will find a UNESCO World Heritage site around every corner.
Sintra as a whole is a UNESCO World Heritage site, so you are guaranteed to have no shortage of amazing places to explore here.
We visited Sintra on many different occasions when travelling in Portugal.
The town was not as famous 12 years ago as it is now. When we first saw this stunning place, we were blessed with good weather and little to no tourists in the area.
Today the town looks somewhat different, flooded with cars, buses and thousands of tourists looking to explore this site every day.
The small streets of Sintra struggle to cope with the amount of traffic they get every day, especially during the summer months.
We decided to put together this guide to help you with your visit to this stunning place.
Many people don't realise how touristy this place is until they stand in a queue at Pena Palace.
This post will help you with planning your trip to Sintra Portugal.
If you have visited Sintra, please comment below on what you loved about the place and any tips you might have for our readers.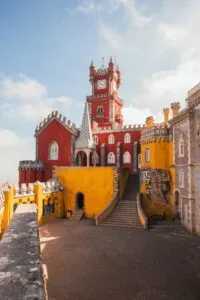 When is the best time to visit Sintra Portugal – Sintra weather
As a matter of fact, Sintra is a perfect place to explore year-round. Summertime, however, is the busiest time to visit it. You will find plenty of tourist buses and expect to queue almost everywhere.
It is rather hard to visit all the sights here in one day.
You might want to pick your 'must visit' spots in advance and stick to your plan. Ideally, you would want 2-3 days to explore everything the mountains have to offer.
If you are heading to Sintra from Lisbon, it's best to visit Sintra in the early morning at 9 am or late afternoon at 5 pm when the crowds leave.
Most tourists will come in the morning to explore Sintra and go back to Lisbon before dinner time. Our favourite time to visit Sintra Portugal, and the one we usually recommend to friends and family, is outside of the summer season.
You can choose to visit Sintra during April-June and late September-October when the weather in Sintra and Lisbon is still perfect, yet there are fewer crowds, and in general, you can enjoy exploring some of the most popular attractions without the crowds.
If you are heading to Portugal in the shoulder season or even during the winter months, pack warmer clothes and a rain jacket. Lisbon, in particular, has a moderate climate, with an average of 24°C in July and 11°C in January. Sintra, even though it is only 15km from Lisbon, is typically 2-5 degrees cooler.
Make sure also to pack comfortable walking shoes as you will have to combat some hills.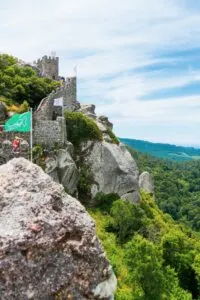 Best way to get to Sintra Portugal
Sintra is located only 30km from Lisbon and can be easily accessed by going on a private tour or via public transport.
We highly recommend seeing Sintra with a tour guide. It can be very hard to navigate on your own through the narrow hilly streets, and you can easily spend an hour+ walking to one site just to queue for another hour+ at the entrance. We went on a few incredible Sintra day tours from Lisbon and can highly recommend booking an organised tour.
How to get to Sintra by train:
If you are planning to visit Sintra using public transport from Lisbon, take the train from Rossio station or the Oriente. The train leaves for Sintra every 10-20 minutes, and the journey time takes 45 minutes.
For the exact timetable and train information, please visit the official railway site here.
Visiting Sintra by car:
If you are planning to see Sintra by car, be aware that there is very little to no parking space available in the town. Most attractions have little to no designated car spots, and it might be tough to find a parking space. We travelled to Sintra by car on two different occasions and off-season only (November and March). When scattering the internet, you will find everyone warning you from going by car, and they are right. It can be challenging to find parking, and you can quickly get stuck in traffic on narrow streets.
Parking in Sintra:
There are only two car parks in the historic centre, one outside the national palace and one near the Museu Anjos Teixeira, with only limited spaces near the Pena and Moorish castle. We highly recommend hopping on a train and from there taking a bus, Uber, taxi, tuk-tuk or walk to get to the centre since it's 1.5km from the station itself. The 434-tourist bus service provides a one-directional loop, which connects the station, the historic centre and the hill where the Pena Palace and Moors Castle are located.
There are usually four bus departures every hour. The bus leaves from outside the train station. Therefore you can expect long queues in the peak summer season.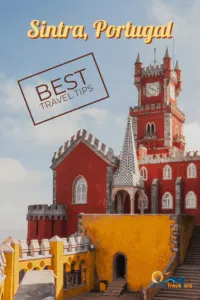 How to get around Sintra Portugal
As mentioned, the cheapest way is by taking the 434 bus from the train station.
During the high season, it might not be your best option, however.
You can opt-in for an Uber, taxi or a tuk-tuk that will drive you to the main spots you want to see.
The easiest way, however, is by organised tour.
There are many Airbnb experiences, and tour guides that can take you up to the mountains and show you the best of Sintra Portugal.
Keep in mind that there's a lot of uphill walking required here, especially at Pena Palace.
Make sure to wear comfortable walking shoes as here you will find many cobblestone streets and hills.
The signage here in Sintra is not the best, and it is very easy to miss some of the main spots.
We had to circle twice around the town to get to Sintra as there's no parking available on the site and you don't realise it until you get there.
Make sure to check your Google maps. Find parking well before you reach the site if you decide to travel by car.
Where to stay in Sintra Portugal
Sintra is a perfect place for an overnight stay away from the capital city.
Although it is a hectic place during the day, in the evening time, when all the bus tours leave for Lisbon, the town has a different charming look.
Ideally, you would like to be somewhere close to the centre to explore the area at your own pace.
Sintra Portugal offers a lot of accommodation from budget accommodation, stunning Airbnb's, boutique hotels to luxury accommodation.
We usually go with Airbnb since you get to explore the place from a perspective of a local, not yet another hotel guest.
Another great option is the Sintra Boutique Hotel, located in the centre of the town.
This boutique hotel has rooms and suites with views of the historic quarter and Sintra-Cascais Natural Park.
If you have more acquired taste, then book the Tivoli Palacio de Seteais.
This elegant 5-star hotel set in the mountainside of Sintra has unforgettable views of the Moorish Castle and Pena Palace.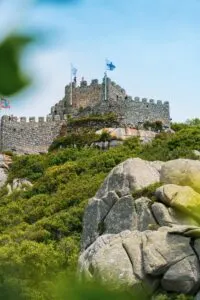 What to pack and wear in Sintra Portugal
During the summer, it is very hot here, so make sure to wear light clothing, hat, sunnies and plenty of suncream.
The climate in the mountains tends to be different here, so you might want to pack a light jacket just in case.
Make sure to wear comfortable shoes as you will be doing a lot of walking and exploring the palaces.
Pena Palace especially is located on top of a hill; therefore, you want to wear comfortable flat shoes.
Depending on the time of the year, you will have to dress accordingly to the temperatures and rainfall.
Sintra mountains tend to have more unstable weather conditions, so make sure to be prepared.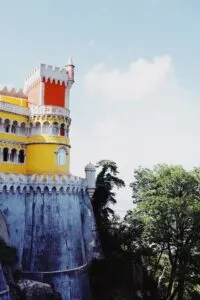 Our personal best restaurants in Sintra
Romaria de Baco – traditional Portuguese cuisine with a contemporary touch.
Incomum Restaurant – a relaxed and contemporary restaurant in the centre of Sintra.
Curral dos Caprinos – a family restaurant with really excellent traditional Portuguese food.
Azenhas do Mar Restaurant – excellent seafood restaurant located in the Azenhas do Mar village, a short drive from Sintra hills.
Mar do Inferno – located right by Boca do Inferno, with magnificent views and outstanding menu.
Our top places to visit in Sintra Portugal
1) Explore the fairytale Palácio Nacional da Pena
2) Quinta da Regaleira with its famous Initiation Well
3) See the Palácio Nacional de Sintra right in the Sintra centre
4) Admire the beautiful architecture of the Palácio de Monserrate
5) Hike around the Castelo dos Mouros
6) Book a luxury night stay at Palácio de Seteais
7) walk through the Vila Sassetti gardens
Best views of Sintra
One of the best views in Sintra is from Moorish Castle.
Pena Palace is higher, but the Castle walls offer more uninterrupted views of the town, Pena Palace and the Atlantic coast on a clear day.
If you are visiting Sintra on a day trip from Lisbon, make sure to plan ahead your trip and have a rough idea about what you want to see.
It will be impossible to explore Sintra in one day, but you will be able to see 2-3 highlights to get a feel for the place.
Sintra is impressive, and every time we go back, we discover something new.
Enjoy your trip and don't stress about ticking every place off your bucket list.
If you are looking to explore more of Portugal, make sure to read our ten best day trips from Lisbon guide.
We also have a massive guide on 20 things you should do in Cascais, covering everything you should see in this charming fishing village.
Please feel free to share, like and comment below.
Thanks for stopping by,
Sabina and Steve