Here are the best day trips from Lisbon you can take during your holiday.
Lisbon, being the capital of Portugal, has a very central location to some of the best spots in Portugal.
Within a day you can explore some of the best places Portugal has to offer.
There are well over 11 must do day trips from Lisbon.
From the stunning rugged Atlantic coastline, beaches, and beautiful mountains to some of the most impressive architecture, Portugal has it all.
If you are planning your holiday to Lisbon, there is no better way to explore the best of Portugal than going on a few fun day trips from Lisbon.
You don't have to spend your holiday sightseeing only in Lisbon, as nearby you can find some of the most popular places to go to.
We will cover the best one-day trips from Lisbon we went on and can highly recommend them to you.
Let's begin our list of the 10 best day trips from Lisbon:
1. Day trips from Lisbon to Cascais and Estoril
See the stunning coastline and explore the towns of Carcavelos, Estoril and Cascais.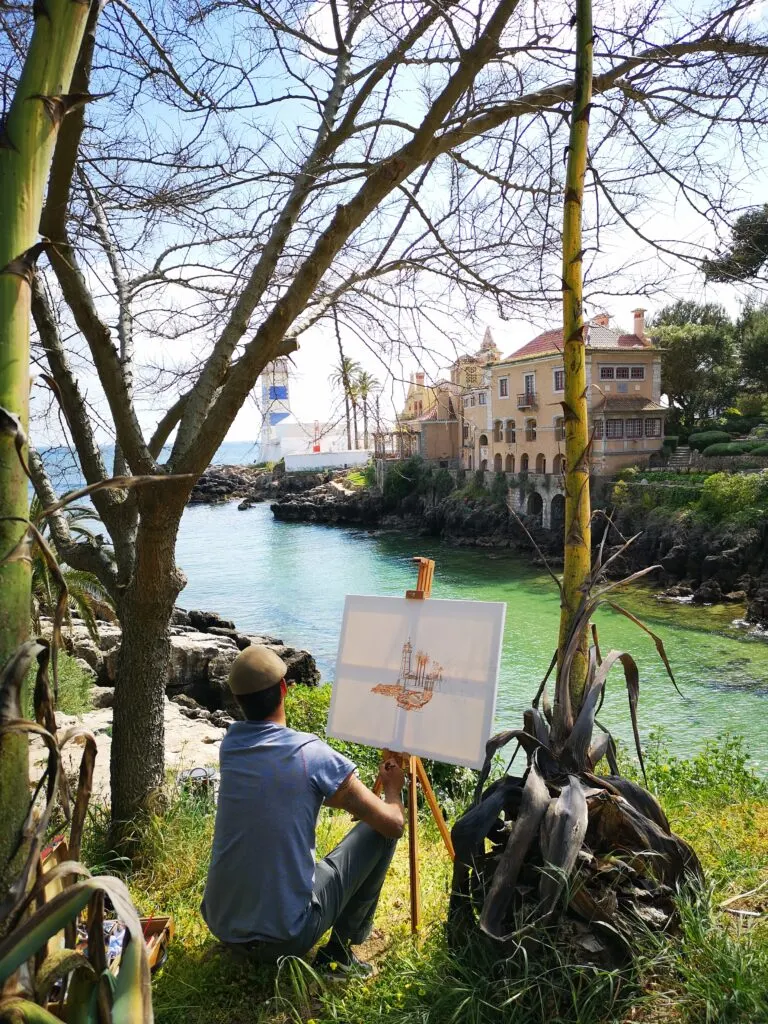 This amazing day trip from Lisbon to Cascais is a must!
If you are looking for a day tour from Lisbon, we highly recommend this Get Your Guide tour. We got to explore Cascais, Cabo da Roca, and Sintra in one day! Absolutely fantastic tour!
This is by far one of the best day trips from Lisbon by train!
Alternatively, hop on a train from Cais do Sodre and explore the beautiful Atlantic coastline.
Within a 40-minute train ride from the city, you will find several stunning coastal towns.
You can get off a few stops earlier and relax at the Carcavelos beach.
Carcavelos beach is one of the most popular beaches during the summer months.
Locals and tourists alike come to the beach to relax here, sip a cocktail and enjoy some delicious seafood right on the beach.
A few stops further, you will find Estoril with the famous Estoril Casino.
There are several things to do in Estoril Portugal itself but the casino must be the main attraction.
The Casino do Estoril became an inspiration for Ian Fleming's James Bond 007 novel Casino Royale.
If you fancy an overnight stay here, then the Hotel Palácio Estoril should be on your list.
The hotel was featured in Bond's movie 'Her Majesty's Secret Service', also Ian Fleming himself stayed there during the Second World War.
The Estoril casino is one of the biggest casinos in Europe, attracting many tourists looking for a luxury escape.
From Estoril, it is only a short walk to the picturesque fishing town of Cascais.
In Cascais, you can either rent a bike and cycle towards Guincho beach, explore one of the many museums in town, or simply walk the cobblestone streets, and enjoy some quality food.
If you are looking to spend a day here, make sure to read our guide on the best things to do in Cascais.
If you wish to stay a night or two in Cascais we highly recommend Hotel Baia. It is super central and right on the beach. We stayed here on a few different occasions and this is by far our favorite hotel in Cascais.
2. Day trip from Lisbon to Sintra
Feel like a king in Sintra palace.
Visiting Sintra is by far one of the best day trips from Lisbon and one of the most popular out there!
Before heading to Sintra, make sure to learn everything you need to know before visiting Sintra Portugal.
You probably have seen many pictures of the Sintra mountains, the Sintra well, or the Sintra Palace.
Sintra is regarded as the best day trip from Lisbon, and a visit to this wonderful town must be included in your holiday plans.
Park and National Palace of Pena belong to one of the most popular Sintra palaces to visit.
Palácio da Pena is one of Europe's finest palaces and has a vividly painted exterior and incredibly fascinating interior since the palace was restored to how it appeared in the 19th century.
Nowadays, the Pena Palace has become one of the most recognizable tourist attractions of Portugal, therefore, expect it to be incredibly busy during your visit, especially in the peak season.
It might be easier to book a guided day trip from Lisbon to avoid queues and learn more about this place.
If you are planning to see, this incredible castle check the opening times and prices at the official Sintra website here.
Our second favourite place to visit in Sintra is the Quinta da Regaleira.
This stunning place is recognized for its lavish, gothic-style mansion, lush gardens, hidden tunnels and of course, the well.
The Sintra well is a truly impressive attraction to see.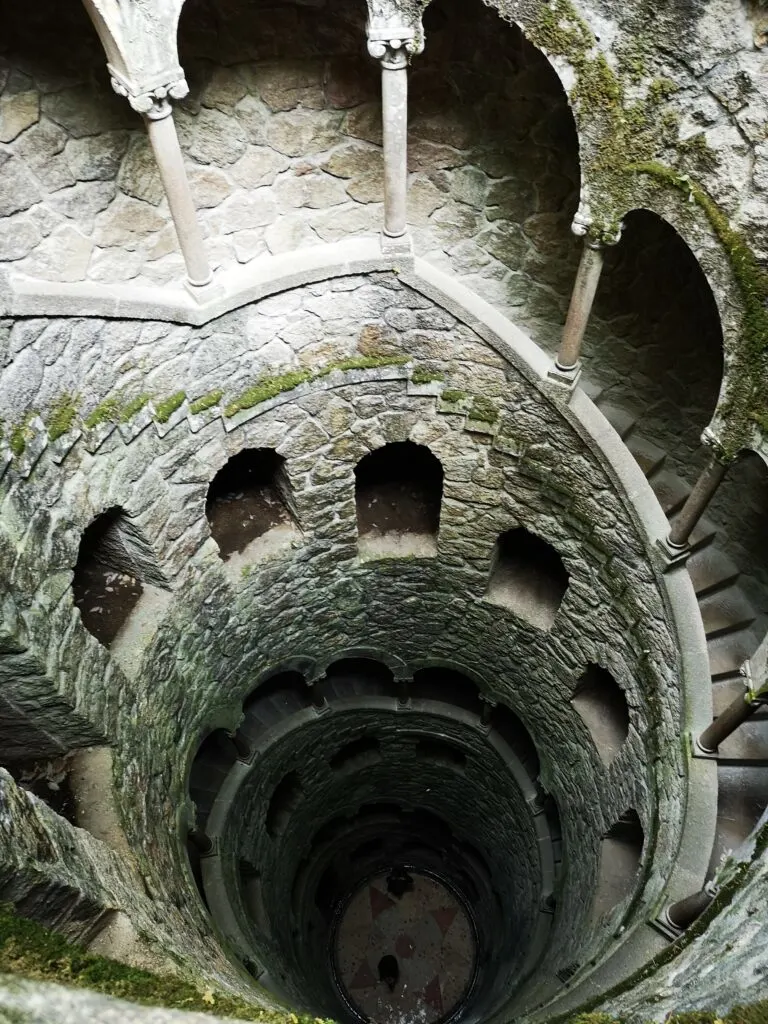 The wells were supposedly once used in esoteric initiation ceremonies.
The gardens of the Quinta da Regaleira feel like they truly represent ancient secret orders, with hidden tunnels and concealed symbolism.
Anyone with an interest in mysteries and magic will love this place.
You can view the Quinta da Regaleria map here.
The third most popular palace of Sintra, Palácio Nacional de Sintra (or the Sintra National Palace), located right in the town, is the best-preserved medieval royal palace in Portugal.
When in Sintra, you also can not miss the Castelo dos Mouros – an ancient castle ruin which offers wonderful views of the mountains and the coastline.
The Castle of the Moors was originally established during the 9th century by the North African Moors to guard the town of Sintra.
Our personal favourite and the least touristy palace (for now anyway) is the Monseratte Palace, located about 3.5km from the historic Sintra town centre.
The palace is way less crowded, with most visitors opting for the Pena Palace.
The Park and Palace of Monserrate form one of the best examples of Romantic architecture in Portugal.
It is a truly romantic and magical place to visit when sightseeing in Sintra.
Make sure to visit the most popular Sintra palaces very early in the day to avoid the queues.
3. Wine-tasting day trips from Lisbon
Taste some quality wine from the Lisbon wine region.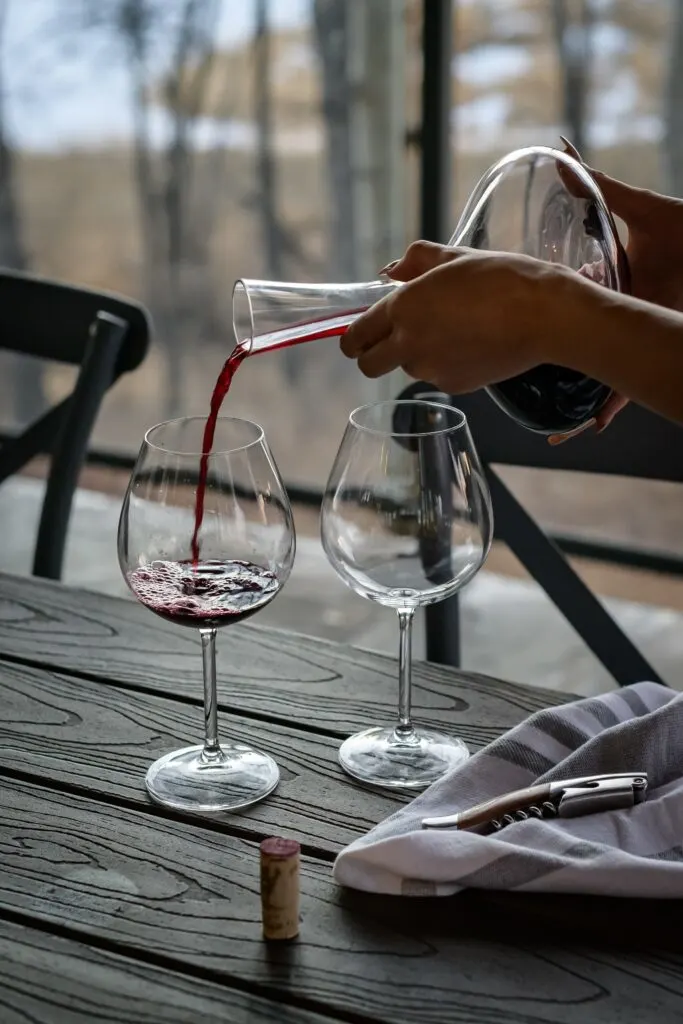 When you are thinking of Portugal, all it comes to mind is probably an immense coastline filled with stunning golden beaches, exceptionally sunny weather, fine gastronomy, football and Port wine.
But Portugal has some of the best wines the old world has to offer.
You can find many wine bars in the city of Lisbon, but if you're a true wine lover, you'll want to go to the source and visit some of the wine-producing estates in the area.
We have visited two different wineries so far in the Lisbon wine region, the AdegaMãe
and Manz winery.
There are many organized day trips from Lisbon that can take you to some of the best wine spots the area has to offer.
We booked our wine-tasting trip with a tour guide, and that was one of the best trips we've done.
Our tour guide created an incredible and unforgettable trip.
If you are a wine lover like us, we highly recommend going on a tour rather than driving to some of the best wineries in the region yourself and missing out on wine tasting.
4. Day trip from Lisbon to Ericeira nad Palacio de Mafra
Go on one of the best day trips from Lisbon and see the coastal town of Ericeira and the Palacio de Mafra.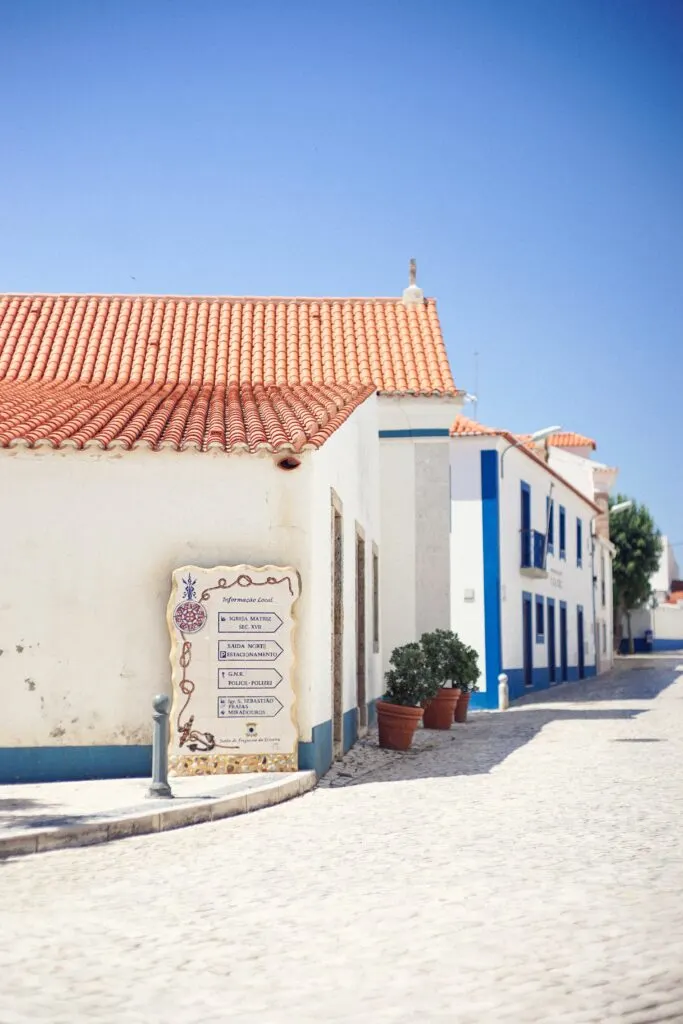 Within 40 min drive from Lisbon, you will find Ericeira, a charming Portuguese fishing town with whitewashed buildings situated along the Atlantic coastline of outstanding surf beaches.
The powerful and reliable surf has transformed this peaceful town into a surfing mecca.
You can stay here overnight or visit Ericeira as an enjoyable day trip from Lisbon combined with seeing the magnificent monastery of Mafra.
Mafra town has one of Europe's largest and most extravagant palaces, the Palacio de Mafra.
Constructed between 1717 and 1755 the palace was used as both a convent and royal residence.
Within its walls, there are over 1,200 rooms connected by over 150 flights of stairs, but only a small portion of the rooms are open to the public.
You can easily spend 2-3 days just enjoying these two stunning towns if you wish.
Ericeira is the surf hotspot, where young travelers flock to surf some of the best waves in Portugal. If you are into surfing this is one of the best day trips from Lisbon.
Mafra, where you can see the impressive monastery.
Both towns will make a perfect holiday destination for young couples and families looking for a peaceful getaway.
5. Day trip from Lisbon to Cabo da Roca
Walk the Cabo da Roca and stop at the best seafood restaurant in the area.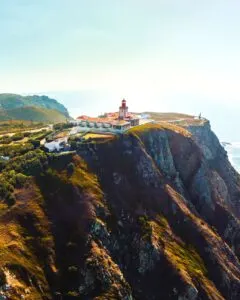 Cabo da Roca or Cape Roca is the most westerly point of mainland Europe.
Up until the 14th century, Cabo da Roca was believed to be the edge of the world.
Getting to Cabo da Roca from Lisbon is relatively easy.
First, hop on the train from Cais do Sodre and get off in Cascais, then head to the bus terminal in Cascais and take the 403 bus.
There is a bus service each hour in both directions but the times are not regular during the day, so check local bus timetables before departure.
The easiest and most convenient way to Cabo da Roca is by car, if you don't have your own four wheels, we highly recommend a tour guide.
We went with our friends on this amazing tour to Cabo da Roca and absolutely loved it!
Ian from Portugal Tours for 4 came recommended by many of our readers.
Once you get to Cabo da Roca, there are no entrance fees or parking charges.
The area has little to no development with only a lighthouse, coffee shop, and a little gift shop.
If you have the chance, we recommend visiting this place just before sunset.
The Cabo da Roca sunset is one of its kind and one of the most beautiful ones we've seen in Portugal.
You can easily spend here a day hiking and exploring the nearby beaches.
We highly recommend combining this site with a wonderful lunch or dinner at our favorite seafood restaurant.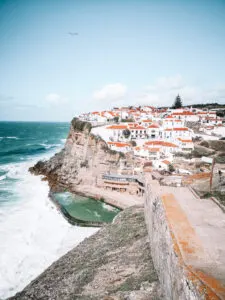 The Azenhas do Mar village, located only 15 min drive from Cabo da Roca can be easily combined to make for a perfect day trip from Lisbon.
Here you will find a beautiful small clifftop village with whitewashed cottages and cobbled streets overlooking a small sandy beach with a seawater pool.
Right above the pool stop at the Azenhas do Mar restaurant for an unforgettable seafood stew.
6. Day trip from Lisbon to Almada
Take the ferry to Almada.
Almada, located on the south side, across the Tagus river, has undoubtedly the best view of Lisbon city.
You can easily get from Lisbon to Almada via ferry or train.
The easiest way, however, is to take an Uber and enjoy the views from the 25th of April bridge.
The bridge resembles the Golden Gate bridge and has some of the best views of the city.
Once in Almada, you will find the statue of the Santuário do Cristo-Rei, inspired by the Cristo Redentor monument in Rio de Janeiro.
Built in 1959, the statue quickly became one of the most emblematic monuments of the 20th century.
The statue of the Santuário do Cristo-Rei is 110 meters high and offers a fantastic view over the city of Lisbon and the river Tagus.
What once was an industrial quarter, since the '90s, Almada has been given a facelift and quickly became a perfect place to explore on a day from Lisbon.
On the northwest side, you will find Cacilhas, Almada's vibrant waterfront neighborhood.
The riverfront is filled with restaurants serving delicious fresh seafood. In Almada, you will also find the Boca do Vento Elevator.
The elevator, attached to a cliff front right on the river, attracts many tourists looking to explore the area.
If you are interested in shipbuilding then the Museu Naval is for you. Here you can learn the history of shipbuilding, ship repair, and much more.
We also went on an incredible sailing trip along the coast on the Tagus river at sunset. It was truly one of the highlights of our time in Lisbon.
7. Day trips from Lisbon to Belem and the Monastery
See Belem and Jerónimos Monastery.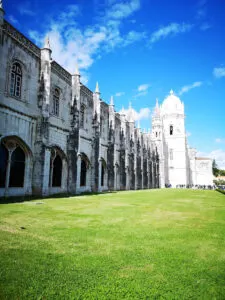 No trip to Lisbon is complete without visiting Belem and the Jeronimos Monastery.
Although you would consider this place part of Lisbon, it literally takes a whole day to explore this stunning part of the city.
For us, it was one of the best day trips from Lisbon when we first visited this part of the world.
Along with the Belem tower, the monastery being a UNESCO World Heritage Site also belongs to the most visited places by tourists.
King Manuel I decided to begin the monastery's construction at the end of the 1400s, right at the place where navigator Vasco da Gama and his men spent their last night in Portugal before sailing to India.
After the initial construction of the monastery King Manuel I selected the Hieronymites order of monks to reside in the complex.
The original time planned to construct the Monastery of Jeronimos was only eight years, but it took almost a century since the foundations were laid.
The monastery was originally constructed right on the bank of the Tagus river, but today the water edge is 300m further south than it was 500+ years ago.
Next, to the monastery, you will find the Santa Maria Church.
The Church houses the tombs of Vasco da Gama and Luís de Camões, a famous Portuguese poet, and writer.
This site, together with the Belém Tower, represents an important era in Portugal's historical timeline.
A few meters further, at the waterfront, you will find the famous Belem Tower, built in the 16th century as a fort to protect the coast from foreign attacks, and like the Jerónimos Monastery, it is a UNESCO World Heritage Site.
Within 15 min walk from the tower, you will reach the Padrão dos Descobrimentos (or Monument to the Discoveries) built in 1960.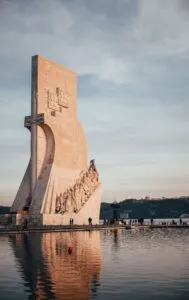 The monument pays tribute to 33 prominent figures in Portugal's Age of Discoveries, including Henry the Navigator and the poet Luís Vaz de Camões.
After you have seen all these fascinating places, why not have a pastel de nata.
At Pasteis de Belém you will get to taste the original recipe that monks from Jeronimos Monastery came up with.
Pasteis de Belém quickly became one of the most popular places in the city and the queues here show for it.
Di you know you can learn how to make pastel de nata here in Lisbon?
8. Day trip from Lisbon to Costa da Caparica
One of the best day trips from Lisbon we did was to Costa da Caparica.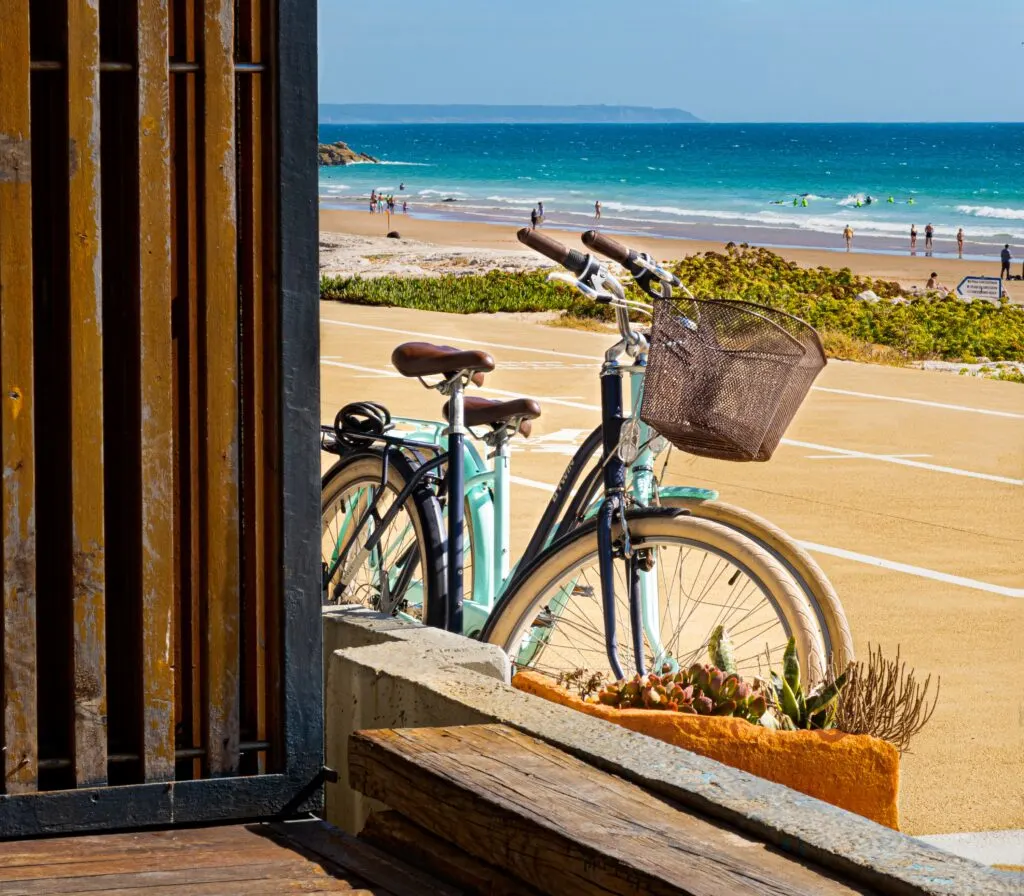 Only 30 min away from Lisbon, you will find yourself in The Costa da Caparica.
The coastline here stretches along the entire western edge of the Setubal Peninsula and holds exceptional long pristine beaches.
Costa da Caparica is Europe's longest continuous sandy shoreline stretching for 24km.
The Costa da Caparica is well worth a day trip from Lisbon, as there is a regular and inexpensive express service, and it only takes 30 minutes to reach the shore from central Lisbon.
The coast is well known for its wonderful surfing beaches, stunning landscapes, hiking trails and friendly people.
Even though the area is so close to Portugal's busiest city, is still not overcrowded and overpopulated.
Here you will find some of the best beaches the country has to offer.
The Capuchos viewpoint, located only 3 km from the center of the city, has stunning views of the whole city, and the Atlantic Ocean coastline, and on a clear day, you can see Lisbon, Serra de Arrabida Natural Park, and Cape Espichel.
9. Day trips from Lisbon to Peniche and Nazare
See the monster waves in Nazare and the Berlenga Islands of Peniche.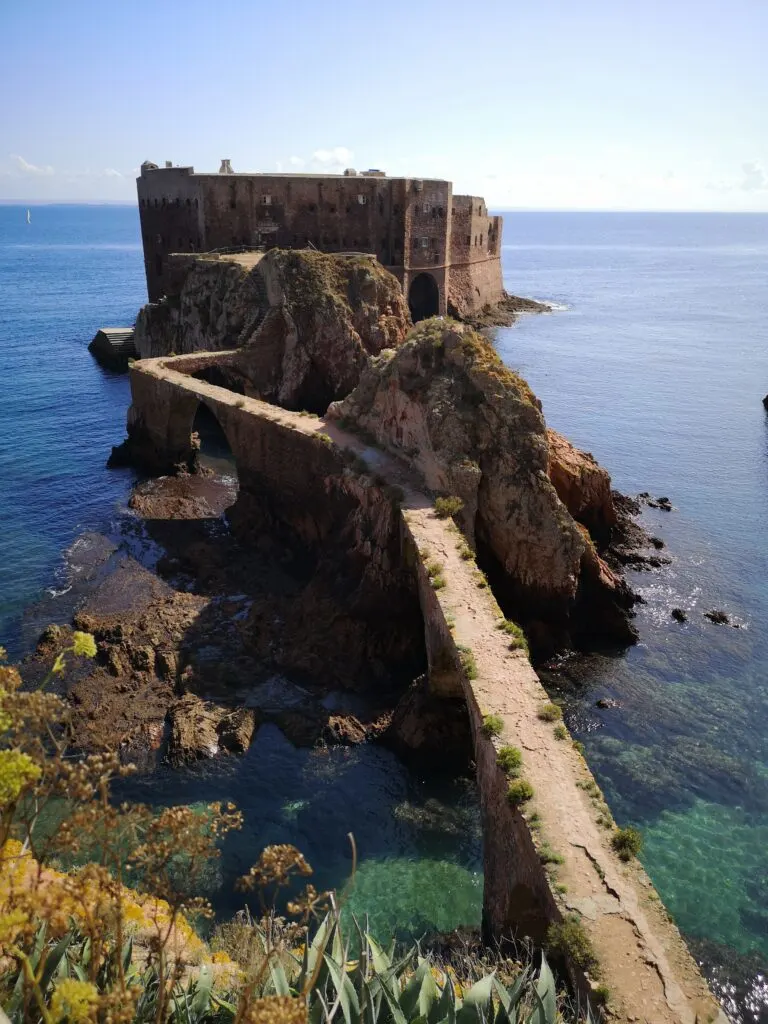 This is one of our favorite day trips from Lisbon we went on several times.
If you love the ocean and have a bit of love for surfing, these two towns are a must-visit!
You can easily spend here a week or two enjoying the sandy beaches, and delicious seafood and exploring some of the most unique places Portugal has to offer.
Nazare's Praia do Norte beach extends for many kilometers and has a beautiful, natural setting.
With almost no tourist development, the beach became famous around the world for its huge waves.
The winter winds, currents, and the under-sea geology combine to form staggering 30m waves.
Only the bravest and most experienced surfers would even consider surfing these colossal waves.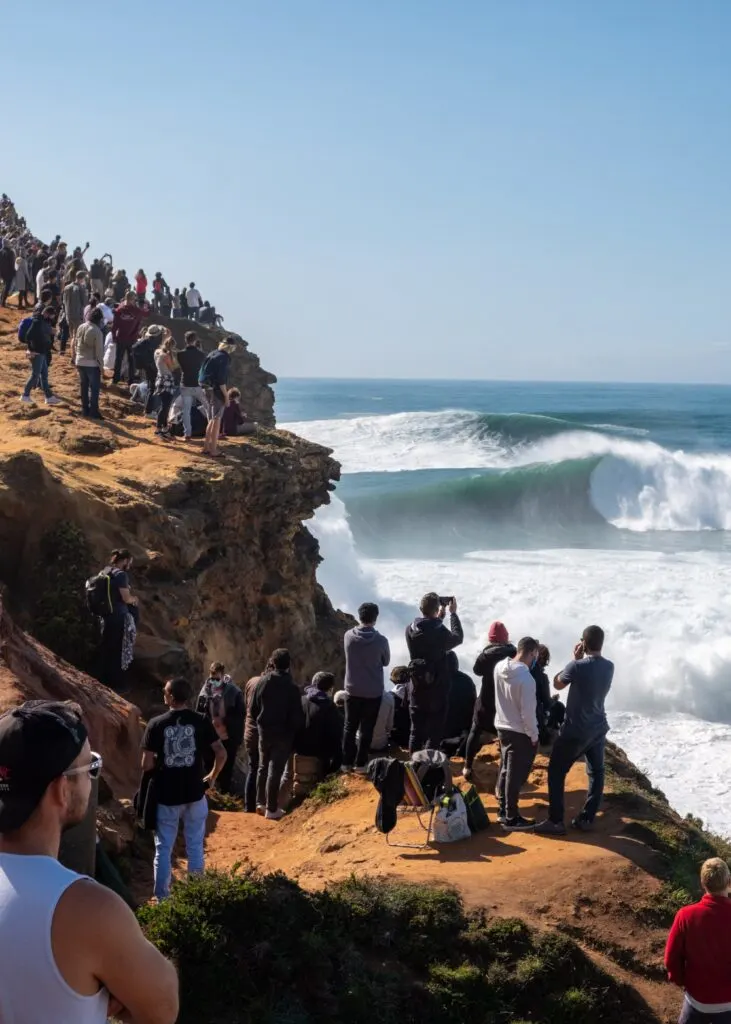 Peniche holds a famous surfing competition every year.
This fishing village has some of the best surfing waves in Western Europe.
Many tourists decide to visit Peniche as part of a day trip from Lisbon to see the Islands of Berlenga. The Berlenga Grande island, with its unique fort, can be accessed via boat mid-May until mid-September.
Historically, Berlengas was an important location to defend.
The islands could have provided a suitable staging area to attack the Portuguese coast, therefore in the 17th century, the São João Baptista fort was constructed.
This little fort is one of the most stunning and unique buildings in Portugal, rising up from the turquoise Atlantic waters and tied by narrow arched bridges.
10. Day trip from Lisbon to Obidos
Explore the towns of Obidos and Fatima.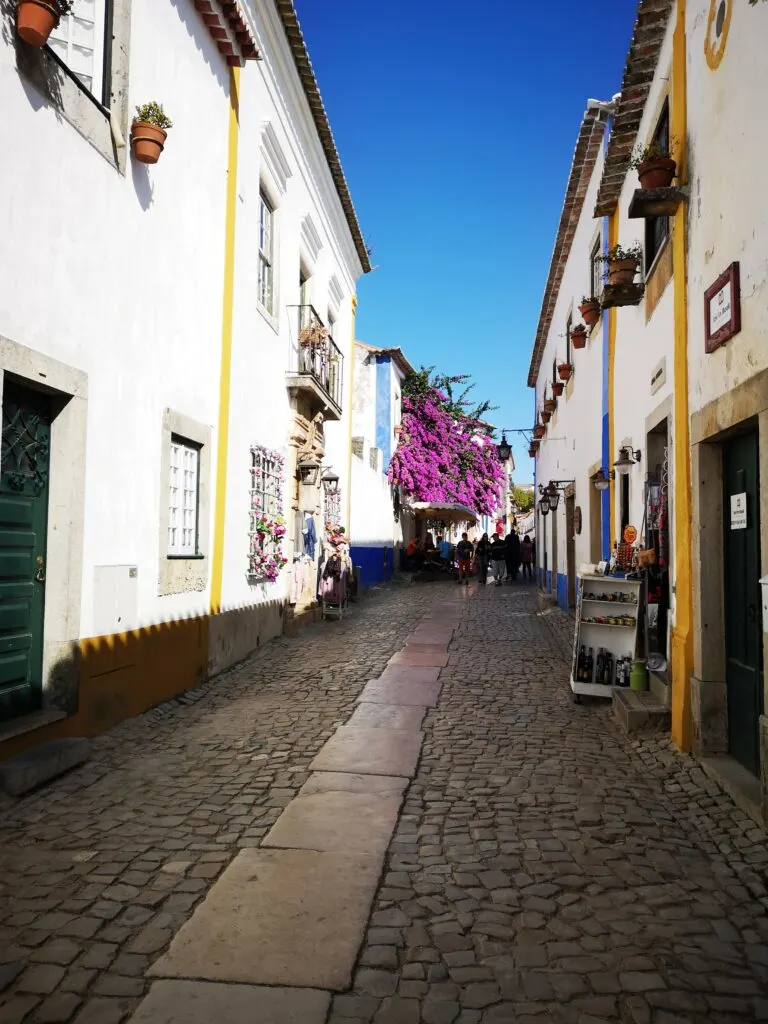 Obidos belongs to one of the best-preserved old towns in Portugal we've seen.
The town is filled with narrow cobbled stone streets and traditional sunny painted houses.
According to the history, the town was first presented to the Queen of Portugal on her wedding day, a tradition that began with Queen Urraca in 1214 and continued until the 19th century.
Today Obidos is the best example of a Portuguese walled town and is one of the best tourist destinations for day trips from Lisbon.
The town is well worth a visit also for its castle being one of the official wonders of Portugal and a source of national pride.
The castle was a witness to fights for the throne, political changes, and even Roman activities.
Nowadays the site became extremely popular and touristy. Take your time here, explore the streets and walk around the town walls that encircle Obidos.
We highly recommend visiting this beautiful town during the week, early in the morning.
After Obidos, head towards Fatima. You can find here one of the most popular day trips from Lisbon to Fatma.
Fatima is one of the most important Catholic shrines in the world dedicated to the Virgin Mary.
Over the years, Fatima welcomes millions of visitors due to the apparitions of the Virgin Mary to three little shepherds in 1917.
We went on a guided tour to see these places to learn more about these historic sites. You can book it here.
11. Day trip from Lisbon to Porto
One of the best wine spots in Portugal!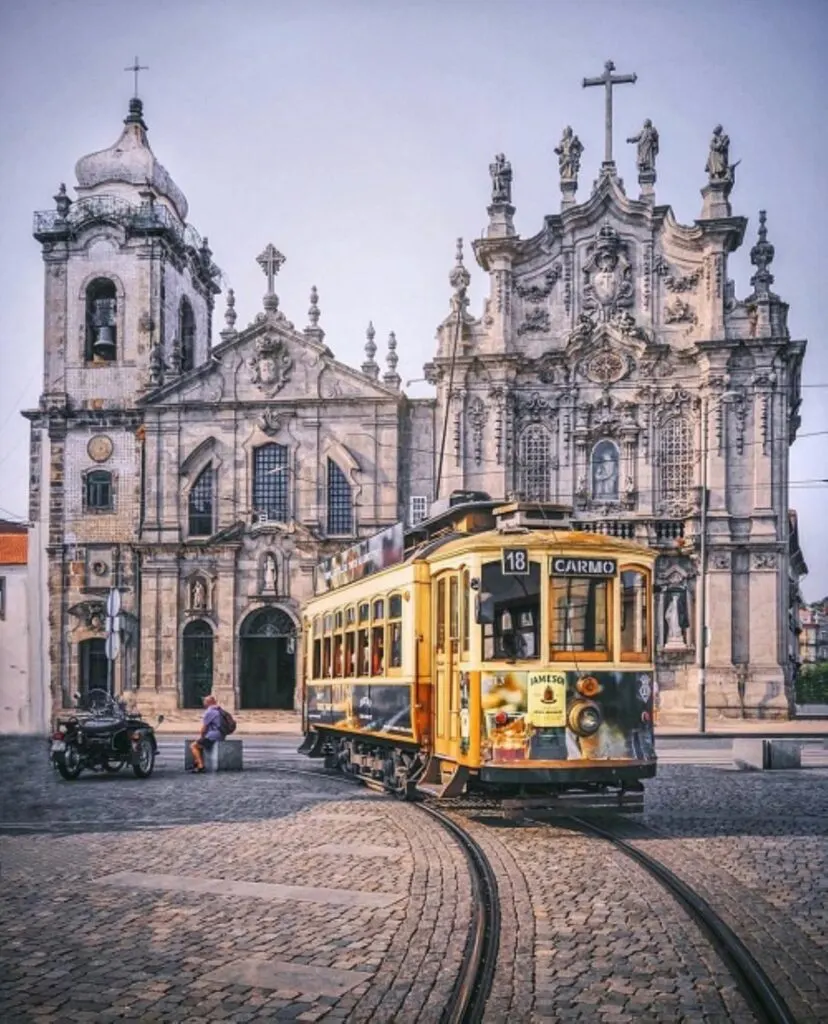 There is so much to see and do here in Porto that it's hard to discover it all in one day. If you are however short on time and would like to visit the city. A day trip to Porto is a must.
There are a lot of awesome day trips from Lisbon to Porto you can choose from.
There is no better way to see Porto in one day. Visit Porto, Nazare, and Coimbra, and explore these UNESCO World Heritage Sites on a day trip from Lisbon.
Best time to visit Portugal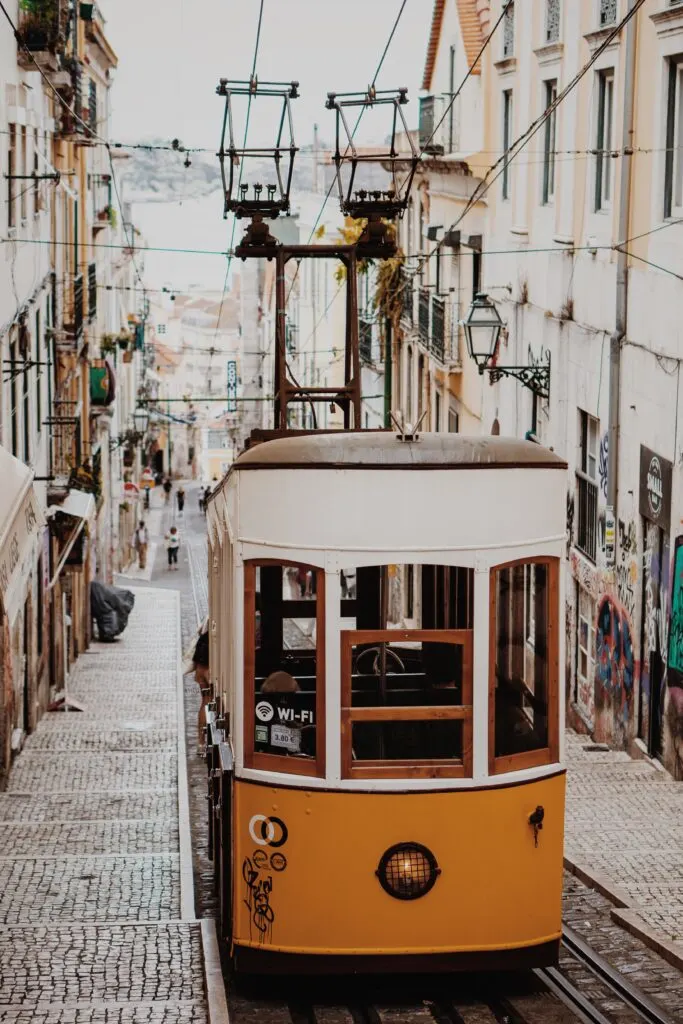 Portugal has good weather year-round and you can easily explore this stunning country at any time of the year.
Lisbon, in particular, has a moderate climate, with an average of 24°C in July and 11°C in January.
June to September is considered to be the high season in Portugal as most tourists opt for those months.
The best time to visit Lisbon is either from March to May or September to late October.
The weather then is still warm, hotel rates are cheaper and there are fewer crowds than in summer.
If you decide to visit Portugal in the summer, pack light summer clothes, a hat, polarised sunglasses, and high-factor sun cream.
During the winter months, be prepared for cooler temperatures and some rain.
Make sure to pack comfortable walking shoes as you will have to combat some hills.
After all Lisbon is known as the city of seven hills.
Where to stay in Lisbon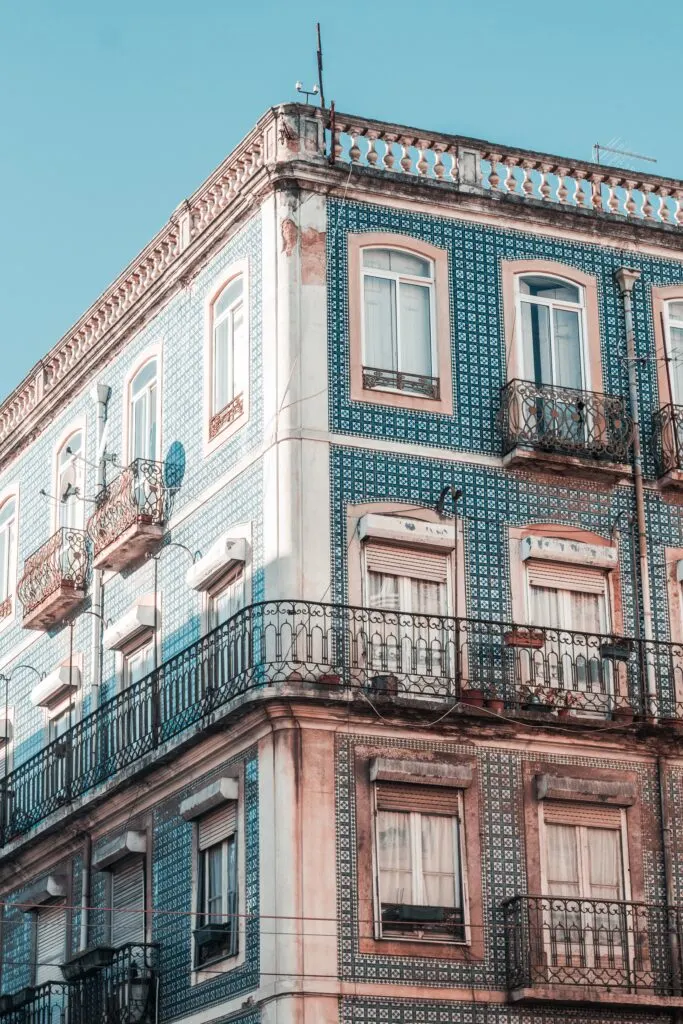 Lisbon has plenty of accommodation options, from hostels, and Airbnb to hitoric hotels.
There are various districts in the city and everyone can find an area suitable for them.
If you are looking for a unique district, then Alfama might be your spot. And it is also Lisbon's oldest district.
For party lovers, Barrio Alto is the spot to be.
If you wish to combine the beach with city life, then you should base yourself in one of the small coastal towns of Estoril, Carcavelos, or Cascais with easy access to Lisbon.
Useful links for visiting Lisbon for the first time
Viator – One-stop shop for booking your tours and transfers.
Get Your Guide – We went on many fantastic tours via this page.
Booking.com – Our second choice when looking for a place to stay.
Worldnomads, Truetraveller, Fast Cover, SafetyWing – Make sure to always travel with an appropriate cover.
Lisbon Tourism Site – For all additional info for your trip.
Have an unforgettable trip to Portugal.
Thanks for stopping by!
Safe travels,
Sabina and Steve.