We went on our first trip to Portugal back in 2010. We didn't plan much before travelling, and little did we know about the country and where we should go.
Since then, we have taken many trips to Portugal and spent many months exploring this diverse country. We fell in love with this fascinating place so much that we decided to get married here, and in 2019 we said yes on the edge of a cliff in the Algarve.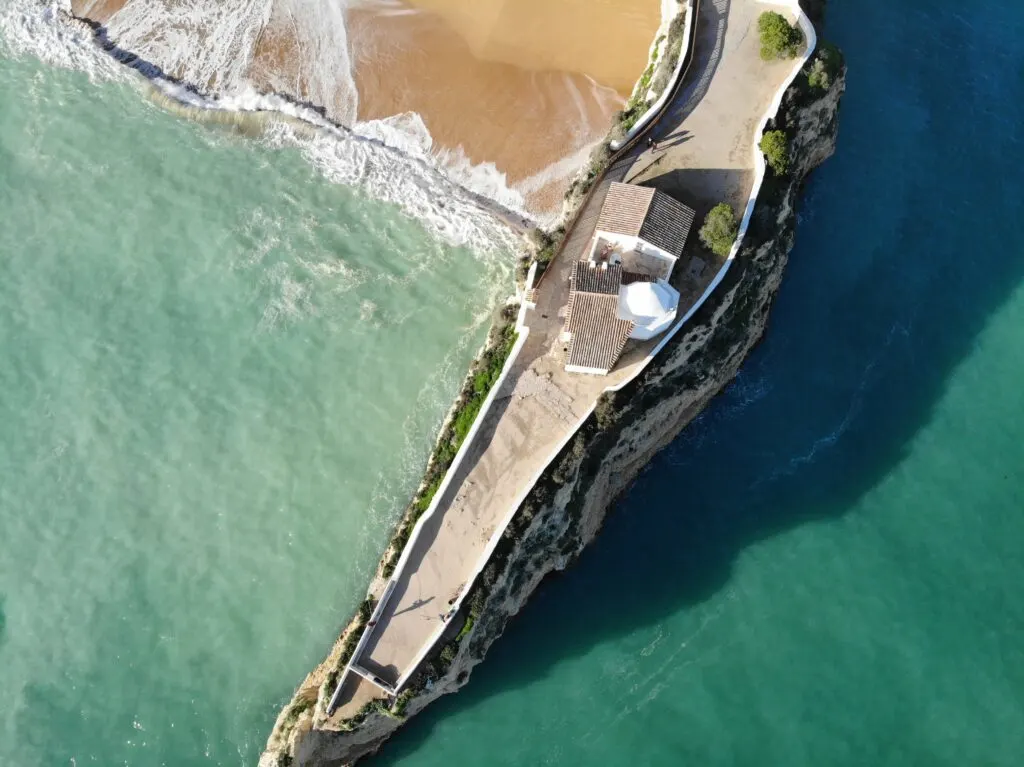 We can spend hours discussing the country's culture, cuisine, and landscape. There is so much to explore here. When travelling around Portugal for the first time, you quickly realise how fascinating and diverse the country is.
There are many things we wish we had known before going on our first trip to Portugal. Therefore we decided to put together a list of helpful tips when travelling to Portugal for the first time.
Here are the top things we wish we had known before going on our first trip to Portugal
Best places to visit in Portugal
The country, although somewhat small, is highly diverse. We travelled from north to south, east to west, and I must say although Portugal is relatively small compared to other European countries, it is also highly diverse. Every region in Portugal is different, from the ever-changing landscape and regional culinary delights to the rich history.
Don't try to see the whole country in a week or two. There's no way to explore the whole of Portugal in two weeks. Trying to fit in the main cities is challenging, not to mention the smaller coastal villages or inland medieval towns.
Focus on what is essential to see and spend more time in one place rather than planning to move each day or two to a different location.
Spend three nights in bigger cities like Porto or Lisbon.
Although it might be tempting to book just a night or two and see a different place, you will barely scratch a surface and regret later that you didn't spend more time here. Many side trips are available from the main cities, so there's no way to get bored.
Don't just stick to the main popular spots. Try and explore other places others don't talk about. On many occasions, we've taken a trip without much planning and ended up in the most beautiful spots where we decided to stay for more than just one night.
Each region is very different, so keep that in mind when planning the itinerary.
Rural towns and villages stick to their opening hours, and it is hard to find any place open for lunch between 3 and 6/7 pm. This is not the case in bigger towns but in small rural villages where you won't find English on the menu. Travelling in the Peneda-Geres National Park or rural villages of Alentejo left us hungry on a few occasions as everything closed after lunch hours. If you are planning to be adventurous, keep that in mind.
Sundays, things are closed. Well, maybe not all things but many. We recently completed the Fishermen's trail and found that in a small village like the Almograve, only one restaurant was open on a Sunday evening.
Porto and Lisbon are hilly. Not sure which city is the winner in this competition, though. They are both equally challenging to us, but the beauty of it is that there is a stunning view on top of each hill.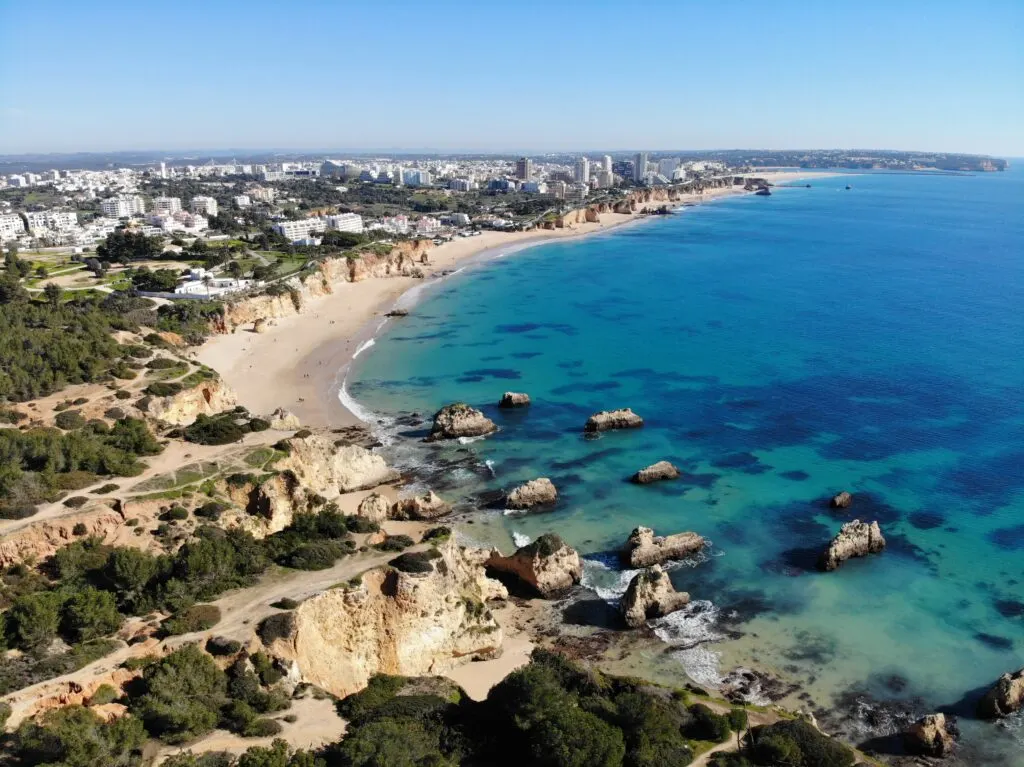 Public transport in Portugal
Public transport in Portugal is generally very reliable. There are a lot of bus and train connections between the cities in Portugal, especially the biggest ones.
There's no public transport on the weekends in rural locations. We only learned about it recently on our coastal trip from Alentejo to the Algarve.
When travelling in Portugal by train, use CP when booking your tickets.
The bus network in Portugal is excellent. From public transportation to the amazing network of Flixbus buses, you can get almost anywhere by bus in Portugal.
Make sure to get discount cards before your trip to Portugal. Lisbon Card and Porto Card are great to have. Just plan ahead and make sure that the places you want to visit offer reduced fees.
Driving in Portugal
The highways in Portugal are one of the best in Europe.
Renting a car in Portugal with a Via Verde transponder will save you the hassle of paying for tolls directly. The car rental company will charge your bank card at the end of the rental, which is much easier than trying to figure out how to pay for them directly.
There's no need to get a car rental in Lisbon. We found a car to be a burden rather than a helpful way of moving from A to B. The public transport here is excellent, and Uber is always a few clicks away.
It's tough to find parking in Porto. Especially in Porto's town centre, it is impossible to find a place to park. Paying for parking is just too expensive and, in the end, not worth it when in Porto.
Driving into historic centres can be challenging. The streets are usually highly narrow here, so it is easy to get stuck. It is easier to park on the edge of the town and walk around.
Google Maps doesn't always know the best route. Especially when it comes to smaller towns and rural locations. We found it useful, though, on our road trip from Lisbon to Algarve. On many occasions, however, Google Maps was trying to direct us down a steep slope straight to a Douro river or on a non-existent road into a bush.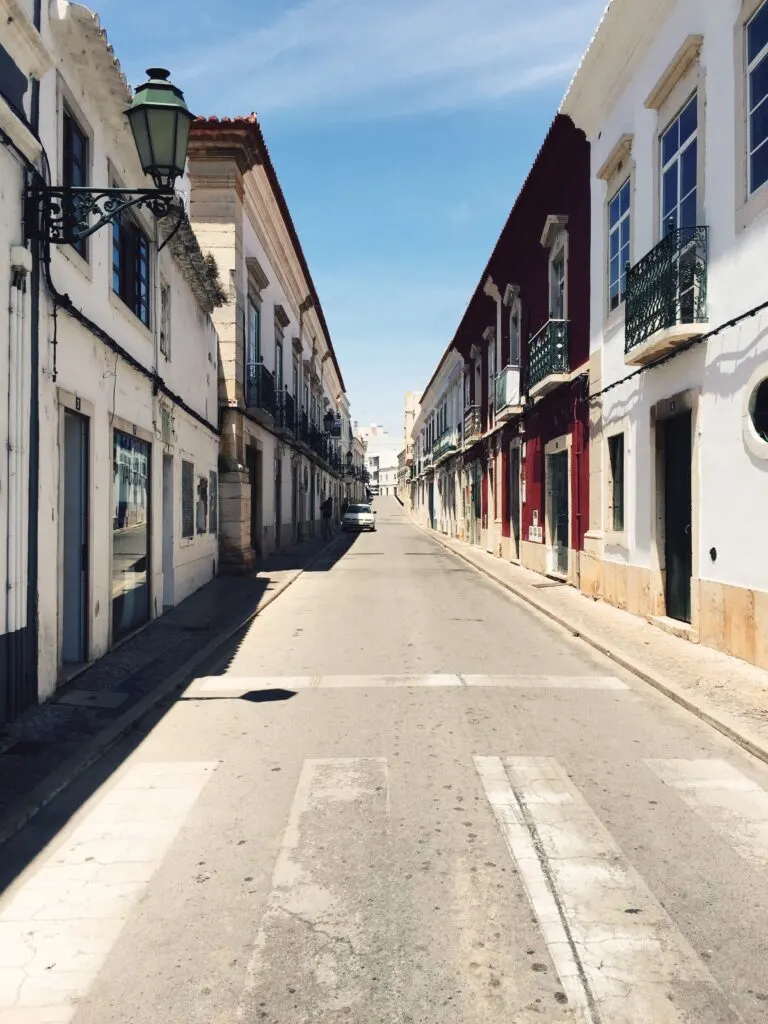 Travelling in Portugal without speaking Portuguese
The Portuguese language is hard to learn. And we mean it. Portuguese is a beautiful language, but it is difficult to learn. Knowing Polish and English, we thought we would grasp the language without a problem, but this certainly isn't the case!
Portuguese people are one of the friendliest and nicest people we've met. They will do everything they can to help you if you don't speak Portuguese.
Most people know English in Portugal. We had no issues travelling through the Algarve, Cascais, Aveiro and even Olhao. You don't need to worry about not speaking Portuguese in all the main tourist destinations.
Travelling off the beaten path in Portugal without any Portuguese. Over the years, we made quite a few trips to completely nontouristy places in Portugal and still managed to communicate with the locals. So don't be afraid to explore different places, not on the tourist maps.
Knowing a few words like Bom dia for good morning or Obrigada/Obrigado for thank you is useful.
Portugal coffee culture – how to order a coffee in Portugal
Ordering coffee in Portugal and not an Americano. Well, honestly, there's no such thing as americano here. Maybe Lisbon, Porto, and some other popular spots have it on the menu, but not the typical coffee shops.
A cup of coffee in Portugal can cost as little as €0.60. We had delicious abatanado, similar to an americano, for as little as €0.50.
Um Cafe means you are ordering an espresso. Um café pingado is an espresso topped with milk. Uma meia de leite will get you a coffee similar to a latte or flat white.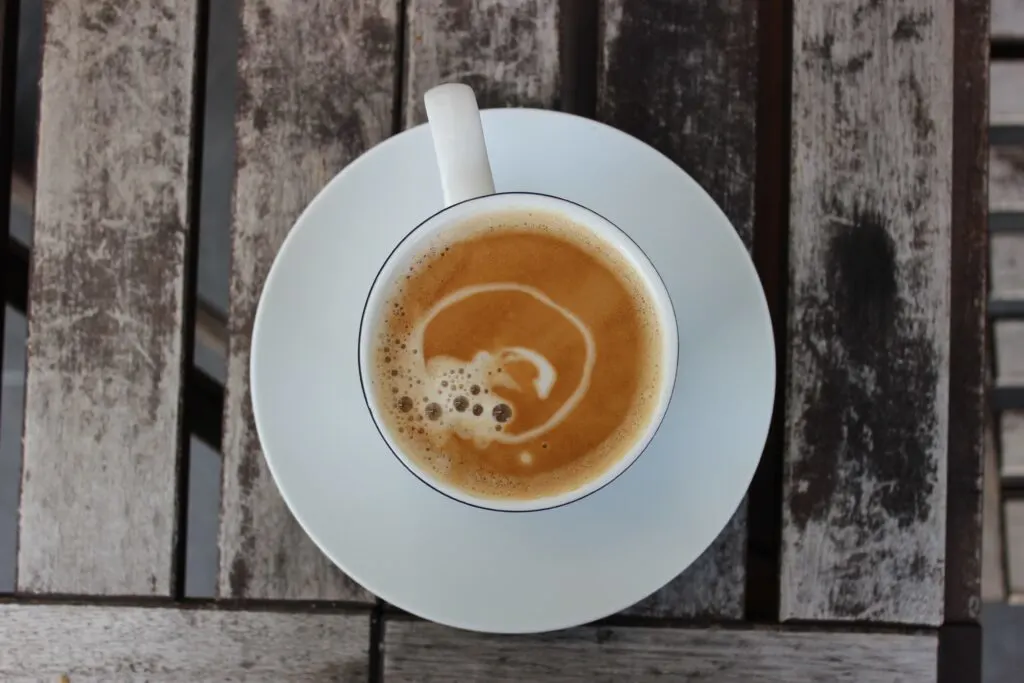 What to pack on your first trip to Portugal
Shoes. Yes, I made the mistake of packing hills for my first trip to Lisbon, and they stayed in a suitcase throughout my holiday. Whether you are visiting Sintra, Lisbon, Porto, Lagos, Evora, or any other place in Portugal, make sure to pack comfortable flat shoes.
It's hot here during the summertime, so don't forget to pack light clothing and plenty of high-factor sun cream.
A waterproof jacket is a must during the winter months.
How much cash to bring to Portugal
Expect to pay from €45 to €100-150 on average a day, depending on the activities you wish to undertake. A restaurant meal for two can cost between €20 to €100+, ranging from a traditional local Portuguese restaurant to a fancy fine dining experience.
You don't need to bring enough cash to last for the entire holiday, just enough to cover the first day or two, and later you can always withdraw € from an ATM.
There are many different ATMs in Portugal. We always use MultiBanco as they don't charge any withdrawal fees. Avoid using Euronet at all costs as they are super expensive.
Always pay for services and goods in local currency, in this case, euros.
Have a Wise card to avoid bank fees and exchange rates. Some banks will charge additional fees for using your card in a foreign country. We always use the Wise bank card when travelling. You can quickly deposit money to Wise and exchange it with the country's local currency. We always avoid additional fees with Wise, and they have much better exchange rates than other banks.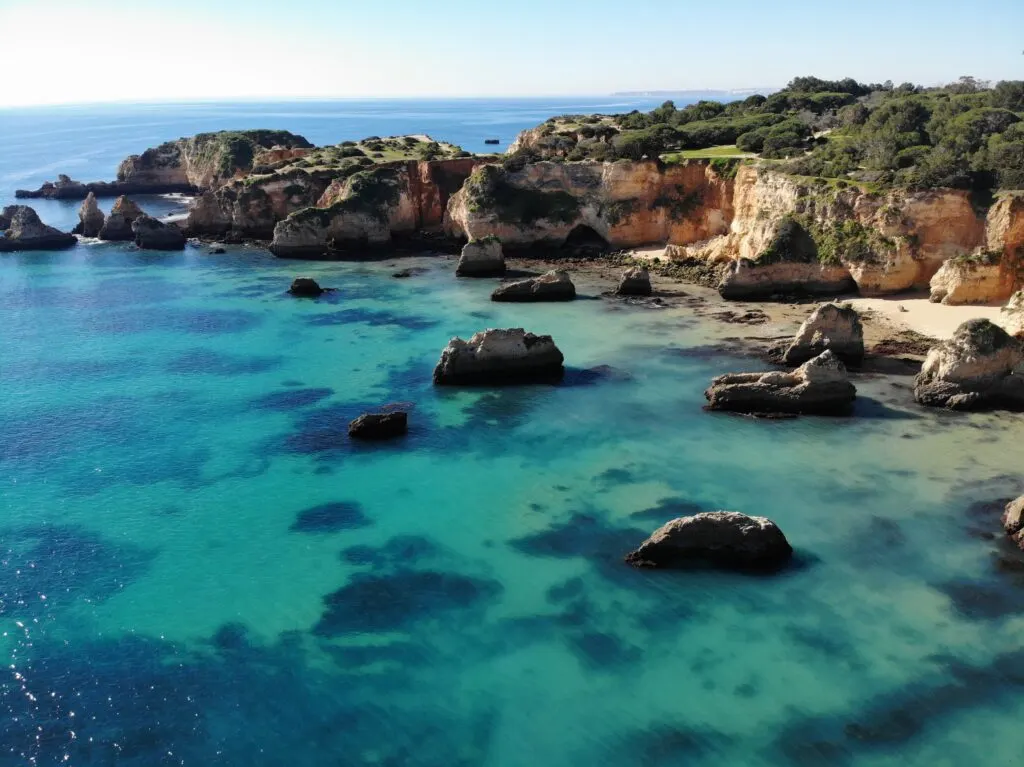 Best time to travel to Portugal
July and August are the busiest and most popular months to visit Portugal. Shoulder seasons, May-June and late September-October, are as pleasant to travel to Portugal but without the crowds.
Portugal is perfect for visiting any time of the year. We much prefer winter months over the summer, especially in the Algarve, as the climate is much milder here and the weather more consistent. Albufeira luxury hotels are one of the most popular places to stay in the Algarve for families and couples.
The cobblestone streets, although very pretty, are also unbelievably slippery when wet. So keep that in mind when travelling during the winter months.
The Atlantic Ocean is cold. Even in the summer months of July and August, the water is cold and refreshing.
Famous food and wine you must try on your trip to Portugal
Pastel de Nata is the most iconic and delicious treat you can have.
Black pork is famous in the Alentejo region.
Bacalhau, or Portuguese cod fish, can be found on almost every restaurant's menu.
Sardines, especially freshly grilled sardines, are a must-try when in season.
Order one bifana and share – they are generally massive sandwiches.
Chicken piri-piri, octopus, and the francesinha sandwich are also a must-try on your first trip to Portugal.
Portuguese seafood deashes are second to none. We managed to find some of the best restaurants in Lagos Portugal.
Portugal has some of the best wines we have ever had. There are countless amounts of wineries here and native grape varieties.
Vino Verde is very popular to drink here, and we love it!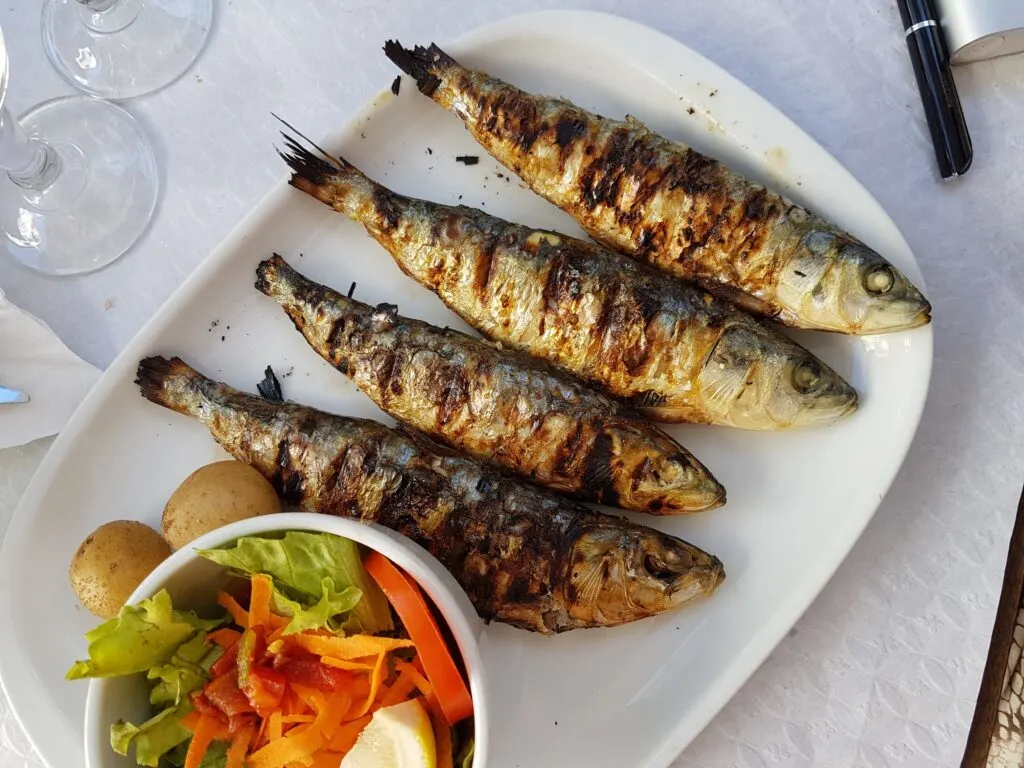 Booking tours on your trip to Portugal
The most popular tours tend to be booked out in advance. We learned the hard way when organising a family day trip and quickly realised that the tour we most wanted was sold out.
Plan and book sightseeing trips well in advance. We tend to use Viator or Get Your Guide when booking tours. We booked amazing tours to Obidos, Berlengas and Sintra.
Join Facebook groups for travel tips. We created a Portugal travel tips group in 2019 to help people plan their perfect trip itinerary to Portugal.
Where to stay in Portugal
There are a lot of places to stay in Portugal. We could spend a year travelling around Portugal and sleeping in a different location each night, and we still wouldn't be able to explore it all. There is so much to see here, from hilly cities and coastal towns to mountain villages and medieval walled towns.
Book accommodation in advance. Although we are fans of booking the first few nights in a place and then deciding where to go next, we found it might be impossible in some areas in Portugal. Especially small villages with limited accommodation options were quite challenging for us.
If you are looking to stay in Albufeira, here are the best luxury hotels in Albufeira.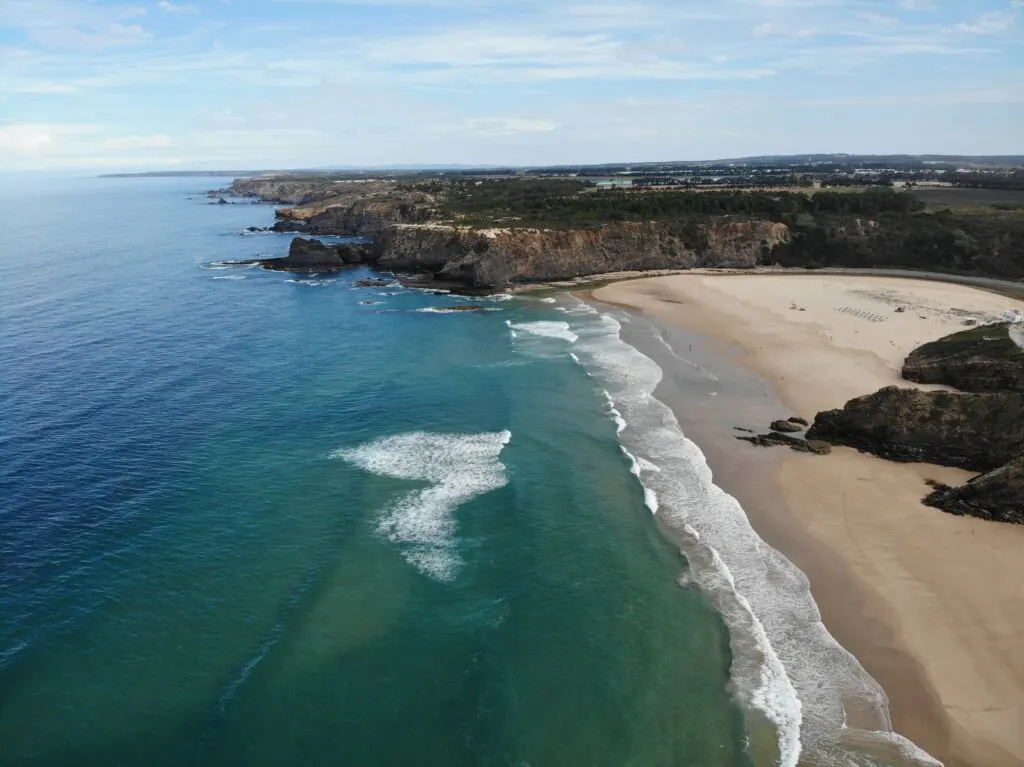 Is Portugal safe to travel to? – Trip to Portugal
The simple answer is yes. Portugal is very safe to travel to, and in fact, it has been voted the 6th safest country in the world to travel to in 2022, according to the GPI and a report produced by IEP. Just keep in mind that, like in any popular tourist destination, common sense is essential as some knowledge about customs and culture.
COVID-19 rules in Portugal. At this moment, there are no measures in place to enter Portugal, including Azores and Madeira). You are no longer required to provide proof of a negative COVID test or to present a COVID-EU digital certificate, vaccination or recovery certificate issued by third countries, accepted or recognised in Portugal. For the most up-to-date requirements, visit the visit Portugal website.
There is certainly a lot to learn before planning a trip to Portugal. Don't worry if you are unsure about things. Once you are here, you will quickly forget any stress prior to the trip.
We hope that this post will help you with the planning.
Thanks for stopping by,
Steve and Sabina