One of the most unexpected places we instantly fell in love with when travelling around Portugal was Aveiro.
The town, also known to be the 'Venice of Portugal' due to the system of canals in the city and the distinctive boats resembling Italy's Venice.
Historically Aveiro was significant for salt and seaweed exploitation as well as fishing.
Nowadays the town has become a top-rated tourist destination.
We spent three days here and explored some of the best things to do in Aveiro.
From pristine beaches, a beautiful lagoon, Venice like canals and unique architecture to great restaurants.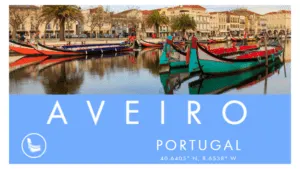 Aveiro itself is quite small, and it is straightforward to navigate around by foot. Unless you are planning to head towards Costa Nova, which we highly recommend, you won't need a car to explore this town.
If you don't have much time, you can easily explore Aveiro on a day trip from Porto and Lisbon.
Before we get to our recommendations, let us tell you first where exactly Aveiro is located in Portugal.
Aveiro, Portugal location:
The town is very centrally located on the map, by the coast between Coimbra and Porto.
It takes about 45-50 minutes by car to get to Aveiro from Porto and Coimbra.
You can also visit Aveiro on a day trip from Lisbon as it takes about 2.5 hours to get here.
Aveiro day trip itinerary:
Visit Costa Nova beach and the fisherman's houses:
You can't come to Aveiro without visiting the sandy white beach of Costa Nova.
The whole area is picture-perfect, with crystal clear waters, white sand beach and of course charming fisherman's houses.
Here you can easily spend the day by the water, relaxing and admiring the streets of this stunning town.
When you get hungry, make sure to stop at the Bronze Seafood and Lounge Bar for a mouthwatering lunch or dinner.
Keep in mind this place gets packed during lunchtime, so you might want to come before or just after the rush hour.
Ideally, you would like to arrive here early in the morning and spend 3-4 hours here until lunchtime.
Learn about Aveiro Moliceiros history:
After relaxing morning at the beach, it's time to explore the charming town of Aveiro.
Once you get here, you quickly realise that everything here is within walking distance.
Leave your car behind and instead hop on one of the many boats and learn about the history of this town and its people.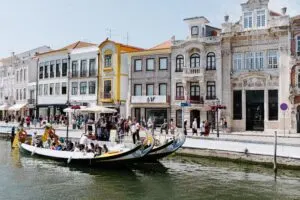 The boat rides take about 45 minutes and cost €10 for an adult or €5 for a child ticket.
They will take you up and down the channels and explain what had an essential role in town development.
Here, you will quickly learn how Moliceiros (the boats) have played a crucial part in the city's history and economy for centuries, having been initially developed for the gathering of seaweed out in the lagoon.
Explore the fish market square:
After you get off the boat, head to the fish market square (Praça do Peixe) to sample some delicious local cuisine.
See some of the city's best museums:
If you are not too hungry, stroll to the Art Nouveau Museum (Museu De Arte Nova), the Aveiro Museum and the Troncalhada Eco-Museum.
Here you can learn about the region's history and reach culture, architecture and the origins of the salt production.
Take some pictures at one of the many bridges in Aveiro:
Make sure to walk over the Ponte dos Carcavelos bridge to take some great photos of the canal.
The bridge is located over the Canal de São Roque dating from 1953, built to replace the original bridge, which collapsed in 1942.
The Rossio Area is also worth a visit with stunning properties owned by Brasilian rich and famous.
Slowly stroll along the waterfront and admire the architecture and unique tiling work.
After a busy day, grab a drink at the Galitos Bar or the Maria Lounge Bar and watch the world go by.
On a beautiful sunny day, you might want to opt for a sunset cycle to the lagoon.
You can easily spot a bicycle rental place in the town centre, and it is free of charge to grab a bike. All you need is an I.D.
If you do get hungry, stop for a delicious seafood dinner at the Salpone or the O Barrio restaurant.
Best time to visit Aveiro:
Aveiro is quite small, and it is very easy to explore this town on a day trip from Lisbon.
There are a lot of amazing places to visit in Portugal, and this town certainly doesn't disappoint.
Ideally, you would like to arrive here early to be able to spend some time on the beach and head to the town centre in the early afternoon.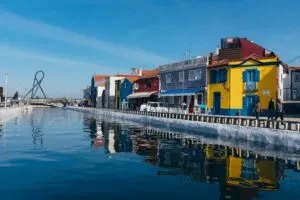 If you would like to spend more time than just a day trip to Aveiro, you can easily book one of the many Airbnb's available in the area.
The distance to Aveiro from Lisbon is 255 km. It will take you over 2 hours drive to get to the city centre.
Parking in the city isn't costly, but you might have to go a bit outside to find a parking spot free of charge.
Lisbon to Aveiro by train will take you just over two hours to get to Aveiro from Lisbon by public transport
Travel from Porto to Aveiro:
It takes less than an hour to get to Aveiro from Porto by car.
If you decide to take the train from Porto to Aveiro, you will get here in just over an hour.
The train departure times are frequent, so it might be an even more convenient way to get to the city via public transport.
Aveiro's train station can be easily accessed as it is only 10 minutes away by foot from the town.
Best time to visit Aveiro Portugal:
The town can be pleasantly explored at any time of the year. The best time to explore Aveiro is, however off-peak.
Springtime (April-June) and in the autumn months (September- until late October).
When planning your visit to Portugal, don't forget to bring some comfortable walking shoes, clothing. A camera is also a must as you will have endless opportunities for amazing pictures.
If you are planning to visit Aveiro, make sure to pin the image below for later.
We have also created a group for anyone travelling to Portugal and looking for tips.
Make sure to join here.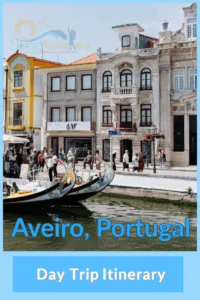 Thanks for stopping by,
Sabina and Steve