Looking to explore some of the best places to visit in Portugal?
From widespread awe dropping views to hidden gems – we have you covered.
Since we got here, we have been mesmerised by the number of incredible places that are still waiting to be discovered in Portugal.
We have done some of the best day trips from Lisbon, explored all of the unique places in Cascais.
And of course, saw some of the most Instagram worthy locations in Portugal.
Still, there is so much more to see!
We went on one of the most beautiful and unique road trips in Portugal while ago, but this time we are planning something on a grand scale!
A month-long road trip including some of the best places to visit in Portugal!
Since Stephen and I came to Portugal 8 years ago for the first time, we keep coming back.
It is hard to explain if you haven't been to Portugal, but the second you step off the plane, you realise you never want to leave.
Did you know that Portugal also owns several islands in the Atlantic?
Yes, we had the pleasure to explore the biggest island in the Azores archipelago.
We spent a week on Sao Miguel, yet there are nine islands in the Azores and little further away – the famous Madera island.
No matter what direction you are planning to travel, you will fall in love with Portugal.
From the rugged coastline, crystal clear Atlantic waters, to picture-perfect whitewashed villages, culture and of course delicious Portuguese cuisine.
We love it all!
We can spend hours writing about the Algarve, Alentejo wine region, surfing the massive waves in Nazare, or hiking the Peneda-Gerês National Park.
As we spend more time exploring some of the best places to visit in Portugal, we will constantly add new content to our blog.
Let us tell you our October road trip plan and what are some of the best places to visit in Portugal.
Here are our 10 best places to visit in Portugal:
1. The Algarve region
Explore some of the best beaches in the Algarve.
Algarve region is covered by some of the most scenic beaches surrounded by rugged cliffs.
Here you can find a bit of paradise almost at every corner.
Whether you like the hustle and bustle of Albufera, charming little streets of Lagos, or relaxing on the beach surrounded by cliffs in Carvoeiro, you are guaranteed to find something for yourself.
If you are looking to explore more of the Algarve, why not head to Tavira, for a calm and relaxed holiday.
Or catch a ferry and head to Farol and Armona Islands, to feel like you are in the Maldives.
You will be surrounded by shallow crystal clear blue waters and pristine sandy beaches.
For a bit of culture head to the Palacio do Estoi or explore the traditional market town of Loule.
Algarve makes for a perfect getaway no matter where your taste is at.
2. Parque Natural da Arrábida
Just an hour outside of Lisbon, surround yourself with nature at the Arrábida Natural Park.
Set between Sesimbra and Setubal discover lush hills, jagged cliffs and idyllic beaches.
Whether you are planning a hiking trip, relaxed holiday or luxury vineyard getaway, this region has it all.
For a chilled break, there is no better way to enjoy the area, but to look at the views while having a glass of wine.
This untouched beauty is a short 30 min drive from the capital of Portugal!
3. Alentejo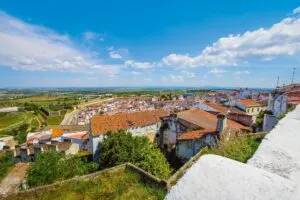 If there is one place you must visit in Portugal the Alentejo wine region has to be one of them.
Set on the southern side of the country, the Alentejo is Portugal's go-to place for all wine lovers.
If you love wine as much as we do, this place cannot be missed.
If you are staying in Lisbon, you can take a day trip from Lisbon to some closer wineries just like we did.
But we highly recommend taking a car and exploring the rolling winery hills of the Alentejo region covering about a third of Portugal.
Known for its long tradition, the region has some of the best wines the country has to offer.
Since we decided to get married in Portugal this year, we couldn't help but include some of the best wines of Alentejo at our wedding!
The white wines are aromatic, fresh and balanced whereas the red has a deep ruby colour with intense, smooth full body taste.
4. Evora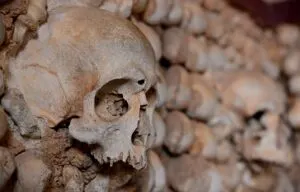 Evora is one of Portugal's most popular tourist destinations and is part of the UNESCO World Heritage Site.
This town can be easily seen on a day trip from Lisbon if you don't have much time.
But since the city gets a lot of tourists during the day, just like Sintra Portugal, you might want to consider an overnight stay.
During the evening, the city is way less crowded and much more pleasant to explore.
Just like Sintra, Evora makes for a breathtaking destination for many people travelling to Portugal.
Here you can see the famous Praca do Giraldo, St. Francis Church, The Roman Temple and of course The Bone Chapel.
The Capela dos Ossos (bone chapel) was built from approximately 5000 bodies exhumed from the city's graveyards.
The chapel is filled with walls and columns made of human bones.
5. Monseratz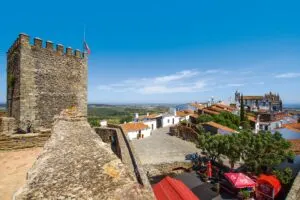 If you are looking for unforgettable pictures, visit the Alentejo region medieval village of Monseratz.
Suspended in time, this historic fortified settlement is one of the oldest in Portugal.
Monsaraz Castle built by King Dinis, in the 14th century, classified as a National Monument of Portugal is also a very unique tourist spot.
It is one of the most perfect places to look at the surrounding nature and the Alqueva Dam.
This is the largest artificial lake in Europe and one of the greatest Portuguese constructions of the century.
Here you can even rent a houseboat and cruise the waters (no license required).
This is exactly what we are doing here!
6. Peniche and the Berlengas Islands
We discovered Peniche for the first time four years ago.
Ever since we can't wait to go back here. This sleepy fishing town is a surfers paradise.
Filled with long stretches of sandy beaches and clear, cold Atlantic water.
Peniche makes for a perfect spot for surfing or relaxing while enjoying the sunshine.
Walking through the streets of this small town, you get to discover many fantastic restaurants serving fresh seafood.
From Peniche harbour, catch a boat to the Berlengas Islands, Portugal's oldest nature reserve and home to the spectacular Sao Joao Baptista fort.
You can also discover Peniche on a day trip from Lisbon as it is only 1,5 hours drive from Portugal's capital city.
7. Obidos
This charming town, full of narrow cobblestone streets and sunny painted houses, is one of the most Instagram perfect places in Portugal.
Obidos belongs to one of the best-preserved old towns in the country.
According to history, the town was first presented to the Queen of Portugal on her wedding day, a tradition that began with Queen Urraca in 1214 and continued until the 19th century.
Today Obidos is the best example of a Portuguese walled town and is one of the best tourist destinations for day trips from Lisbon.
The town is well worth a visit for its castle being one of the official wonders of Portugal and a source of national pride.
Keep in mind that Obidos is one of the most visited towns and tourists flock here from every corner to see the place.
When planning your trip to Obidos, make sure to visit very early in the morning.
You can also stay here overnight and enjoy fewer crowds during the summer evenings.
8. Douro Valley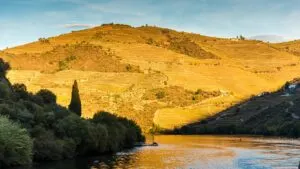 We simply can't narrow down this stunning region to one place.
Obviously Porto is the main city to visit when exploring the area, there are however many other unique places waiting to be explored.
The landscape here is totally enchanting and once you get here, you simply don't want to leave.
We get to spend a week in this region soon, so will make sure to put together a 'must-see guide' shortly.
Along the valley, you get to explore a countless amount of award-winning wineries, architecture masterpieces, and nature itself.
9. Braga
Braga being the third-largest city in Portugal, does not carry the crowds or hectic atmosphere of the other cities.
Often regarded as the religious centre of Portugal, the city has also modern shopping, great restaurants and vibrant nightlife.
This unique place is home to the oldest cathedral in Portugal.
Filled with narrow maze-like streets, Gothic churches and grand Baroque buildings surrounding delightful plazas.
Here you can find Bom Jesus do Monte sanctuary in its full glory.
10. Peneda-Gerês National Park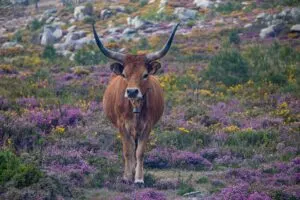 Peneda-Gerês is the only national park in Portugal.
If you are a nature lover like us, you can't miss hiking trip in this beauty.
Here you can surround yourself by oak and pine forests, granite cliffs, peat bogs, marshes, mesmerising lagoons and waterfalls.
Geres also has a rich history which you can find in Roman relics, megalithic tombs, medieval ruins, and ancient villages still inhabited to this day.
Here you can walk the well preserved Roman road known as the Geira.
We hope that you get to explore some of these places on your next trip to Portugal. If you know of a hidden gem, make sure to comment below.
Don't forget to join our 'Portugal travel tips Facebook group'.
Thanks for stopping by.
Sabina and Steve