First of all, a Portugal road trip should be on everybody's list.
You may or not know that driving from Lisbon to the Algarve or the other way used to take ~6 hours!
Living here in Cascais, we have typically taken the A2 highway down to the Algarve.
It is the most direct route and takes around 3 hours, depending on stops.
It is certainly not the most exciting road, but an excellent road for getting there in the shortest possible time.
We had always intended to venture off and explore the coast but just had no clue where to go or what to see.
And trying to find information on this online was like trying to find a needle in a haystack.
So we were delighted on a recent wine tour with João, where he gave us an alternative route from Lisbon to Algarve.
He sent us a route he had previously done, and it was by far one of the most amazing Portugal road trips we have done.
It included delicious restaurants, viewpoints and hidden locations we had never heard of!
You can't road trip Portugal without your own set of wheels. We always rent a Car with Discover Cars. If you are looking for a Portugal car rental, Discover Cars are the best.
Our road trip in Portugal took us from Lisbon to the south, and we got to see so many amazing Portugal attractions.
You can also opt-in for a guided tour if you don't fancy driving yourself. Both Viator and Get Your Guide has a lot of fantastic tours available in Portugal.
So let's begin our ultimate Portugal road trip itinerary! Remember, you can do this route back to front too, and it'll be just as awesome.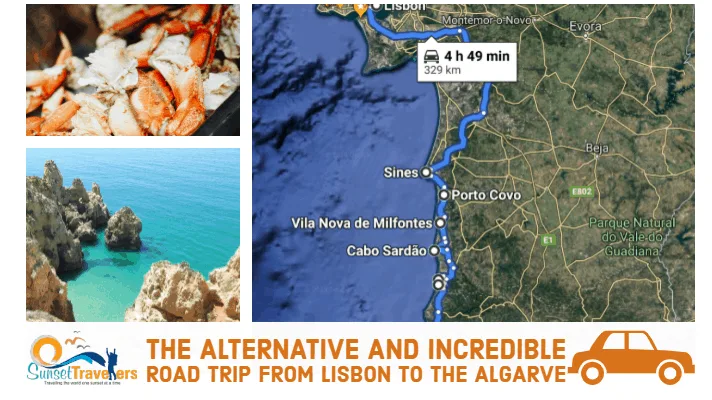 Firstly, while this is an incredible road trip, we don't recommend doing this all the time.
It is a great idea to head down via this route and head back up the motorway on the way back.
Another option is to do this if you are in the Algarve and have an evening flight from Lisbon.
Just factor in extra time for meals, amazing views and countless stops.
Trust us. You will be stopping a lot more than you think you will.
So this is the route we took from Lisbon to the Algarve: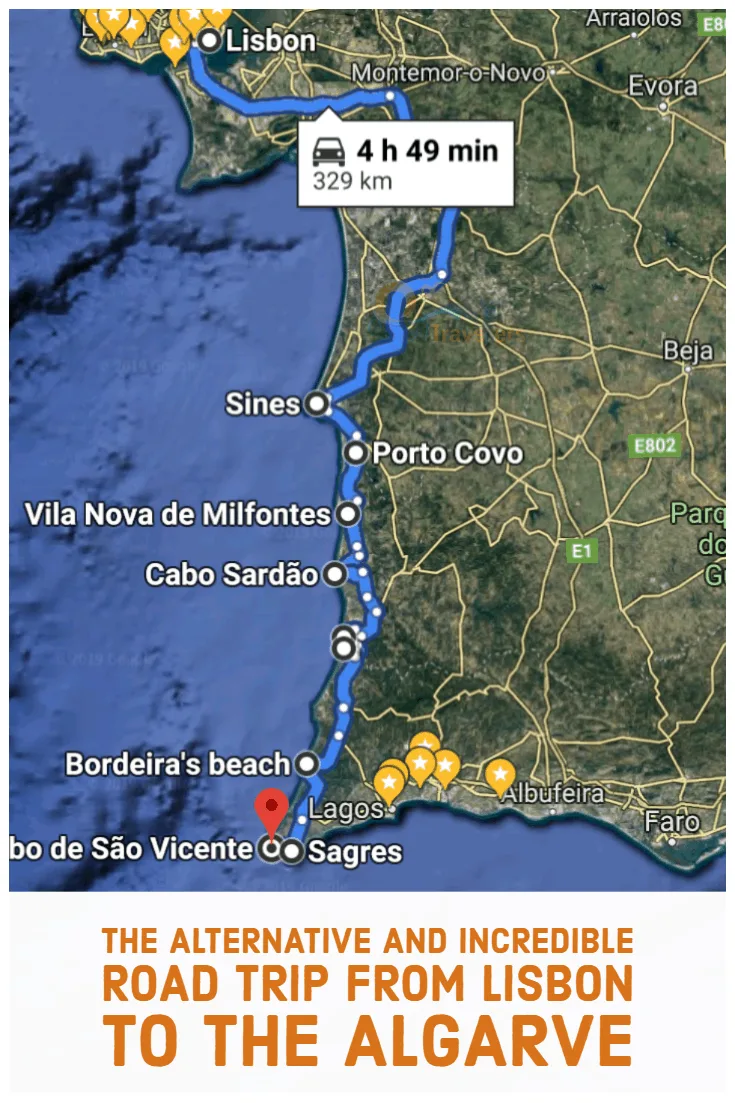 Our final destination was Lagos, but you can change the location of your final destination in the Algarve to suit your needs.
You should be able to go directly to our Google maps route via this link.
But for stopovers and information, we will break it down point by point below.
Stop one on this southern Portugal road trip:
Head out of Lisbon and put directions on for Sines. You will be on the motorway for a bit, and then there will be signs for Sines.
Go along the seafront until you get to Porto Covo. Porto Covo is a beautiful fishing village where you can spend some time relaxing and taking in the views.
This whole section of winding roads features many jaw-dropping views of the Atlantic ocean. You will also see it pass through massive shipping ports.
But keep going and stop at "Vila Nova de Milfontes", meaning the village of 1000 fountains!
We tried to find some information on this place before we got there, and there was virtually nothing online.
We had expected to see fountains all over the town but instead were hit by a delightfully Portuguese town.
This town has something special. Take a drive through it and get to the end, where you are greeted with views of the Atlantic Ocean and a massive river mouth on the river Mira.
The town itself is very charming, and you can easily spend here two or three nights enjoying the place. Enjoy the day at the beach, walking part of the Fisherman's trail or going on a boat trip up the river. There's a lot to do here, and you are in for a treat if you decide to stay here for a few nights.
Stop number 2 on this Portugal road trip:
By now, your mouth is likely to have been open for so long from all the jaw-dropping views that you have worked up quite the appetite.
We certainly had, and we had two restaurant recommendations to choose from.
Either way, from Vila Nova de Milfontes, you should head to visit the Sardao cape.
You will arrive at this incredible lighthouse with a fantastic walkway that leads you to the ends of cliffs with yet again endless views of the Atlantic.
Next to the lighthouse, there is a parking space where you can leave the car and explore the cape area.
The steep cliffs surrounding Cabo Sardao are beautiful and made extra special by the storks nesting on some of these cliffs.
Options for food on this Lisbon to Algarve road trip:
The first option is to have lunch at Rocamar in Cavaleiro. While this place looks fantastic, we were swooned by the calling to Azenha do Mar.
This is a busy, cheap, incredible seafood restaurant that did not disappoint! You will likely be very hungry at this point, but keep in mind that it does get super busy.
We stormed in but were told it was a 15-person wait.
We decided to grab a drink and enjoy the views; after all, there was no rush.
Luckily only around 10 minutes later, a table opened up!
It looks quiet from the outside, but the inside is jam-packed with people.
You can get pretty much any seafood you would like here. If you are unsure what to get, be sure to ask the waiters, as they know best.
We got a bit of everything and were so happy and so full after this. The bill came to around €80 for the four of us(my parents were visiting us).
This included a bottle of wine and starters with some huge amounts of prawns and fish.
Sadly we ate the food before we remembered to take photos, haha.
Walking trails in SW Portugal
Depending on the time of year you are doing the road trip, you will probably see a lot of hikers.
We will probably give this a go next year, as it looks just fantastic!
Rota Vicentina is a network of walking trails in SW Portugal.
So if you are big into walks and hiking, you can literally walk this entire route on foot! No better way to see it.
Comprising the Historical Way, the Fishermen's Trail and several Circular Routes totals 450 km to walk between the city of Santiago do Cacém and Cape St. Vincent, the south-westernmost point in Europe.
The Historical Way was certified in 2016 by the European-wide label "Leading Quality Trails – Best of Europe" for its high walking quality.
Stop 3 on this Portugal road trip:
They say it is good to stretch your legs after a big meal so you can head further south to Odeceixe and visit the beach.
You can also follow the signs to Aljezur and climb the hill towards Arrifana, a great surf spot!
Just look at those views!
Head south and visit the beaches of Bordeira, Pontal da Carrapateira and Amado Beach.
To finish off the Portugal road trip.
We saw the above beaches but were pretty tired, so we decided to give Sagres a miss and just head straight to Lagos (our final destination).
Road trips in Portugal wouldn't be complete without a visit to Lagos, and it's a great place to spend a few days exploring the Algarve.
But if you are up for it, head to Sagres and visit St Vincent cape. If you are staying in Lagos, you can, of course, drive here for a short day trip.
St Vincent's cape is the southwesternmost point of Portugal and of mainland Europe.
Fun fact: You can also visit the westernmost extent of mainland Portugal at Cabo da Roca, more info in my Cascais guide here.

The above google map can be viewed directly on your phone by this link.
As you can see, it does say around 5 hours, but you can easily add an extra 2 hours for lunch and countless viewing stops.
Final points on this fantastic coastal road trip
Believe it or not, there are many more places you could add to this list.
You could even spend a whole day just driving around the Alentejo wine region, which is just outside Lisbon.
If you are looking for more day trips from Lisbon, read our other post here.
We had a great time on this alternative road trip from Lisbon to the Algarve.
Finally, you can also join our Facebook group for Portugal travel tips.
Be sure to share where you can and drive safely.
Thanks for reading,
Steve and Sabina