Are you looking for the perfect Algarve road trip itinerary? There are a lot of stunning places to explore in Portugal.
From the capital city of Lisbon, the famous Porto, to the sunny destination of the Algarve region. We spent a couple of beautiful winter months here and explored the Algarve like locals. From the stunning beaches, dramatic cliffs, rolling hills, and historical towns to authentic cuisine, reach heritage and friendliest people.
There's a lot to explore on a road trip in the Algarve.
We came here on a week's holiday for the first time and put together a fantastic Algarve Portugal road trip itinerary. A week in the Algarve is a perfect time to explore some of the region's best places. Whether starting from Faro airport or making your way down from Lisbon, there are plenty of places to explore in the Algarve.
Let's explore the best places to visit on an Algarve road trip.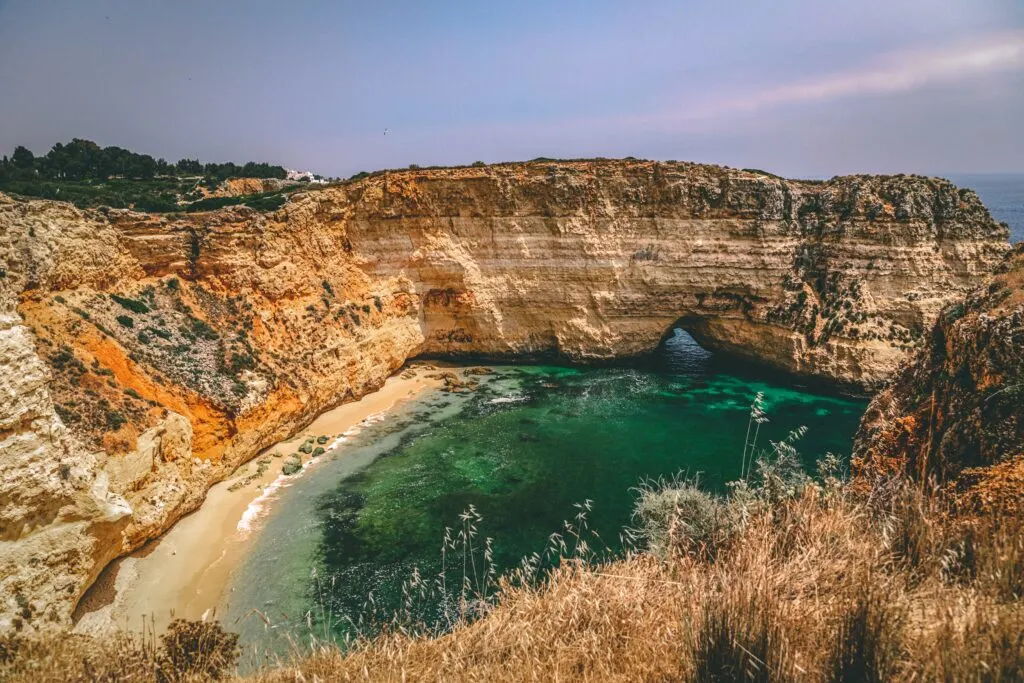 Here's our 7-day Algarve road trip itinerary:
Day 1 Sagres – 1 night in Sagres
If you love beaches, waves and coastal walks, this destination is a perfect starting point on your road trip. Located just over an hour from Faro airport, Sagres is a must-visit destination.
Although Sagres is a trendy surfing town, there are many things to do here for non-surfers. Relax at one of the best beaches in the Algarve, explore the fort and the lighthouse or walk one of the many hiking trails.
We recently stayed at the Memmo hotel in Sagres and can't recommend it enough. The hotel has all the facilities you might want and is ideally located within a short distance from the town centre.
Best places to eat in Sagres:
We highly recommend the following restaurants we visited during our trip here :
Arte Bianca – Italian restaurant serving delicious pizza on sourdough. A must-try!
Three Little Birds – the shrimp tacos are a must-try!
Day 2 Lagos – 1 night in Lagos on the Algarve road trip
Drive 30 min east from Sagres, and you will find Lagos charming old town. We recommend two days here as there is a lot to explore. Start from the town centre and walk the cobblestone streets admiring the charming whitewashed buildings. Stop at one of the many cafes and watch the world go by.
When ready, head to Forte da Ponta da Bandeira for spectacular views from the top. Later make your way to Farol da Ponta da Piedade and chill at Praia da Balança
for the afternoon or explore the dramatic cliff formations.
When in Lagos, you can conveniently set yourself in the Avenida Hotel overlooking the marina. Or enjoy the beach day while staying at the Vila Gale Hotel.
Best places to eat in Lagos:
We highly recommend the following restaurants we visited during our trip here:
Casa do Prego – book well in advance if you wish to get a table here. It is one of our favourite tapas restaurants in the Algarve. Everything on the menu is delicious!
The Green Room Burritos and Cocktails – Great spot for casual dining and a few cocktails with friends.
Mar d'Estorias – an excellent spot for a drink or a bite with stunning rooftop views.
Day 3 Monchique – 1 night in Monchique or two nights in Lagos
Today you can stay another night in Lagos or head to Monchique for a day trip. Pack your bags and check in to one of the nice hotels in the Monchique mountains.
Monchique has many fantastic hiking trails with sweeping views of the Algarve. Spend the day exploring some of the scenic routes in the region, or simply enjoy the thermal baths and spas here.
Day 4 Alvor/Carvoeiro – 1 night in Alvor or Carvoeiro
Alvor and Carvoeiro are only 25min drive apart. Today you can explore both places. In the morning, hike the Seven Hanging Valleys Trail – one of the most scenic trails in the Algarve.
Before you start the trail, make sure to put on comfortable shoes and take suncream, water and some food. The trail is about 11,5km long (round trip), so you can decide if you wish to make the trail or turn back sooner. Here you can explore the dramatic cliffs, hidden beaches and turquoise waters. If you don't fancy a hike, simply book one of the many boat tours that will take you along the rugged cliffs.
On this south Portugal trip, you can admire the stunning coastline from the water and see the famous Benagil cave.
After the eventful morning, spend some time in Carvoeiro and enjoy a delicious meal at the Onze restaurant. For the afternoon, we recommend going to Alvor. Here you can enjoy an afternoon exploring the small streets and have a beverage at a few of the many Irish bars. For sunset, head to Alvor marina and enjoy a glass of wine or a cold Sagres while watching the sun go down.
If you book a place in Alvor and explore its surroundings, we highly recommend starting your day with a walk on the beach. The Praia de Alvor is one of the best beaches in the Algarve you should explore on the road trip. Whether you start your walk from Praia de Alvor or Praia dos Três Irmãos, we guarantee you will love this beach. Alternatively, rent a SUP and admire the views from Ria Alvor.
If this is the day when you want to do nothing and relax, then Alvor is the perfect place to be.
We stayed at the Tivoli Carvoeiro and loved the place.
Best places to eat in Alvor:
We highly recommend the following restaurants we visited during our trip here :
Restinga – our favourite restaurant on the beach. The chilli prawns are a must-try!
A Lota – serving fresh seafood every day. We tend to order way too much here.
Pizzeria D'Alvino – seriously, you have to try this place. My favourite is, by far, the pizza Siciliana.
If you have time, be sure to book an activity in Alvor.
Day 6 Olhão or Tavira – 1 night in Olhão
Today we are heading to one of our favourite towns in the Algarve. You get to choose whether to stay in Olhão or Tavira. If you decide to visit Olhão, you will be welcomed by this charming town with narrow streets and whitewashed buildings.
Get here early to experience the Olhão market – one of the biggest markets in the Algarve. Tavira is within a 20min drive from Olhão, making it a perfect destination to explore on a day trip. Tavira tends to get extremely busy, especially in the high season. Explore the old town, have a cold beverage by the river and when you are ready, head back to Olhão for an evening meal in one of the many restaurants we highly recommend.
Day 7 – Last day of Algarve road trip
It's time to say goodbye to the Algarve. Luckily you are only a short 20min drive from the Faro airport. You can extend this itinerary and make it a two-week Algarve road trip itinerary, as there's a lot to see here.
We only scratched the surface in this post, so if you have more time, we recommend adding extra nights to each destination. If you are planning a Lisbon to Algarve road trip, consider this fantastic alternative route from Lisbon to Algarve.
Renting a Car in Algarve
We recommend using Discovercars.com for the best car rentals in Portugal. We often used it, travelling around Europe to find the best deals for our trips.
If you prefer to stay in Albufeira, why not spoil yourself and stay at one of the best luxury hotels in Albufeira.
Thanks for reading,
Steve and Sabina