We have explored the 7 best beaches in the Algarve!
Although right now, we can't travel to the best beaches in the Algarve due to the obvious reasons.
We hope that this post will inspire you to explore Portugal in the future.
In this post, we decided to share our favourite beaches in Portugal's region of the Algarve.
Algarve has so many incredible beaches, and it might be hard to decide where to go if you haven't been here before.
We got to explore many jaw-dropping spots here and decided to share our favourite beaches in the Algarve with you.
With well over 100 beaches, it is nearly impossible to see them all.
We discovered many incredible beaches on this coast and must admit, we are still to explore more.
Let's begin our list of the 7 most beautiful beaches in the Algarve:
1. Praia do Alemão – Beach near Alvor and Portimão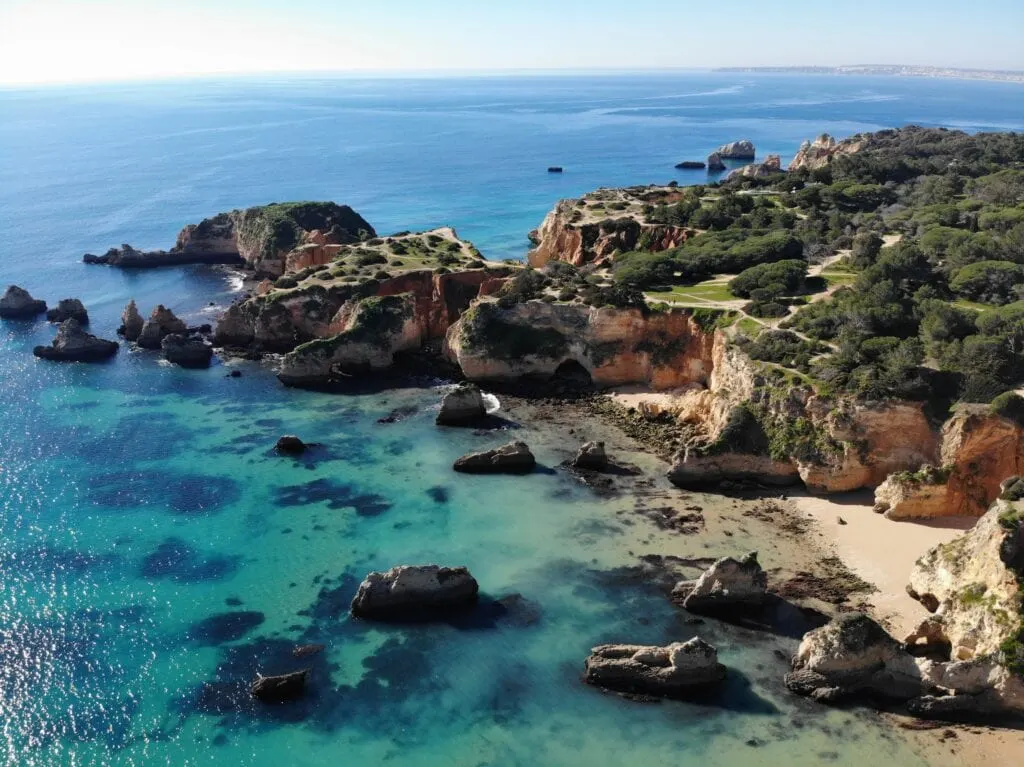 Located between Alvor and Portimão, this stunning beach is one of our favourite beaches in the Algarve.
Here you will find crystal clear blue waters and rugged cliffs raising from the ocean.
Every time we come here, we just can't stop staring and taking pictures of this beautiful beach.
Here we also often come for a walk on the cliffs, towards Alvor.
Seriously, there are countless amounts of photo opportunities on this cliff walkway.
Grab some water, snacks and of course, a camera and explore – must be one of our favourite ways to spend the weekends.
At low tide, we often walk from here to Praia da Rocha and usually stop for a lunch or a beverage at one of the many restaurants there.
2. Praia de Alvor – Long sandy beach in Alvor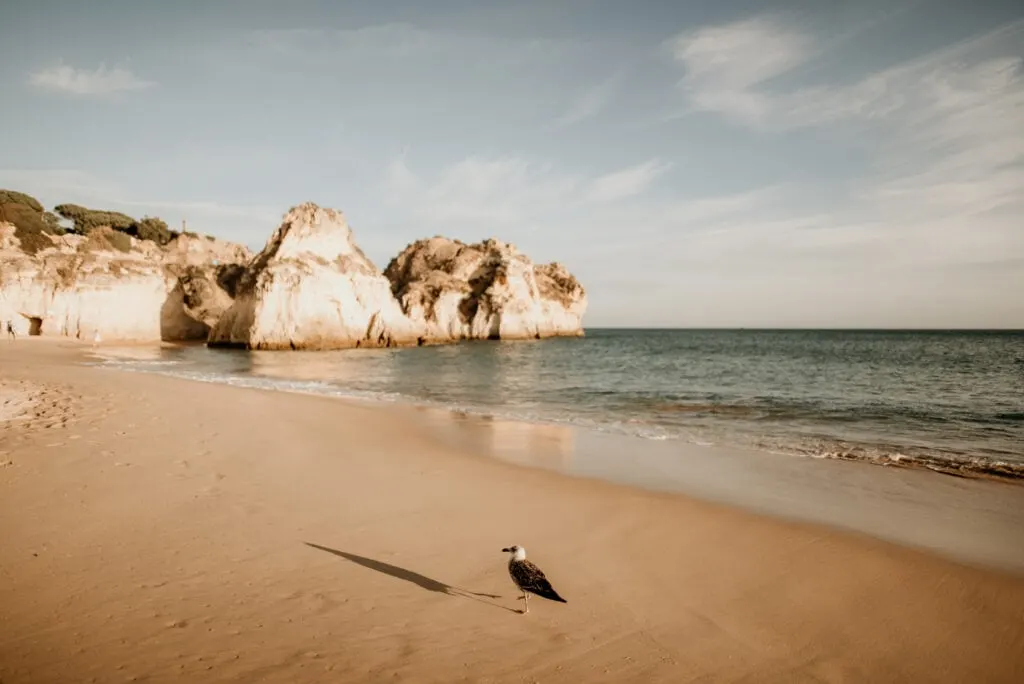 When we first came to Alvor two years ago, we instantly fell in love with this place.
Walking around the town, up the hill from the marina and looking back at it- the views are captivating every time.
From here we often take our SUP's on the water or go for a long walk along the boardwalk leading to the beach.
There are few nice places to stop along the way for a beverage.
Whether you decide to start your walk from Praia de Alvor or Praia dos Três Irmãos, we guarantee you will love this beach.
If you get hungry, stop at Restinga – our favourite Alvor's seafood restaurant right on the beach.
3. Praia do Beliche – Must be the best beach in Sagres, Algarve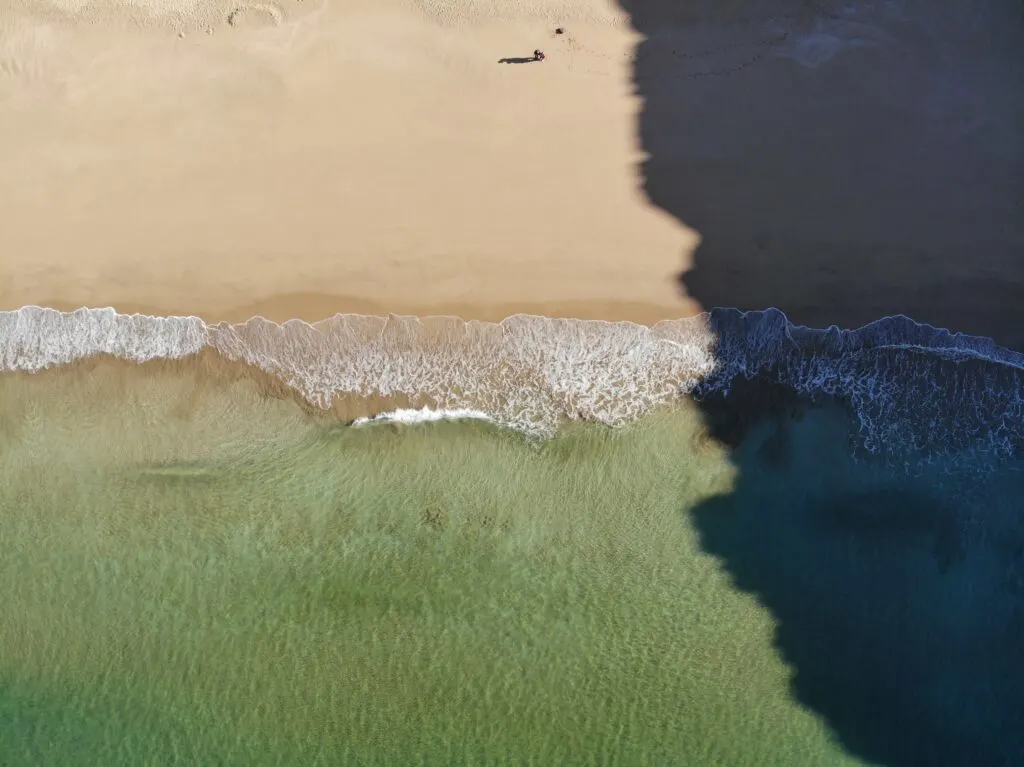 What a place!
We visited Sagres in November for the first time. We heard a lot about Sagres from our friends who kept telling us how nice it is there.
When we finally got here, we were not disappointed, Sagres actually exceeded our expectations.
We got to explore several magnificent beaches during our stay here, and Praia do Beliche was one of the best spots we've seen.
There is quite a steep stairway leading down to the beach, and the way up proved to be a bit of a challenge.
We came here early in the morning with no one but us on the entire beach and got some incredible pictures.
If you decide to visit Sagres, make sure to add this beach to must-see spots.
4. Praia Nova – Most beautiful and personally the best beach in the Algarve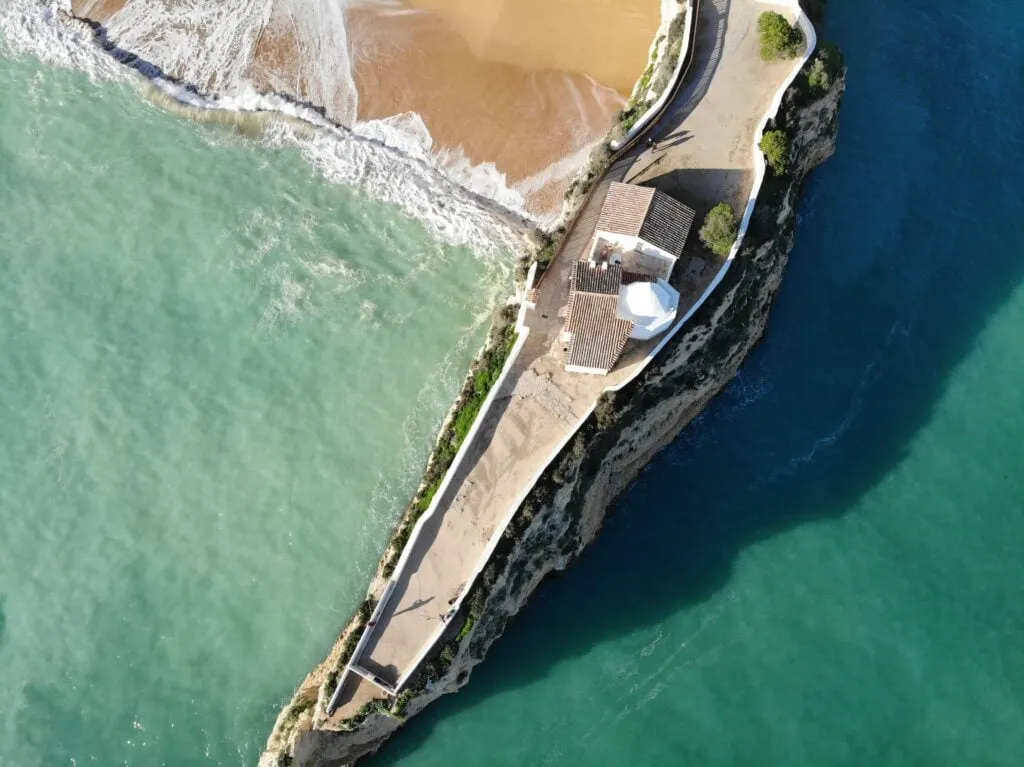 Some of the best beaches in the Algarve aren't as easily accessible as we all might think at first.
From this beach, you can see the majestic cliff of Lady of the Rock with the chapel.
We came across a picture of Nossa Senhora da Rocha's Chapel over four years ago, when planning our wedding.
From the very second, we saw that picture, and we knew that this is where we will get married.
On October 4th 2019, we tied the knot at the Lady of the Rock.
Call us nostalgic, but this must be one of the most beautiful places in the whole of Algarve.
5. Praia dos Pescadores – Beach in Armação de Pera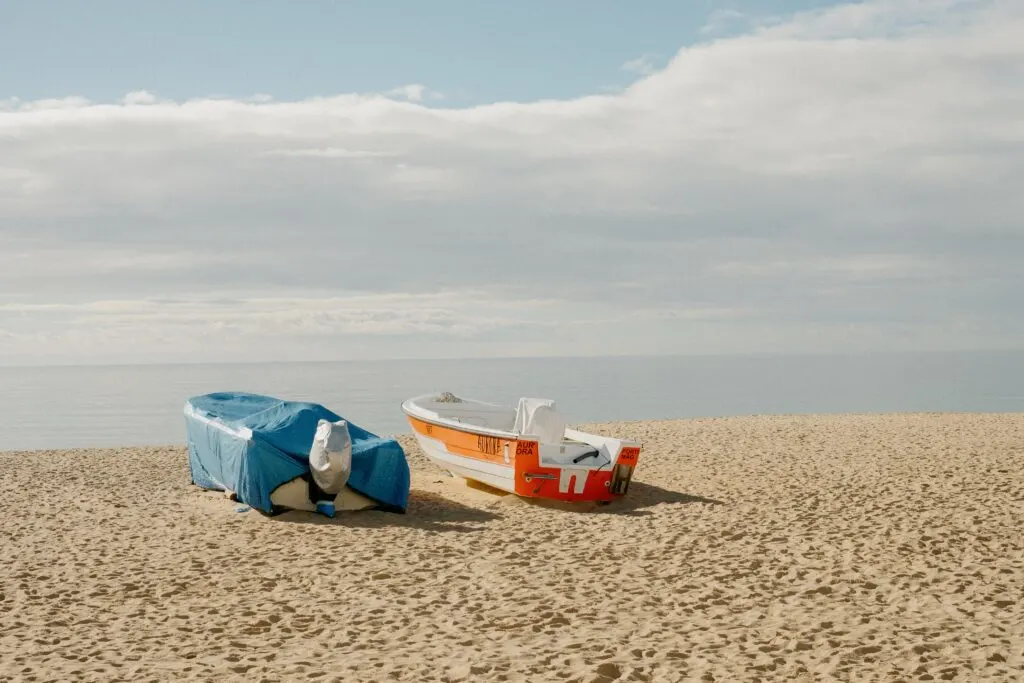 We found this beach when staying in one of the best Airbnb's in the Algarve.
The reason why we came here was simple – we were hungry and found a nice restaurant called 'Praia Dourada' on Google maps.
Since then, we have visited this spot a countless amount of times.
Having a stroll at the beach, watching the fishermen returning from the sea, or sipping Sagres while watching the sun go down.
On a clear day, you can easily spot the Lady of the Rock from the beach as well.
6. Praia dos Tomates – Best beach in the Algarve near Vilamoura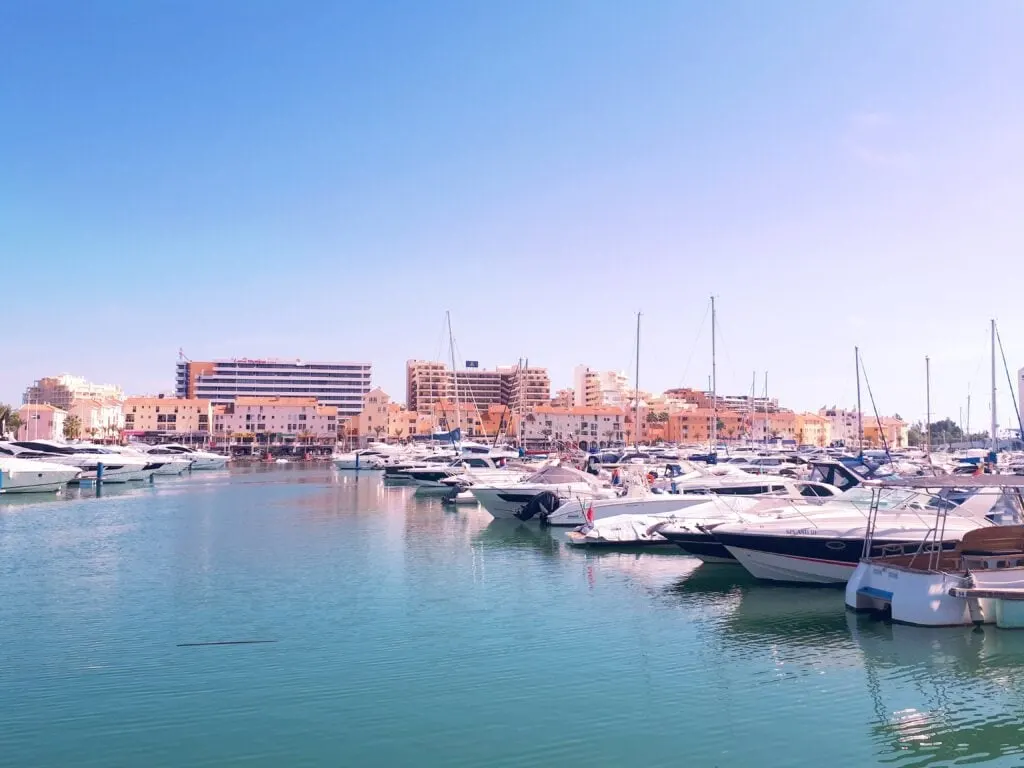 Vilamoura Marina has to be one of the most ridiculous places we've visited in this region.
Seriously, the million-dollar boats, countless number of Irish pubs and fancy restaurants – has to be one of the richest spots in the Algarve.
Vale do Lobo is a second nearest place that we thought is up there with Vilamoura.
But we are yet to explore more of the Algarve, so surely will come across many more places like this.
Anyway, the reason why we chose to add the Praia dos Tomates to this list is simple, a beautiful white sandy beach with crystal blue waters.
Here you can spend the day at the beach and head to the marina for an afternoon cocktail.
There are also a few restaurants/ beach clubs right on the beach.
So if you fancy a snack or a drink, you are sorted.
If you decide to come here, do not miss out on visiting the Marina, allocate enough time to explore this awesome place.
7. Praia de Carvoeiro – Small beach in Carvoeiro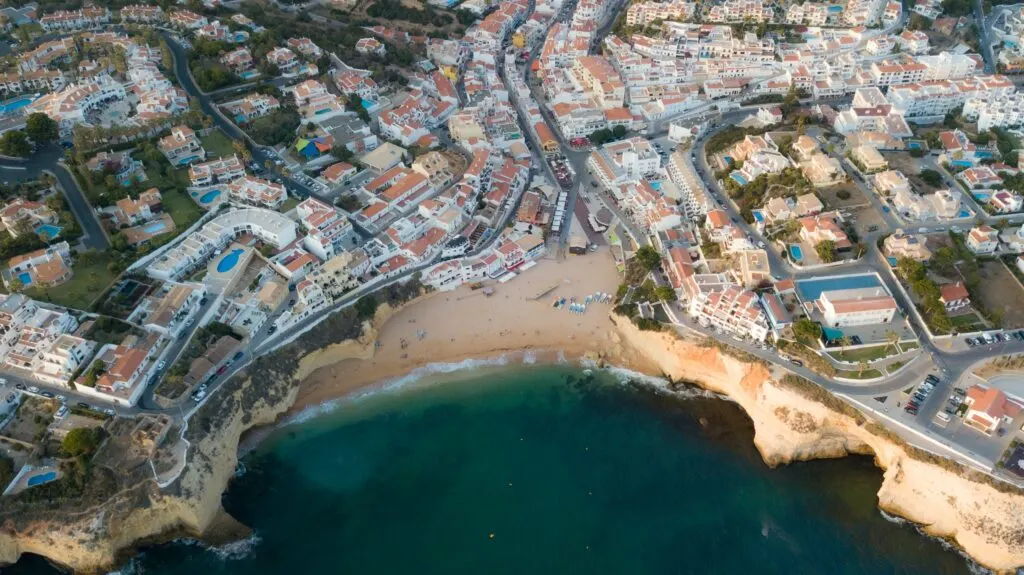 We came to Carvoeiro for the first time over 10 years ago on holiday.
Since then, we visited this charming town on many occasions.
Although a lot has changed since then and the town became ever so popular with tourists, it kept its old charm.
To be honest, we wouldn't visit Carvoeiro in a high season anymore and don't recommend you do that either.
From October onwards up to April and May, you get to see this stunning spot at its best, with no crowds or tourist trains.
We often take our beach blankets and just chill here during sunny Autumn and Winter days.
When we get hungry, we usually head to Onze restaurant overlooking the beach.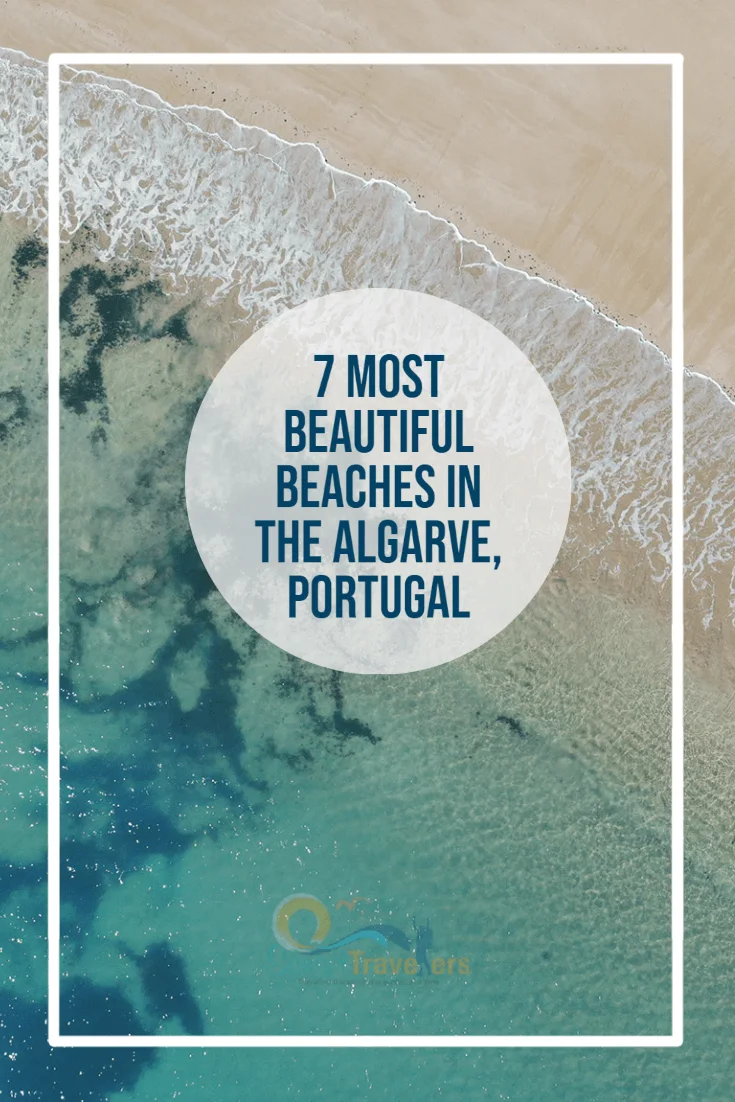 We hope you enjoyed our list of the top 7 beaches in the Algarve and added them to your bucket list.
Honestly, we are far from seeing all of the most beautiful beaches of Algarve and realise that there might be many, more stunning spots.
We will keep exploring Algarve and share our experiences with you.
Please feel free to share and save the below map of the 7 best beaches in the Algarve.
If you decide to go on a road trip, we wrote a great Lisbon to Algarve road trip guide.
Thanks for stopping by,
Steve and Sabina