Out of our few months in Mexico, this was by far one of the best places we visited!
Called by many as 'Mexico's best-kept secret', Isla Holbox is surrounded by crystal blue water, incredible seafood(you must try lobster pizza), and friendly locals. Make sure you mark this down as a place to visit.
Since there is not too much(good) information on Holbox, we put this guide together for you.
Listing our top 10 unmissable things to do in Holbox, Mexico!
Here are our best tips and things to do in Holbox, Mexico:
You can jump to any relevant section here:
Best time to visit Isla Holbox
The rainy season on Riviera Maya runs from May until November, whereas the dry season begins in November.
Most tourists arrive in Holbox to see the whale sharks. Therefore, the whale shark season (June to September) is usually the busiest time on the island.
During the offseason, the place is still popular amongst local travellers and backpackers alike.
The pristine white beaches and crystal clear blue waters attract people year-round to the island. Some places close down at the end of a season, but there are still many things to do in Holbox.
How to get to Isla Holbox
To get to the island, you need to get to Chiquila and catch a ferry to Holbox Island.
There are two ferry companies (9 Hermanos and the Holbox Express) that depart every 30 minutes to the island.
The ferry ride takes about 20-30 minutes, and it costs MXN 140 per person/ one way.
Please go to the Holbox website for the most up to date pricing and schedule details.
The easiest way to get to Chiquila ferry port from Cancun, Playa del Carmen, Tulum or Merida is by bus.
How to get to Isla Holbox from Cancun:
It takes 2.5 – 3 hours to get from Cancun to Chiquila, and bus prices start at MXN 125.
If you are staying on Isla Mujeres, catch a ferry to Cancun and hop on a bus.
The most popular amongst travellers are ADO buses, and they charge MXN 244 per person one way.
We recommend booking your transfer at least one or two days in advance as there are only 2-3 bus departure times in a day.
How to get to Isla Holbox from Playa del Carmen:
It takes less than 2 hours to get by ADO bus from Playa del Carmen to Chiquila, and there are two/ three daily departures (depending on the season).
We booked our bus transfer two days before the departure, and they already had very limited sitting, so make sure to purchase your tickets well in advance.
The bus departs from the main terminal by 5th Avenue so make sure to appear at the correct station as there are two ADO bus terminals in the city.
How to get to Isla Holbox from Tulum:
It takes less than 3 hours to get from Tulum to Chiquila ferry port, and expect to pay MXN344 for one way ticket with ADO buses.
As far as we know, ADO is the only bus company available in Tulum, and the bus leaves at 8.10 am. For most up to date information, make sure to head to the ADO website.
How to get to Isla Holbox from Merida:
It takes over 4 hours to get from Merida to the Chiquila ferry terminal.
Currently, there are two companies (ADO and Oriente) that will get you here. Expect to pay MXN 380+ for a one-way ticket with ADO.
Getting to Holbox by private transportation:
There a few ways to get to Holbox island via private transfer.
On the way back from the island, we didn't want to wait several hours for a bus and decided to take a taxi from Chiquila to Cancun. It is a bit pricey option but will take you straight from the ferry terminal to Cancun.
A private shuttle will cost you about MXN 3000, and it is a great way to take the stress away and have someone to take you from your accommodation in Cancun straight to your hotel in Holbox.
Getting to Holbox by air:
If you want to save time and have the budget, why not get to Holbox on a plane?
Choose your time and the destination you want to be picked up from or dropped off at, and they will look after everything for you. The flight prices start from USD 470 to get to Cancun, for example.
It is by far the fastest way to get to the island and start exploring the incredible things to do in Holbox!
How to get around Holbox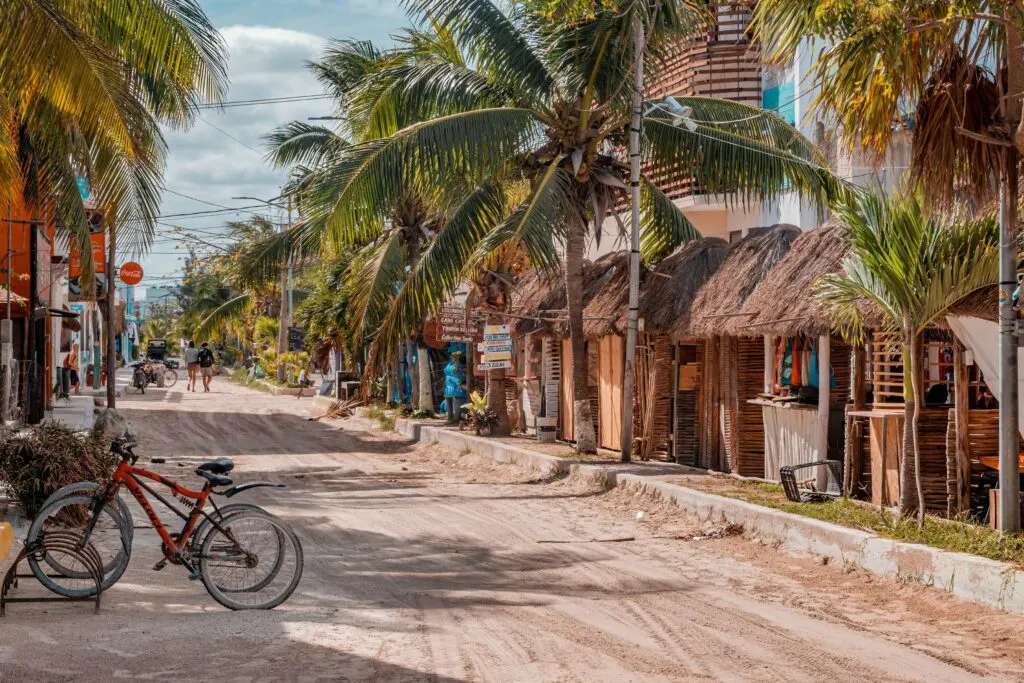 It is effortless to explore the island on foot, and you can do it in a day. There are very few cars on the island, and if you are looking to get a taxi, you will get a golf buggy.
The taxi from the ferry port to the hotel will cost you about MXN 30-40, depending on the location. The island is tiny; therefore, everything is very compacted and within a short distance.
It took us 7 minutes to get from the ferry port to our Airbnb by taxi. You will most likely be looking to take a cab if you have a lot of luggage with you.
Otherwise, it takes less than 10 minutes on foot from the port to the town centre.
Here are our favourite ten things to do in Holbox:
1. Explore Isla Holbox on a bike
There is no better way to explore this beautiful island than on a bike. Several shops will rent a bike on Holbox by the hour or for 24+hrs.
The price per hour is usually MXN 20-30 or 150-200 for 24 hours + rental. We recommend renting for 24 hrs just because you will be able to take your time and explore the island.
It is super easy to get around the island, and there is no way to get lost. If you do get confused, go to the beach, and you can ride along the beach from top to bottom ( at low tide). Cycling is by far one of the best things to do in Holbox.
You can also rent a golf cart to explore the island from approximately MXN 150 for an hour to 1000+ pesos depending on how long you are looking to take the cart.
Keep in mind that you most likely won't be able to rent one of these if you are coming to the island during the wet season(May until November); therefore bike is your best option.
2. Go on a three islands tour in Holbox
It is a 'must-do in Isla Holbox.
If you are looking to explore the surroundings, we highly recommend the three island tour. You get to see the bird island, swim in a cenote and see the pink flamingos.
We had dolphins accompanying us through half of the trip. You can book the tour at many of the tourist desks scattered around the town centre.
The price we paid for the three island tour was MXN 450 per person. It's a great way to spend your morning and enjoy the fantastic nature in this part of the world.
Talking to many travellers, the tour was one of Holbox's best things, so don't miss it!
3. See the incredible bioluminescence in Isla Holbox
The best time to witness the bioluminescence phenomenon occurs in June, July, August and September.
You want to make sure that the moon isn't bright that night. You can, of course, go and explore the darkest beaches yourself in the hope of seeing this phenomenon.
We went on a tour, where they pick you up on golf carts from your accommodation and drive you to the best spot to see the blue lights in the water.
Unless you are staying far away from the town lights, there isn't a great chance to see them, so it might be easier to book a tour.
That way, you are guaranteed to see the bioluminescence, and at the same time, you are supporting the local economy.
We paid MXN 300 per person. They pick you up close to midnight, and the tour takes about 3 hours.
This tour was one of the best things in Holbox we did.
4. Try the famous Holbox lobster pizza
You have to try the lobster pizza in Holbox. Although Edelyn restaurant proclaims to be the original inventor of this renowned pizza, we found many places that serve it.
We believe that Roots serves the best lobster pizza on Holbox island.
We tried the lobster pizza in almost every place that has it on the menu, and hands down, Roots restaurant serves it best.
They also mix delicious cocktails, so don't hesitate to have a few while waiting for your food.
5. Take a picture of the famous Holbox hammocks
The famous Holbox hammocks located right on the beach attract many tourists. Everyone wants to take a picture lying in a hammock above shallow crystal clear waters.
You can stop here, have a drink and enjoy your time lying in the hammock. The waters are very shallow, and you can walk long distances until it gets deep.
Many people take drinks and walk along the beach in the shallow waters. It is undoubtedly a stunning place, so make sure not to miss it.
6. Have a seafood lunch at Races
Races bar(Google maps link), located right on the beach, has one of the best seafood dishes on the menu.
The place was packed every day at lunchtime, and no wonder why. We ate here three times, and the food was excellent and delicious each time.
If you don't feel hungry, no problem, sit back, tan and sip a cocktail or XX beer.
Races bar is one of our favourite places on the island; therefore, make sure to include it in your 'things to do in Holbox'.
7. Enjoy a margarita at sunset
The island has one of the most beautiful sunsets we've witnessed, and it feels like the sky stays pink hours after the sun sets behind the horizon.
There is an endless amount of beachfront places where you can enjoy a drink at sunset.
We liked Cafe del Mar (a tiny bar right on the beach next to Fly Fishing Lodge), serving excellent cocktails. You can enjoy a margarita while watching the sunset.
(Sunsets were one of our highlights on things to do in Holbox). Also passed this bar, you have a chance to spot bioluminescence at night since there is little light.
8. Kayak through the mangrove forest in Isla Holbox
You can book your trip in advance here or wait until you get to the island. Holbox mangroves are full of wildlife, and kayaking through them is one of the best ways to spend your day on the island.
Enjoy a relaxing paddling while you see many bird species and possibly crocodiles.
The tour takes about two hours, and you get to enjoy the scenery and hopefully spot some flamingos.
The trip price can range from MXN 400 to 800, depending on the inclusions and the trip duration.
9. Go on a fishing trip in Isla Holbox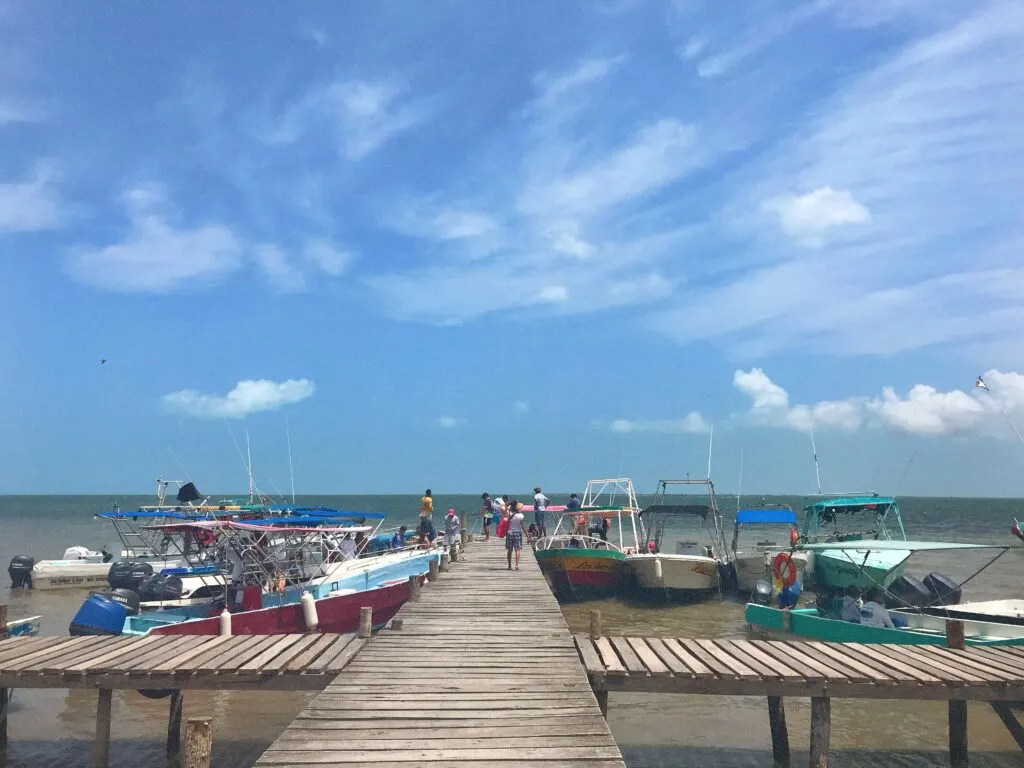 Holbox is very popular for fishing trips, and you can easily book a tour at one of the many places selling tours in the town centre.
For about MXN 800 per person, you can enjoy a fishing tour in Holbox. Many people say fishing is one of the best things to do in Holbox!
The fishing tours take approximately 3-4 hours, and during the time, you get to catch small and big fishes such as sea bass, snapper, Mojarra and others.
You will also get to taste the freshest ceviche you have ever tried.
It is a fun way to spend the day if you have the budget; otherwise, grab snorkelling gear and swim with the fish; you might even be able to spot some turtles.
10. See the whale sharks in Isla Holbox
Book a tour, rent a kayak or a standup paddleboard and search for the whale sharks.
Holbox is famous for whale sharks, and the best time to see whale sharks in Holbox is from June to September, with July and August being the peak season.
Holbox is considered one of the best places in the world to swim with whale sharks. Those gentle giants are entirely harmless to humans as they feed on plankton.
You can book a whale shark tour in advance to avoid disappointment; as when the shark season starts, the island gets flooded with tourists.
Alternatively, book the trip once you on the island; the average cost for an escorted tour can be between MXN 2000-3000 depending on the inclusions.
Where to stay in Holbox:
There are several hostels, hotels and Airbnb accommodation on Isla Holbox.
The accommodation prices tend to be very reasonable and suit every budget. Make sure to book your accommodation in advance if you are looking to stay for a few nights on the island.
Booking.com is an excellent website to find all type of accommodation on the island.
If you are looking to get a local feel, then Airbnb is the way to go. Many hostels and small hotels also advertise their vacancy on Airbnb, so it's worth checking out.
Regarding pricing, you are looking to pay on average MXN 250 for a dorm bed or MXN 500+ for a hotel room, depending on the location.
We also cover some essential tips for booking your first Airbnb here.
Are there any ATM's in Holbox?
There are only two ATM's on the island, and they tend to be out of cash quite often. Most places on the island do not accept cards.
Therefore, you have to make sure to carry some money with you. We recommend withdrawing money out of ATM's before you get to Holbox.
If you need to get cash on the island, here are the two ATM locations:
The first ATM is the most popular and runs out of cash quite quickly. It's usually best to withdraw your money in the morning as the ATM will likely be empty before dinner time.
The ATM is located at the main square on the first floor of the below building. You should be able to identify it on Google maps too, otherwise, ask locals, and they will point you in the right direction.
The second ATM – located in a building behind it. If you face the building in which is the first ATM, turn right and walk a few steps towards the junction, then turn left.
Walk a few steps until you see the Sushi restaurant on your left. The ATM is just beside it.
There are also a few money exchange places in town if you need them.
Best restaurants in Isla Holbox
Roots – Our favourite pizza place. You have to eat there at least once.
Races – Lovely seafood. We ate here on several occasions and the food never disappointed.
Los Pelones – Their homemade pasta is delicious. Tray a daily special or pick something from the menu; we guarantee you won't be disappointed. (This place also accepts card payments).
Viva Zapata – One of the best fajitas we had. The food is full of flavour, and the menu has something for everyone.
La Panchas – One of the best tacos and guacamole on the island. The menu has many lovely Mexican dishes at a very reasonable price. The place gets packed during lunch and dinner time, so come a bit earlier to make sure you get a table.
See our map for more food choices:
Best bars in Isla Holbox
The Hot Corner – this place gets packed on the weekends! Stop here during the week and enjoy a snack or a margarita.
Races – perfect not only for food but also for a drink.
Coquitos Beach Club – a great place to enjoy a cocktail on the beach.
We also loved to grab a beer from a shop and relax on the beach while watching a sunset.
Useful links when heading to Isla Holbox
Booking.com – perfect for accommodation search. Also, you get 10% off the booking with this link.
Wordnomads – if you are heading to Mexico soon, make sure to get appropriate travel insurance covering all activities.
True Traveller Travel Insurance – If you are travelling to Mexico from Europe, we highly recommend True Traveller. Amazing cover and at a great price!
Fast Cover – Travelling to Mexico from Australia, these guys are the best!
Viator – book your tours in Holbox in advance.
CurrencyFair – If you need to send money abroad, they are our go-to for the past four years. Plus, get five free transfers with our link.
Holboxeno – most up to date information from the island and tips for things to do in Holbox.
Some of these links are affiliated, which means you are helping us and supporting our work and this website. It does not affect the price you are paying.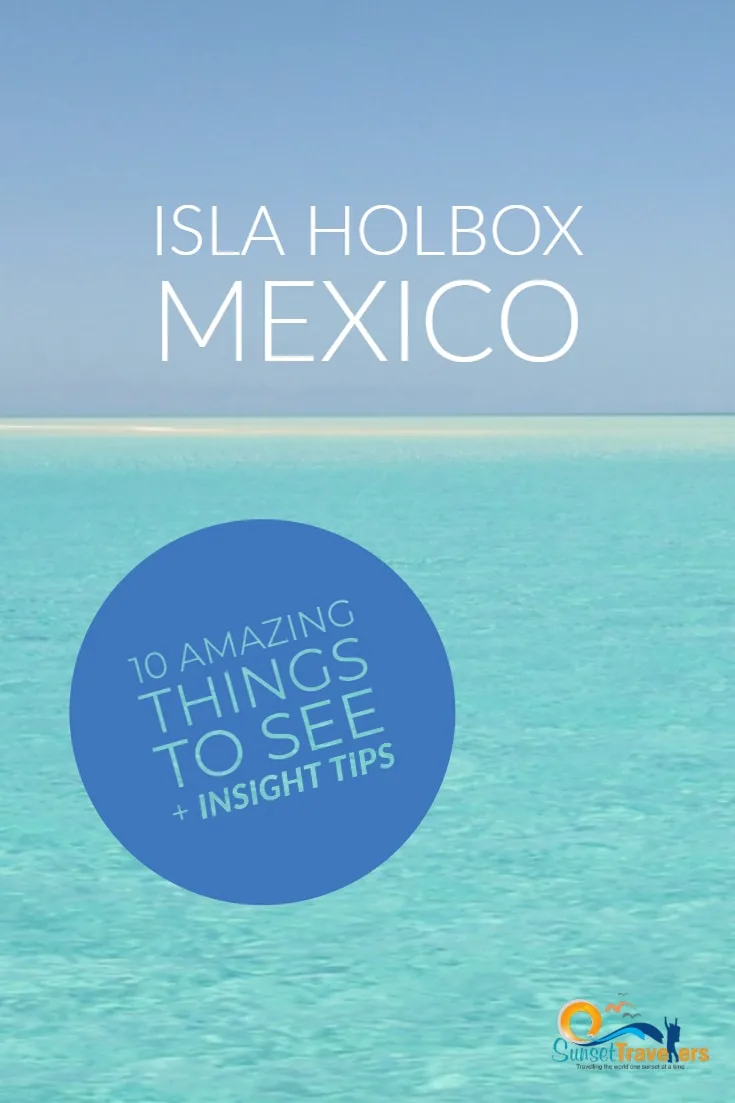 Are you heading to Holbox soon? Have any tips for other travellers on the best things to do in Holbox?
Please comment below.
Thanks for stopping by
Sabina and Steve