You might be heading to a little place called Dubai soon, and you are probably thinking "Where is Dubai? Or "Is it the capital of the UAE" or "what currency do they accept in Dubai(pronounced Dubayyy)?
Don't worry we are going to cover all of the above questions and more so that your visit or stopover in Dubai is as pleasant as possible.
You are not the first person to Google this, you won't be the last.
Dubai has become a trendy layover destination.
Let's start by clearing up where is Dubai exactly?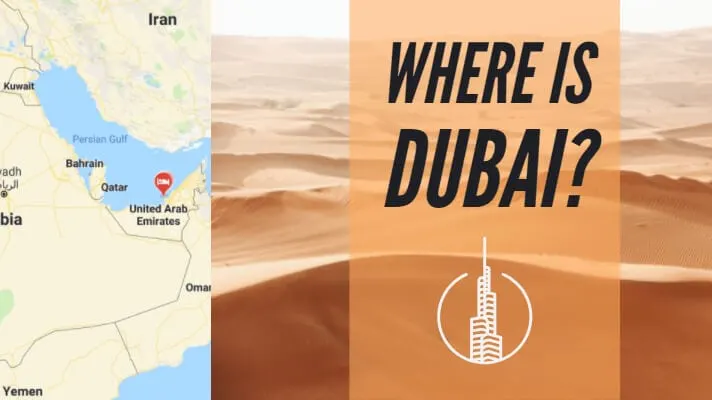 Chances are you just booked an international flight and just looked at your stopover, and it says "Dubai".
Dubai is actually a peninsula which borders:
Oman to the East
Saudi Arabia to the South
It shares a maritime border with Iran across the Gulf of Oman, via the Strait of Hormuz.
See Dubai below:
Some important things to know about Dubai:
Dubai is part of the UAE which consists of seven smaller emirates.
It is not the capital of the UAE that belongs to Abu Dhabi.
Dubai is also not a country, a common misconception.
The other emirates of the UAE are Abu Dhabi, Dubai, Sharjah, Ajman, Fujairah, Ras al Khaimah, Umm al Qaiwain.
A quite surprising fact is that Dubai is within an 8-hour flight of 60% of the world. Meaning that a lot of people stopover.
For example, it is around 8 hours from Dublin to Dubai.
The Average Temperature in Dubai is 35°C.
Visit between November and March for a less sweaty experience. It can get to 50+°C, and you will literally start sweating buckets in moments.
If you are looking to send money from Dubai be sure to read this article.
Although Arabic is the official language of the UAE, English is the most spoken language in Dubai.
Dubai has its own flag as do all of the other emirates. They also all fly the UAE flag which you can see below:
Is Dubai Safe?
A lot of people are worried about the safety in Dubai, but in reality, it is one of the safest locations you can visit. Dubai is, in fact, one of the safest Middle Eastern countries for tourists.
Don't worry too much about having to cover up completely. Dubai is surprisingly relaxed compared to what many people expect.
There's no need to cover your hair either.
Can I drink in Dubai!?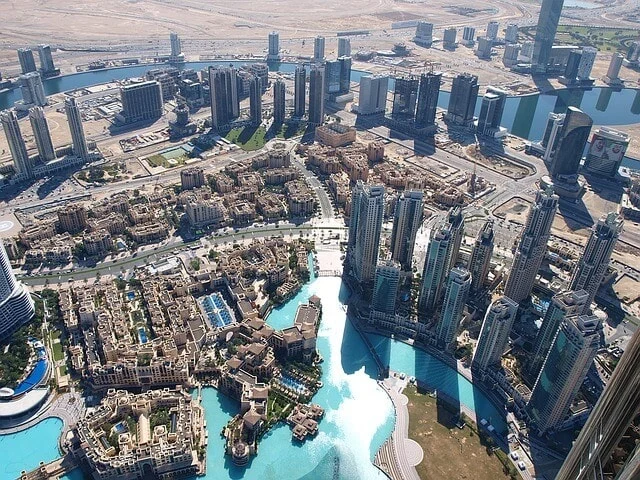 Another common misconception, if you drink alcohol, then I have some good news. You can drink Alchohol in Dubai! (Yay).
The sale of alcohol is limited to hotel restaurants, bars and clubs, which might sound odd but in reality, it's not.
You can find everything from high-end bars to smaller bars with live music.
But be cautious stumbling around as a drunk is frowned up big time and you can easily be arrested by local police.
You should also be cautious about kissing in public. Reality is you will probably be fine if you do however there have been cases of simple kiss causing a lot of trouble.
What currency is used in Dubai?
The currency in Dubai is the UAE dirham (Dhs or AED), which is pegged to the US dollar at the rate of AED 3.675 to US$1.
The notes in circulation are Dhs 5, 10, 20, 50, 100, 200, 500 and 1,000.
There are 100 fils(coins) in a dirham, and there are one, half and quarter coins.
You don't need to worry about bringing too much cash with you as there is plenty of ATM's.
Alternatively, you can bring Euro's, Pounds, US$'s and exchange it at the airport when you arrive just be wary about transfer fees.
Read this post for some tips for sending money from Dubai.
What continent is Dubai in?
You now know where is Dubai, but you might be curious about what continent Dubai is on.
Technically it is Asia specifically the Middle East or West Asia.
All of the "Middle East" is part of Asia.
Is there Airbnb in Dubai?
Good news! Yes, and it is incredibly affordable you can find rooms from only €15 per night(shared).
There are some really nice apartments for rent, and we highly recommend having a look.
Also if you haven't used Airbnb sign up with our link and get $55 off your first booking.
There is also a huge selection of hotels on Booking.com.
If you are looking for tips on booking your first stay read our Airbnb guide.
When should you visit?
YES! Dubai is an incredible place, and we hope this article has not only told you where is Dubai but also a lot of things that people do not know before visiting.
How much are restaurants in Dubai?
If you are on a tight budget keep in mind that things certainly are not cheap in Dubai so plan your visit accordingly.
Prices at the hotel restaurants are usually higher, and you can easily pay double or even more.
You can find restaurants in all price categories.
Burgers and sandwiches: 30-60AED (7-14 EUR)
Main dishes: 40-150AED (10-35 EUR). The higher-end is for a top quality steak.
For tours and excursions check out Viator you can often get much lower prices by booking in advance.
Final points on visiting Dubai
Dubai is an incredible place and a place you will likely not forget. Hopefully, you now know a lot about where Dubai is and what to expect on your visit.
Enjoy and be sure to Pin the image below to your Pinterest board.
Thanks for reading,
Steve and Sabina
P.S Don't forget to grab your Airbnb discount here.