One of the easiest things you can do is to open a bank account in Canada.
Whether you are looking for the best bank in Canada for newcomers or planning to work, study or start a business – this guide has you covered.
After lengthy visa processes, struggle to find accommodation, job search, considering best bank account in Canada, there is just too much to think of at once.
Thankfully, there is a simple way to choose the best bank in Canada to suit your needs even if you are non-citizen.
In this article, we cover all these important topics and more:
Which is the best bank in Canada
Which are the best bank accounts in Canada
How to open a bank account in Canada
International money transfers to your new account in Canada
What is the best bank to deal with in Canada (based on our personal experience as newcomers)
Best credit cards in Canada to choose
International money transfers to your new account in Canada
Before you even consider which is the best bank in Canada you will need to send money from your old account to your new one.
Currencyfair or OFX are our two recommended companies.
We have used both from Australia – Canada and Ireland to Canada.
They both work great from any European country or worldwide for that matter!
Sign up with this link and get your first ten free transfers for free with Currencyfair
Sign up with this link and get free transfers for life with OFX
Both are great, and you will save a fortune versus just sending money via bank to bank.
Now onto the best bank in Canada for you.
What documents you will need to open a bank account in Canada
You will be required to provide a few documents to open a bank account in Canada.
If you are a non-Canadian citizen, a bank representative will ask you for the following:
A valid passport
Immigration documents such as:

work permit or
permanent residency card
Some banks will also require a current address in Canada and Canadian phone number.
Scotia Bank, for example, will require the following:
Which is the best bank in Canada for me?
The major banks in Canada include:
Scotiabank allows you to open a bank account in Canada from abroad. The 'Scotiabank Start Right' program offers you a range of products and services.
You can open a basic bank account with $10.95 monthly fees, and if you keep over $3000 in your account, the fee will be waived.
Can you get a credit card with Scotiabank?
YES! They are also one of the only banks in Canda where you can apply and likely be accepted to a credit card without "securing it".
Other banks require you to secure your credit card. Basically meaning if your limit is $3000 you must pay a deposit of $3000 against it. It is the last thing you want to be worrying about when you move to Canada.
There are over 15 different credit cards to choose from! So it can be stressful picking the right one.
We went through them and the two biggest standouts for people moving to Canada would be:
You can apply to either directly online above!
The student account has no monthly fees and unlimited transactions, and you can get more details about the plan here.
The bank also offers business banking starting at $6 for a small business everyday account.
Many newcomers find Scotiabank to be the best bank to use in Canada.
CIBC offers special discounts for newcomers. The 'Welcome to Canada' banking package offers no monthly fees account for the first year.
If you are moving to Canada as a student, the banking deal is pretty much the same and will remain fee-free as long as you are enrolled as a full-time student.
They also do a variety of business accounts, depending on the size of your business you can choose from the available options.
We highly recommend the Air Canada conversion card. It is only if you already have an account and are planning to do a bit of travel. But if you set up a CIBC account it is a great add-on.
You can add up to 10 currencies onto it!
The TD bank offers a fee-free account for the first six months with unlimited transactions. The 'New to Canada' account offers a range of products and services depending on your needs.
Whether you are a professional or international student, the Toronto Dominion Bank has packages explicitly designed for students. To get the most up to date details on available packages and fees, please visit their website here.
If you are new in Canada and looking to kick-start your business, the tailored Business Chequing Account Service Plan might be just right for you. Just decide how many transactions you make, how often and how much do you deposit and they will come up with the best options for you.
Royal Bank of Canada is one of the biggest banks in Canada and offers excellent benefits to newcomers. If you are looking to open 'No Limit' bank account with them, expect to pay no fees for the first nine months.
For $10.95 you can open a 'No Limit Banking' for students with an unlimited banking account.
If you are an entrepreneur and looking to start your first business in Canada, you will get $50 when opening any eligible business account.
Bank of Montreal offers for newcomers to Canada no-fee account for the first year with the 'New Start' program. With the account, you will also receive unlimited electronic transactions, e-transfers and free small safety deposit box rental for the first year.
The 'International Student' option gives you all the above as well as free banking for 12 months after your graduation.
BMO also offers a range of accounts suitable for any business model. Whether your business is solely online or have very high banking needs, they have a plan for you.
How do I choose the best bank in Canada for me (and what costs should I expect?)
When choosing the best bank in Canada, you should make sure to consider the following:
Although you are more likely signing up with a bank that has 'no fees' account for the first year, you will be faced with charges eventually.
With TD for example, after six months you can expect to pay $20-30 in fees depending on how heavily you use the account.
Many banks will, however, waive the monthly fee as long as you keep minimum amount required in the account.
The amount varies from bank to bank, and it can be anything from $2500 + depending on which institution you choose.
Most banks will only give you a limited amount of transactions without fees, and once you exceed this amount, they will charge you additionally per transaction.
Cibc 'Smart Account' has the below option available to you.
Money withdrawal from your bank's ATM is free, but the second you need to take out any money from different bank ATM, you will be charged a withdrawal fee.
Depending on the ATM and bank, it can be anything from $1 to $5 for a single withdrawal!
International transfer fees
Many banks offer free international transfers with Canada newcomers bank accounts, but the exchange fee is usually much lower than if you would use a different company like CurrencyFair.
In many cases with newcomers account in Canada, the banks would ask you to pay a transfer fee and refund it at a later stage.
Additional terms and conditions may apply most of the times, so make sure to read carefully before you make a mistake and lose your hard earned money to the bank.
Best credit cards in Canada
After you find the best bank in Canada, you might want to look into getting a credit card.
Having a credit card in Canada is very important for newcomers as it will allow you to build your credit history.
If you decide to stay in Canada and apply for a loan or mortgage, you will need a good credit score.
CIBC, Scotiabank and BMO offer a range of credit card services for newcomers to build their credit history at a low cost.
As we mentioned above Scotia bank offer an unsecured credit card which means no crazy deposits!
The two main options are:
What to consider when researching the best credit cards in Canada
There are several important tips when looking for the best credit cards in Canada:
Understand how much you can expect to pay and what value you will receive in return.
Read and understand the terms and conditions.
Know the consequences if you don't pay off your credit card on time.
Learn how the fee schedule looks like so you are aware what and when you need to pay.
Research what incentives and rewards you will receive with some of the best credit cards in Canada.
Find out if a deposit is required to obtain the credit card.
Ask about the credit card company fraud protection options in case an unauthorised transaction occurred.
How to avoid international transfer fees after you choose the best bank for newcomers in Canada
Most international money transfers are anywhere from $2 500 to $5 000+, and transfer costs can come up to $50 or even $250 which you will have to give away to the bank!
There is, however, a simple way to avoid these ridiculous fees – CurrencyFair.
Bank will give you not only lower exchange rate but also will take a high 3-4+% fee on top. With CurrencyFair your transfer is at a flat $5 fee, and you also get the best possible exchange rate.
Popular money transfer companies you should use
The best, most reliable and fastest way to transfer your money safely from your home account to Canada.
With CurrencyFair you are getting much better exchange rates than you would get via your bank.
You are also getting first ten transfers free if you register with this link.
CurrencyFair is excellent for both personal and business needs.
Your back up if you need to exchange a large lump sum.
Whether you are an individual client or run a business, they will look after you.
With a dedicated broker, OFX offers you more personal experience.
If you register via this link, you will also receive free transfers for life!
Send money with real exchange rate unlike like with banks who typically set their exchange rates to make more money.
With Transferwise (similar to CurrencyFair), your transfer is secure, fast and you know exactly what you are charged in fees.
Use this link to sign up with Transferwise today. It really is that simple.
For more detailed money transfer options, make sure to read our 'money transfer guide'.
If you are moving to Canada on working holiday visa, make sure to grab our 'Moving to Canada E-book' here.
Like what you are reading? Please Pin me!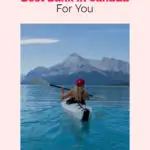 If you are moving to Canada on working holiday visa, make sure to grab our 'Moving to Canada E-book' here.