We found the 12 best places to watch the sunset around the world and want to share them with you!
As sunsets play a big part in our travels, every place we go to, we are always looking forward to the evening.
There are so many places to watch the sunset around the world.
We are here, however, to tell you The 12 Best Places To Watch The Sunset Around The World.
There is something magical about sunsets, and we can't get tired of them.
Every sunset is different and the moment of the evening sun turning the sky to colourful painting is worth looking forward to.
We witnessed an infinite amount of sunsets and therefore decided to put together our top 12 best places to watch the sunset around the world.
It isn't just another list to make you hungry to travel.
This list was carefully evaluated, and we have picked the best Instagram sunset pictures other fabulous bloggers took.
Make sure to follow their work and visit at least one of these destinations this year if you haven't done so yet.
Here are the 12 best places to watch the sunset around the world.
12. Santorini, Greece
Many claim that Santorini once was Atlantis, but to us, it doesn't matter.
This volcanic island is known to us for its stunning sunsets, dramatic views and white villages.
It feels like you are in heaven and naturally would like to stay here forever.
Every sunrise and every sunset are spectacular and so incredible you will never forget any of them.
Although I have been to Grece well before we started travelling, would go back there in a heartbeat.
It feels that you belong there once you experience its reach culture, architecture and sunsets of course.
Just look at this stunning picture and soak it in. It is one of our best places to watch the sunset, make it a must-see in 2018.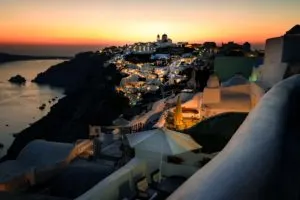 11. Hawaii, USA
Another place to witness another incredible sunset and guess what, we are heading there in two months.
Just can't wait to soak my feet in the golden sand or go for a swim in crystal blue waters.
Pure heaven for everyone, one of the best places to watch the sunset around the world.
There is no way to pinpoint the best spot in Hawaii as all the pictures look insane.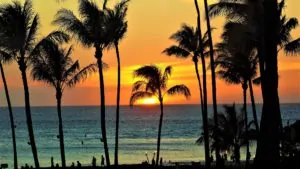 10. Cairo, Egypt
As it was recently announced Egyptian Pyramids are the 2nd worlds bucket list destination and it is pretty clear why.
Where ancient history meets the Egyptian largest city, the views are one of its kind.
The scenery is picture-perfect, and every photographer will find something incredible to capture.
We haven't made it there yet but be sure to let us know what you think of this city.
9. Cliffs Of Moher, Ireland
Cliffs Of Moher are probably one of the most visited spots in Ireland and we see why.
It is hard to experience this spectacular Irish location without experiencing the real Irish weather.
But if you are one of the lucky ones like these guys, you will be left speechless.
This unique natural beauty is a must to see any time of the day but is worth to hang there and wait for the sunset.
Weather permitting of course. 🙂
Want to find out what else Ireland has to offer?
Make sure to read our Irish Bucket List.
8. Vancouver, Canada
Where the mountains meet the ocean the sky always puts together a spectacle.
Well not always but very often.
Vancouver gets a lot of rain but during the summer (and when it is not raining of course) sunsets are beautiful.
Sunset Beach, Kitsilano Beach or even downtown waterfront is perfect to watch the sky turning into a painting above the mountains.
We are aware that Vancouver isn't the only place in Canada that is worth experiencing, but the sunsets are definitely worth the trip here.
Second favourite sunset destination in B.C?….Sunshine Coast.
If you are planning to visit this part of the world, make sure to check our 50 things to know before moving to Vancouver article.
7. Budapest, Hungary
The city of baths, cheap drinks, reach history and magnificent parliament building rising above the Danube river is a must to visit.
Over the past years, it became a tourist hot spot attracting people from around the world.
Although we haven't seen the city ourselves yet it is on our bucket list.
We do come across stunning sunset pictures of this city every day and can't wait to see it for ourselves.
6. Dorset, England
Combining countryside, magnificent coastline and breathtaking scenery, Dorset is a must for every sunset lover.
Its natural beauty attracts many tourists every summer and the unspoilt unique country architecture makes the place perfect for a relaxing holiday destination.
Durdle Door, in particular, became one of the favourite destinations to watch the sun disappearing behind the sea.
As a part of the Jurassic Coast World Heritage Site, the coast is one of the most stunning locations anyone should visit while in England.
5. Biarritz, France
Located on the southern west coast of France, Biarritz attracts many tourists each year.
Although this town is much quieter offseason, it is still vivacious and packed with surfers looking for the perfect wave.
With amazing French pastry shops, great espresso and markets filled with tasty local produce we fell in love with this town.
4. Bali, Indonesia
If you've been to Bali you know what we are talking about.
Bali is not only known for its culture, stunning landscape and temples but also snorkelling, beaches and of course sunsets.
This surfers paradise will not disappoint any fun, culture or nature seeker.
There is literally something for everyone and we have found our little heaven here as well.
To check out the best spots in Bali makes sure to read our Top Bali Destinations guide.
We love Perth and in particular Freo for the evenings at the beach.
Watching the sun setting every evening could not be the nicest end to our days.
Sand, crystal blue waters and beautiful sunsets can be found everywhere in Australia but you have to witness west coast sunset at least once.
If you are planning to head over to Oz make sure to read our 101 Things We Wish We Knew Before Moving To Australia.
2. Boracay, Philippines
We have spent a week on this small Filipino island.
There are thousands of islands in the Philippines (7107 to be exact) and although all of them are unique in their own way, Boracay was an easy choice.
Locals say that the island has one of the best sunsets in the world and we couldn't agree more.
Heading over on a tight budget? Not a problem, just read our Boracay on a budget article.
We can't deny that Cape Town is on the top of the top 12 best places to watch the sunset around the world.
We hope that you will visit at least one of the top 12 best places to watch the sunset around the world.
What is your favourite sunset place?
Make sure to comment with any tips and recommendations you may have for other sunset seekers.
If you like our top 12 best places to watch the sunset around the world, follow us on Instagram and Facebook for travel updates.
We are also on Snapchat @Sunsettraveller.