Welcome! We spent 4 months in Bali, Lombok, Nusa Lembongan and Gili Islands over a two-year period and absolutely loved it…
We know you will love this article on the top 6 Bali destinations.
Before you read it join our awesome weekly travel updates. Packed with info from around the world! So you are hoping to visit Bali? Or curious about our top 6 destinations that you must visit? Well, you've come to the right place… As mentioned in previous article Bali has it all! Great vibe, amazing people, plenty of awesome beaches, good parties, tons of restaurants, cheap or super posh accommodation and loads of surf!

Before you arrive at this small paradise definitely first find a place to stay… During low season(January 9 to June 30) this is not a problem and you can literally just rock up at the door and find something… ..but the situation is drastically different in high season where prices go up and might be hard to find something. We have also included links to some of the accommodation for you convenience with Booking.com. We have used them all over the world! Booking your first night or two just makes sense especially to get a feel for the place and if you are there in high season(July 1st to December 20)
Number 1 place to visit in Bali: Uluwatu

Accommodation:
There is always plenty of surf camps and just awesome accommodation around. It is where we spent most our 4 months in Bali! Some of the most popular ones include Uluwatu Surf Villas or Rapture (price range AUS 100/400+ )who organize everything for you starting from the bed and food to great surf trips. Uluwatu surf-villas also have an awesome yoga class overlooking Uulu's! If you are there for a month or more def hit up the monthly passes there well worth it! Other places worth checking are Mamo Hotel with super close distance to Uluwatu beach and about AU $50/60 per night depending on a length of stay. For posh week away AYANA Resort and Spa is top class or Alila Villas Uluwatu with prices starting from AUS 800/1000 depending on time of the year (and yes this is per night!) Our personal favorite with affordable accommodation, great food (must try BBQ prawns), pool and option to rent moped is Naturella Homestay. The staff is super friendly and you can get the room from AU $25 per night. Uluwatu has to be one of the best surf spots in the world! Enjoy this awesome Ariel footage of Uluwatu surf-villas by drone! For a full list of Uluwatu accommodation click here.
Restaurants:
Some of our best and favorite restaurants include Buddha Soul (try for breakfast their eggs in avocado or cakes, they are amazing!). Padang Padang Breeze is best for dinner with their BBQ tuna, (about 10 dollars for massive main and trust us you won't squeeze anything else till the next morning!). They also have very nice accommodation! For organic healthy and delicious burgers go to OmBurger or check out Uluwatu Cafe.
Beach:
The crystal blue water and golden sands are amazing but be prepared for steps everywhere. To name few of the beaches where you can also rent surf equipment and you must check out Padang Padang, Bingin, Dreamland, Balangan or the famous Uluwatu(Sunset at single fin, can't beat it!).
Surf:
The stuff dreams are made of!
Seriously this place has a wave nearly all year round(99.7% of the time lol).
In the wet season, you probably will have to take a trip to the East coast(Nusa Dua and around there).
Not to far 20-30 minutes by bike.
Don't believe me that there is decent surf year round?
Just follow Bali Waves on Facebook for a week you will be drooling!
P.S Always check the forecast before you paddle out including the tides! The surf can get big very fast!

What to see and do:
Uluwatu Temple located on the cliff side, go before sunset to watch Kecak dance.
Head to the Garuda Wisnu Kencana Cultural Park in Jimbaran.
New Kuta Green Park(it is a massive water park!) is also great, we went there in April and had the literally entire park to ourselves for the day (SOO much fun!!!).
2nd Best Place to Visit In Bali: Lovina
This small village is located very north and may take up to 3/4hrs to get from Uluwatu or Kuta(depending on traffic).
Lovina is known for dolphins, fishing, stony black beaches, hot springs and snorkeling.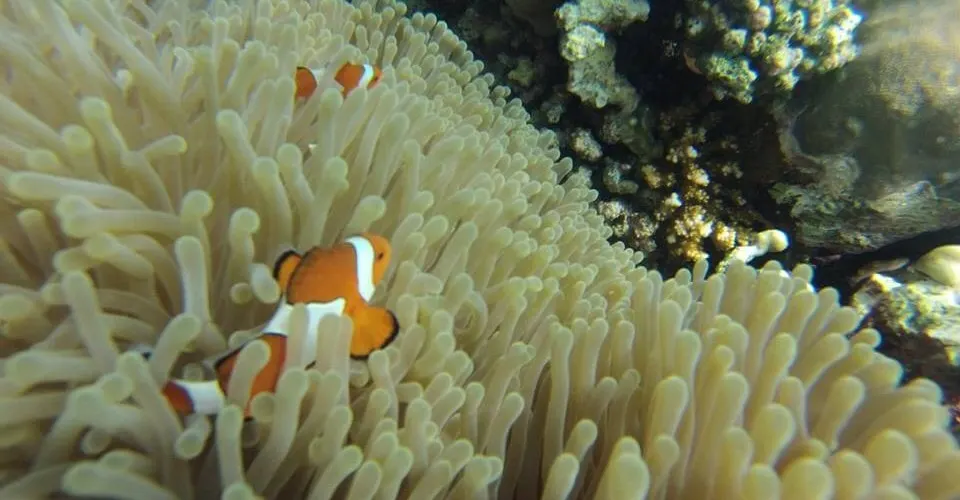 Accommodation:
There are quite a few nice hotels scattered around the main area.
Place we stayed at and that organized everything for us was called Suma Hotel.
The price for air-con room was AU $50 with breakfast, but they also had cheaper options available.
Other places we considered and thought are worth to stay next time was Hotel Melamun which made the most amazing chocolate massages(Yes you read that right) 😉
Restaurants:
Lovina has one main street where you will find few nice restaurants and bars.
Because we were staying only for 3 nights we had dinner in the hotel next door to Suma with affordable and delicious local snappers.
Akar has great vegetarian food and delicious freshly squeezed juices…
We don't recommend eating in the hotel, unless you are staying in a different one.
Beach:
Very poor! Be prepared for some serious amount of people selling you everything from dolphin cruises to snorkeling to local art pieces.
What to see and do:
Go snorkeling or diving off the Menjangan Island!
It's about 1.5 – 2 hrs drive but it is so worth it!
The coral reef is amazing and you definitely will spot few Nemos and if you are lucky Dolphins will come to say hi.
If you like to get up before 6 AM make sure you go dolphin watching as it is their main attraction.
Just ask day before one of the fishermen's of the beach and they take you for under 100K Rupiah
It's always better to go to them directly as they have as they say "money back guarantee"(meaning if you don't see any dolphins they won't charge you anything)
and you can spot up to 100 of them at a time. Just ask them for advice on what day to go they will be more than happy to help
If you have enough time go to Banjar Hotsprings…
The sacred hot springs 'Air Panas' of Banjar are set in an amazing jungle in a beautifully landscaped tropical garden,
close to Lovina Beach, and it consists of three public and one private pool.
There is a restaurant overlooking the hot springs,
prices are super cheap but don't expect much as food is just average.
Best time to visit is before 10 AM, the earlier the better as this place gets pretty busy!
It was raining the day when we got there but actually was nice as we were in some lovely volcanic 37-degree water.
3rd Best Place To Visit In Bali: Ubud
Great place, very spiritual and must if you are in Bali.
And if you are a fan of Julia Roberts in Eat, Pray Love you know what we're talking about (we ironically had not heard or watched the movie until a friendly taxi driver informed us about it).
Accommodation:
This town has plenty of places to stay so you will surely find something.
We stayed half an hour away by moped between Ubud and Keramas(another awesome surf spot!) to check out both of these places at the same time which is a great idea.
Keep in mind if you are not a surfer Keramas break will not appeal to you that much!
Keramas has an awesome resort called Komune Resort and Beach Club(SUPER EXPENSIVE!).
Even if you are not staying at the resort you can still enjoy the drinks and pool at mainstream prices.
If I remember correctly 45K RP for a Bintang!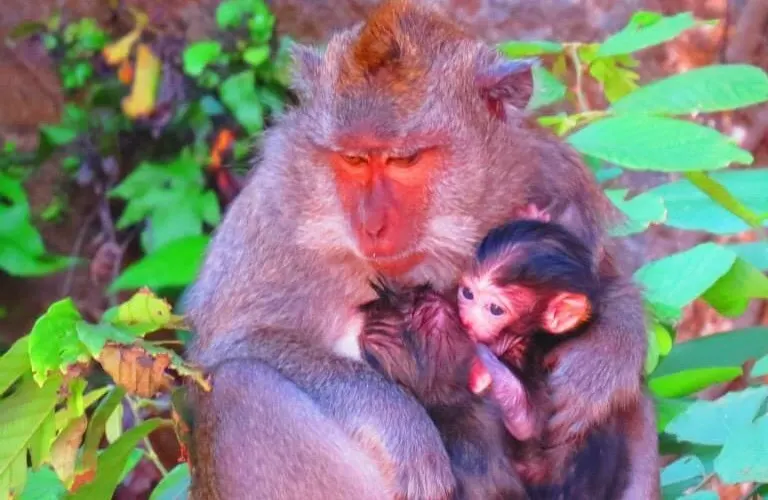 Kudesa Homestay was our place, with cheap price, pool, lovely breakfast and close distance to each place. Don't stay here unless you have a bike!
There is a ton of accommodation in Ubud but Steve wanted to catch a few waves in Keramas while we were there and figured it was the best of both worlds.
Driving by bike from Uluwatu to Keramas with 2 surfboards, 3 backpacks is quite an experience in itself!
Be sure to sign up to our weekly travel updates here.
Restaurants:
Ubud has many nice restaurants, but the most popular one is Ibu Oka Warung which is loved by locals and tourists!
The restaurant opens after 10 am but make sure to come early as tables are gone in minutes.
Naughty Nuri's is another great place that has delicious Indo food and BBQ.
Beaches:
Well, Ubud lies in the middleish(I'm sure that's a real word) of Bali so may be hard to get to any beach so make sure to get a place with a pool or spend the day at Tegenungan Waterfall.
What to see and do:
Monkey Forest is the top one when it comes to Ubud.
Once you finished there head to Traditional Markets and get local products, the variety of items and stands is overwhelming but worth visit.
Tegalalang Rice Terrace has picture perfect views and Satri Coffee Plantation has the best coffee.
Ubud has most certainly much more to offer so make sure to ask locals for recommendations!
4th Best Place To Visit In Bali: Sanur
Located on East side has a beautiful beach with one long main street.
This is most definitely a couple destination,
so if you are in Bali to party you may like to skip this place but otherwise go even for a day or two to understand it's vibe.
Awesome for unwinding for a few days.
Good food right on the beach and some great massage parlors.
Accommodation is actually anywhere from AU $30 – $200++(some BIG resorts there).
The resorts are massive!
If you are looking for nice couple location that won't break the bank.
Visit Ari Putri! Great staff, clean rooms and 2 swimming pools.
Also a 5 min walk to the beach.
P.S They have the same towels as a massive resort across the road!
Just saying that if you "were to" go to the resort you would fit in quite well at the 5-star pool 😉

5th Best Place To Visit In Bali: Seminyak
I think that we all heard about it or at least considered as destination for Bali holidays.
Described as luxury, fun, upper market and definitely more expensive than rest of Bali.
Accommodation:
There are so many great hotels, however, it's a bit hard to find something not too expensive and close to the center.
We stayed in Neo Hotel in Seminyak for a week and got really good accommodation deal for IDR 1 500 000 however…
..the hotel appeared to be 30 minute walk to the beach (we were told it was only 10 minutes by NEO Hotel when booking) so instead of saving we spent more on taxis.
The hotel is really nice though and worth checking out as its close to Potato Head too.
If you have bigger budget please splash out and check out Booking.com to get
something closer to center.
Restaurants:
We tried Lacalaca Cantina Mexicana with great food, awesome vibe and really good party(Yes food and party what more could you want).
Try to come in slightly earlier to get good table or book in advance and stay in for the party!.
Red Carpet Champagne Bar although it's a bar, come here for a drink and they will keep
giving you really nice snacks ;-). Pretty expensive!
Earth Cafe has delicious juices and the food is like heaven.
What to see and do:
One place that you must go to is Potato Head. Great party place that gets busy very early.
Gates open at 11 but make sure to get there before 10 am to get good spot and take lots of $$$'s as you will want to spend the entire day as it's awesome!
KuDeTa is another bar/restaurant where you can chill out for the day have drinks and enjoy the party.
For other activities, we would recommend you check out other parts of the island or book a day trips.
6th Best Place To Visit In Bali: Kuta
Woo Partyyyyyyyy Time!
Accommodation:
We stayed for a week with friends in 101 Legian Hotel.
Rooftop pool and bar, great breakfast, and really close to the party.
Bali Sandy Resort which we stayed on a different occasion is also close to the beach and shopping and costs IDR 300 000+ for one night.
Restaurants:
There is countless, amount of restaurants and bars in Kuta.
Take a short walk through the main streets to check out what you feel like eating or go to beach walk shopping next to Sheraton for a bite.
Before you enter any restaurant make sure its busy because if it is usually the food is good too.
Beach:
Kuta Beach is well known to everyone for surfing, sunbathing and other activities.
If you are coming here in low season, the beach gets really dirty so does the water.
Be prepared for lots of people trying to sell you stuff!
What to see and do:
The night life here just makes you not want to go to sleep.
Go out after 11 pm or better midnight as after that time only starts to get busy.
Check out the Sky Garden, Centerstage or the Fashion hotel for parties.
During the day go for a day trip to discover amazing temples, waterfalls and other attractions
Wish you all the best on your trip to Bali feel free to share this with any friends heading to Bali soon.
We also have just created our Pinterest account.
Follow us for lots of awesome travel photos from around the world!
If we haven't already convinced you to enjoy this amazing(and we mean amazing) video of Bali from above!
Any of the images on this blog are sharable just by moving your mouse over them.
Don't forget to subscribe and get some pretty epic weekly updates from us!
We are a couple traveling the world one sunset at a time(pun intended) 😀
Cheers,
Steve And Sabina