We love road trips, and a Canadian Rockies road trip was on our bucket list for a while now.
It was the perfect way to finish our two-year working holiday visa in Canada.
After spending a fantastic year in Vancouver, we decided it is time to get things going and plan the trip.
To be honest, the planning didn't come easy (for us it usually doesn't anyway).
The Canadian Rockies road trip was by far one of the most incredible road trips we have ever done.
Endless mountains and incredible views of Alberta.
We only managed to decide the route last minute, and regarding guides online there wasn't many. National Geography had a guide but nothing really in depth.
All we knew that we want to see Okanagan Valley, Revelstoke, Banff, Jasper and of course northern lights up in Yellowknife.
We gave ourselves three weeks(21 days) starting May 9 to the 29th 2017 to complete the Canadian Rockies road trip.
In this ultimate Candian Rockies road trip we cover everything we did, places we stayed and some incredible pictures we took along the way.
And before someone says it we do realise that Yellowknife is not in the Rockies 🙂
We didn't book much before leaving and kind of made it up as we went but man oh man was it an incredible experience.
Okay enough talk, let's begin:
Stop 1 on our Canadian Rockies road trip:
Vancouver to Okanagan Valley: 3 days in the Okanagan Valley wine region
Drive: About 5 hrs including stops
We started off our journey from Vancouver to Okanagan Valley where we stayed for three days at the Summerland Waterfront Resort.
The resort lies on the edge of the Okanagan Lake, and its views are spectacular.
And they were a great help with booking our wine tour.
Equipped with heated swimming pool, Jacuzzi and fitness centre has everything for a perfect relaxing May break.
We couldn't ask for more when it comes to the accommodation and honestly would happily stay there for a few weeks.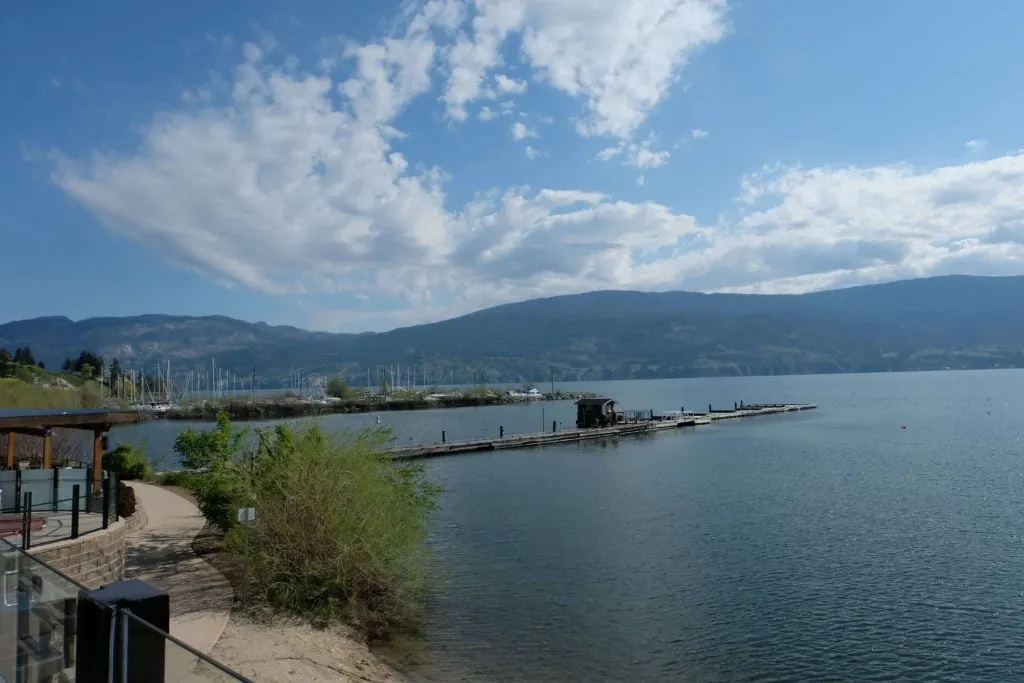 Restaurants we recommend around Okanagan Valley:
Local on Lakeshore – Located next to the hotel, the place serves delicious food with a view.

Zias Stonehouse Restaurant – The restaurant is one of the most famous in town.

Locals and visitors dine here, and it can get jam-packed. The decor is unique and tasteful.

Breakfast at 'Terry's Comfort Food With Attitude' in Penticton is a must!

The portions are more than generous, and the food is delicious. They are open from 5.30 am to 2 pm.

The Village Cheese Company in Armstrong is a great stopping spot for a quick bite to eat on the way to Revelstoke.
You can see the cheese produced there. We recommend buying Gewurztraminer cheese which goes perfectly with a white Sauv Blanc.
You can read about our wine tour in the Okanagan Valley here.
Stop 2 on our Canadian Rockies road trip:
Okanagan Valley to Revelstoke – 4 days in Revelstoke
Drive: 4.5 hrs including stops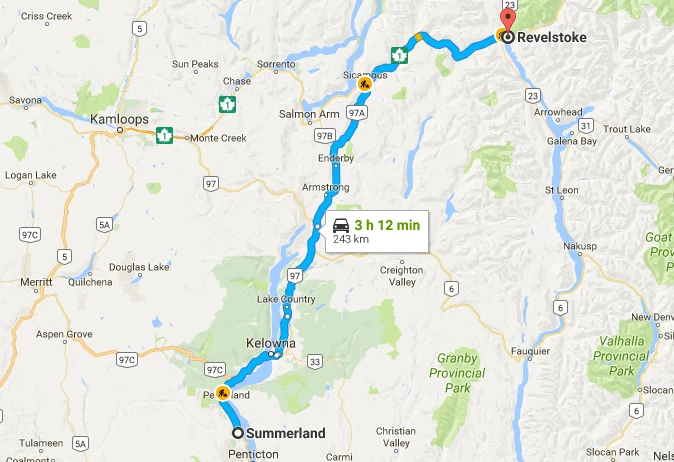 The Sutton Place is located right at the base of Revelstoke Mountain.
Offers ski in/ ski out experience during the winter. In the summer you get to explore one of many hiking trails around the area.
The hotel has truly spectacular views, and we wouldn't want to stay anywhere else in Revelstoke.
With friendly staff, fantastic accommodation, delicious restaurants and a gateway to many outdoor activities, the hotel is a perfect stop.
You must try The Pipe Mountain Coaster open from late May to October.
Looking for availability?
Check out this link to get $25 discount off your next stay when booking via Booking.com
There is also some amazing Airbnb's in the area. You can get your Airbnb coupon here.
Restaurants we recommend:
Rockford Bar Grill & Tavern at Sutton Place Hotel. We had a pleasure to eat here the first evening we arrived. The stir-fry is a must, and their Caesars are delicious. The view from the restaurant does not disappoint either. It is a perfect place to relax after a long day of activities.
La Baguette is well known to the locals for its delicious breakfasts and lunch. We had eggs benny with rosemary potatoes which were simply amazing.
The Taco Club as the name suggests serves tacos. The portions are decent (we only got half a portion of nachos, and it was huge!) and tacos are delicious. The cocktail menu doesn't disappoint either. A perfect place for a Sunday lunch.
Things to do in Revelstoke:
Hikes – many many hikes especially from the end of May onwards.
There is a countless amount of walks in and around Revelstoke. We managed to tick off a few of them as many tracks were still closed when we got there because of the weather conditions.
Williamson Lake Trail is a straightforward lazy day walk around the lake. It doesn't take long to complete the trail which starts just by the parking lot. Take some water with you and enjoy the fresh air.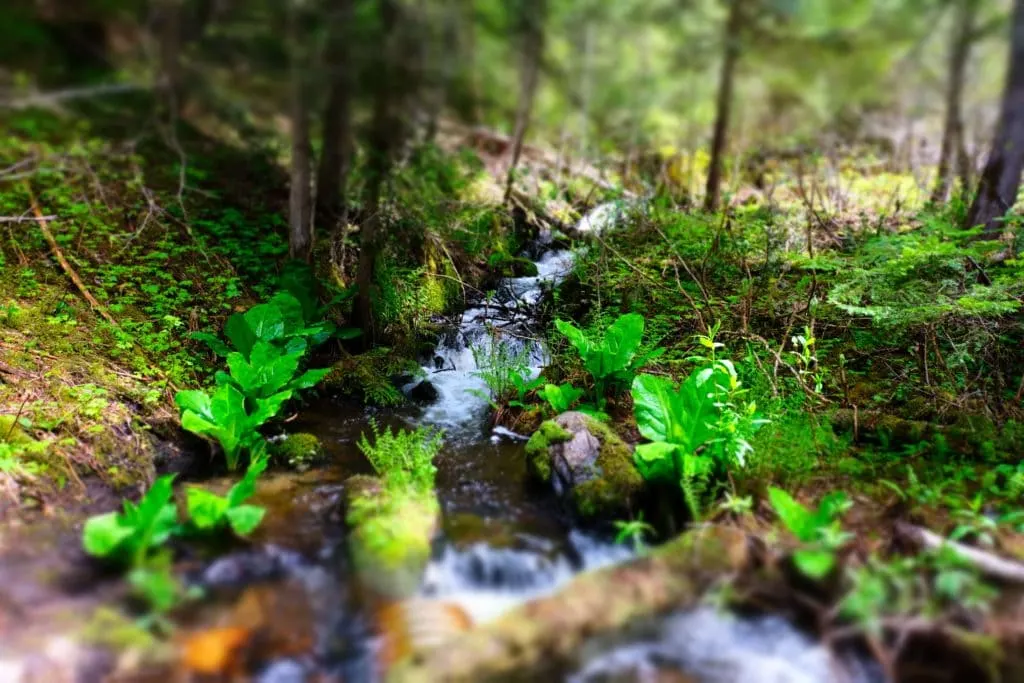 Other excellent routes worth mentioning are the Mount Revelstoke Lower Trails.
There are many paths you can take to explore the area.
Start from the Mount Revelstoke National Park entrance and follow from there. It is another easy and pleasant walk.
If you are looking for more information about different hiking trails and which ones are worth checking out, go to Revelstoke Trails for tips and recommendations.
2
. H
ot springs – Soak in some naturally heated water
The Rocky Mountains are famous for its many hot springs, and we couldn't wait to check them out.
There are several options around Revelstoke.
Within just a 20min drive you can get to the Canyon Hot Springs. Unfortunately, we can't tell whether they are good or not as we got to a huge sign saying 'closed for the season'. Very disappointing!
Nakusp Hot Springs, however, was recommended to us by a local. The hot springs are about 1.5 to 2 hrs away from Revelstoke, but if you have the time definitely check them out.
To get there, you first must take spectacular 20 min ferry across (free). A full day pass costs $15.50 and is worth it. If you are looking for more information about other hot springs visit this website here.
Planning to head over to hot springs? Make sure to give them a call to check if they are open before jumping into a car.
3. The Pipe Mountain Coaster
The Pipe Mountain Coaster is a must if you are exploring Revelstoke this summer.
Every adrenaline seeker will be delighted with the ride.
With a speed of up to 42km/hr and 1.4km of twists and turns, you will speed across ski runs and forest all the way to the resort village.
4. Revelstoke Railway Museum
The museum gives you an insight story of the Canadian Pacific Railway and is an attractive alternative to all other available activities. Worth a visit when passing through Revelstoke.
5. Visit the markets
The Grizzly Plaza turns into the lively market every Saturday from 8.30am to 1 pm.
Whether you are planning to grab a coffee, breakfast or try some of the local produce, the markets are perfect for it.
If you do make it there just look around you and you will see the mountains ahead. Just spectacular.
We left Revelstoke with a big smile on our face. The town, the people, the food and the whole experience was absolutely incredible. Thank you, Revelstoke!
Stop 3 on our Canadian Rockies road trip:
Revelstoke to Banff – 6 days in Banff and Canmore
Drive: 6 hrs including a lot of stops

Accommodation:
As you can imagine Banff has a lot to offer, and we just couldn't help it to stay here and explore as much as we could.
The first three days we have booked an Airbnb in Canmore, located just outside Banff. The area is much quieter than Banff and its a great getaway to nearby trails.
The last three days we spent at the Sunshine Village Resort located less than 15 min drive from the town of Banff.
The reason behind choosing this place is because it is a true ski in ski out resort. Once you step on board the 17 min gondola ride up the mountain, you understand why we had to stay here.
The facilities are excellent, staff extremely friendly and the food is delicious. We nearly stayed the whole three days up in the mountains, just enjoying the resort. Plus there are not many other resorts with decent snow in the middle of May.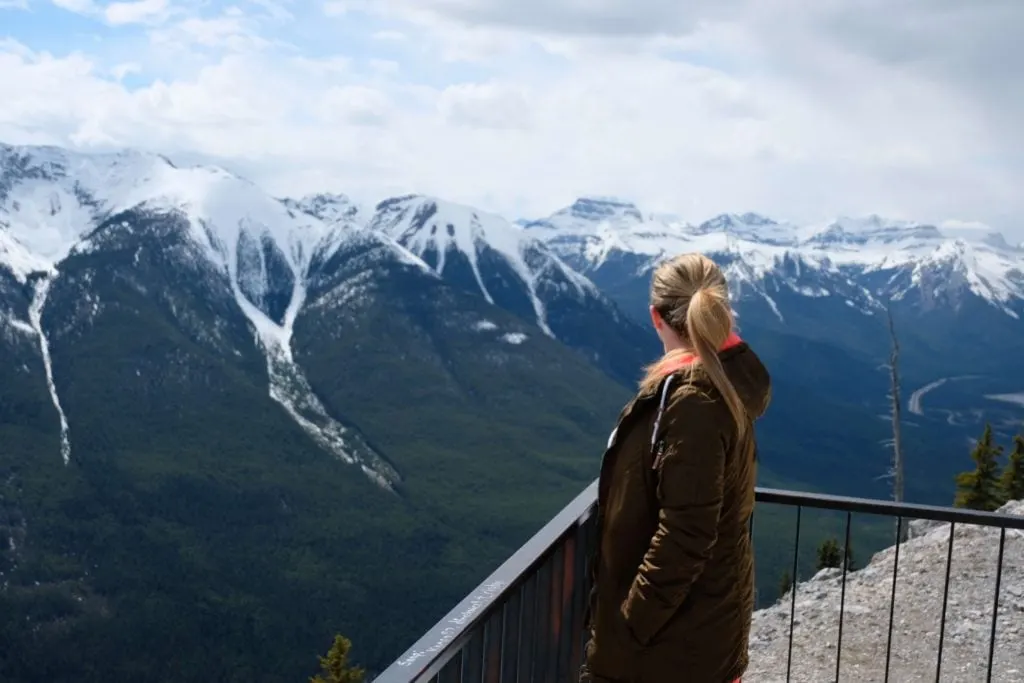 Restaurants we recommend:
The Grizzly Paw Brewing Company has a great patio with the famous Three Sisters mountain range views. The locally brewed beers are a must try. You can also book a tour of the Grizzly Paw Brewing facility located at the Old Canmore road (double check opening hrs).
Park Distillery Restaurant and Bar located in the heart of Banff is a trendy dinner spot. We recommend booking in advance as usually there is a long queue. They have plenty of veggie options and their signature 'twenty-five dollar burger' is a must according to Steve. The gin and tonic are delicious as well, but of course, the menu is a must to explore for favourites.
Rundle Lounge at the Fairmont Banff Springs stands out from miles away. We first saw it from the Surprise Corner Lookout, and it looks spectacular. The Fairmont Banff Springs hotel car park charges you $10 an hour so if you are trying to avoid the fee. You might have to park long before the hotel entrance and walk to the hotel. The Rundle Lounge is just at the back of the main guest entrance and has spectacular views.
The Grizzly House in Banff town centre is well known for fondue. Ranging from sweet chocolate, strawberry to delicious cheese, lobster, buffalo or shark, the place is packed all the time. Dining at Grizzly's is a real feast not to miss.
Things to do in Banff and Canmore:
Banff Gondola or hike up the Sulphur Mountain – The Banff Gondola is one of the most popular attractions in the town. There is usually a big queue to get to the top of Sulphur Mountain.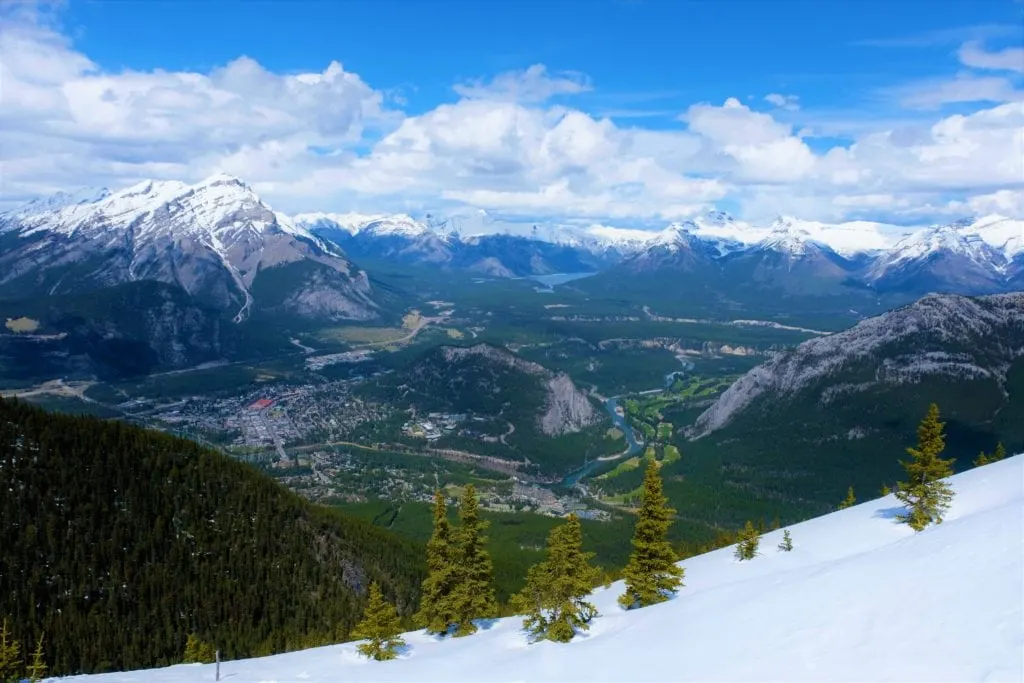 To avoid waiting around pre-purchase your tickets online or at Brewster office. You will be given a time slot to avoid long waits so if you are late just advise at the office desk and they will re-issue your ticket with a next available slot.
Make sure to take your time and enjoy the walk up to the viewpoint. On the way back stop at the Sky Bistro for a bite to eat or simply enjoy a cocktail with a view.
The alternative to taking the gondola is hiking up the mountain which can take 1.5 to 2 hrs to complete. Make sure to wear proper shoes and take plenty of water if you are planning to climb it.
The gondola cost varies between $56 if you purchase in advance or $62 at the location.
Hot Springs –

The Banff Upper Hot Springs

are a must after a long day of hiking or sightseeing.
Located only 4 km from Banff town centre, attract tourists and locals alike. If you are planning to avoid the crowds, we recommend arriving as soon as they are open.
For a $7.30 enjoy the experience of the highest located hot springs in Canada.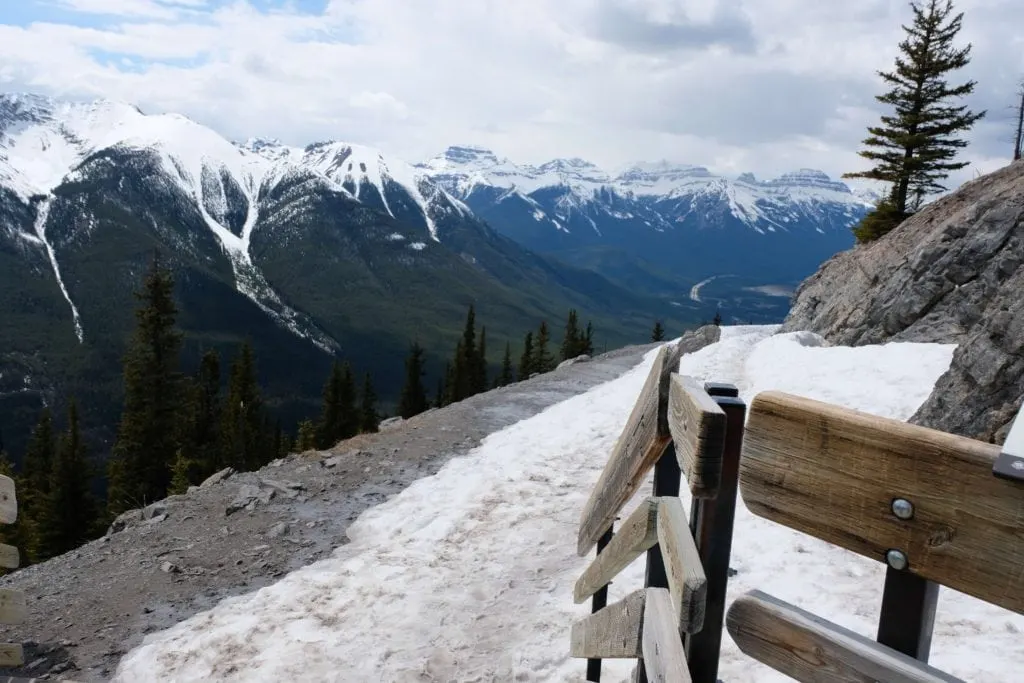 Snowboarding/skiing at Sunshine village:
The winter season in and around Banff goes from October to May, and we have managed to catch the last few days of the season at the Sunshine Village and the snow was still pretty decent.
Hike one of the many trails:
There is a countless amount (in our opinion) of hiking trails in the area. Our favourite one:
Grassi Lakes Trail: The trail takes about 1-2 hours depending on the route you will take.
The easy one takes you through a gravel road with an easy rising slope.
The more difficult one takes you right through the wooded trail where you will pass the Grassi Lakes Waterfall.
Whatever option you go with, you will be rewarded with a spectacular view at the top of the trail. And the views are free!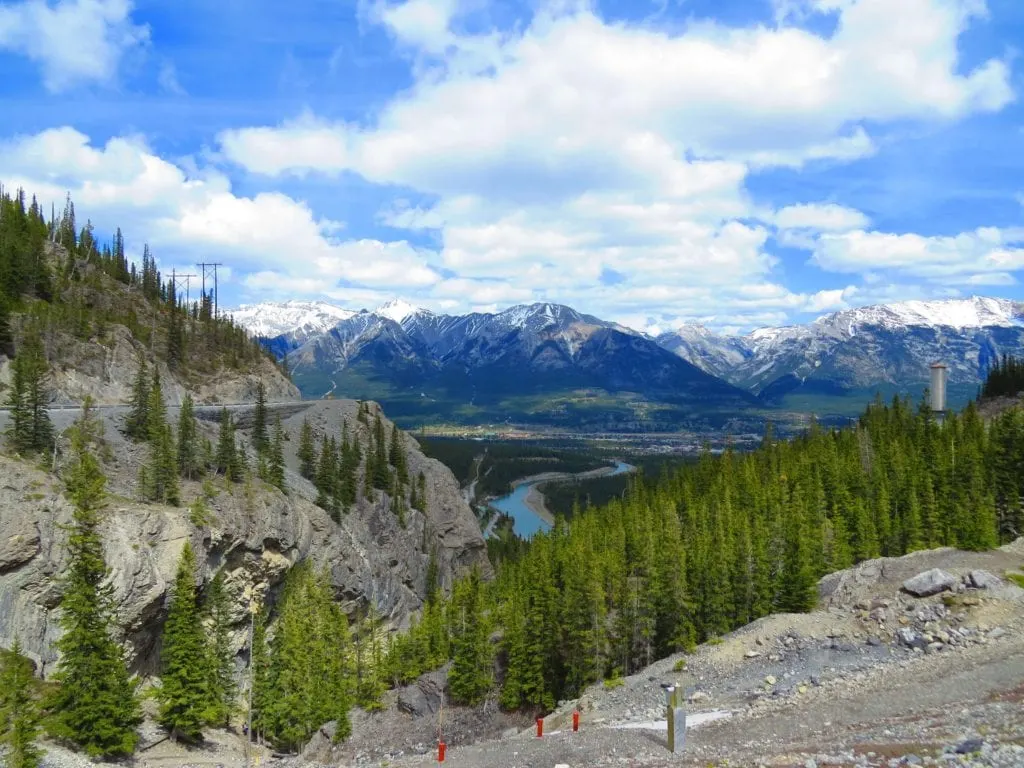 Vermilion Lakes are extremely popular with the locals looking to escape the town centre:
They are readily available and offer a spectacular view of the Mt. Rundle and Sulphur Mountain.
The best viewing times are at sunrise and sunset.
Make sure to pack some blankets, a picnic basket and enjoy a relaxing day at the lakes.
Cruise on Lake Minnewanka:
For $54 p/person enjoy an hour-long cruise on the lake.
The onboard guide will tell you the story behind the lake, and you might be just lucky enough to spot some wildlife. We took the cruise on their open day and enjoyed the experience.
If you have the budget, go on the cruise. Otherwise, you can also admire the views from the shore.
These are some of the views you can expect to see on your Canadian Rockies road trip:
Surprise Corner and the Tunnel Mountain Trail:
It offers fantastic views of the surrounding mountains and valleys.
The 9 km long drive starts just in Banff town centre at the corner of Banff Avenue and Buffalo Street.
Buffalo Street then turns into Tunnel Mountain Drive where you will find the Surprise Corner and more spectacular views. The road will eventually take you back to Banff town.
Lake Minnewanka Scenic Drive:
The drive starts just a few minutes outside of Banff and is perfect for a wildlife spotting and of course the views.
Pass the Minnewanka Lake and continue to Cascade Ponds, Johnson Lake and Two Jacks Lake.
The drive is only 24 km long but be sure to take your time, stop a lot and spot the wildlife.
We have seen moose, bears, bighorn sheep, deer and loads of friendly squirrels.
It is an alternative route between Banff and Lake Louise.
This route runs parallel to the highway at the opposite side of the Bow River.
The route is worth exploring as it has loads of interesting stops/viewpoints and usually is less busy.
It is open year round. Our favourite stops included Backswamp, Mule Shoe Picnic Area, Castle Cliffs, and of course the Johnston Canyon.
It is extremely popular amongst tourists and can get busy during the summer.
We do recommend getting there as early as possible to avoid crowds. It takes about 20 minutes to get to the lower falls and 45 to the upper falls.
From the upper falls, you can continue your journey for several hours up to Ink Pots.
We do recommend taking water and some snacks if you are planning to explore the Canyon.
For more information about the Johnston Canyon hike visit hikebiketravel.com.
Located just by the town of Canmore, is easily accessible via car, bike or by foot.
A favourite summer spot perfect for picnic, swim, or an active day out.
It has a few walking trails worth exploring as you might be able to spot some wildlife. It is also a very popular dog park.
The Kananaskis Wildlife Trail and the Spray Lakes:
These take you on a 153 km long loop with a countless amount of stops and unforgettable views.
This drive was one of the best things we could have done, and seriously the views are jaw-dropping.
The whole trail takes about 3 hrs, but we highly recommend taking a picnic basket with you and stopping at as many stops as possible on the day.
Lake Louise and surrounding lakes:
Probably the most popular spot in the Canadian Rockies.
We visited this beautiful lake twice while in Banff. The first time it wasn't busy at all, and we managed to take a few pics of the frozen lake (yes it was completely frozen in May, unfortunately).
The second time on a Saturday afternoon.
Let me tell you, it was packed!
We recommend visiting the lake very early in the day or late afternoon to avoid the crowds.
Although the turquoise waters were under ice, the entire setting is still spectacular any time of the year.
If you are planning to visit Lake Louise this summer, the water is at its finest in July and August.
Stop 4 on our Canadian Rockies road trip:
Banff to Sunwapta Falls – 1 night in Sunwapta Falls
Drive: 8-9 hrs including stops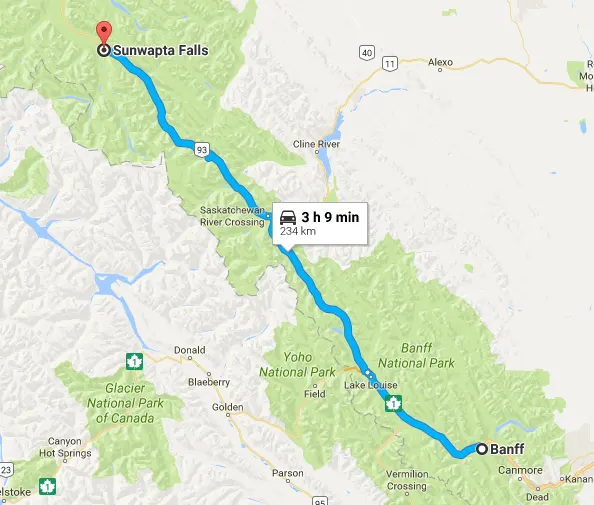 Accommodation: Sunwapta Falls Rocky Mountain Lodge
The Banff to Jasper drive is only 4 hrs long.
However, there is so much to see on the way, it literally takes 1 full day to get to Jasper.
You will be pulling over every 5 minutes to see the jaw-dropping scenery.
We could have continued our journey to Jasper, but it was already 7 pm by the time we reached Sunwapta Falls.
Not wanting to miss out on other stopping points we decided to stop at the Lodge.
The staff at the place is super friendly and the rooms are neat and tidy.
As it was a public holiday in Canada, Jasper was completely booked out and we were so lucky to find this amazing place on our Canadian Rockies road trip!
We got a room for $150 including full breakfast for the night.
It appeared that this place is extremely busy all the time and the souvenir shop was the highlight.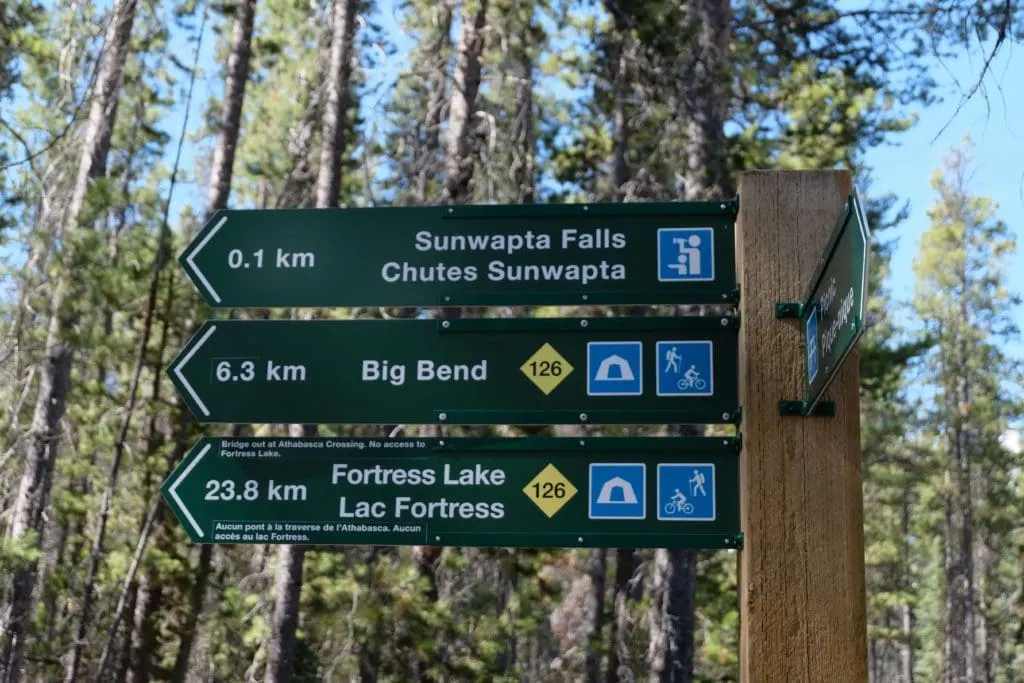 Restaurants we recommend:
Sunwapta Lodge Restaurant located onsite serves delicious food. Sourced from local ingredients, we enjoyed an incredible dinner and breakfast the next morning. It was also Steve's first time trying Elk meat. The staff is very efficient and knowledgeable and makes the entire experience five stars.
Things to do in Sunwapta falls:
It is located off the main road leading you to Sunwapta Falls and onwards to Jasper.
The park is known for beautiful turquoise lakes.
Allow a full day to explore the park and take a few easy hikes.
Emerald Lake with a stop at Natural Bridge makes a perfect start to a day of exploring the park.
Takakkaw Falls are making a complete stop for incredible pictures. The park attractions are easily accessible via car most of the time.
The park is also a hiker's heaven.
Sunwapta Falls, located just passed the Lodge:
At its best power early spring.
There are few walks available depending on the activity level you wish to take.
A 20 min medium difficulty hike will get you to the Sunwapta Bluff and the views of the Catacomb Mountains and Athabasca Valley.
Athabasca Valley Lookout:
Located just on the side of the road on the way to Jasper.
The lookout can be easily missed so keep an eye out for it.
The view from the lookout is breathtaking, and if you are a little bit more adventurous, you can take the accessible hiking trails.
Located just before the Honeymoon Lake is easily accessible via a footpath.
The lake offers beautiful views of the surrounding mountains. Check it out below:
It is well known to the locals for a campground right on a lake with an exceptional view.
The lake is very calm and makes it a perfect swimming spot during the summer.
Located a few minutes passed the Sunwapta Falls, is a perfect picnic location or camping spot.
Bow Summit and Peyto Lake:
It is easily accessible via 3km long trail.
There was still a lot of snow in May, so it wasn't as easy to make the loop, but regardless of the time of the year, the hike is a must.
The trail is well marked, and the views from the point will leave you speechless.
The turnoff to the place is just off the Icefields Parkway about 40km from Lake Louise (travelling north). You will probably see a lot of cars turning into it. A must do along the way.
Columbia Icefield Glacier Experience:
It takes you to the Athabasca Glacier for a once in a lifetime experience.
You get to jump on a $1 million + Ice Explorer that will take you right to the glacier.
The 10 000-year-old ice mass is very impressive.
Make sure to take a water bottle with you to fill it as many times as possible while you on the glacier.
Enjoy the fresh air, cleanest water and unforgettable experience.
The cost? $94 per person or $85 if booked in advance.
It is located a few minutes drive from the Athabasca Glacier.
You will step on a glass-floored observation platform that hangs 280 meters above the Sunwapta Valley. Stand still and feel how the bridge is actually moving. The experience is not for anyone afraid of the heights.
Stand still and feel how the bridge is actually moving. The experience is not for anyone afraid of the heights.
Check out the video from our Facebook page below:
Stop 5 on our Canadian Rockies road trip:
Sunwapta Falls to Jasper – 1 night in Jasper
Drive: 4-5 hrs including stops and sightseeing
Accommodation: Jasper Alpine Village Cabin Resort
Located just before you get to Jasper coming from Banff, right on the Athabasca River.
It isn't cheap to stay here, to be honest, but worth it. It also didn't help that it was a national holiday the weekend we arrived so everything was booked way in advance.
The cabins are beautiful and clean, and you can spend the day having a picnic watching the river flow.
The mountain and river view just doesn't get old.
Restaurants we recommend:
Jasper Brewing Company has a great selection of local beers, cocktails and more. The food is delicious too, so the place gets packed. You are fortunate to get an outside seat in the summertime. We loved the atmosphere and the views of course!
Stone Peak Restaurant offers an exquisite dining experience with spectacular views. Although the restaurant isn't very cheap, we absolutely loved it. The ingredients are mostly locally sourced and the food doesn't disappoint. Not only the food is award winning, they also received an award for one of the best wine lists in the world. Who knew?!
Things to do in Jasper:
It is accessible via Route 93 A just before Jasper. They are extremely popular to visit during the summer, so arrive early to avoid the crowds. The falls look very impressive falling into the canyon.
The walk can take 40min to an hour and is considered easy.
See for yourself the power of nature and how it created this canyon.
This is a 4.5 km trail that will take you around five lakes in a loop.
It takes about 2-3 hrs to complete the walk, but we recommend to pack some snacks and enjoy the views.
There are two paths to choose from, long and short.
The short 4.5km long seems to be the most popular though amongst hikers.
Whitewater rafting in Jasper:
It is one of the must-do activities in Canada.
We decided to go with whitewater rafting Jasper guys and couldn't be happier with them.
The rates are very decent, and for $68 per person, we got to raft the Athabasca River.
They look after all the equipment for you, so all you need to do is take a GoPro and a right attitude.
It is an enjoyable and thrilling experience.
It starts a few minutes outside of Jasper. The almost 50 km stretch can take about 2+ hrs return, but we recommend to make a full day out of it.
There is a lot of stopping points on the way and many hiking opportunities.
If you decide to take the route early morning, you might be lucky enough to spot some wildlife along the way.
Pack some lunch just in case as you might want to stay in the area for longer than expected.
Hike or take the Skytram to Jasper viewpoint:
Located at the base of Whistler's Mountain the 7-minute ride will get you to a spectacular view.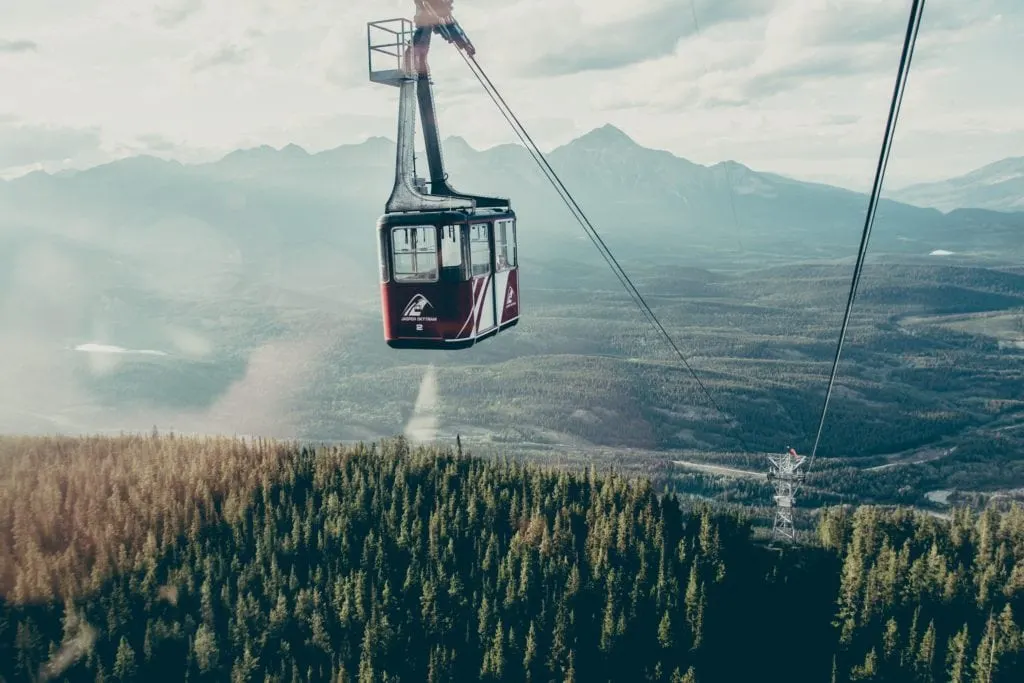 Enjoy 360 views of the Jasper town and surroundings. Many locals recommended it to us and it is a fun way of seeing it all. The price of the ticket is $45 per adult.
The price of the ticket is $45 per adult.
Stop 6 on our Canadian Rockies road trip:
Jasper to Yellowknife – 3 days to Yellowknife
Yes, we know Yellowknife is not in the Rockies, but we really wanted to try and see the northern lights.
To get from Jasper to Yellowknife, we had to split our journey a bit.
We first drove from Jasper to Whitecourt, then next morning onwards to High Level.
On day three we finally hit Yellowknife.
Accommodation on the route:
First night in Whitecourt – Kanata Hotel $99 including breakfast
Drive: 5 hrs including stops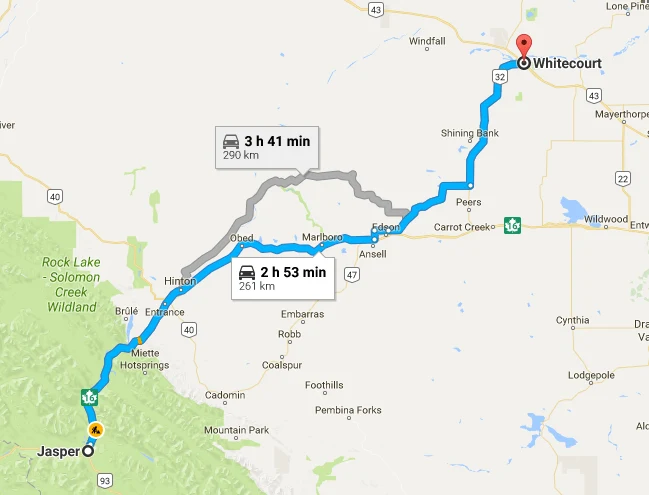 Second night in High Level – Quality Inn $99 including breakfast
Drive: 8.5 – 9 hrs including stops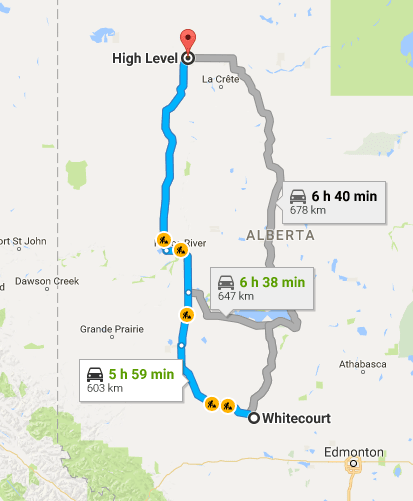 Finally reaching Yellowknife – Bayside Bed and Breakfast booked via Airbnb
Drive: 10 hrs including stops(this was a long one!)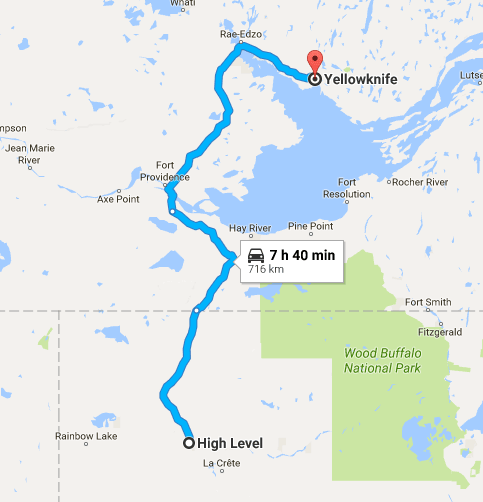 Restaurants we recommend over the 3 days:
On this leg of our journey, we didn't stop too much and instead tried to purchase salads, healthy ready meals at local grocery stores.
We managed, however, to find a must visit Restaurant if heading in this direction.
Valleyview town has a charming place 'The Old Country Inn Bavarian Tea Shop and Restaurant '.
Their portions are super generous, and the food is fresh and delicious.
Do not forget to look around the restaurant if you do make the stop as there is sooo much to see.
Fort Providence was another food and refuel stopping point before reaching Yellowknife.
Things to do in Yellowknife:
Hutch Lake located approximately 35 km from High Level on Highway 35. A perfect stop to relax, stretch your legs and enjoy the refreshing water during the summer.
Alexandra Falls accessible just off the highway, are the 3rd highest in the North West Territory. The lookout is located just steps from the carpark and makes it perfect stopping point. You don't even need to put directions for the waterfall as it is literally on the way towards Yellowknife.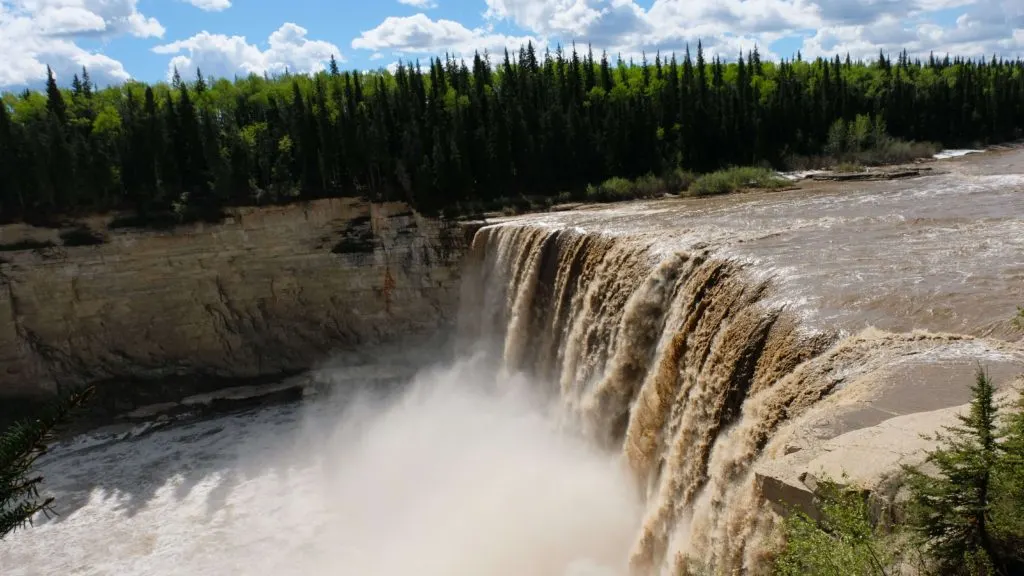 Mackenzie Bison Sanctuary lies just passed Fort Providence. We recommend refuelling in Fort Providence as there will be no other opportunity to do so until you reach Yellowknife. As soon as you pass the Fort Providence, you will enter the Bison Sanctuary. Funny enough we saw a Bison just passed the sign. These are wild animals so make sure to keep your distance and do not drive at night. During the summer this is not a big issue as it doesn't get dark, but other time of the year, please be aware.
Yellowknife Old Town is well known for an artistic heart. There are art galleries packed with local art ranging from affordable pieces to $10 000 mark+. You pick up the vibe as soon as you enter the area. It is easily walkable and worth discovering by foot. Take your time and enjoy the area.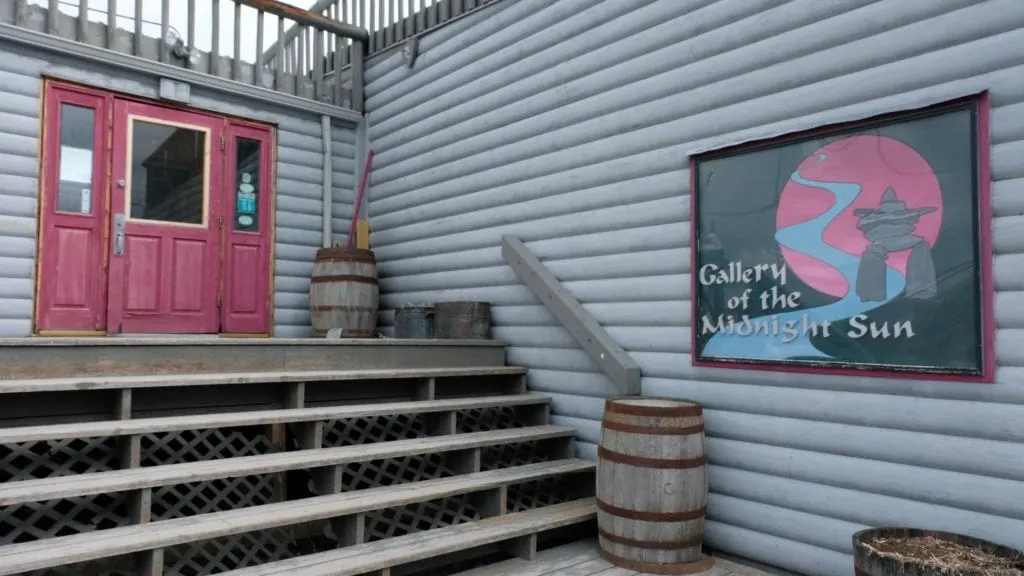 Bush Pilot's Monument lies just by the old town, offers town and Great Slave Lake views.It doesn't take much effort to get to the monument dedicated to the bush pilots and engineers whose lives were lost.
Ingraham Trail stretches over 70 km passing an enormous amount of lakes, hiking and canoe trails. There is a countless number of spots to have a picnic, camp, see the waterfalls, lakes or wildlife.
In the summer, the road ends at Tibbit Lake.

Wintertime, however, turns the trail into hundreds of miles long ice road (about 500km long). It is where they film the start of that Ice road truckers on Discovery channel

NWT Diamond Centre located in the city centre is a great place to explore the history behind the mining and the process of turning a rough stone into a beautiful diamond.
The centre is open daily but make sure that there is no private tour in progress before visiting as you might get disappointed.
Northern Lights – Our main reason for going. Yellowknife is known as the best location in the world for aurora viewing. As soon as we heard of Yellowknife we couldn't help but include it on our bucket list and add it to our Rocky Mountains road trip.
The best times to view the northern lights are from mid-November until April.
Because we travelled in May, we didn't see ANY. #fail
Reason?
The sky is just too bright. It doesn't get dark at all.
As soon as the sun sets, it rises a few hours later, so the sky doesn't get dark.
Although we knew that there is a slim chance of seeing the northern lights, we didn't realise that it would be impossible to see them.
If you are planning to see the northern lights, make sure it gets dark enough at night.
Because we had only 3 days left before the car rental ended, we had to plan our route back home accordingly and make as little stops as possible.
Our journey back home after our Canadia Rockies road trip looked like this:
The worst part about driving so far up north is you have to return haha. But it was a great way to see spots we didn't see on our Canadian Rockies road trip.
Yellowknife to Manning
Drive: 11 hrs with stops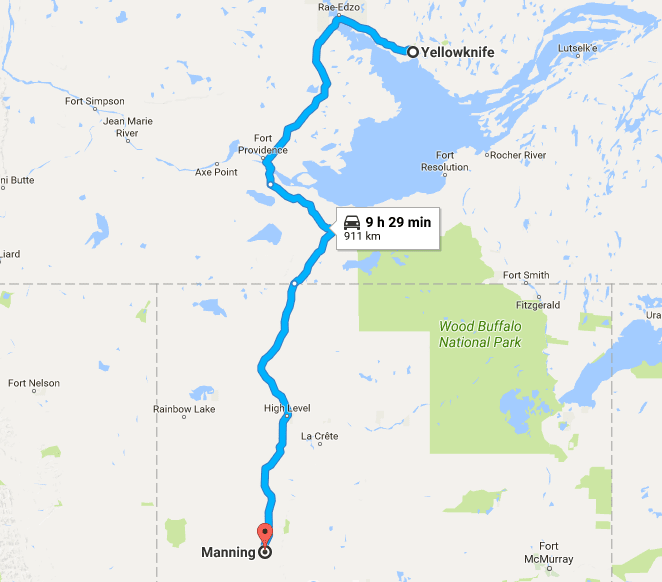 One night Manning – at Nova Inn.
Manning is a wise stopping point to split the journey.
Nova Inn is a new hotel in the city, and we got a room with breakfast for $99 for the night. You can also book them via Booking.com if you are afraid they will be sold out.
It is a popular place for overnight stay. Following day, we continued our journey to Vancouver.
Deciding to skip breakfast and hit the road the following morning wasn't a wise decision.
Because we just wanted to get back home and were already really tired of driving, the cruise control didn't help.
Setting speed to 120km/hr in a 90 zone was a bad idea.
We didn't see any police for the entire journey starting from Vancouver, but the day before we got back, we got pulled over for speeding.
How much we had to pay? Too much.
Not worth the $167 fine.
If you are planning to make the road trip, do not speed! We can't stress enough how stupid we were.
After a long day of driving, we got to Valemount and decided to stay at the Chalet Continental right in the town centre.
Drive: 10.5 hrs including stops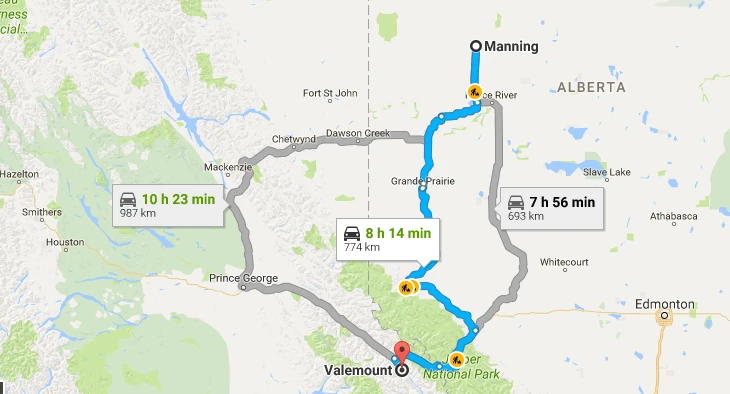 The place is neat and clean, and you just can't beat the mountain view from the balcony.
Because we were exhausted, I fell asleep almost instantly. Steve woke me up past 11 to say "there are northern lights outside!!!".
Jokes right?
Walked outside the balcony and saw glowing green lights. We couldn't believe our eyes.
Spent 3 hours chasing the aurora borealis and it was worth it.
Funny you would think driving all the way to Yellowknife to the capital of Aurora borealis and to see none!
And here we are only a few hours from Vancouver in Valemount looking at them.
Pictures? Well, we really had no time to take them. Forgetting tripod didn't help either.
Sorry guys.
The next morning we continued our drive to Vancouver.
Drive: 9 hrs including stops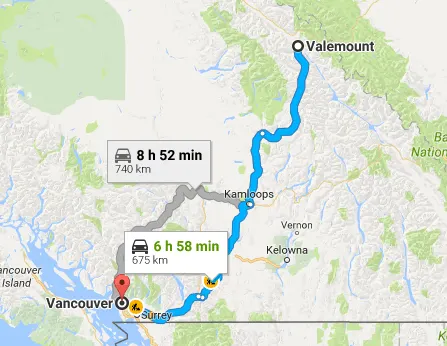 Back in Vancouver with a lot less money and unforgettable experiences.
Conclusions and lessons from our Canadian Rockies road trip:
Type of car we rented: Jeep Cherokee
Car rental cost: We went with Thrifty car rental and chose the 'wild card option'.
That option means you can get a basic three-door car or a fancy car. It depends on what they have available on the day.
We were first given a Toyota Cameron for $900 from May 9 to 29th.
We asked if it was possible to upgrade. With an additional payment of $200, we got upgraded to Jeep Cherokee. Totally worth it!
Keep in mind we also had our own car insurance. Steve has a CIBC Aventura credit card and if you didn't know if you put the total cost of the car rental on your card you get fully covered in for car insurance!
Total fuel cost on our Canadian Rockies road trip:
After going through all the gas receipts (we kept them all) we managed to calculate the fuel cost.
The total fuel cost came to $725.01(yikes).
Keep in mind; we weren't driving very conservatively so you might end up with a lower bill. And we had a big Jeep Cherokee lol
We do recommend to refuel at every petrol station you come across.
The longest stretch we were driving without any petrol station was about 300km.
From Fort Providence to Yellowknife there's no place to refuel.
Accommodation expenses: We pre-booked our accommodation in most of the locations we went to.
The average price per room per night was about $ 110 a night. Not cheap 🙁
We didn't have breakfast included at every hotel but we tried to find places that did.
There are other cheaper options out there and Booking.com has all the hostel and hostel listings available.
If you book via this link you will receive a discount off your next reservation.
We highly recommend Airbnb as well. We found some beautiful places like in Canmore or Yellowknife via Airbnb.
If you are new to Airbnb make sure to sign up here to get a discount off your first trip. Or get some of our Airbnb tips here.
Other much cheaper options would be camping but many spots were not open along the way.
Daily food costs on the Canadian Rockies road trip:
It is tough to tell as sometimes we bought groceries and cooked our food, other times had to eat out.
We won't brag about the daily budget here for groceries and how much everything cost.
Canada is expensive.
Average meal price while eating out can be anywhere between $10-20+ per person.
If you are trying to be healthy, we suggest buying your groceries and make your own food.
A healthy salad costs more than a meal from a chain restaurant/takeaway.
Network phone coverage on our Canadian Rockies road trip:
Do not leave Vancouver without some sort of sim card that will work along the way. You will thank us if you ever have to make that emergency call. The Canadian Rockies road trip has so many places where you could get a flat tyre, run out of petrol or accidentally hit some wildlife.
To stay connected to the world, we went with Rogers.
Pay $10 for SIM card and an additional $45 to get 3 gigabytes of data.
Their coverage in British Columbia and Alberta is probably the best out there.
Keep in mind the phone reception in the mountains might be unreliable.
We had reception however almost everywhere but the Icefields Parkway route.
In a case of emergency 911 always works but hopefully, you will never need to dial it.
Car radio signal on our Canadian Rockies road trip:
Many, many hours on the road make sure you have backups!
You will keep losing reception, and it can be one of the most annoying things to have a constant blur signal.
We had satellite radio which sorted our problem. We have learned from our previous road trip always to have stuff downloaded and some sort of AUX cable.
Whether it's your phone or USB, always have some good music/ podcasts/ audiobooks you can play.
We are big fans of Audible and regularly listen to audiobooks.
They are so handy in an environment where books are impractical, and you want to learn something new or get quality content.
Our highlight of the road trip was the Graveyard Book by Neil Gaiman.
Favourite podcasts to listen to on our Canadian Rockies road trip:
Noah Kagan – Noah Kagan Presents
Wifi accessibility: No data plan? No worries, there's a lot of stops you can enjoy the free wifi.
We were using McDonald's and Starbucks whenever possible.
Otherwise, large shops or shopping centres will usually have a free wifi available so just park outside and enjoy browsing.
Important: Download offline Google maps prior to the road trip. Always helpful.
The total cost of attractions on our Canadian Rockies road trip:
No doubt Canada is expensive, and almost every fun activity equals money.
We probably could have reduced our spending dramatically but we had saved a decent amount for the trip.
We purchased the 'Ultimate Explorer Pass Including Banff Lake Cruise' for $184 per person.
The pass entitles you to four fun activities: Banff Gondola, Lake Meenewanka Lake Cruise, Ice Explorer Glacier Tour and Glacier Skywalk.
If we were to purchase the activities separately we would be looking at the following cost (assuming you are buying tickets at the locations):
Banff Gondola $ 62
Banff Lake Cruise $ 60
Glacier Tour and the Skywalk $94 = $ 216 based on an adult /price per person.
If you purchase as a bundle, you can save yourself $32 per person which adds up at the end of the day.
The white water rafting came to $68 per person.
Total spent: $252 per person
Road conditions along the way of our Canadian Rockies road trip:
The roads in the Canadian Rockies are well maintained.
The weather conditions tend to change a lot though so be mindful when on the road.
We experienced all seasons at one point, sun, rain and snow almost all at the same time.
Temperature and conditions change a lot depending on the date of the year.
The roads itself are perfect up to Fort Providence. From there the highway gets very bumpy, and there was quite a lot roadworks going on too.
When planning your route make sure to check the course as your GPS might decide to take you on a gravel road just passed the town of Hinton.
Best time to travel the Canadian Rockies road trip:
From our experience, starting April all the way to September is the best time to visit to do your Canadian Rockies road trip.
There are pros and cons to going at the start, middle or end of summer.
If you want to see all the hidden spots, you might decide to wait until the beginning of June, when all side roads are open. Maligne Lake was closed while we were there, so did many hiking trails.
But at the same time, there will be a LOT more people.
Heading to take a selfie at the Lake Louise? Keep in mind that the lake stays frozen until late May/ beginning of June.
There's really no point to go all the way to Yellowknife in the spring/summer time if you are heading there for the northern lights.
You will see none from Mid April until November so keep that in mind.
How to prepare for your Canadian Rockies road trip:
In our case, there wasn't much planning and preparation.
If you are looking to stay at a budget accommodation or hotels, then book a few days in advance via Booking.com or Airbnb.
There's nothing worse to arrive at a town and realise the hotels/hostels are sold out.
Trust us, during the summer they usually are the same as in the winter.
Book your discounted hostel with booking.com and get $25 off your next stay using this link.
Camera equipment we had on our Canadian Rockies road trip:
Well worth investing in a good camera for your Canadian Rockies road trip you won't regret i!
We took the following:
Fujifilm XT-20 – literally bought this before we left! What a camera!
Gobi and tripod
Canadian Rockies Road Trip equipment: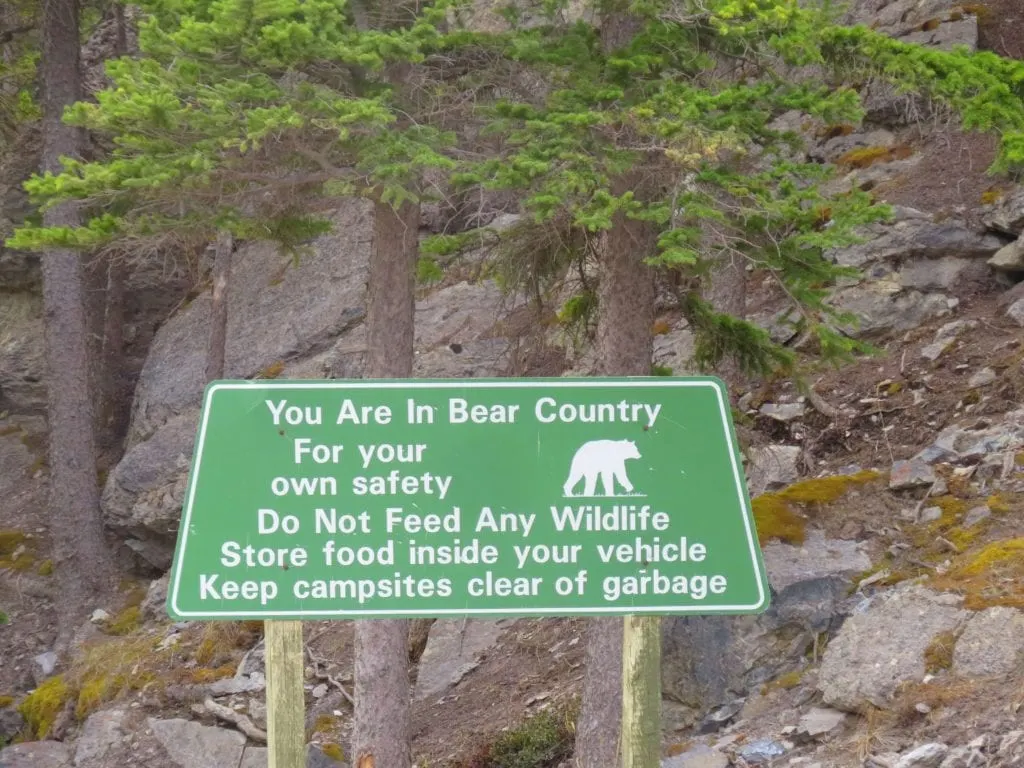 If you want to save money on your Canadian Rockies road trip you can camp:
We saw a five-piece camp set from Walmart for $99 (includes two pax tent, two chairs, and a sleeping bag).

A torch can become handy so invest in a good one.

Bear spray was on our list but we never got any.

We did a lot of hiking and saw several bears but always kept our distance from them.

Always be sensible, make noise when on hikes and keep your distance. Even with a bear spray, you might not be safe if you aren't reasonable.
Good hiking boots!
Hammock – best purchase we ever did! We always wanted to get one.
Two people hammock does become handy in the Rockies:
You can hang it anywhere, and there are so many spots to do so. Our one cost $120 but it was totally worth it.
Warm clothes are always good to have as it can get cold in the mountains. We were prepared for all seasons. Even when the sun is out, it can be chilly in some places.

Good sunnies.

Hiking boots are a must. You need proper hiking shoes for the trips in the mountains. There is no way runners would do.

For exact equipment needed depending on the season go to this awesome article.
We hope you enjoyed this article and got some useful information. Please make sure to comment and share this.
We made this Pinterest image for you. Make sure to pin it to your Canadian Rockies road trip board.
Enjoy your Canadian Rockies road trip. It will be epic!
Drive Safe,
Steve and Sabina
P.S If you liked this guide you will love our Perth to Melbourne road trip.