There is undoubtedly a lot of breathtaking places to visit in Crete.
This stunning island holds many hidden gems that are waiting to be explored. From pink empty beaches, beautiful valleys, vibrant cities to unique history and architecture.
We recently spent two weeks exploring the island when Greek island hopping and found some of the best places to visit in Crete.
Crete is the largest island of Greece and can be easily explored by a car.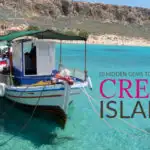 Here are our top 10 breathtaking places to visit in Crete:
1. Vasiliki and Tripiti Beach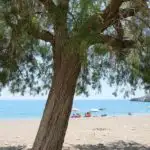 Located in the southern part of the island, about 70 km from Heraklion, lies Vasiliki town and Tripiti beach.
If you are looking to run away from the city crowds and explore the most untouched and beautiful places in Crete, look no further.
Vasiliki is a tiny town full of charm and friendly locals who will give you the best tips to explore this part of the island.
From Vasiliki take a dirt road through the Asterousia mountain range and explore the Steno Gorge and Tripiti beach.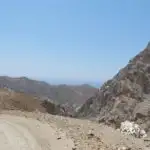 The views leading to the beach are breathtaking, and there is virtually no people here.
We stayed here overnight at a beautiful local taverna 'Stella and Agisilaos Tavern' which is also available to book on Airbnb.
If you are new to Airbnb, read our guide to booking your first Airbnb stay and grab $55 discount off your stay.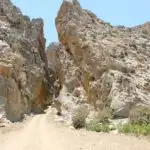 The owners are amiable and cook the best Cretan dishes we ever tasted! The homemade bread, feta, olives, wine and raki, are a must try.
Do not omit this place on your way to the beach.
2. Meronas and Amara Valley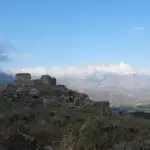 Meronas and its surroundings have fantastic views of the Amara Valley.
Here you can discover many walking trails with breathtaking views. Amara Valley is one of the best places to visit in Greece if you are looking for unspoilt nature and clean, fresh air.
Within a short drive, you can explore the Patsou Gorge and the Gorge Platania. There are also several caves looking to be discovered and many peaks to climb.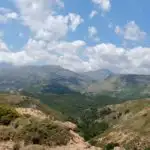 You can easily spend here three nights exploring the beautiful valley.
We can highly recommend this beautiful Airbnb where hosts Maria and Nektarios will make you feel like you are part of the family.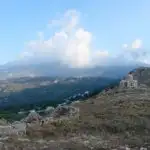 The food their serve is to die for, and they even have their own wine cellar where you get to taste delicious Cretan wine.
3. Arkadi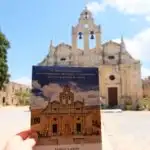 The Arkadi monastery contains one of the most beautiful Venetian churches on Crete island.
Although the Arkadi's origins date back to the 5th century, the Venetian church was built in 1587.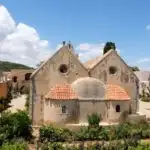 The monastery was the centre of resistance against Turks, and its walls hold a magnificent but tragic story.
Take your time here exploring the church, the surrounding buildings and the story that this place holds.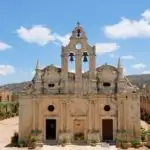 There is a small €3 admission fee to the monastery to help maintain and protect its beauty.
4. Rethimno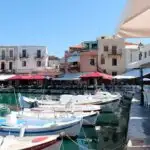 Located on the northern side of the island, Rethymno is easily accessible via ferry from Piraeus or by car if you are already on the island.
The city and its harbour lined up with restaurants attract many tourists year round.
You can easily spend here 2 or 3 days and explore the city and its surroundings. If you like boutique shopping, Rethymno is one of these places to visit in Crete.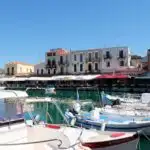 This Venetian town also holds a magnificent fortress built in the 16th century on the site of the citadel of ancient Rithimna and the Temple of Artemis Roketa.
5. Kissamos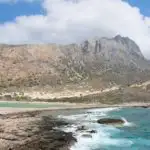 This gorgeous little town located on the north-west side of the island is a perfect getaway to explore the Balos beach.
The Kissamos beach and town centre are also worth mentioning, filled with small cafes, souvenir shops and a long stretch of a sandy beach. You can't miss Kissamos when heading to Balos lagoon.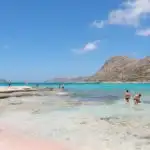 The Balos lagoon is accessible via ferry and a car. The boat will take you on a day-long trip to explore the Chrissi island and Balos lagoon.
If you decide to drive there by a car, be prepared for a 10 km drive on a dirt road followed by a 20-minute walk down the hills to reach the beach.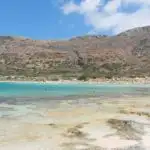 Make sure to take a picnic basket, suncream and proper footwear. The pathway is filled with stones and way back up can be tricky if you don't have appropriate shoes.
6. Limeniskos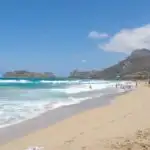 Located within a short drive from the famous Falassarna beach, Limeniskos holds one of the most adorable places you should visit in Greece.
Marked on google maps as a 'tiny beach, pink sand' you will find a beautiful lagoon with crystal clear calm waters and pink sand.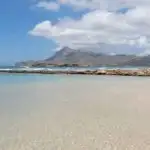 Take a picnic basket or have fantastic seafood lunch at nearby 'Captain Nicholos' restaurant when you get hungry.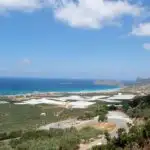 If you want to escape the crowds of Falassarna beach, just drive along the coastline and you will be able to find a lot of deserted places perfect for relaxing.
7. Elefonisi
Here you will find turquoise blue lagoon with a pink mile long sandy beach.
Elefonisi beach appears on many brochures advertising Crete tours and is one of the most famous beaches to visit in Crete.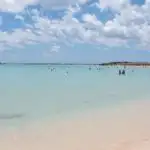 During the season you will find here hundreds of people relaxing in the warm waters. Although the beach is bustling, is worth a visit.
To get to Elefonisi, you can take a beautiful cliff drive from Kissamos going through Sfinari village, Kampos and enjoy magnificent views.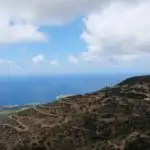 On the way back enjoy an alternative route through Plokamiana, Elos, Topolia with Topolia Gorge views. Both routes take approximately 1- 1.5 hours.
8. Episkopi Beach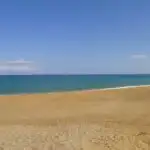 Only 14 km west of Rethymnon town you will find a tremendously long sandy beach.
The Episkopi beach, named from Episkopi village stretches for well over three kilometres with shallow waters and warm sand.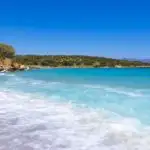 Here you will find bars and restaurants with beds and umbrellas serving cold drinks as well as uncrowded stretches of sand.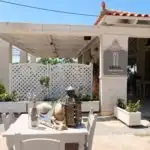 Whether you want to enjoy a cocktail at a bar or relax away from people, this beach is perfect for you.
9. Gramvousa Beach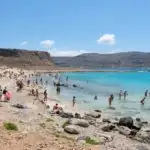 Accessible only via boat, you will find the Gramvousa island with its fortress and stunning small Gramvousa beach.
Gramvousa also called Pirate Island, holds one of the most dramatic Venetian fortresses we discovered in Crete.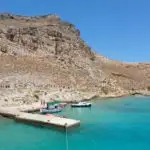 The views from the top are breathtaking but don't be fooled; you will have to climb a decent amount of steps to reach the fortress.
The fortress was built in the 16th century and was the first part of Crete that was liberated from Ottoman rule.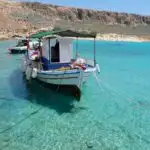 The easiest way to explore Gramvousa island is to take an organised day cruise to Gramvousa beach and Balos lagoon.
10. Lake Kournas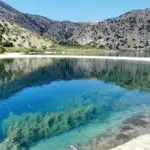 Lake Kournas is the only freshwater lake in Crete.
Surrounded by stunning landscape is easily accessible via car from Rethymno or Chania.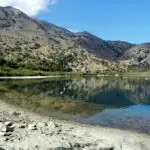 You can relax here for the day or enjoy 3.5 km walk around the turquoise lake and embrace its beauty.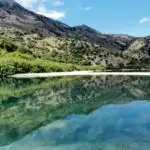 Created by the accumulation of groundwater coming from the White Mountains, the water gushes from a spring called Amati or Mati (meaning "eye") and the spring is visible during the summer months.
We hope that you enjoyed reading our top 10 places to visit in Crete.
If you are considering some of the best Cycladic islands, we also visited Naxos and this guide covers some of the best things to do in Naxos.
Like what you are reading? Pin me!