We spent a month Greek island hopping in 2018, and have put this epic guide together for you to make sure you have an unforgettable holiday.
Greece belongs to the most popular countries to visit in Europe during the summer months.
There are over 6 thousand islands of which 277 are inhabited.
Greek islands spread over two main seas, the Aegean and the Ionian Sea, from where the Greek islands are divided into smaller groups.
We visited Naxos, Paros and Crete and fell in love with the country and its culture.
Best time to visit Greece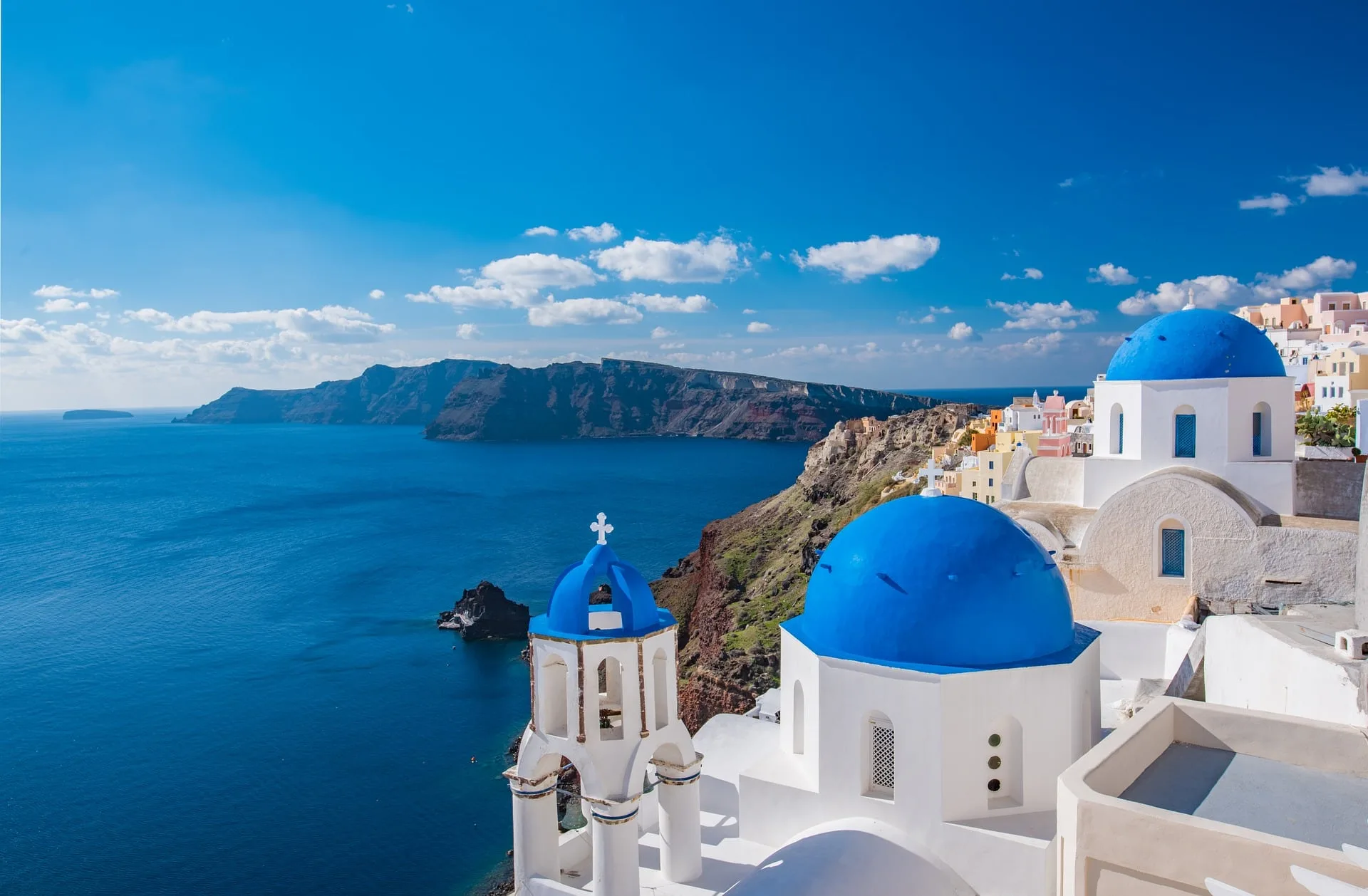 Greece is most visited during the summer months from May through to late October with July and August being the peak months.
The country is a year-round destination itself, but during the winter months, most people visit Athens and other major cities.
We strongly recommend beginning your Greek island hopping journey during spring (from April until mid-June) or autumn (September – October).
July and August are overcrowded on famous islands such as Santorini, Mykonos or Crete.
Best time for Greek island hopping on a budget
If you are on a tight budget, visit Greece during off season months.
May, June and late September are much better as the accommodation costs are much lower and although the ferries might not be as frequent, many ferry companies offer some deals for travellers.
You can travel the Greek islands even if you don't have much to spend. There are a lot of self-catering accommodation options perfect to save money and cook your own meals.
We managed to eat out most of the time and paid as little as euro 10 for lunch with two glasses of wine for two.
Due to its mild climate, Greece is an all year round destination.
Depending on your budget and activities you can choose the appropriate time to visit this gorgeous country.
Greek island hopping WiFi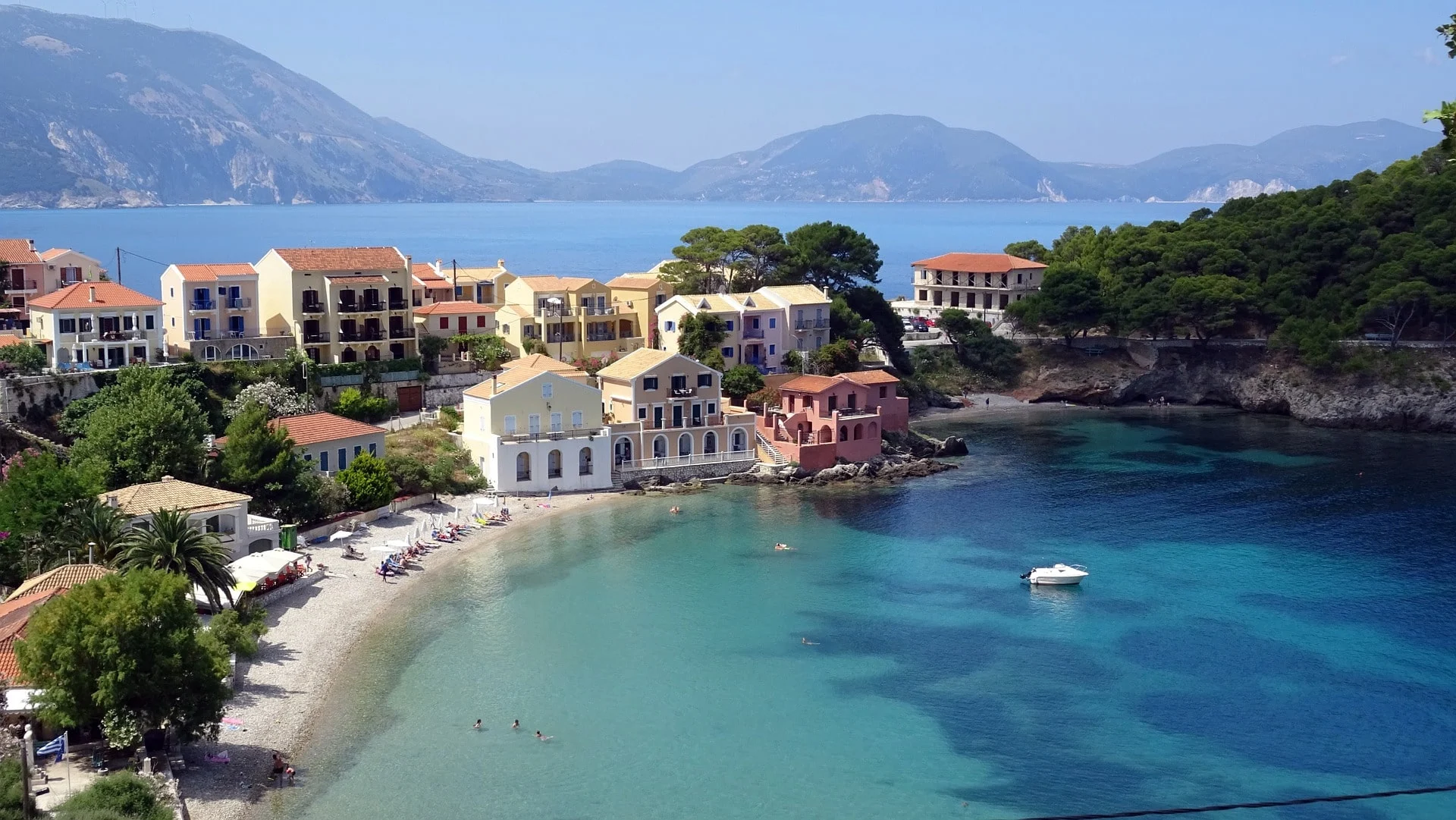 WiFi in Greece is usually excellent, and even if you are staying in less touristy locations, you should be able to connect to the internet.
99% of the time your accommodation or restaurant you are at will have wifi. Crete, Paros and Naxos have excellent internet connections, and we got 20 MB broadband most of the time.
If you are concerned about the wifi and need to stay connected at all times, then get a SIM card.
Cosmote or Vodafone have a perfect network and the only times we had no internet, was when we were at sea on a ferry.
Personally, we found Cosmote better for LTE coverage on the islands.
Travel insurance when Greek island hopping
We can't stress enough how important it is to have travel insurance when you are on the move.
Even though healthcare in Greece is cheap, do not travel to an unknown destination without appropriate coverage.
Wordnomads and Truetraveller are one of the best companies out there, and we use their service every time we are on the move.
Make sure that you are covered for all activities you wish to undertake.
Getting around the Greek islands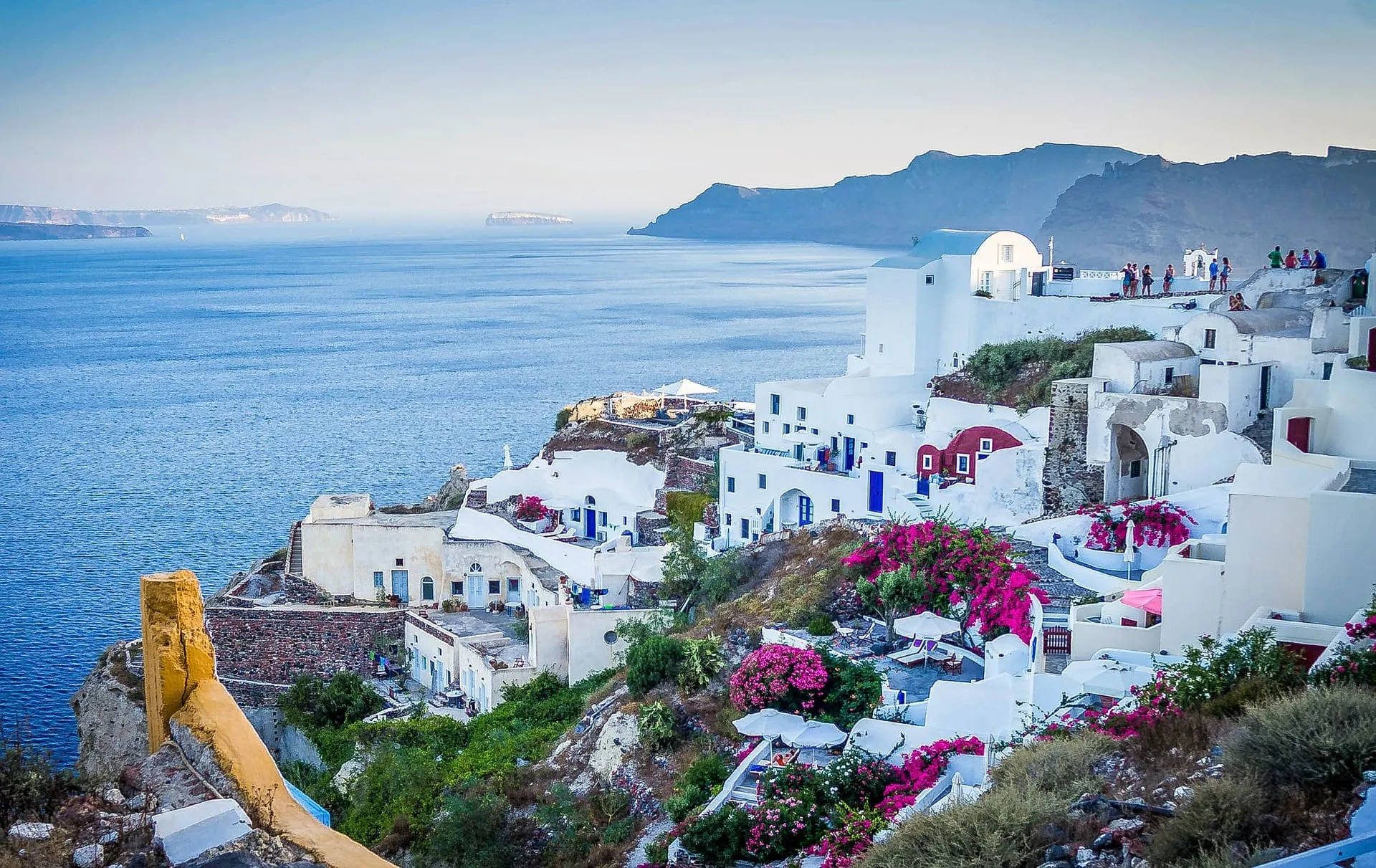 Ferries operate all year round and are the best form of transportation when planning your Greek Island hopping.
Although the more remote islands might get only one ferry a week, you should still be able to get to your dream destination.
The high season for frequent ferry sailings is June to September, with the tourist peak period in July and August.
Many Greek ferries set sail over a relatively short period each year and lay idle for the rest of the time.
Severe weather will be a much bigger problem over winter and sailings will often be cancelled at short notice.
Greek ferry tips
If you want to be able to sit at a nice and comfy place without purchasing expensive first class tickets, make sure to arrive at least one hour before the departure.
The large ferry companies are generally on time. However, we came across several companies being even 2 hrs late.
You don't want to be late because the ferries don't wait around for people!
If visiting during high season, I would recommend booking online ahead of time.
Booking ferry from Piraeus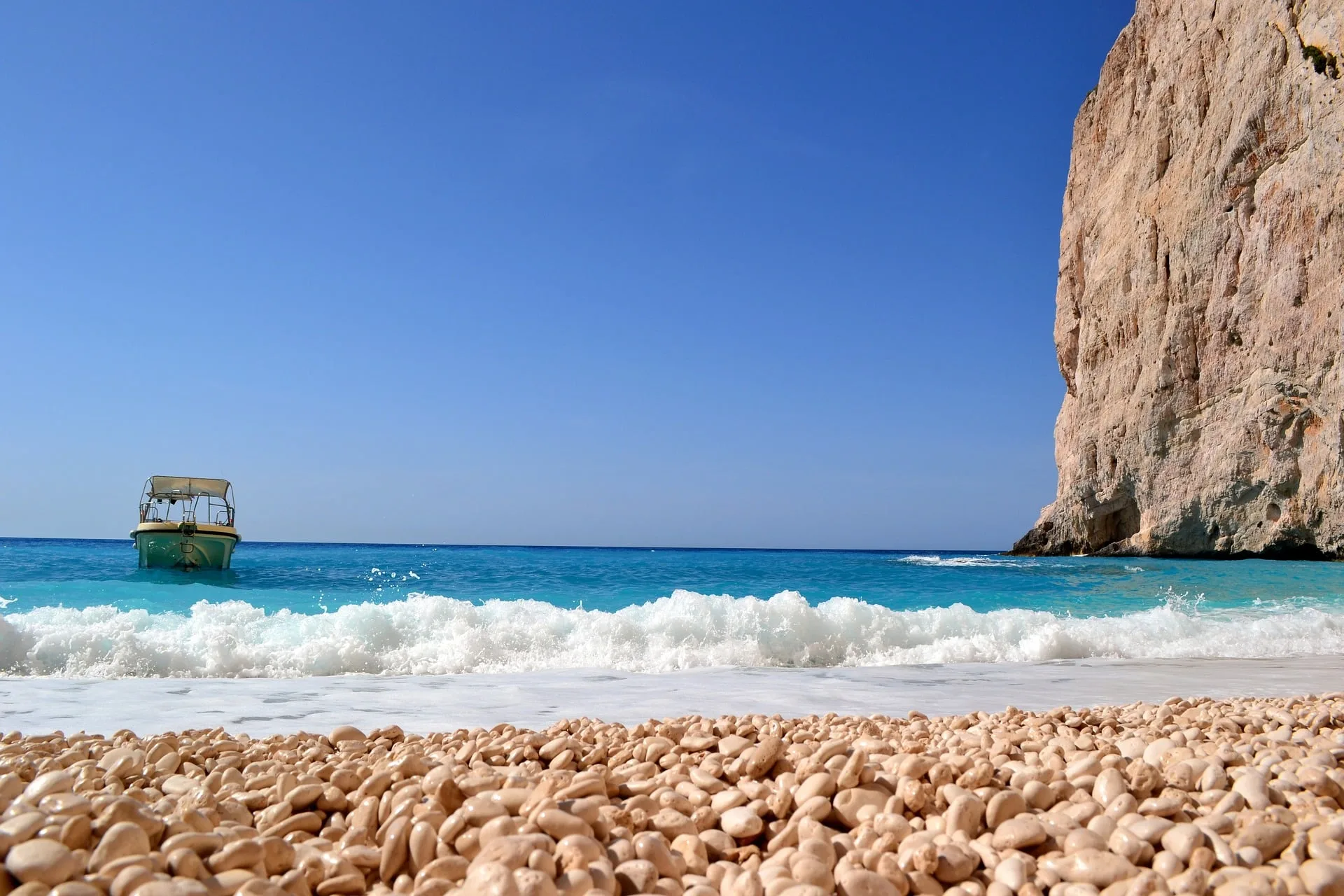 Blue Star Ferries, Hellenic Seaways, Aegean Flying Dolphins are amongst the major ferry companies departing Piraeus.
Piraeus is one of the biggest ferry ports with ferries living every hour.
If you haven't purchased your ticket, make sure to arrive well in advance to avoid the queues leading to the ticket desk.
Choose your Greek islands before you travel
Make a plan of the islands you wish to visit, even if it is a rough plan.
Decide how long you want to stay on each island.
The Cyclades are the ideal Greek island hopping group, with frequent ferries and short journey times between the islands.
The Cyclades include Naxos, Paros, Santorini and Mykonos.
Santorini is incredible with views like this:
Rhodes, Leros, Lipsi and Samos belong to the Dodecanese group.
Greek Island hopping here is probably at its best although the bigger ferries can get very expensive during high season.
The Sporades with Skiathos island has a very distinctive character making for an excellent alternative island hopping tour.
The Ionian islands are one of the most popular amongst tourists travelling to Greece for a week holiday.
The Aegean and Argo Saronic groups are more popular with Greece mainland holidaymakers. Argo Saronic islands also have several ferry connections to Turkey.
How long should I stay on the Greek islands?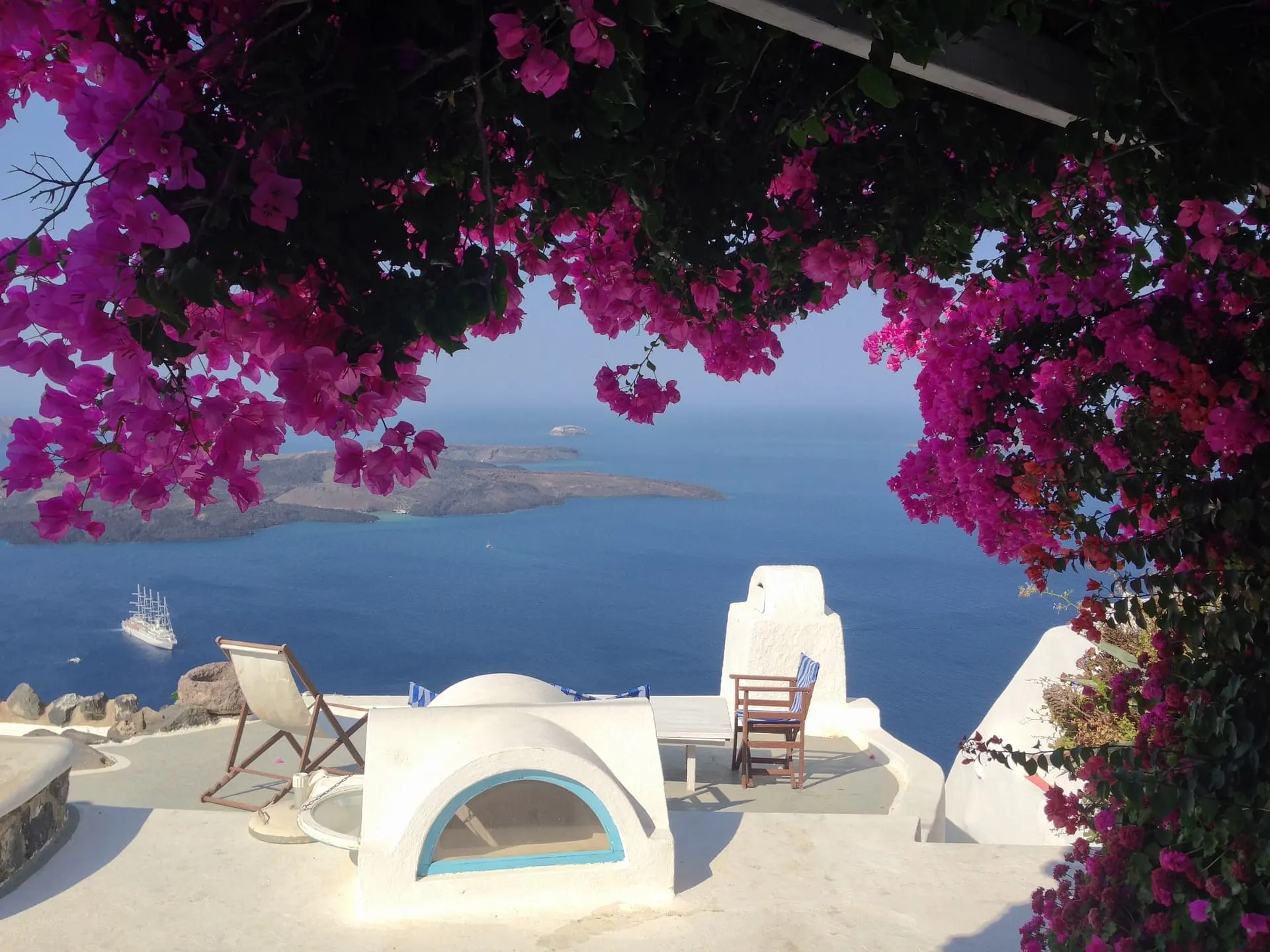 There is a lot to see when Greek island hopping as each island is different.
Even though the Cyclades claim to be similar, each one of them has a different distinctive character.
You would ideally want to spend 5-10 days on each island to be able to explore them truly.
We spent ten days on Paros, Naxos and explored some of the best places to visit in Crete and felt like we could easily do more of each island.
If you wish to explore Naxos, here are the top 10 things to do in Naxos.
Don't worry too much if you can't get five nights in even 2-3 nights on each island is still great! Just keep in mind you will spend a good few hours travelling to each of them.
Accommodation on Greek islands
Most islands will have a decent amount of accommodation options.
Depending on your budget you can spend as little as €20-€30 a night for a private room to €400+ for one night in Santorini.
We usually went with Airbnb and Booking.com when booking accommodation.
Airbnb is best if you want to stay in quality places.
We booked a beautiful stay in Crete in Amara Valley.
In Paros, we booked lovely apartment meters from the beach via Booking.com.
If you are new to Airbnb, sign up with our link to get a $55 discount or read our guide to booking your first Airbnb.
The accommodation is less expensive in smaller villages rather than significant towns and of course off season.
Phone reception on Greek islands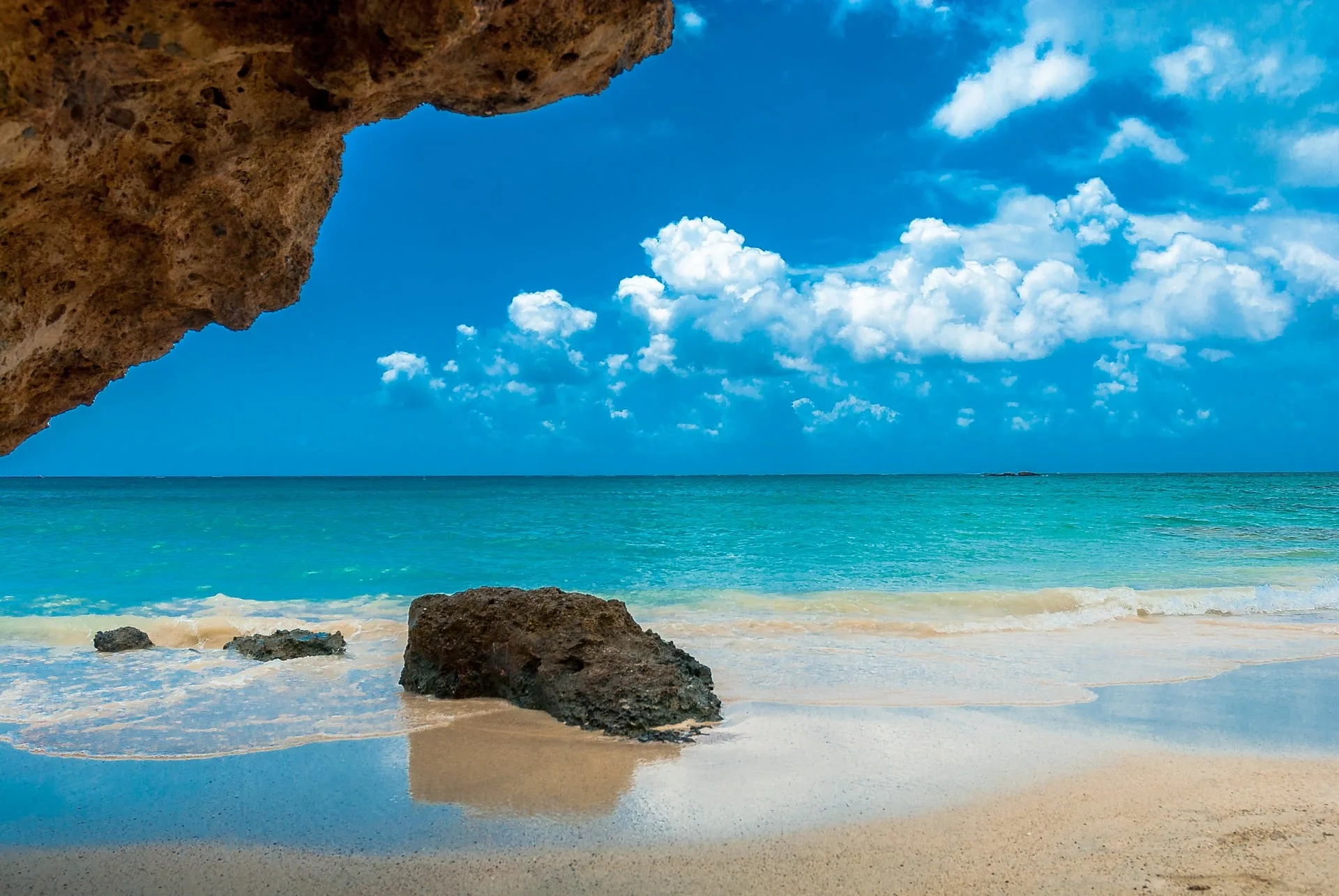 We had no issues at all with having phone reception.
Whether on a roaming or Greek SIM card, the phone connection was generally perfect.
If you need to stay connected when Greek island hopping, we recommend getting Cosmote SIM card as the company has the most significant coverage across Greece.
ATM's on Greek islands
The best way to get cash when Greek island hopping is through the ATMs that can be found almost everywhere.
You can find an ATM virtually at every corner in the large cities and on famous islands. Some small towns or remote islands might lack a bank or an ATM, therefore, make sure to have cash with you.
You can always ask your host about ATM's when booking your Airbnb.
There is usually a daily ATM withdrawal limit so plan your spending well.
We came across many remote ATM's charging withdrawal fees of 2-5 euro per transaction.
Buying groceries when island hopping Greece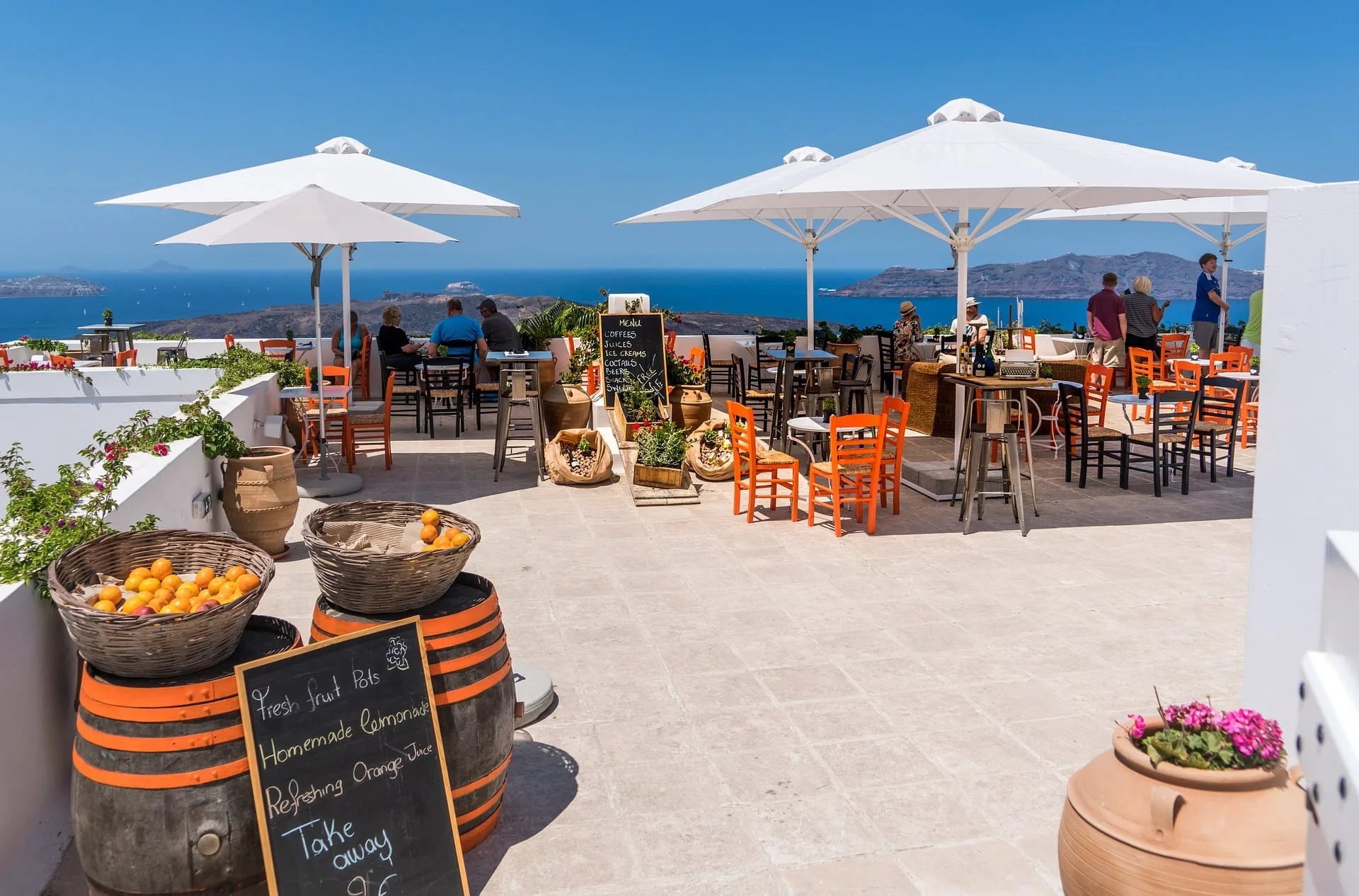 Shopping hours in Greece vary a lot.
The general shopping hours are:
Monday/ Wednesday/ Saturday from 9 am to 3 pm
Tuesday/ Thursday/ Friday from 9 am to 2 pm and from 6 pm to 9 pm.
The Greek shop owners keep the siesta at noon, which might be a surprise to many tourists.
Large shopping malls in Athens and other large cities have set opening hours from 9/10 am until late evenings during the week.
Restaurants and gift shops in the islands are usually open every day with some exceptions depending on the owners.
Small islands will have fruit and veggie trucks passing your accommodation regularly.
Renting a car in Greece
We rented a car when exploring the best places to visit in Crete.
10-day car rental with full insurance cost us 300 euro with no deposit required. We went with Europcar and had a fabulous experience.
Make sure you are going with the most reputable ones with no hidden fees.
If you are planning to travel during July and August, then book your car well in advance to avoid disappointment.
Public transportation on Greek islands
There is public transportation on many if not most of the island.
The frequency and schedules of buses vary however so you might be waiting a while to hop on one.
The easiest way is to either rent a car or book a tour to explore the island.
We hope that you enjoyed our post.
Please share with your friends and family travelling to Greece.
Like this post? Pin the image below now.