We had our first visit to New York City at the end of August.
These 17 New York City tips are essential to know before you visit NYC for the first time. Even if it is not your first visit we are sure you will learn something.
Travelling around the world, we have visited many busy cities such as Sydney, London, Manila, Singapore, etc.
New York City is one of a kind.
NYC city indeed never sleeps, the noise and traffic are constant, which can be quite challenging for anyone new to the city.
But don't worry we are here to help!
We spent five days in this concrete jungle and loved it! Since then we have been lucky enough to visit NY a few more times.
Heading to NY soon and looking for a place to stay? Sign up here.
Let's begin our New York City tips
1. New York City Tips – The traffic is ridiculous.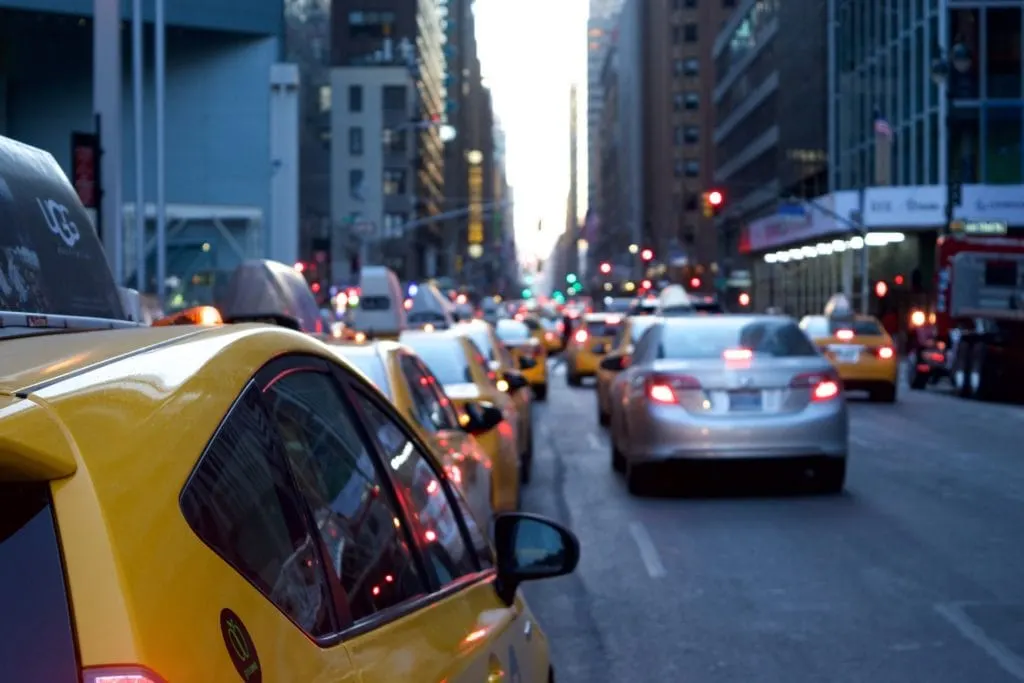 Sounds obvious right? But the traffic in New York City is constant and loud.
Streets are packed with cars, cabs and buses and let me tell you; it is loud.
Day or night it just doesn't stop.
You might think that it gets better at night, but it feels like it's busier at night than during the day.
The engine noise, people beeping, fire/ambulance sirens sound all day every day.
The great thing is that after a day or two you actually will stop noticing it and it will become standard to you.
2. New York City Tips – The "five-star" hotel rooms are tiny.
After checking into a five-star hotel, you will quickly realise that the bedrooms are small.
The website pictures do not mirror the size of the room, and a room upgrade to an executive room will probably be pointless. All you will gain is that one extra square meter of space.
For our holiday we decided to splash out and get an executive Times Square View, but our view ended up being a wall, a few rooftops and a tiny glimpse of Times Square in between other buildings.
Moving rooms didn't make any difference either.
If you are looking to splash out and have a ridiculous 5-star stay check out this place(it is not cheap haha)
3. New York City Tips – Always have a valid credit card when booking a hotel room.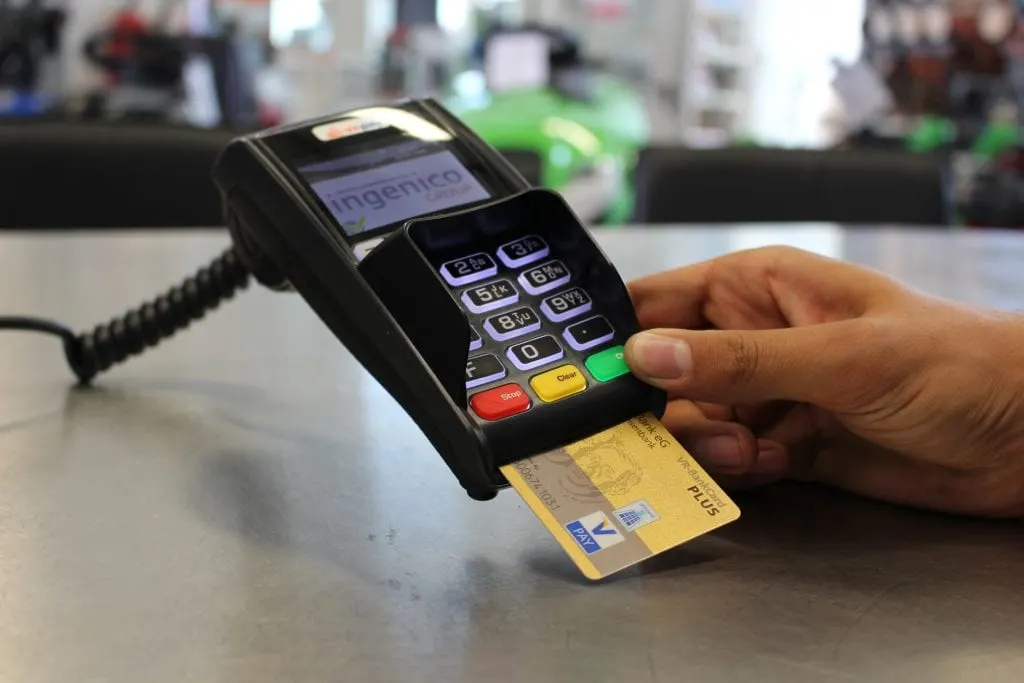 Although we had given our right bank card while booking a room online, we spent too much on the card, and there were no sufficient funds for the hotel to take payment before we even arrived.
Upon check-in, we discovered that they had cancelled our booking and it took a very unnecessary and rude attitude from the receptionist to reinstate our reservation.
Keep in mind that on Booking.com they told us no prepaid amount was required.
Even if your hotel confirmation states free cancellation and that no payment is taken until check-in, this might not be the case. So keep in mind that your room might not be waiting for you upon check-in.
There are many amazing apartments available on Airbnb so make sure to check them out.
4. New York City Tips – Taxi is not always the fastest way to get from point A to B.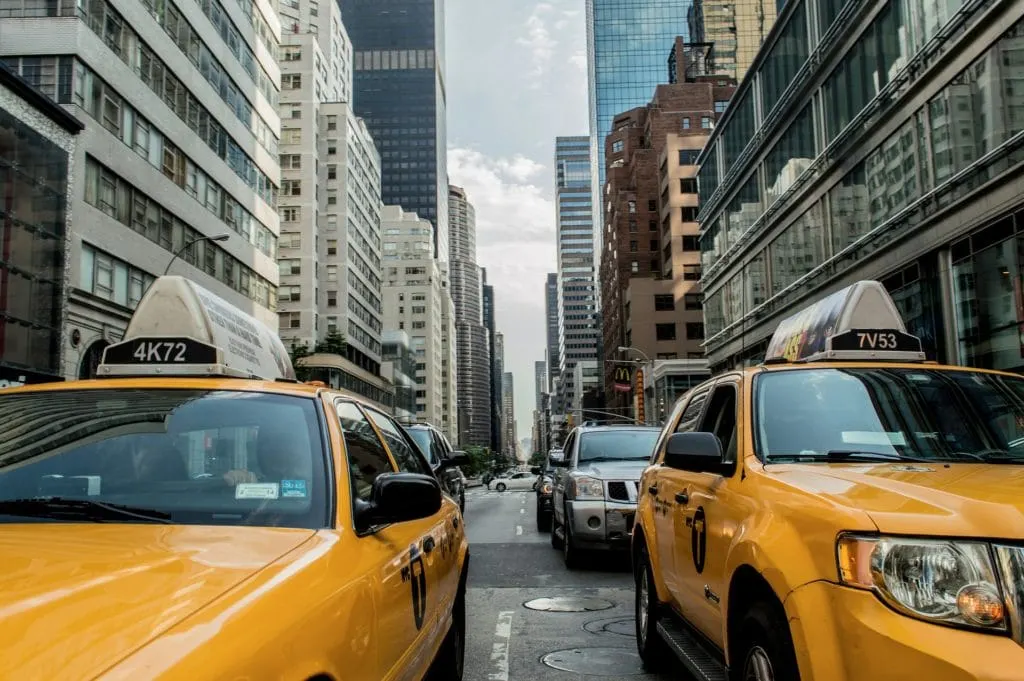 As we have mentioned earlier, the traffic is constant.
Therefore a taxi might not be the best option for you.
If you are on a schedule and need to get somewhere in time, NYC subway could be your best choice. We also did a lot of walking.
If you have a flight to catch, the JFK airport is about an hour drive from Manhattan, so make sure to allow enough time to get there.
5. New York City Tips – New York City has the best doughnuts.
It's entirely accurate and a tasted statement. In general, we do not have a sweet tooth, but the doughnuts here are to die for. Every doughnut is enormous and can easily feed two.
Many places are selling delicious, fluffy doughnuts with every flavour you can dream of.
You can't visit New York and never try a doughnut here.
6. New York City Tips – Central Park is as amazing as they say.
We spent the whole day in Central Park and fell in love with it. First, we rented a bike to explore the entire area (about $15-30 for 2 hrs), then again on foot.
The place doesn't disappoint. Packed with so many beautiful spots, we could stay there forever.
If you are in New York for the first time, most of all Central Park should be on your bucket list.
We also loved the Loeb Boathouse restaurant, where you can enjoy a meal or just sit back with a drink and breath in the beautiful scenery.
Did you know? New York City's Central Park gets all the hype about being a huge city park, but Phoenix Park in Dublin is actually twice the size of Central Park. More Irish facts here.
7. New York City Tips – Eating out is a lot more expensive than you might think.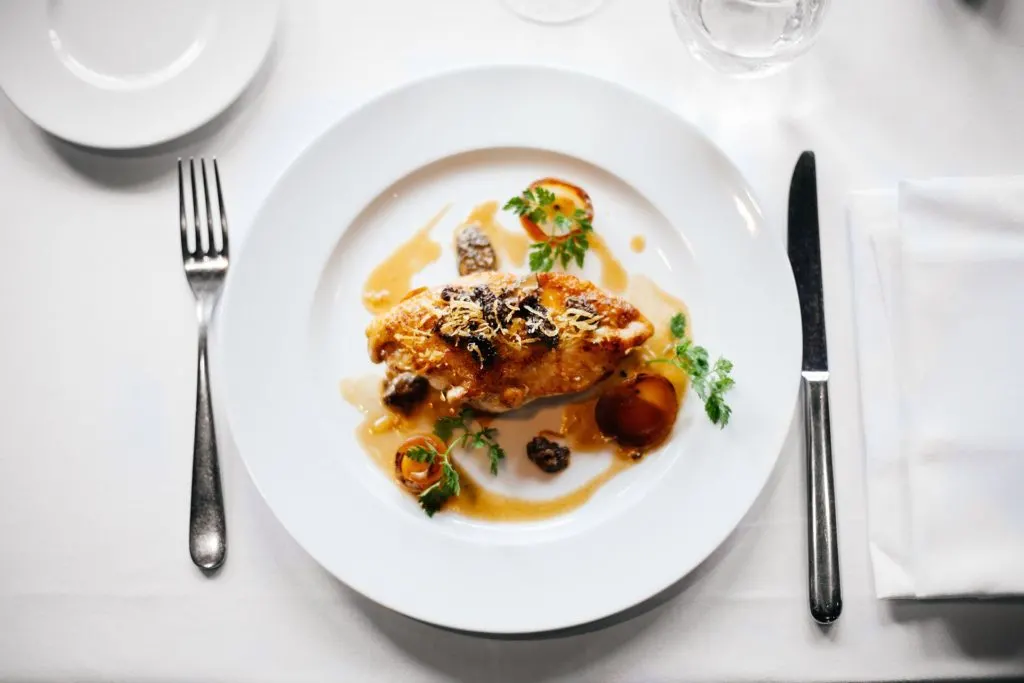 Visiting New York and planning on eating in restaurants?
This might cost you a lot. We had a budget of US$200 a day for two for attractions and food which might feel like a lot. Well let us tell you, there is no way of splashing out on fancy dinner with such a budget.
Our food choices were mainly pizza, pasta or other cheap food options.
New York has so much to offer in regards to food choices, but if you are on a budget, your options get limited.
If you are in a central location, venture out a bit for different restaurant options and more reasonable prices.
Don't forget to tip! 🙂
8. New York City Tips – Tourist attractions are very expensive.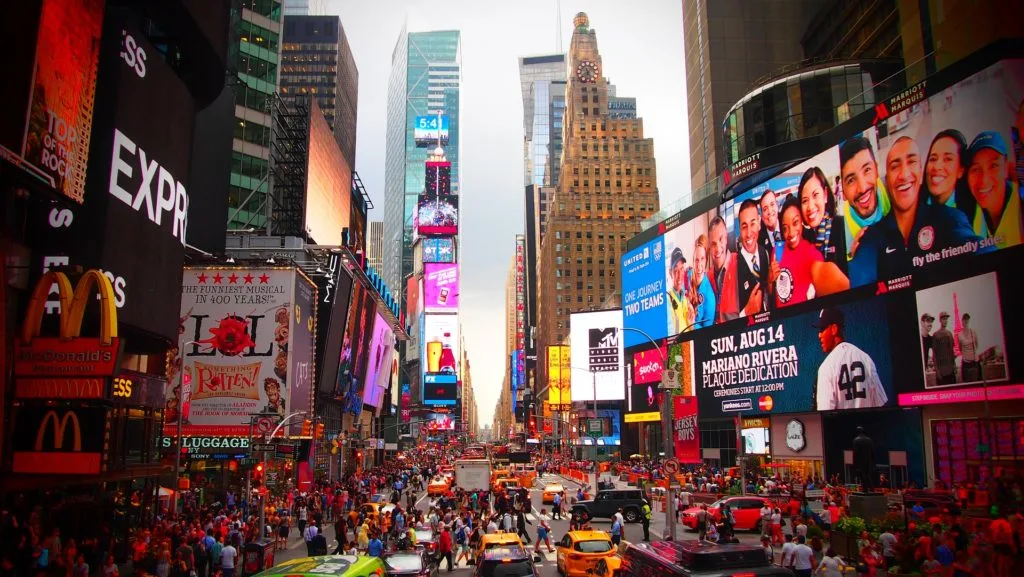 Travelling around the world, we had expected that New York is going to be costly when it comes to sightseeing. But the prices really exceeded our expectations.
As you can imagine, with our daily budget, our sightseeing options had to be carefully evaluated.
We got a great deal of $30 for two for the hop on hop off cruise which was great, and we enjoyed the experience.
If you don't have much time, you can take an hour-long NYC Liberty Cruise.
In a day we managed to see Wall Street, beautiful St. Patrick's Cathedral, Ground Zero and much more.
The New York hop on hop off bus is also a great option, and you can grab tickets from as little as US$29 per person.
With the New York hop on hop off tour, you create your own sightseeing itinerary.
In our opinion, it's the ideal way to explore every corner of the Big Apple and, with lively tour guides to keep you entertained and informed, you are going to learn facts old and new about the city that never sleeps!
You can grab your tickets here.
As you can imagine getting around on the bus can take a lot of time depending on the traffic so consider your choices before going for it.
The Empire State Building entry fee is at $34-$54 depending on if you want to go up to the very top.
Want to see it all for a reasonable price? Check out the New York City Pass.
9. New York City Tips – Be prepared to queue everywhere.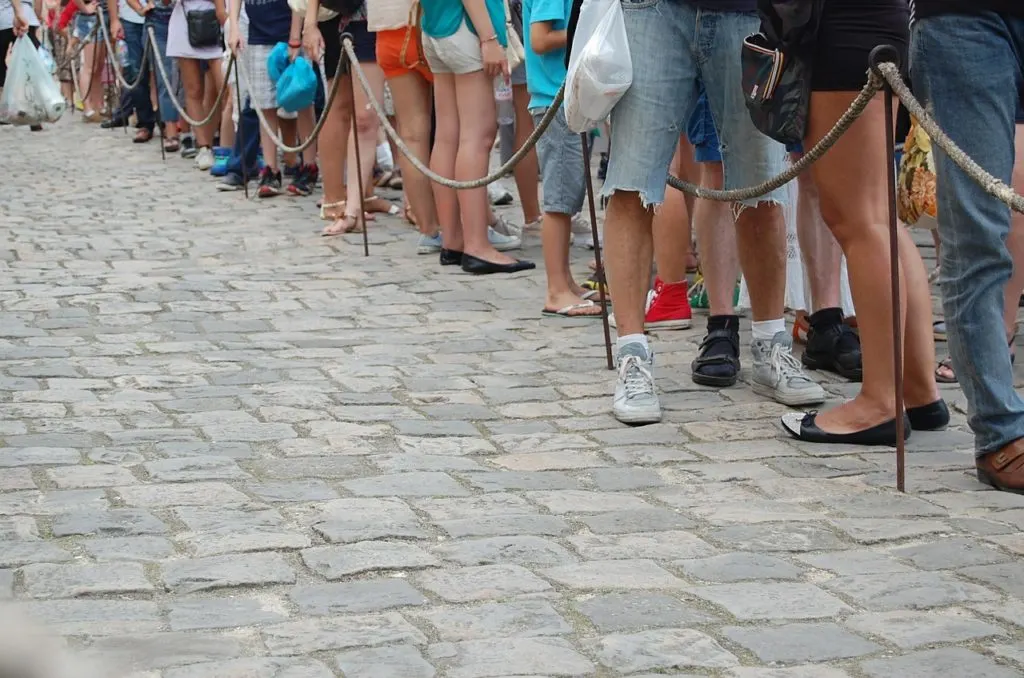 In the five days in New York, we had queued more than in the past year altogether.
If you have been to London attractions, you patiently waited for your turn; here it takes twice as long. Even public toilet queues can be exhausting (applies to us ladies).
The attractions are popular seven days a week year-round, and there is no way of skipping the queue unless you purchase expensive VIP passes.
10. New York City Tips – No, tv or music stars don't stand on every corner waiting to be spotted.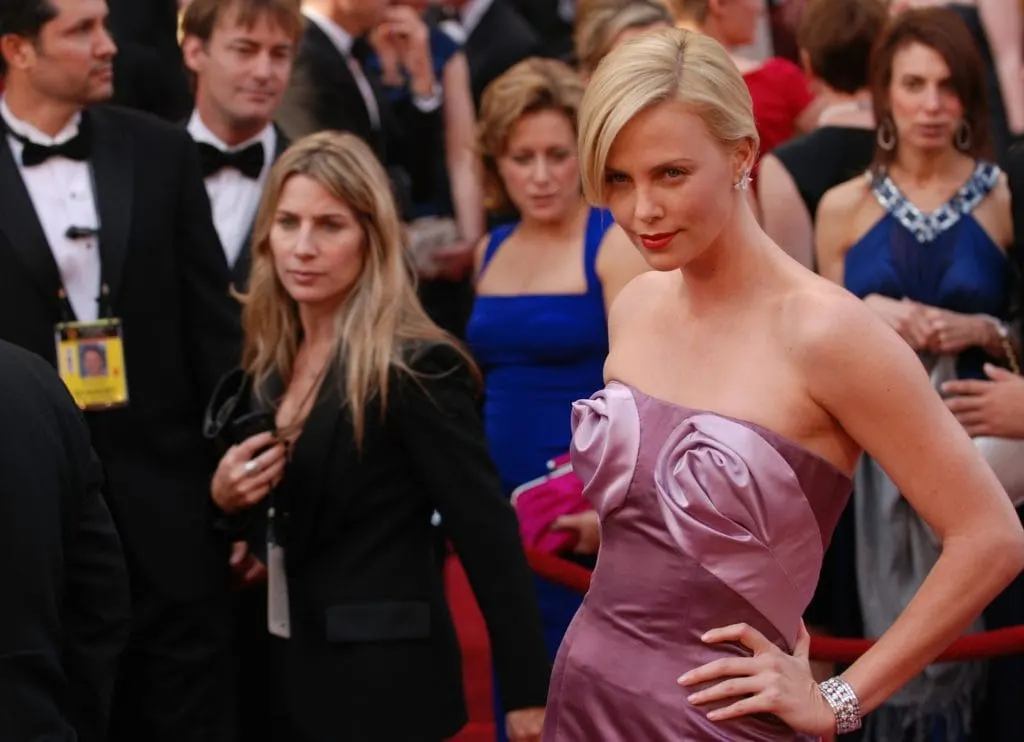 New York is famous for celebrity spotting, but it's not as easy to see them unless this is your only holiday goal. In five days in the city, we haven't seen any stars during our trip, unfortunately.
If you want to see all the hotspots you can take a guided tour of New York sites from your favourite movies and television shows, including Friends, Birdman, Glee, and more.
This is by far one of the best ways to see all the famous locations from movies and TV shows.
The tour takes approximately 3 hours and costs US$43. You can find more details here.
11. New York City Tips – There is a park you can legally have a drink in.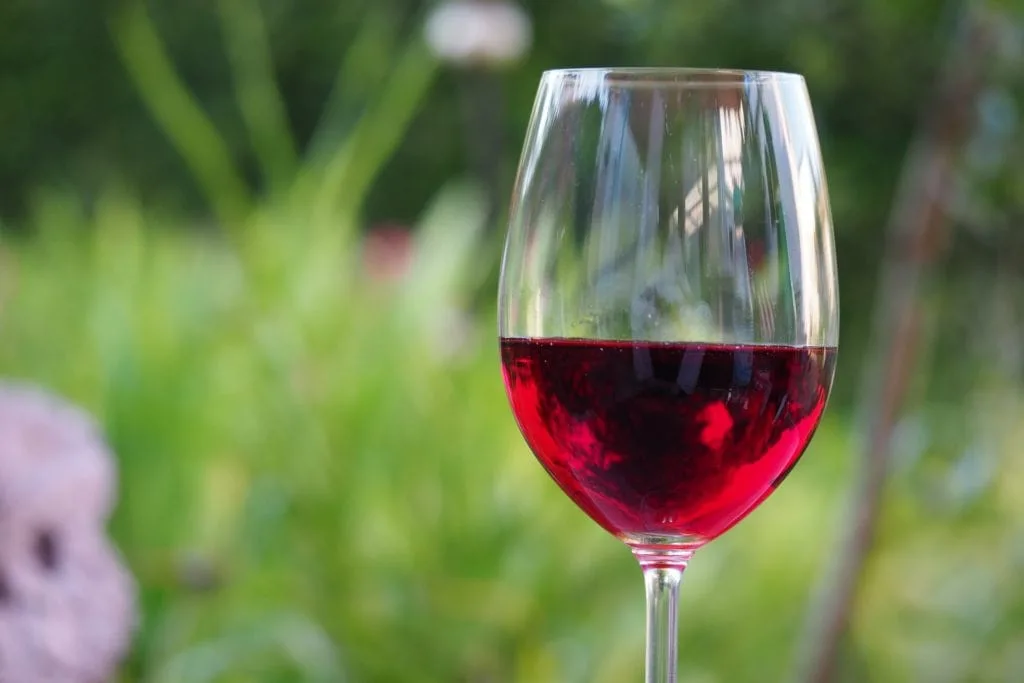 The Bryant Park, located just by the Public Library, has a great outdoor bar where you can enjoy a cold alcoholic beverage.
Also, the park itself is very popular for events, outdoor summer cinema and much more. It's a small but gorgeous park worth visiting when in the city.
12. New York City Tips – It might be easier just to walk.
Although you might hate walking, New York by foot can be more fun than you think.
There is something around every corner, and because of the constant traffic, it might be easier if you just put comfy shoes on and walk.
In this short visit, we have learnt that you will get somewhere faster if you use your own two feet.
It is a lot of fun being able to walk the streets and blend in.
New York is also very popular for its walking tours and you can explore some of the most exciting locations and capture your experience on a private walking tour.
13. New York City Tips – There are food stands on every corner and make sure to take advantage of them.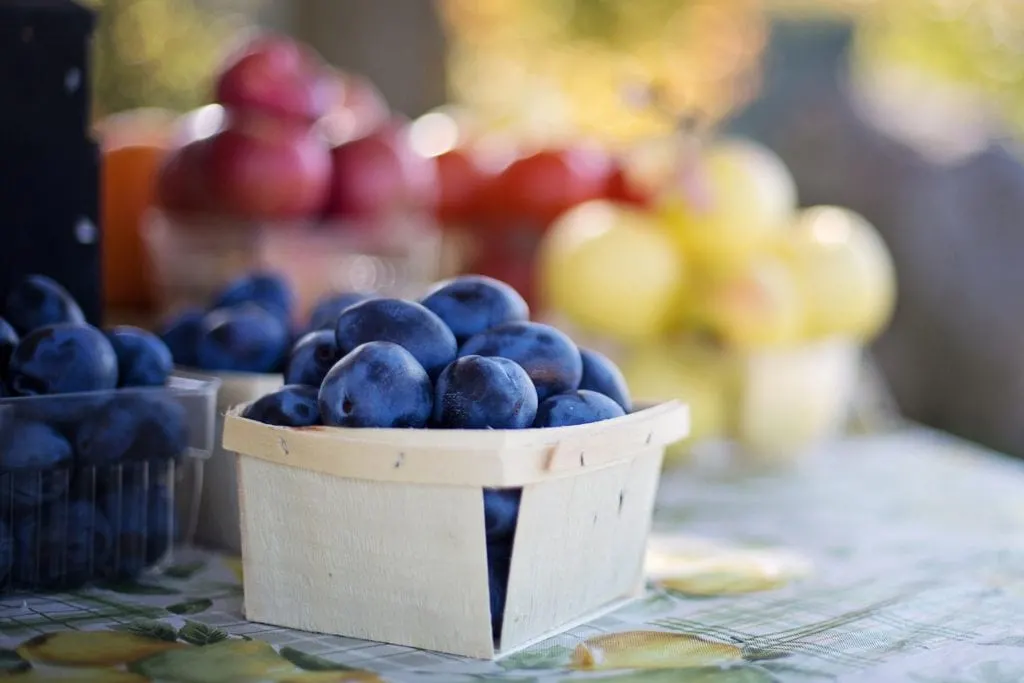 This is a fact that you must take advantage of. Selling a variety of food, the stands are a must try.
14. New York City Tips – Eating cheap = eating unhealthy.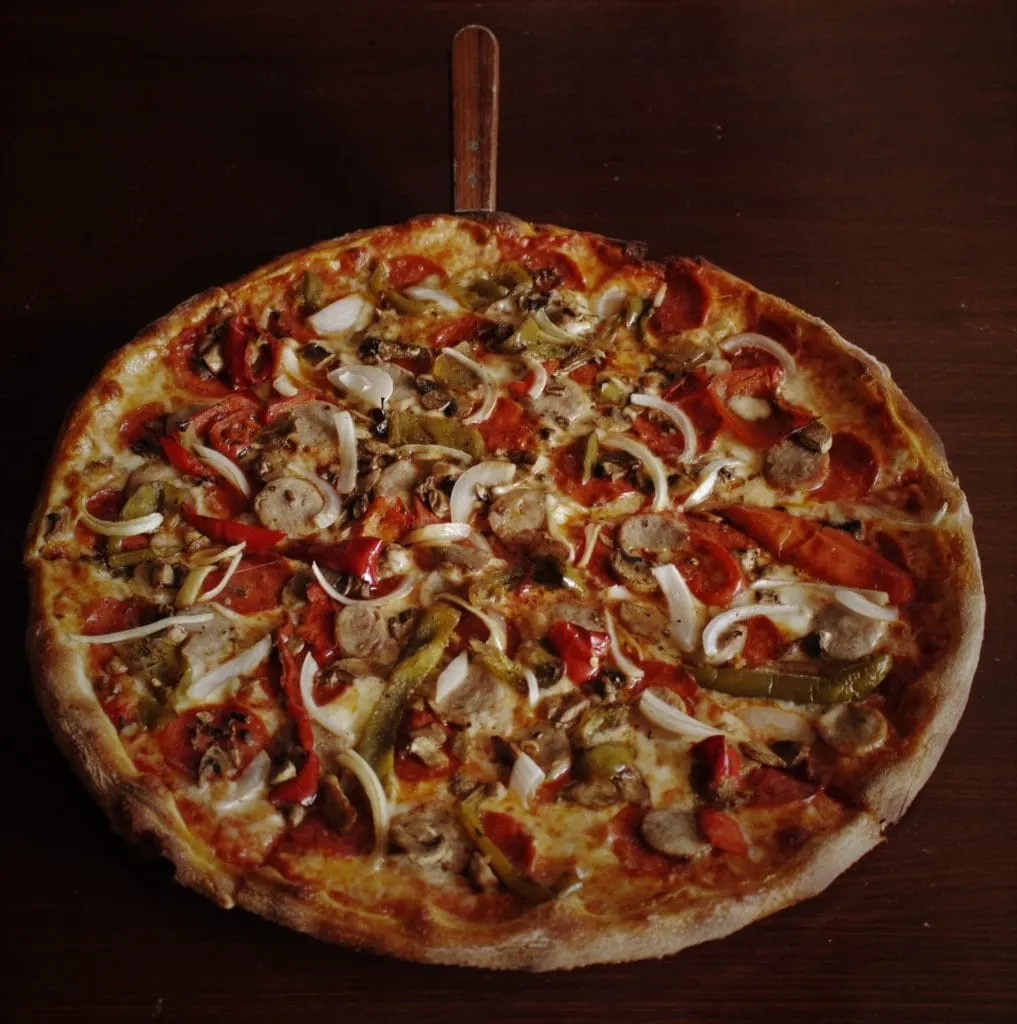 New York serves international cuisine, and you can find here every possible dining option.
Being on a budget, unfortunately, will equal eating cheap food, meaning fast food.
Although the pizza places are delicious, after a few days you just crave for a healthy green salad.
This rule might not be applicable everywhere, but if you are right in the heart of the city, be prepared to pay a lot for not necessarily the healthiest options.
If you are keen to get the taste of the best food the city has to offer while sightseeing, why not go on a delicious food cruise?
15. New York City Tips – There is a Starbucks coffee shop on every corner.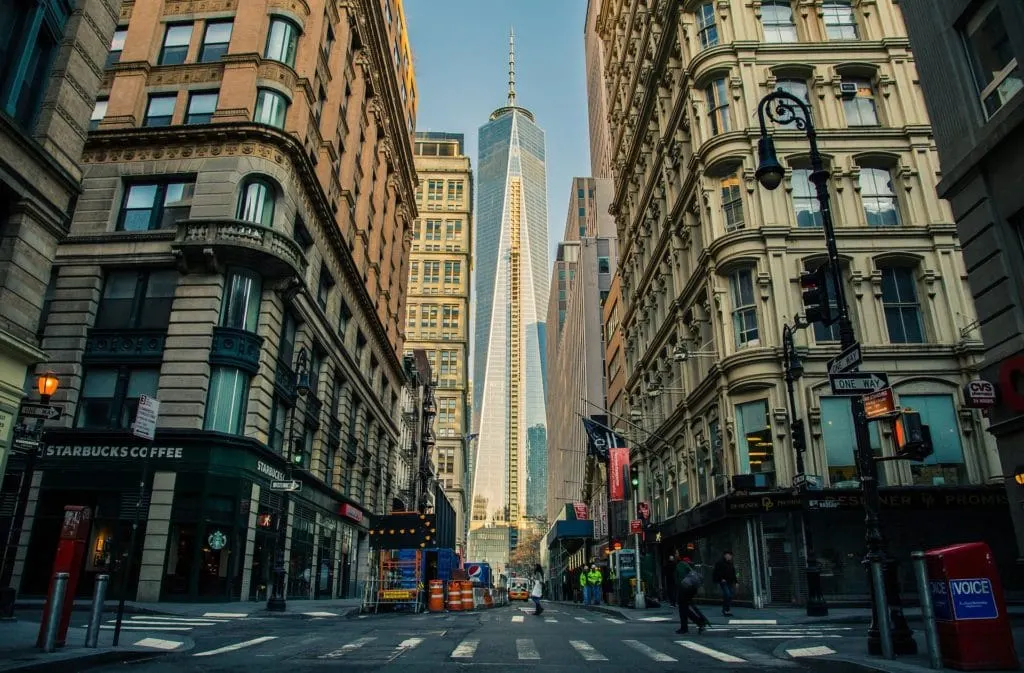 Well almost.
The city has 277+ Starbucks shops so even if you are not a fan of their coffee, the store might become handy when looking for a nearby restroom. 🙂
16. New York City tips – Everyone is in a hurry – and you better not get in their way.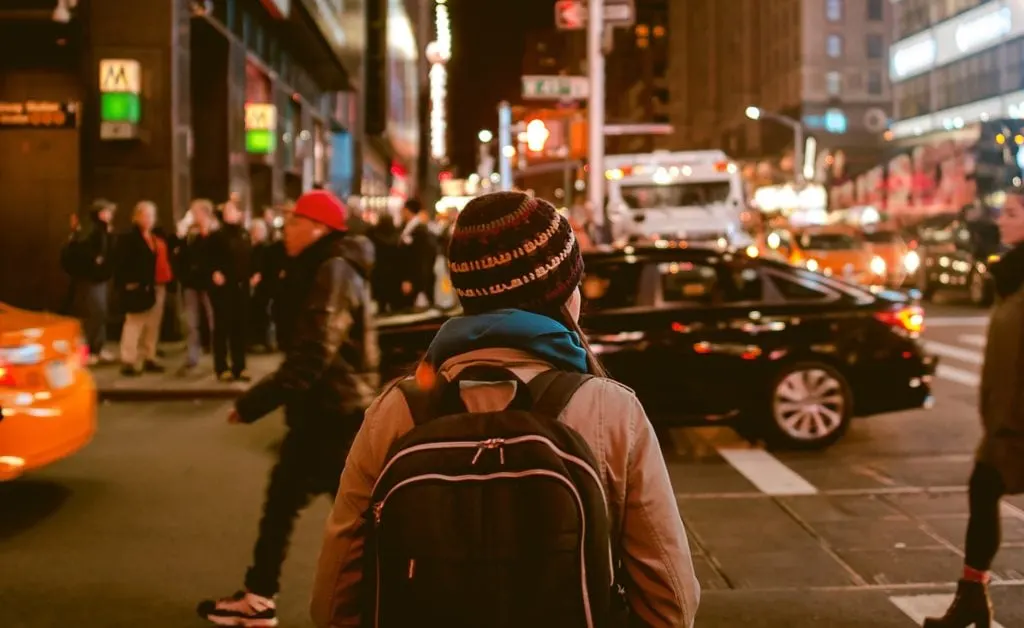 As you can imagine, the city is bustling.
Even if people are keen to help when asking for directions, do not dear to slow them down.
Everyone seems to be on a mission to get somewhere, and they will not slow down if you get in their way trying to take a picture. So be aware and try to blend in and you will be just fine.
17. New York City tips – The city is shopping heaven!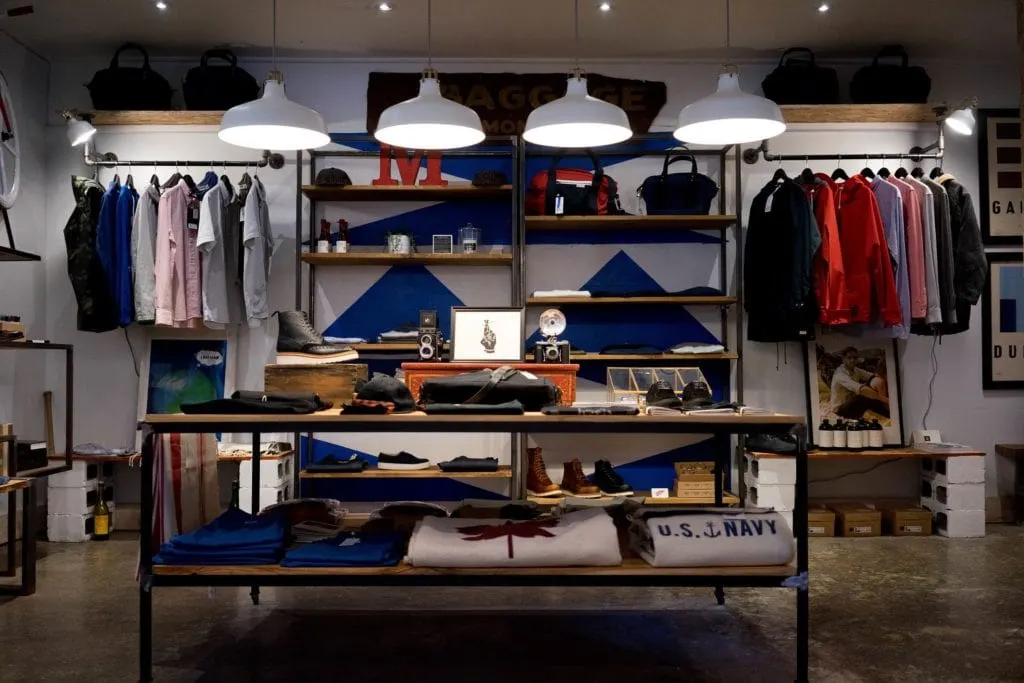 If you are coming to New York to do some shopping, you are coming to the right place.
The city has the best shopping I've ever seen and trust me, it's hard not to go shopping when here.
Make sure to put some $$$ away to have at least a bit of fun and go shopping.
Shopping makes everyone happy, and we guarantee that you will enjoy it a much as we did.
In conclusion what other New York City tips do you wish you had known?
If you are planning to visit New York soon and looking to see everything in 3-4 days why not get the New York City package?
You can design your own itinerary of Manhattan and Brooklyn on a hop-on-hop-off double-decker bus tour.
Then head over to Liberty Island to see the Statue of Liberty with a ferry ticket, cruise around the harbour and see the city from above with your choice of Top of the Rock Observation Deck or the Empire State Building admission
We do appreciate every comment so please share with us.
We also hope that you have enjoyed these New York City tips.
Connect with us on Facebook and Instagram for updates and recommendations.
Don't forget to share this article with anyone visiting New York for the first time.