So many travel gadgets out there! But what are the best travel gadgets in 2016?
We spent the last three years travelling around the word, and these are by far the best travel gadgets that everyone should have.
Looking at other articles on "Best travel gadgets" they are totally pointless, and many people just recommend a "mac book" or a totally pointless travel gadget.
The gadgets we have listed here are ones we actually used while travelling.
If you haven't followed us yet on Snapchat our username is @SunsetTraveller, we travel around the world and stuff 😉
All the following link to the Amazon UK store which we are an affiliate for.
Okay let's begin out list of the best travel gadgets we recommend(and use!):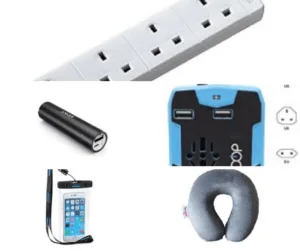 #1 Best travel gadgets: Portable external battery charger(2 Options)
Did you ever get a battery pack and not know how many charges or recharges it would do?
Typically a 20,000mAh Lithium Polymer battery will provide enough backup power to charge an iPhone/Smartphone ~10 times over.
Okay as stated above you about 20,000 mAh gives you about 10 charges which is pretty decent. However, a lot of these are quite bulky and not to practical unless you are heading out with a backpack or something.
Option 1(essential) 3000-5000 mAh mini charger:
We have two of these; the first one is the Anker PowerCore+ mini(3,350 mAh, about 3-4 full charges) it is the size of a tube of lipstick, small and convenient.

Option 2: A 5,000 – 15,000+ mAh power charger:
Okay, the above is handy, but you would be surprised how quickly the power goes. Especially if you are travelling and "forget" to charge it.
Plus these things don't tend to charge themselves very quickly(ironically) so a must have a backup you can of course just get two of the Anker's or similar but we def recommend a larger size power pack.
Introducing this beast, the RAVPower 16750mAh for only £25-£30! Not only is this the highest rated travel charger and a built-in torch but it also has two USB ports which if you are travelling as a couple is a lifesaver!

There is nothing worse than arriving at a new destination and your battery dying.
This has to be the most useful travel gadget in our itinerary. It has two power slots so perfect if you are a couple and both your phones die.
It happened to us many times in Bali, and luckily Sabina kept the Anker on her at all times(thank you, Sabina!)
At only ~£10-£30 it is one of the highest capacity battery packs for the price.
#2 Best travel gadgets: Waterproof wireless portable speaker
Scosche
This funky portable speaker comes in a few colours and boasts over 10 hours of battery life.
This came in so handy at beaches, pool parties and just enjoying some tunes in our apartment wherever in the world we may be. It is a pity that all gadgets don't come waterproof.
Not only is this super lightweight but it also has a 33 ft range! Which compared to other Bluetooth speakers is way better.
It has a huge capacity, and we rarely had it at high voltage. At around €50 you can't beat it for the price.
Although it does say "waterproof" still don't bring it out swimming. Just a word of warning 😉
#3 Best Travel Gadgets: A worldwide travel adapter(this is essential!)
We moved from Ireland to Australia… new plugs.. went to Indonesia for 3 months… new plugs.
Then we went to the Philippines.. guess what? New plugs!
We quickly learned that although you can buy an adapter in each country you go to a worldwide adapter is essential.
Please! Don't buy these at the airport as they are 100 times the price and the first one we bought in the airport worked for about two weeks and broke.
There are two travel plugs we recommend:
The Beast AKA LOOP Best international plug – We love this because of the extra two USB slots and the fact that it worked everywhere. Works in AU, UK, EU, US. At only ~$25 it will be one of the most useful plugs you ever buy
2. A backup – As a couple travelling around the world there is nothing worse than one person using the adapter or one person being by the cafe and one person skyping home in the Airbnb. You can either buy two LOOPS or browse through the giant list on Amazon here.
#4 Best travel gadgets: Extension cable, the travel gadget battery lifesaver
It is great having the LOOP but what happens when you have two laptops, a GoPro, 2 mobile phones and Canon EOS 70D battery to charge?
The most underrated of all travel gadgets the extension cable adapter!!
Get this in your home country or whatever the majority of plugs your gadgets are.
You can go with a 4 plug or 8 plug. 4 will probably do you as 8 can be awkward for laptop bags.. You can get these for only £4 on Amazon.
We went the Irish adapter as most of our plugs were this style. If you are heading to Ireland, read our Irish bucket list.
#5 Best travel gadgets: A waterproof case for your mobile phone
Snorkelling in the Philippines and Indonesia was amazing if you are not lucky enough to have a GoPro like Steve was these cases are so handy.
Not only because it protects your device from falling in the water but also because it has a handy string you can tie to your wrist or put around your neck.
Whether you are on a sunset sailing boat cruise in Boracay or island hoping in El Nido, these waterproof cases come in so handy.
Simple to pack, cheap and trust us, if you are travelling for an extended period, this comes in very useful.
This Mpow case is only £5-£10, well worth it.

#6 Beset travel gadgets accessories – USB Key
USB Key – While this is not used too often before you travel place all your travel documents including passport, insurance and all the necessary photos you will need. Additionally, add a bit of music or films on them.
A lot of TV's these days have USB slots on them and travelling around it is a LOT easier to use a USB than run back and forth to the laptop to pause, rewind, etc.
You can also just as easily copy a video from your laptop onto the USB and bring it to the TV.
You will thank us if you haven't done this before it is great!
Check out this 128 GB 3.0 USB flash drive.

#7 Best travel gadget accessories – HDMI cable

Just get a standard one, no need to splash out on the fancy $100+ ones they are all the same! Why an HDMI cable?
Depending on where you are going if the place doesn't have satellite and every channel is in French/Portuguese etc. then the cable will be your best friend.
Now we are not saying we spend our whole time watching tv but when you do want to take it easy and put on a good movie it is great!
Also if you have wifi, you can just stream a new movie or download and watch it on the TV.
#8 Best travel gadget accessory the SD Card + SD card adapter:
SD card + SD card adapter is obvious provided you have a GoPro or a good camera but get a decent size one.
Steve just got the new Samsung S7 Edge and got an epic 128 GB micro sd card.
There is nothing worse than going to free up some memory on your camera/phone's SD card and not having an SD card adapter.
We were in Uluwatu, Bali at one stage and couldn't take any more photos because we lost our micro SD adapter.
We had to drive 30 minutes on our little scooter, just to get one so it is worth getting a back-up.
In regards to SD card size, either go for two 64 GB's or a big 128 GB. The advantage of having two is not having to switch between each device. Also, some devices only support up to 64 GB!

#9 Best travel gadgets – External hard drive(MUST HAVE!)
These can set you back a bit, but you have to back up your backups! Especially if you are going on a big trip.
Our back up typically goes like this: Camera/Phone -> Laptop storage -> Google photo drive(if wifi is good enough) -> External hard drive.
This has to be with you at all times and is up there with one of the best travel gadgets…ever.
It is not until you lose a month worth of photos because of water damage that you realise the importance of a backup!
Ironically last year Sabina's external hard drive(which was about 3 years old) broke after only a small bit of water damage.
Luckily I had a backup on my laptop, and Sabina had a backup on her laptop. We still lost a few hundred photos, but the moral of the story is backup your backup.
Google cloud drive now gives you tonnes of free space to back up your photos.
This Samsung M3 Slimline 2 TB USB 3.0 Portable Hard Drive has over 11K 4.5 star reviews!
#10 Best travel gadget accessory: the small but important Aeroplane adapter:
A lot of planes these days have regular headphone jacks but many older planes and certain countries still have the two pin adapter.
Have you ever tried to use a good pair of headphones and then try the plane headphones? It is scary how bad they are in comparison.
Get at least two of these 🙂 they are very cheap.
#11 Best travel gadgets: A good set of headphones
The truth is all of these travel gadgets are must-haves, but some are more important than others.
In fact, here I am wearing them writing this exact article!
You literally will never go back to ordinary headphones after trying these or any decent headphone listed on Amazon.
On flights, buses, boat trips and even chilling by the pool. We use these all the time! Sabina has a different model, but any of them over the £50 mark will do nicely.
Another reason these are an essential travel gadget is for long haul flights. They block out a lot of the loud ass plane noise!
#12 Best travel gadgets: A neck pillow – AKA long haul flight lifesaver!

Again these are one of those things that you only realise how essential they are when you get one. We used to laugh at people with those ridiculous, weird neck pillow things.
One day we splashed out and bout them in the airport and oh my god.. game changer!
Just grab one of these at the airport make sure it is one of the better ones with beads, not the cheap smaller ones.
#13 Best travel gadgets: GoPro(any of the latest versions) and a good camera
These are another one of those things that when you invest in, you wonder how you did not have one before.
Now if you don't have one I know what you might be saying, my iPhone/smartphone takes perfectly good pictures…
No, it doesn't, although they have pretty much replaced the digital camera they are no comparison to a good DSLR camera.
We are not saying go out and spend 1000's and get a state of the art camera but if you are looking for a good starting point check any of the DSLR's on Amazon it can be hard to choose but £250 – £500 will be a good place to start.
The Canon EOS 1200D Digital SLR Camera is a good one to look at.

Steve has the GoPro here 3 Silver which still takes amazing videos and pictures. If you are buying it as new look at the Go pro Hero 4, it has better specs than the 3 and much better battery life.
Summary of the 13 best travel gadgets everyone should have:
You can see why these are the best travel gadgets because we actually use them on every trip.
There is still a tonne of travel gadgets we need to get, and this is only a small selection.
Our next article will be 13 travel gadgets we want to get(Hint: A drone!)
Here is a summary of our best travel gadgets in 2016:
2 Power chargers, a 3000-5000 mAh and a larger one
Bluetooth speaker, preferably waterproof
Worldwide travel adapter, get two of these!
Extension cable
Mobile phone waterproof case
USB key the bigger, the better(that's what she said)
HDMI Cable
SD Card and SD card adapter
External hard drive
Aeroplane adapter
Good set of headphones – not earbuds but ones that cover your entire ear
Neck pillow – not the cheapest ones, middle of the range is best.
DLSR and GoPro – You just have to get both of these!
How many of the above travel gadgets do you have? Comment below 🙂
If you enjoyed this gadget travel guide be sure to share and let us know on snap chat @sunsettraveller. Don't forget to PIN the image below to your Pinterest board for later reading.
Thanks for reading,
Steve and Sabina
P.S Are you a fan of couple travel bloggers? Read our top 35 couple travel bloggers you need to follow in 2016.