Whale Sharks are incredible, massive creatures and many people travel long distances to see these gentle giants.
Our experience started in Cebu in the Philippines.
Where to do whale shark watching in the Philippines?
Our answer is Oslob in Cebu. That is where we did it and it was just incredible.
We didn't stay in Oslob and just did a day trip from Moalboal to see them.
How to get to Oslob Whale Shark Watching?
The easiest way is to fly from Manila to Cebu City( about an hour and half long flight ) and from there take a short 3-hour bus to Oslob (about PHP 150).
The best idea is to stay on the island for few days and check out other places like Moalboal.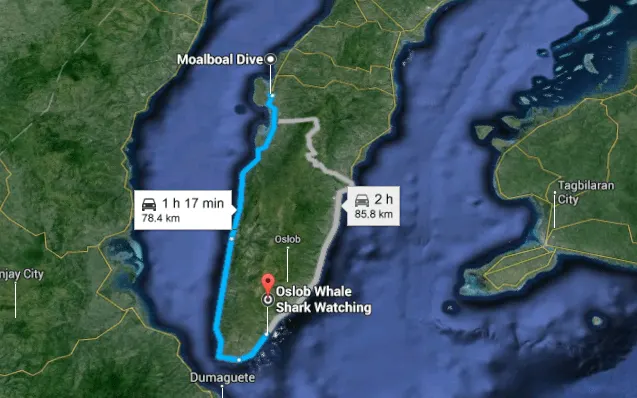 Staying in Moalboal when doing Whale Sharks?
Take a bus from Cebu City for PHP 100-150 that will take you directly to Moalboal.
That's what we did, and if you are you won't regret it! The bus drive is also a pretty crazy experience. We had a techno bus with no windows and dance tunes playing for hours!
Along with people running on and off the bus it was all quite entertaining.
Crystal blue waters and countless amount of turtles and sardines. This place is perfect for snorkelling, and there are many scuba diving places if you are into it.
Pescador island lies a short distance from Maolboal and is excellent for diving and snorkelling.
There is good variety of restaurants, and our favourites include 'Chilli Bar' for burgers and seafood, 'Last Filling Station' for traditional food, 'Corner Bar' with amazing grilled seafood, and of course 'Andy's Bar' for relaxed chilled atmosphere, cheap beers and good, strong cocktails 🙂
The accommodation varies from affordable PHP 400 a night to 11 000.
Some places are not listed anywhere on the internet so you may have to go directly and ask (that's how we got our place).
Visiting Baskadu White Beach in Moalboal?
Best is to rent tricycle that will take you to the beach. We paid PHP 100 for the full day, probably bit over the price, but the guy was so friendly and chatty and waited all day there for us.
If you are going to white beach make sure to stay all day there as otherwise is not worth your money.
The beach was nice and quiet while we were there but not as clean as you would expect.
Getting to Oslob whale shark watching from Moalboal
Ok, there is a bus that will take you there and is cheap, however if you are planning only a day trip, it's not worth it.
Best is to either stay overnight in Oslob and do whale sharks following day or hire a driver.
To hire a driver: ask your hotel reception or just go outside and one of the tricycle drivers will be able to arrange a car for you (price varies and can be between PHP 700 to 1200). Worth it if you want to get there early.
Best time for Whale shark watching in the Philippines
In Oslob, you can see whale sharks every day until noon.
Earlier you get to the place than better and less crowded. We got there at 7 am, and there was already about 100 other people waiting. Ideally, we would like to of got there at 6 am.
The price for whale shark watching is normally about PHP 1 200 per person for the half hour only. If you are a from the Phillippines, it is a lot less(local price)
The Whale Shark Experience
After you pay, you are asked to leave your belongings in lockers. Best to have with you only swim clothes, flip flops and waterproof camera(GoPro).
Before you get on the boat to encounter the whale sharks, yo must go through induction, where everyone is told not to wear sunscreen lotion, not to pet the whale sharks and stay at least a meter away from the incredible creatures.
Paddaling out in tiny boats took about 10 minutes to where our guide told us that we can jump into the water.
The water was choppy on that day and first I couldn't see anything, but then massive creature just appeared right next to me.
Even though we were told to stay away from them, it was almost impossible as they were so close and a guy on a boat feeding them was right next to us.
The half an hour felt more like 2 minutes when we were told to go back on the boat, and the guide paddled away.
Our tips to get the best Whale Shark Experience.
Make sure to get to the place as early as possible, the boats start going from 6 am to 12 noon and fewer people better for you.
Do not wear any sunscreen if you are going into the water as fines apply.
Take only swimming clothes and flip flops as you will get all your clothes wet otherwise.
A waterproof camera is a must! You do not want to miss out of sharing this encounter with your friends.
Try not to get too close to the creatures, even though they are very gentle, you may get scared 🙂
If you can't swim, you'll get lifejacket so do get into the water regardless.
This experience is 100% worth it, so if you are in the Philippines take your time and go to Oslob 🙂
Or Pin the image below to your Pinterest boards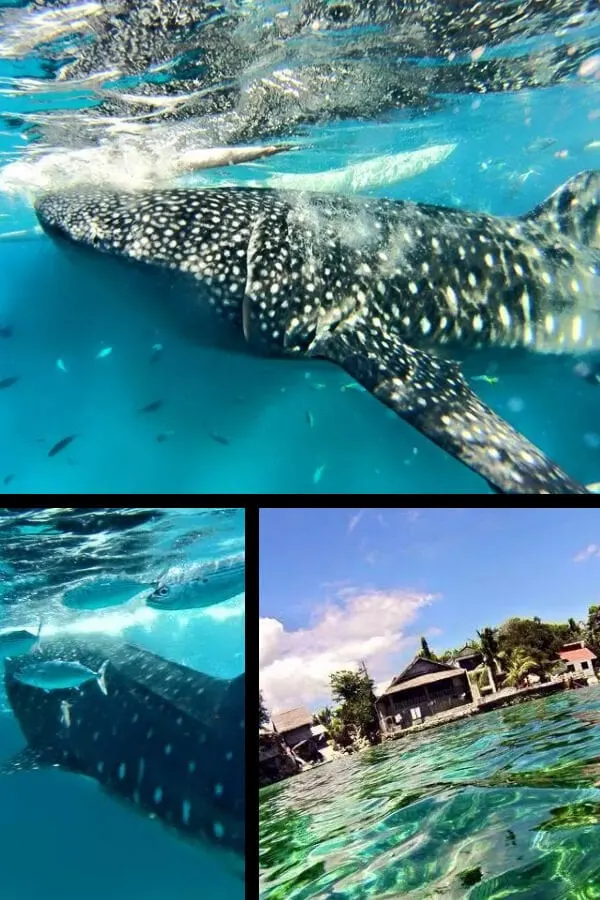 Also, be sure to share this article if you found it useful. Enjoy the amazing whale shark experience.