Our El Salvador travel guide covers everything we have learnt from our 3+ weeks in this fantastic country.
We loved El Salvador's heritage, people, beaches and forests.
Many people are discouraged from visiting El Salvador for its safety concerns, but there is no reason why you shouldn't travel to El Salvador and explore this vibrant yet bypassed by many tourists country.
Take the opportunity and discover the uncrowded beaches, small charming towns and many hiking trails in the country.
Top places to visit – El Salvador travel guide:
San Salvador is a great getaway to explore nearby attractions. The city itself is very busy with constant traffic and people rushing somewhere, so you feel like you want to escape the noise.
Take the opportunity however and discover San Salvador downtown with many historical buildings, including the National Palace, National Theatre, the Cathedral and the Plaza Libertad.
We highly recommend paying it a quick visit during your trip around El Salvador.
Santa Ana Volcano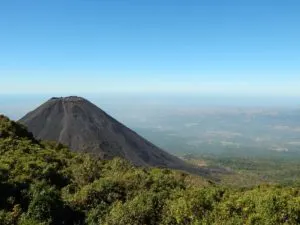 Santa Ana is El Salvador's biggest and most active volcano. The volcano climb offers beautiful panoramic views of the neighbouring towns.
The highlight of the entire hike is undoubtedly the magnificent turquoise lake sitting in the centre of the crater.
Hire a tour guide from the bottom of the volcano who will take you on a guided 4 hour round trip tour to the crater. Tours usually start at 10-11 am every morning.
Los Planes de Renderos and Puerta del Diablo
Within 20 min drive from San Salvador, you will find the Devil's Door. Formed as a result of heavy rainfall in the 1700s, the rocky lookout attracts many visitors for its spectacular views.
The scenery from the doorway is a must for anyone wanting to explore this beautiful country.
Volcan el Boqueron
Located in Parque El Boqueron at 1800 meters you will find an impressive view of the dormant volcano crater.
The temperature here is mild so you might want to bring a jacket with you as it can get chilly here.
There is a small entry fee to the park and the carpark if required so make sure to have some cash with you.
La Pampa Restaurant
Located on the way to the El Boqueron Park, the restaurant sits on a hill with beautiful views overlooking a lake and the city.
The menu features traditional Argentinian dishes and has an extensive wine menu.
This restaurant chain has many other restaurants at beautiful locations so make sure to check them out too.
If you are not hungry, stop just to admire the views.
El Tunco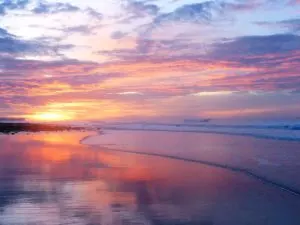 This coastal town is trendy amongst surfers, backpackers and El Salvadorians. We spent a week here and enjoyed it.
Although the place is usually hectic, it has a beautiful black beach and crystal clear waters.
The best restaurants include Tunco Veloz, Roca Sunzal Restaurant and many pupuserias. You can't be in El Salvador and miss on the delicious pupusas filled with cheese, vegetables or meat.
Linda Vista Gardens Restaurant
Linda Vista Gardens Restaurant has beautiful views stretching over San Salvador. The place also offers accommodation if you wish to stay here overnight and enjoy the night skyline.
We highly recommend coming here on a clear evening to enjoy the views.
You can quickly get there by taxi or car rental.
El Imposible National Park
El Imposible National Park is one of the biggest national parks in El Salvador.
Located south-west of the Ruta de las Flores, the park is perfect for hike optimists. We recommend having a tour guide to explore the hills and the El Imposible gorge.
Suchitoto
Suchitoto is a small town set in El Salvadorian mountains. Cobblestone streets cover this charming village with old colonial buildings.
Here you will find unique shops, handicrafts and souvenirs. Take your time to explore this charming place. If you are visiting in the wet season take a trip to the nearby waterfall located just outside the village.
We highly recommend two places where you can look at this country's unspoilt nature, Hotel El Tejado and Los Almendros.
Ruta de las Flores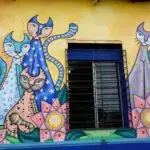 Ruta de las Flores will take you through charming hilly villages full of art, unique architecture and many unique restaurants.
Concepcion de Ataco was a highlight for us along the route with the best restaurants we found in El Salvador.
You can either take a bus from La Libertad or explore it at your peace via car. There is also a lot of tour companies that will take you to the best spots.
Coatepeque Caldera
This crystal blue crater lake was created over 70 thousand years ago. Most of the shoreline, owned by Salvadorian elite, makes the place peaceful and perfect to relax at.
The dramatic beauty of the 6 km wide caldera is undoubtedly worth a visit. You can access the lake by renting a boat or from surrounding it hotels such as the Cardedeu Hotel.
Tazumal
Tazumal is known for Mayan ruins dating back to pre Columbian Mayans. Again we visited this charming place via car.
There is a small entry fee to access the site. The ruins are awe-inspiring and tell an exciting story.
Take your time and explore the street markets after you are finished here, or grab a pupusa from one of the street restaurants.
Los Chorros
The natural pools are located 20 minutes drive from San Salvador and are best to visit on a hot sunny day. Here you can relax and spend the day in refreshing spring pools.
Many locals visit this place as its very inexpensive. Best to come here during the week to avoid the crowds.
Where to stay – El Salvador travel guide: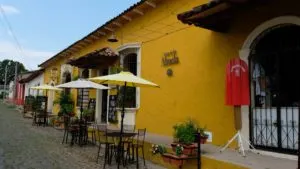 There is plenty of accommodation in El Salvador ranging from cheap hostels to five-star hotels.
We stayed in Roca de Sunzal in El Tunco for the first few days and then decided to travel to San Salvador to explore the rest of the country.
San Salvador is an excellent base if you want to do some sightseeing as it's very centrally located.
We mostly used Booking.com and Airbnb for accommodation bookings.
It honestly depends on your budget where to stay.
We highly recommend Airbnb as we found some incredible accommodation around Central America at an extremely low rate.
If you are new to Airbnb, you will get a $76 discount on your first stay with this link.
Hostel dorms can be found for as low as USD 5 per night or private rooms for approximately USD 10-15 per night.
There is a lot of cheap hotels where you can get a lovely room with private bathroom for USD 30+ per night.
We found that you can get an even better rate if you go directly to hotels and ask at reception for a discounted price.
Safety and security in the country – El Salvador travel guide:
Before we got to El Salvador, we were in fact very concerned about our safety.
Once we arrived at the airport and took a taxi to our accommodation in El Tunco, we realised that the government puts high measures on tourist safety and security.
We felt very safe throughout our entire stay in El Salvador. We do recommend always to take guided tours whenever possible and use general caution as you would in every new place.
How to get around – El Salvador travel guide: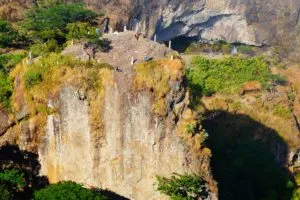 The most budget-friendly is public transportation. The average trip can cost as little as USD 1.
If you are looking to travel further, you might be looking at USD 10+ depending on your destination.
For a private taxi ride from San Salvador airport to El Tunco, we paid USD 35. San Salvador to the airport is about USD 15 for a taxi.
We also rented a car for four days at USD 35 per day including full insurance.
We visited Suchitoto, Tazumal and all of the destinations close to San Salvador mentioned above via car. It's a great way to explore the country on your own.
Average daily budget – El Salvador travel guide:
On average we spent USD 50 per person including accommodation and eating out.
Keep in mind; we stayed at hotels where there were no cooking facilities, therefore, had to eat out most of the time.
If you are on a tight budget, you can quickly lower the daily budget by staying in hostels and using only public transportation.
Best time to visit – El Salvador travel guide:
The dry season in Central America runs from November to April, the wet season starts in May and ends in October.
The busiest time to visit the country is during the Holy Week which precedes Easter Sunday, the month of August, and mid-December through Chrismas.
During this time expect to pay higher prices for accommodation at most of the tourist towns.
December is very popular amongst backpackers as the rainy season ends and the surf is perfect for travellers looking to learn this sport.
Visa requirements – El Salvador travel guide:
The tourist visa costs USD 10 per person, and you will obtain it at the airport.
El Salvador is in the CA-4 agreement with Guatemala, Honduras and Nicaragua. This means that you can travel freely between those countries for up to 90 days.
Do not exceed this time as you might get in trouble. If you want to stay longer go to Belize, Mexico or Costa Rica and re-enter after a few days. We were also asked for exit date from El Salvador so keep this in mind.
For more up to date information, you can visit this website.
We highly recommend that you have travel insurance covering you while travelling. If you are looking for a trusted company, we highly recommend World Nomads, True Traveller. and Fast Cover.
If you are planning to head to Nicaragua, read our 20 favourite things to do in Nicaragua.