There is a lot of unique things to do in Cuba and Havana is one of the most famous cities to explore on the island.
Cuba was on our bucket list since we started our travels but took us over four years before we actually landed on this picturesque island.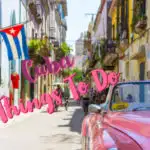 We spent terrific two weeks travelling Cuba, and we will visit again!
We especially fell in love with Havana, although usually, we are trying to stay away from capital cities, Havana offers utterly different experience, and the city is by far one of its kind.
In this guide, we would love to share with you our things to do in Cuba, Havana on a budget.
Here's map of Cuba for your reference:
Let's begin!
Here are our 10 adventurous things to do in Cuba, Havana:
1. Drive a classic car in Cuba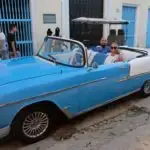 Vintage taxis can be found on every corner in Havana. We took few taxi rides, and they are a fun way to see the city in style.
A sightseeing ride around Havana will cost you about CUC 15-25. It is by far one of the most fun ways to explore the area.
Vintage car tour in Havana is one of the most popular ways to see the city.
2. Explore the Old Havana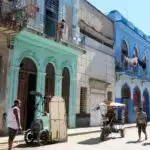 There is a lot of things to do in Cuba and Old Havana attractions can be found on every corner.
Old Havana (In Spanish: La Habana Vieja) describes the central area of the original city of Havana and belongs to UNESCO World Heritage Site.
Packed with historic buildings, museums, galleries, churches and lively plazas, is the historic heart of Cuba's capital city.
Here you will find Plaza de la Catedral, Catedral de San Cristóbal, Palacio de los Marqueses, and much more.
Old Havana, Cuba map below:
3. Admire the city views from Havana Cuba hotels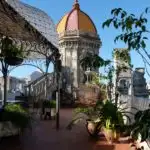 Hotel IBEROSTAR Parque Central, in particular, has some of the most amazing views from the rooftop bar.
You can stop here and admire the scenery while sipping a cocktail at sunset. If you are on a budget, get the lift up to the top and take few pictures before you make your way back down.
4. Meet the locals and backpackers on the Malecón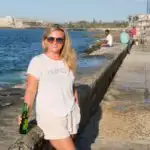 This eight-kilometre esplanade, sea drive, and seawall stretches from Old Havana to the burgeoning residential district of Vedado.
Malecon is one of the city's most favoured meeting place for both locals and tourists.
In case you wonder what Malecon meaning is: Malecón in English is a word used in Spanish-speaking countries, and especially in nations of Latin America, for a stone-built embankment or esplanade along a waterfront.
Enjoying a Havana Club rum at Malecón is one of the local things to do in Cuba.
5. Have a Mojito at Hotel Nacional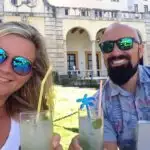 The iconic Hotel National located in the middle of Vedado has one of the best sea views stretching all the way to the harbour.
You can come here to admire the architecture, soak in the views or walk the hotel grounds.
We spent here a few afternoons enjoying the sunshine, views, wifi in Cuba and Mojito. The hotel also has an outdoor pool available to visitors at a fee.
6. Hop on a train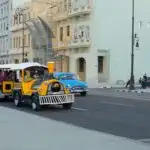 It was one of our favourite ways to get to the centre of Havana from Hotel Nacional.
This tourist train runs every 20 minutes, and for 1 CUC it will take you by the seawall all the way to the centre.
It has a set route so you will never get lost.
7. Visit the National Capitol building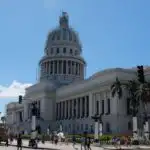 The visit to the Capitol building belongs to Havana highlights.
El Capitolio, or National Capitol building in Havana, Cuba was the tallest building in Havana until the 1950s and houses the world's third largest indoor statue (La Estatua de la República).
The building is imposing from up close and is definitely worth a visit (also located close to the famous Gran Teatro de la Habana).
8. Visit Plaza Vieja Havana Microbrewery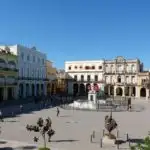 The Old Square (Spanish: Plaza Vieja), called originally Plaza Nueva (New Square) was initially used for military exercises and later served as an open-air marketplace.
Filled with bars, restaurants and cafes, makes for a perfect place to hang out with friends for the day.
Plaza Vieja Map
9. Have lunch at La Bodeguita del Medio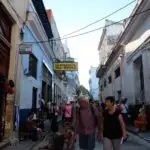 Hemingway's La Bodeguita del Medio claims to be the birthplace of the Mojito cocktail.
This place is packed with people following the steps of famous personalities including Pablo Neruda, Agustín Lara, Brigitte Bardot, Ignacio 'Bola de Nieve' Villa, Ernest Hemingway, Salvador Allende and many others.
La Bodeguita del Medio menu features boiled rice, black beans, pork shank, manioc, pig shank roasted in its juice, pork rinds and toasted/ fried plantains.
This place is a must visit in Havana for most visitors.
10. Go on Havana Club Rum Distillery tour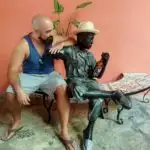 Our top 10 tourist attraction in Cuba goes to Havana Club Rum tasting in Havana.
Discover the Museo del Ron Cubano (Havana Club Rum Museum) and learn more about the famous beverage.
Walk through the narrow streets of Old Havana down to Avenida del Puerto right across the docks you will find the museum entrance.
For CUC 7 take a guided tour and learn the history of Cuban rum, at the end of the tour you also get to taste it!
If you are heading to Cuba soon, make sure to read our Cuba travel guide covering visas, accommodation, wifi, money and more.
If you enjoyed this post, please Pin it!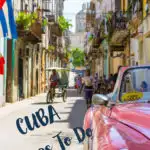 We also booked our first few nights in Havana via Airbnb and got amazing 2 bedroom seafront apartment for $35 a night!
Many owners advertise their Casa Particular vacancy on Airbnb. If you are new to Airbnb click this link and get $55 discount off your first stay on us!