We just returned for a six-hour flight from New York to Lisbon, and before our trip, we bought a gazillion different types of travel snacks.
While these were great, they ended up costing us about US$50!
Don't worry we made sure we ate every single one of them haha.
But we wanted to put together a much tastier list of travel snacks recipes that won't cost you a fortune.
So we reached out to those that do it best, some incredible food bloggers.
They spend a LOT more time than us cooking, and we got some incredible ideas from them.
The main purpose of this post is to give you and us some inspiration for your next trip, so you don't end up spending loads of money and have a diverse range of snacks to choose from.
By the way, we got incredibly hungry when writing this post haha.
Don't worry all the recipes are linked below and pinnable images are available just click on any image and hit that PIN button.
So let's begin our travel snacks list:
Travel snacks #1 Delicious Trail Mix
You can buy trail mix's ready-made for double the cost of making them at home. Plus by making them yourself, you know exactly what is going into them.
This is a really diverse travel snack and perfect for any journey.
You can make them sweet or healthy; it is all up to you.
Jamie from Love Bakes Good Cakes has this mouthwatering sweet & salty trail mix recipe.
Ingredients:
2 cups California raisins
1 cup lightly salted sunflower seeds
1 cup whole natural almonds
1 cup dry-roasted peanuts
1 cup roasted and salted pistachios
1 cup dark chocolate M&M's
You can read the full recipe and get many more ideas here.
Travel snacks #2 Crunchy Granola Snack Bites
Remember when we said you might get hungry reading this? Well, we did warn you.
These are not only exceptionally healthy travel snacks but look delicious.
Shelley from Two Healthy Kitchens shares these incredible crunchy granola ball snacks.
Ingredients
1 cup granola (see note)
1/2 cup natural, creamy peanut butter
1/4 cup quick oats
2 tablespoons ground flaxseed meal
3-4 teaspoons honey (see note)
1 1/2 teaspoons vanilla
3 tablespoons dried fruit (we used dried cranberries) or mini chocolate chips (see note)
You can see the full recipe and their fantastic time at the pro football hall of fame here.
Travel snacks #3 Traditional Cornish Pasty
This travel snack will take a bit more time for preparation but worth every minute of it.
We are looking forward to making these on our next trip.
Imagine on a road trip stopping off somewhere and having one of these? YUM!(apologies for the overuse of the word YUM).
If you have never had a pastry like this, you are missing out!
Brian from Krumpli shares this mouth-watering recipe below: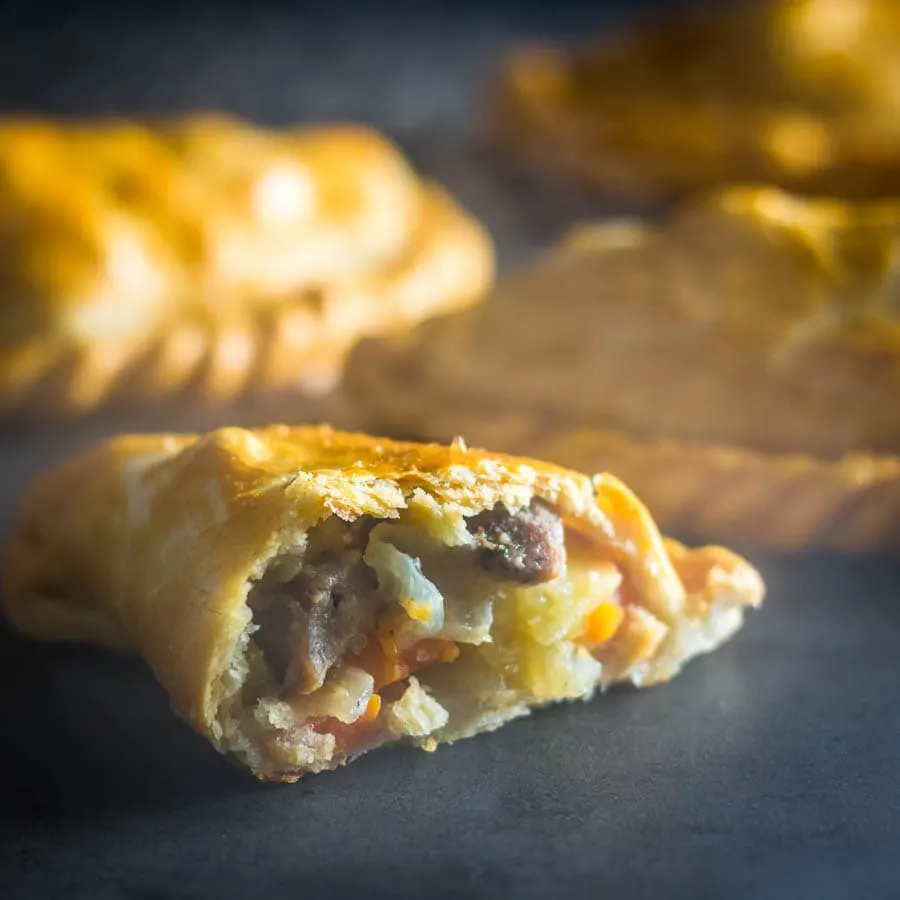 Ingredients
For the pastry:
250

g

Flour

60

g

Lard

Shortning in the US.

60

g

Butter

85

ml

Cold Water

1/2

Tsp

Salt
For the Filling:
250

g

Beef

I use sirloin, cut into strips.

125

g

Potato

75

g

Swede

5mm dice.

50

g

Onion

Sliced.

1

Tsp

Salt

1/2

Tsp

Pepper

1

Egg

For glazing the pie.
You can see all the details and many more delicious pictures on the full recipe here.
Travel snacks #4 An authentic New York Bagel!
As far as travel snacks go the bagel is an excellent choice. They are not only filling but can be filled with a million different ingredients.
We agree that a bagel is not the healthiest travel snack you can make, but sometimes convenience wins!
Karen from WanderlustingK who is a born and raised New Yorker shares how to make these incredibly diverse travel snacks.
Ingredients:
Dough:
4 1/4 cups bread flour
1 teaspoon + 1 1/2 teaspoons sugar
Instant yeast (1.5 packets)
1 cup and 3/4 cup of water at 110 F
Everything Bagel Seed Mix:
2 tablespoons of Sesame Seeds
2 tablespoons of Poppyseeds
2.5 tablespoons of Dried Garlic Flakes
1 tablespoon of Himalayan Rock Salt
2 tablespoons of Onion Power
2 onions diced
A teaspoon of olive oil
Enough said it is an incredibly diverse travel snack and one we will be sure to make very soon.
You can read more details behind the New York bagel recipe and pictures here.
Travel Snacks #5 Homemade fruit bars
Just when you thought these travel snacks would not get any more exciting along comes these irresistible homemade fruit bars.
These are perfect for road trips with kids or on a long-haul flight.
The best part is you only need a few ingredients.
The thing we love about this travel snacks post is that the people who wrote them to use their own recipes regularly.
When we spoke to Heidi she mentioned that:
Our kids love these fruit bars on all our travels, whether it's 5 miles to grandma or 1000 miles to our holiday destination
Heidi from the Simple Balance Blog shares the recipe for these incredible homemade fruit bars below:
Ingredients:
1 cup dates
1 cup nuts
1 cup dried fruits/coconut flakes
Cranberry Walnut Bar:
1 cup dates
1 cup walnuts
1 cup dried cranberries
Tropical:
1 cup dates
1 1/3 cup cashews
1/4 cup dried pineapple
1/4 cup apple rings
2 tbsp dried mango
Chocolate mocha bars:
1 cup dates
1/2 cup almonds
1/2 cup walnuts
1/2 cup coconut flakes
2 tbsp baking cocoa
1/2-1 tsp instant espresso
1 pinch of ground vanilla, optional
Optional for all variations: Edible rice paper sheets or discs (about 2 inches in diameter)
Now wipe that drool from your mouth and pop over to their full recipe fruit bar recipe here.
Travel snacks #6 Grain-Free Granola (gluten-free, paleo, and vegan)
Making your own granola is something we highly recommend.
Buying from the supermarket is fine, but first of all, it costs more + you don't know what exactly went into the cooking process.
This travel snack is a must for pretty much any trip! You can snack on it or add it to the next travel snack.
Nora from A Clean Bake shares one of her personal favourite travel snacks.
Ingredients:
1 cup walnut halves
1 cup whole almonds
1/2 cup pumpkin seeds
1 cup unsweetened flaked coconut
Pinch of salt
2 teaspoons cinnamon
1/2 cup almond butter or your favourite nut or seed butter
1/4 cup honey or maple syrup
2 Tablespoons melted coconut oil
You can read the full granola recipe here plus get an education on the benefits of going grain free.
Travel snacks #7 Easy Power Muesli
Put down those Cornish pasty's and make way for the last addition in our tasty travel snacks.
Now before you say it, we are aware muesli is technically a "breakfast", but you could easily eat this whenever and still get all the benefits.
Plus you can have it made in under 10 minutes which makes it a perfect travel snack.
Sarah from Champagne Tastes shares this simple power muesli recipe below:
Ingredients:
1/2

cup

rolled oats (any type)

(Use gluten-free certified oats if needed)

1/4

cup

protein-rich cereal (like Grape Nuts)

(Use gluten-free cereal if needed)

1/8

cup

nuts

1/8

cup

dried fruit

To Serve: milk or milk substitute (shelf-stable if camping without refrigeration), banana or other fruit if desired
So you have your travel snacks what's next?
Don't worry you don't have to make all of these before a long trip haha. But we will be 100% making a lot of these travel snacks in the coming months.
A round of applause for all the incredible food + travel bloggers above. Be sure to PIN any of the images above or the image below.
We do hope you enjoyed this post and already have the oven on!
Steve and Sabina
P.S Yum!