Relocating to Canada?
There is a lot to consider when relocating to Canada and we are here to cover the most important points.
After you decide to move to Canada, you need to know precisely what pathway to take to make your transition smoother.
In this post we cover the essential steps you need to take from deciding on what visa to get, opening a bank account to getting a job in Canada.
Decide what visa you need for relocating to Canada:
There are several visa options under which you can relocate to Canada. The most common pathways include family reunification or economic migration.
The first option is only possible if you have a Canadian relative that is a permanent resident, citizen or is registered under the Canadian Indian Act and is of 18+ years of age and is willing to sponsor you.
An independent visa is considered on a point based system, where you will require to accumulate at least 67 points. The points are being given to you based on your age, education, skills, and whether you have a family in Canada and so on.
Most people are looking to relocate to Canada however, are applying for International Experience Canada Visa (aimed at young foreigners), Express Entry, Young Professionals or Study Visa.
To get the most suitable visa for you, please visit Government Canada site here.
How to ship all your belongings when relocating to Canada:
When you arrive in Canada, you might be looking at shipping your items or luggage. Whether you are travelling from Ireland, UK, Australia or elsewhere, we know that making sure that all your belongings land safely is essential.
If you are looking to send smaller items 'Send my bag' is excellent for it. They have a quick quote tool that will provide you with an estimated price and delivery date.
Enjoy 5% off the price with our link here.
For container shipment, we highly recommend 'Seven Seas Worldwide' where you have an option to ship a container or move a cube. They have excellent customer service and are highly recommended.
To get a quote, please follow this link Seven Seas Worldwide (in partnership with Irish Around Oz).
Knowing how much money you need when relocating to Canada:
Depending on what visa you are coming to Canada, you will be required to be able to support yourself until you get a job.
For working holiday visa holders the requirement is a minimum amount of CAD$2500 as proof of funds and a flight or additional money to purchase return flight.
If you are looking for reliable travel insurance, we highly recommend TrueTraveller and World Nomads.
Fast Cover is excellent if you are coming from Australia, just like World Nomads and TrueTraveller, it has many inclusions to make your move stressfree.
To find out more about working holiday visa in Canada read our '15 things you need to know about working holiday visa in Canada'.
It is crucial that you know what is the cost of living in a city you are heading to. Here are some stats to give you an idea of what to expect: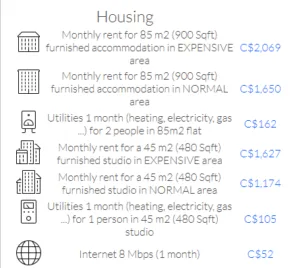 For more info or to compare the cost of living between cities, you can head here.
Choose a bank and money transfer company when relocating to Canada:
After you land in Canada, generally you will require a bank account. We checked many banks before making a decision.
The most popular banks among expats are CIBC, Scotia Bank, Tangerine and TD. We highly recommend that you will check bank offers before making a decision.
If you are looking for the best banking options we highly recommend that you read our 'best bank in Canada' guide.
After opening an account use Currency Fair to transfer money from your home account to Canada.
They save you a lot of money on bank fees and exchange rates. We used them for over four years now and saved 100's of $$$$.
You will pay 5-6%+ by using a bank instead of CurrencyFair who will take less than 0.25%.
Use this link to get your first free five transfers!
We also put together an excellent money transfer guide covering everything you need to know about money transfer companies.
Find accommodation before relocating to Canada:
It is imperative that you have an arranged place where you can stay for the first week or two after relocating to Canada.
We booked an apartment for the first month with Airbnb. If you are looking to settle in Vancouver or Toronto, keep in mind you will have to pay more for a place comparing to other Canadian cities.
In Vancouver, for example, rentals start on the 1st or 15th of each month so you will probably be looking at apartment listings mid-month. Craigslist is the most popular site for apartment rentals.
From experience, we would advise to book an Airbnb for the first month and look for an apartment in the meantime. It takes the stress away if you know you have a place to stay.
If you haven't used Airbnb here's $55 off your first stay. Enjoy!
If you are looking for cheaper options, Hostelworld and Booking.com are usually our go-to websites.
Search for a job before relocating to Canada:
It is important that you will begin job search prior or as soon as you land in Canada.
There is a lot of job websites where you can search for a dream job. Make sure to join as many facebook groups as possible as many employers post vacancies on social media sites.
Here are some websites to help you with the search:
Other useful links:
Airbnb – We love Airbnb and use it everywhere you travel! If you are new to Airbnb follow the link for $55 discount of your first stay.
Booking.com – Perfect alternative to Airbnb when you need a short place to stay.
Hostelworld – If you need a cheap place to stay where you can meet other travellers, Hostelworld is the best.
Scotiabank unsecured credit card – You will need a credit card in Canada! Scotiabank have a great one specifically for travel.
CurrencyFair – Our favourite money transfer company. They are 8x cheaper than banks. Follow the link for 5 free transfers with CurrencyFair.
OFX – Another great money transfer company for larger transfers. We use them for large lump sums. Follow the link for free transfers for life over 1k.
WorldNomads, FastCover and TrueTraveller – The best travel insurance companies on the market! We personally used them both and can highly recommend them.
Taxback.com – Every time we have to do our taxes or claim Superannuation we use these guys.
Sendmybag – Best company to ship your excess luggage to and from Australia. Follow our link for 5% discount of your shipment.
Skyscanner – Our go-to tool for finding cheap flights.
If you need more information about relocating to Canada, here are some useful articles:
50 things you need to know about moving to Vancouver.
Six essential services you can set up on day one when moving to Canada.
We also created an E-book with over 100 pages of useful information to help make your move even more manageable.