I grew up in Mazury and absolutely love this fantastic region in Poland. Masuria, often overlooked by many tourists preferring to spend their time in Gdansk, Warsaw or Krakow, has a lot to offer.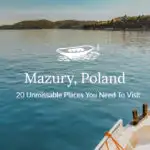 Mazury (English: Masuria, German: Masuren), located in the northeast part of Poland in the Warmia – Mazury region, are very popular amongst Polish and Germans. The area, however, is somewhat overlooked by many tourists.
Mazury cover 1732 km² of which Masurian lake district covers 486 km².
These lakes were ground out of the land by glaciers during the Pleistocene ice age around 14,000 – 15,000 years ago when ice covered northeastern Europe.
By 10,000 BC, the ice started to melt, and eventually, the Mazury lakes formed.
There are over 2 thousand lakes, of which the biggest Masurian lake district lake is Śniardwy (113,8 km²) and Mamry (105 km²).
Mazury Map – Masuria Map
Best time to visit Mazury
The best time to visit the Masurian Lake district and explore the best things to do in Mazury Lakes is no doubt in the summer months.
Spring months of May – June and autumn September are usually less crowded, which makes for a perfect holiday away from the crowds.
July and August tend to be the busiest, with many tourists choosing the popular Mikolajki, Giżycko, or Mrągowo.
If you want to avoid crowds, I suggest going to the beautiful countryside.
How to get Mazury
This undiscovered region recently opened Olsztyn-Mazury airport with flight connections from London.
The most convenient way is, however, to fly to Gdansk or Warsaw and rent a car or hop on a train or bus.
There are plenty of various flight connections during the summer to make the area more accessible to travellers. Both Ryanair and Wizzair operate many affordable flights.
It takes approximately 2 hours to drive from Olsztyn or 4 hours to get from Gdansk or Warsaw to the Mazury Lake District.
The e-podroznik website has the most up-to-date public transport connections from all major cities to Mazury.
Best places to stay in Mazury
Mazury has a lot of different accommodation options ranging from luxurious hotels to affordable B&Bs.
You can book a 5-star hotel like Hotel Gołębiewski Mikołajki or a delightful farm stay for an authentic feel.
There are also a lot of Masurian Lake District beach hotels. I suggest looking here and finding one that is the best for you.
The agrotourism (Polish: Agroturystyka) industry in Mazury is continuously growing, and you can stay close to nature with all the facilities and a unique feel.
Many agritourism accommodations in Mazury advertise now on Airbnb, and you can stay at a charming 100-year-old house like this for an unforgettable experience.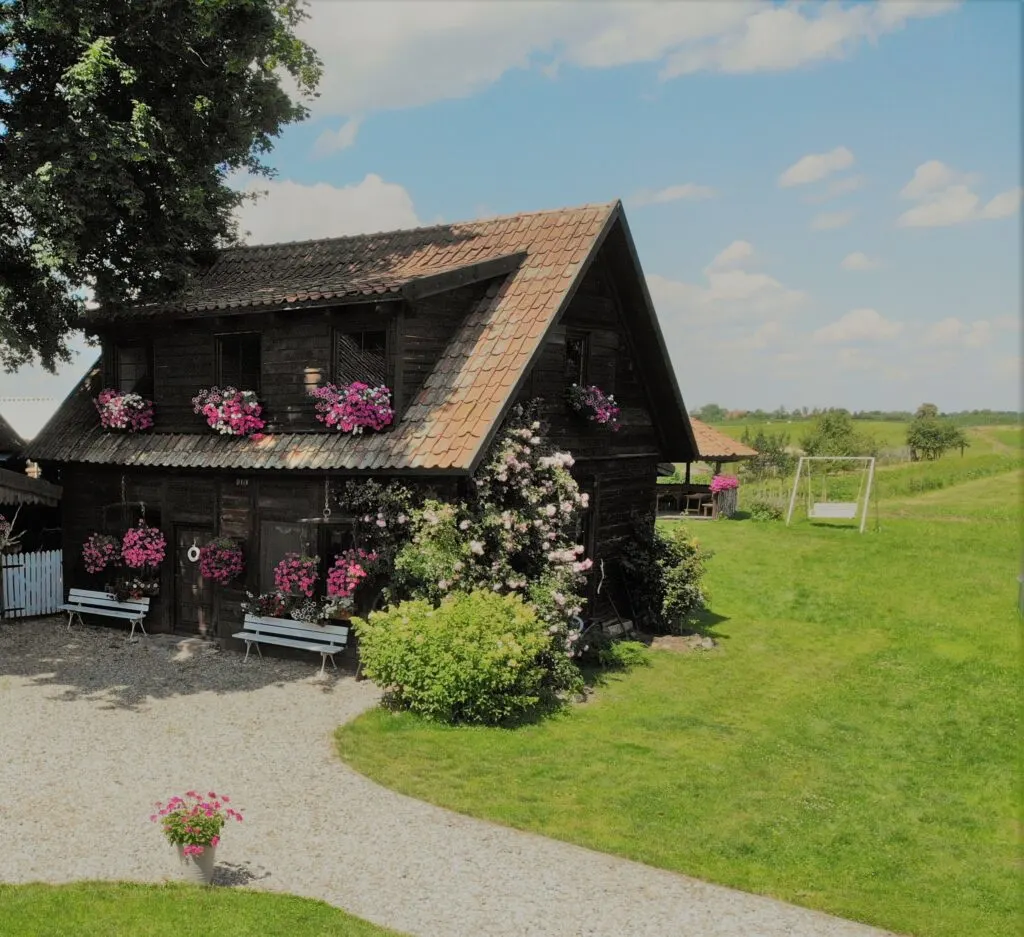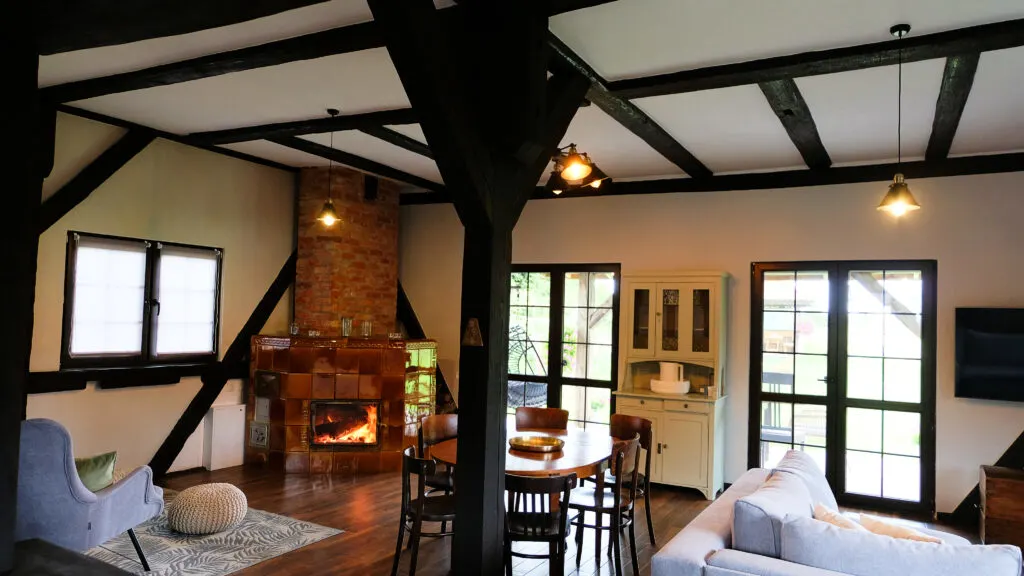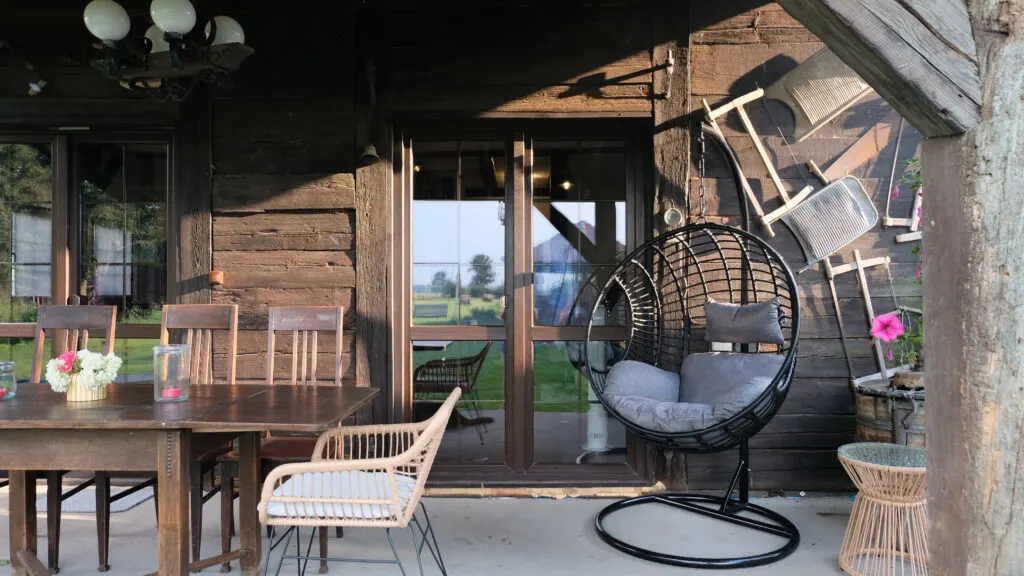 We have recently also renovated the above 100-year-old barn, and you can book our place via Airbnb or directly on mazurypodklonem.com
Booking.com is also popular and will help you find a suitable hotel.
You can also find our stunning Barn here on Booking.
20 Unmissable Places You Should Visit In Mazury
1. Explore Mikołajki
Mikołajki it's a sailing village very popular in the summer, packed with bars, restaurants, souvenir shops and more.
An absolute must-visit.
Every summer the place hosts a' szanty festival'. You can rent a boat here for a few hours or the day and explore the area.
Mikolajki is very popular amongst 'rich Polish', so if you want to spot Polish celebrities, this is the place to be. There are also a few swimming areas if you wish to cool down on a hot sunny day.
2. See the rare Mute Swan in Łuknajno
Łuknajno Lake is an ornithological reserve covering 1189.11 ha. It protects one of the largest mute swan refugees in Poland.
In the summer and autumn periods, there are up to 2,500 swans and over 175 different bird species in reserve, 95 of which nest.
In 1977, the lake was recognized by UNESCO. Hookah duck, a species occurring in the area of the Azov and Caspian Sea, is breeding here.
You can also see white-tailed eagles, marsh harriers, grey herons, cormorants, black terns, and many others unique to the area species.
3. Taste traditional Polish cuisine at Folwark Łuknajno
If you get hungry after bird watching, stop at Folwark Łuknajno for some delicious Polish cuisine. Folwark Łuknajno is a settlement from the beginning of the 17th century.
There used to be an Inn here, destroyed by the Tartars in 1656. In the later period, a manor house was created, a small estate located beautifully on the isthmus between the Śniardwy and Łuknajno lakes.
This mansion, destroyed during the First World War in 1914-1915, was rebuilt in 1916-1918.
The old manor house and quadrangle of farm buildings have survived. Here you will also find a viewing tower overlooking the lake.
4. Visit Mrągowo
Mrągowo is a beautiful town surrounded by a lake. There is a pathway around the lake that makes for a perfect family walk.
The city, covered by cobblestone streets, is packed with shops, bars and restaurants.
It's less busy than Mikolajki worth a visit. Here you can do some shopping, enjoy the views and have a nice meal at 'Restauracja Gosciniec – Molo'.
5. Learn horseback riding in Gałkowo
Have a fantastic meal at 'Potocki Restaurant' and afterwards enjoy the ride. The food here is simple and delicious. A must if you are planning to eat something local and Polish.
Across from the restaurant, you will find a stud farm where you can learn horseback riding or take a guided tour through the forest on a horse.
6. Taste the real Polish 'Pierogi'
Discover the road to a small village called Osiniak-Piotrowo and the 'Pierogi u Ewy' restaurant serving delicious Polish dumplings.
The dumplings are made fresh to order and are the best in the area. They also have beer on tap and soft drinks if you are not hungry. Enjoy!
7. See Śluza Guzianka
Guzianka is a great place to stop for fresh fish. Here you will also find the famous 'Śluza Guzianka'. The lock was built in 1879 as a wooden sluice chamber.
In 1899, it was modernised – brick and stone walls were made, and an electric drive was installed.
The location between Bełdany Lake and Guzianka Mała is a vital transport hub, allowing ships from Ruciane Nida to cross the Great Masurian Lakes.
The conduit is 44 m long and 7.5 m wide. The work it does is raising or lowering the water level to a height of 2 m. During the year, nearly 20,000 yachts pass through it.
8. Kayak the Krutynia River
Krutyń is a small beautiful village sitting right on the Krutyń River. It's a great place to go for food, and you can also rent out kayaks or canoes and explore the river. If you are coming from Warsaw, this tour will include everything for you.
Kayaking on the Krutynia River is a must. It's a very easy-flowing river, so it's not hard to paddle at all. To rent a kayak, drive to Krutyń village, and you will see plenty of rental places.
You can leave the car at the rental place, and they will pick you up when you finish.
The most popular route starts in Krutyń to Wojnowo or Ukta village. If you feel more adventurous, you can start in Ukta and end in Zgon.
9. Discover the Old Believer's History in Wojnowo
Russian Old Believers established the village of Wojnowo in the first half of the XIX century.
In 1654 they split off from the Russian Orthodox Church, rejecting reforms introduced by Patriarch Nikon.
Those reforms concerned Church customs, hymns and liturgical books. Old Believers have been so-called because they have practised their traditional customs.
There's The Orthodox Church built between 1921-1923. A monastery on Lake Dus and a brick temple of the Old Believers that is the neo-gothic "molenna" house of prayer from 1923-27.
All three churches are open to They are free to the public and hold fascinating history.
10. Jump on a boat in Ruciane-Nida
Ruciane is very popular for its boat port 'U Faryja'. Faryj has several ships that go in and out of Ruciane-Nida around the lakes or to Mikołajki.
Just drive to Ruciane-Nida, and you can purchase the ticket at the office. The price starts at 12zl for an hour on the Nidzkie Lake.
If you are looking to make a full day out of it, pay around 50zl for a return ticket and board the ship to Mikołajki.
11. Rent a boat
'Pod Dębem', located close to Ruciane-Nida, is a popular boat rental place.
You can rent a kayak, water bike or boat here. There is also a small beach great for swimming as well as a bar/restaurant.
Keep in mind the place gets bustling during the summer.
12. Follow the steps of the famous Polish poet
In Pranie, you will find Muzeum Konstantego Ildefonsa Gałczyńskiego – the Polish poet museum.
Enjoy the beautiful grounds right on the lake while embracing Polish history. Here you will also find a Bistro if you would like to stop for a bite.
13. Visit the most beautiful church in Święta Lipka
The village is known for the pilgrimage church, 'Our Dear Lady of Święta Lipka', a masterpiece of Baroque architecture.
A great attraction of the 'Basilica of the Visitation of the Blessed Virgin Mary' is the extraordinary Baroque organ with moving figurines of angels playing instruments.
Organ concerts in this church make for a truly unforgettable experience.
14. Discover the Adolf Hitler headquarters
In Gierłoż, next to Ketrzyn you will find Wolf's Lair. Wolf's Lair was Adolf Hitler's first Eastern Front military headquarters in World War II.
Construction works here began in November 1940 under the pretext of building chemical plants "Askania".
About 200 objects were created on the area of 250 ha, consisting of anti-aircraft shelters, objects with a lighter construction of concrete and bricks, and wooden barracks.
The headquarters had two landing paddocks and a railway station.
There is a small entry fee to access, but it's worth it. If you wish, you can also hire a private guide or join one of many walking tours.
If you are in Warsaw, there is a brilliant private tour you can book. Get a quote below:
15. Explore the Reszel Castle
Reszel is a small town where Reszel Castle proudly sits. The castle, an Ordensburg fortress, was built between 1350-1401 by the Teutonic Order.
The castle was frequently looted, besieged and gained by Polish and Teutonic forces. In the nineteenth century, the castle adapted into a prison was fully renovated after the Second World War.
Currently, the castle houses the branch of the Museum of the Warmian-Masurian Voivodeship in Olsztyn, a hotel and a restaurant.
16. Go wild at Kadzidłowo
Kadzidłowo Park Dzikich Zwierzat' lies in the Masuria woods, near Mikolajki. Here you will find a Game Park with many rare native Polish animals. The onsite restaurant also offers traditional Polish cuisine.
17. Explore Olsztyn
Olsztyn is Mazury's largest city with the largest shopping mall ' Galeria Warminska'. Here you will also find Olsztyn Royal Castle.
The first mention of "the castle Przymiłowice" (later Olsztyn) comes from 1306, built at the place where an early medieval castle had been before.
Between 1349-59 it was enlarged at the initiative of Casimir the Great to defend the frontier of Silesia and Malopolska. In 1370 castle passed into the hands of Wladyslaw Jagiello.
Plus, there is a LOT to do in Olsztyn, from vodka tours to food tours, the place is well worth a few day's stopovers.
Tip: Make sure to do an Olsztyn city tour. This walking tour of the old town is a MUST!
18. Jump into the Bełdany lake
Discover 'Galindia Mazurski Eden' in Iznota. Galindia is situated on a peninsula where the river Krutyn is falling into Lake Bełdany – marked on the tourist maps as the place with the most beautiful view.
It is a trendy tourist spot where you can rent out water equipment, have a meal or drink and soak in the views.
19. Cycle around the Rezerwat Zakręt
Rezerwat Zakręt in Krutyń is, in my opinion, the best place to visit in Mazury. This stunning nature reserve is perfect for a walking or cycling trip.
The path goes around one of the three dystrophic lakes. The Zakret Reserve is located 1 km west of the village of Krutyń, by the road leading to Lake Mokre.
These beautiful lakes are perfect for swimming, and best to explore them on bikes. Take a picnic basket, and you can spend the day in the area.
20. Find one of the most stunning lakes in Mazury
With over 2000 lakes, the Masurian Lake District has hundreds of pure crystal clear lakes where you will find no other soul.
I've spent my entire childhood swimming at these lakes, and yet there are so many to discover.
Like what you are reading? Pin me!