13 x Unmissable things to do in Nusa Lembongan and Nusa Ceningan – our two favourite islands in Indonesia that should land at the top of your bucket list!
If you are looking for a little getaway heaven, these two islands will exceed all of your expectations.
With pristine white-sand beaches and crystal clear waters, Nusa Lembongan and Ceningan are a real treat!
The two islands, connected via a yellow bridge, are gaining more and more attention.
No wonder why these two islands are true Instagrammers' heaven.
When we first visited the two islands back in 2015, there weren't many tourists around, and you could find a beach all to yourself.
But this is quickly changing, so make sure to visit them soon!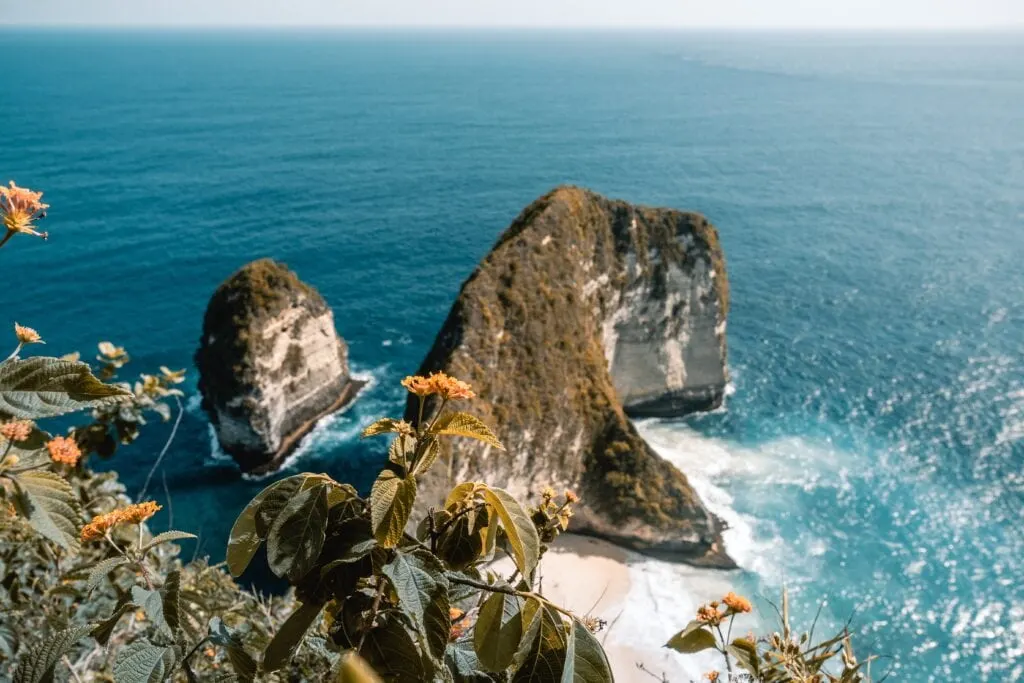 How to get to Nusa Lembongan and to Nusa Ceningan
Nusa Lembongan, located only 1 hour away from Bali, can be easily accessible via boat.
We opted for a fast boat living from Sanur, and it literally took one hour until we reached the Lembongan shore.
The ferry leaves several times a day from here, and you can either purchase a ticket once you get here or arrange it in advance. Most, if not all, accommodations in Bali will arrange the tickets for you as well as a transfer if you require one.
We were staying in Uluwatu and got picked up very early in the morning by a friendly driver organised by our host.
The best part is that even privet transfers aren't that expensive here!
If you are staying in Sanur, a ferry to Nusa with a hotel transfer will cost you 500.000 IDR for two people.
You can also get a one-way ticket at the harbour for approx. 20.000 IDR per person.
ATM on the Nusa Islands
The island has limited ATMs and they do run out of cash, so come prepared. Although many places now accept cards, many still don't.
On our first trip to Nusa, we took only a little cash and struggled a bit at ATM, trying to take money out a few times.
Here's a Google maps link to one of the two ATMs on the island. I hope this helps!
How long to stay in Nusa Lembongan and Nusa Ceningan
The islands are much smaller and less touristy compared to Bali.
We spent three weeks here and would happily stay even longer.
If you, however, have a limited time, you can easily explore this little paradise in 2 or 3 days.
There are also several day trips available from Bali. We opted for this option on a different occasion with our friends and had a lot of fun!
Whether you are planning to explore Nusa Lembongan and surrounding islands in 1 day or take a 2-day tour, the island won't disappoint you.
If you are considering a day trip to Nusa Lembongan, we highly recommend these tours:
The one-day island hopping tour allows you to explore both Nusa Lembongan and Nusa Penida.
The two-day island hopping tour itinerary lets you explore the Nusa islands.
Here you get to snorkel at different spots and spend the night at a unique Balinese Cottage in Nusa Lembongan.
Nusa Lembongan Hotels – Where to stay on the Nusa Islands
When we first got here, we booked our place in advance on Booking.com.
Now there are many incredible places on Airbnb.
If you are new to Airbnb, here's $81 discount off your first booking with Airbnb. Enjoy!
If you are after location, then this Airbnb rental in Jungutbatu is only 5 min walk from the best beach on the island.
After reading the description and reviews, we are going to stay here for sure on our next trip!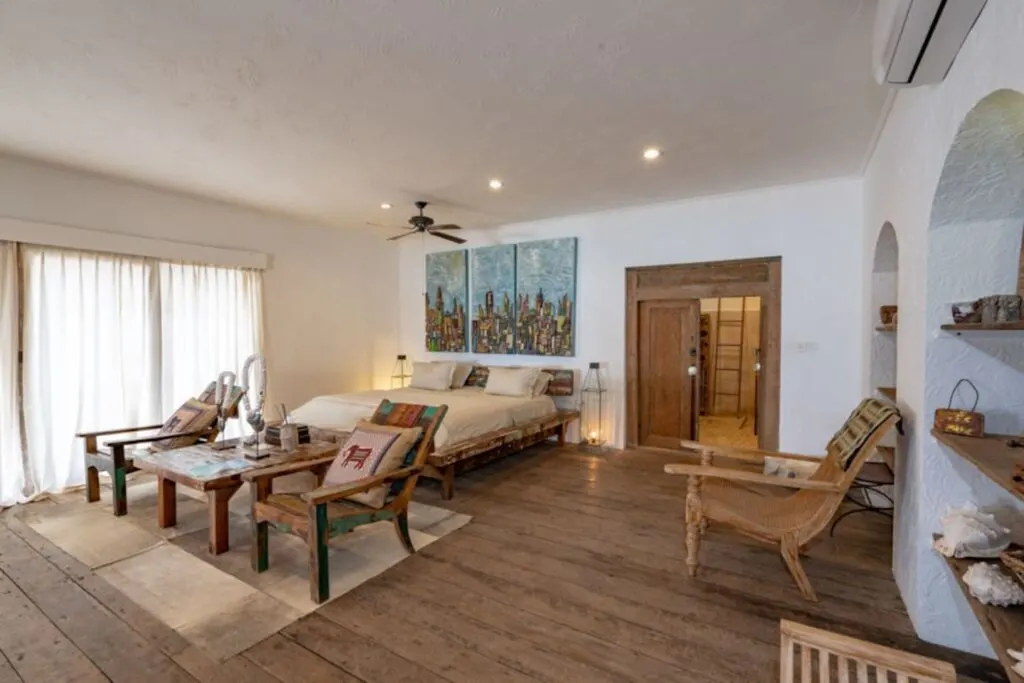 After getting here, now it's time to explore some of the best things to do on the Nusa Islands!
Here are our top 10 things to do in Nusa Lembongan and Nusa Ceningan
1. Swim with Manta Rays in Nusa Penida
Nusa island is well known for many great snorkelling spots.
During our stay here, we went on one of the snorkelling trips offered by the locals.
What a trip it was! Seriously we kept talking about this trip for days afterwards and highly recommend it to everyone heading to Nusa.
You won't be disappointed!
Our tour started early in the morning, just as the sun was rising.
First, we headed for Nusa Penida, where we swam with Manta Rays, then continued across choppy waters to Nusa Ceningan and swam there in a beautiful lagoon.
Manta Point is now one of the world's most famous diving sites where you can snorkel with Manta Rays.
Here you can also see the oceanic sunfish (Mola Mola) and other marine life.
Snorkelling at Nusa Penida Manta Point is an amazing experience that you need to try at least once in your life!
2. Go on a thrill-seeking dive adventure
Explore the pristine coral reefs in search of amazing colourful tropical marine life.
Search for Nemo living in his anemone, and spot the lionfish and the friendly sea turtles living in the area.
If you are a beginner, you might want to try the beginner diving experience tour.
A once-in-a-lifetime experience!
3. Take the boat through the Mangrove Forest in Nusa Lembongan
You can hire a local boat, paddle boat, gondola, stand-up paddleboard or kayak for less than IDR 100 000 for two.
You may have to pay a bit more, just like we did. We opted in for hiring a boat, and it was totally worth the money we paid.
The Mangrove forest is as quiet and relaxing as you could imagine. It's a truly magical place.
We spotted a lot of beautiful birds here.
There's usually a small entry fee to get to the Mangrove Forest road, but that's only 30-50 000 depending on the person standing at the entrance.
4. Go across the yellow bridge to Nusa Ceningan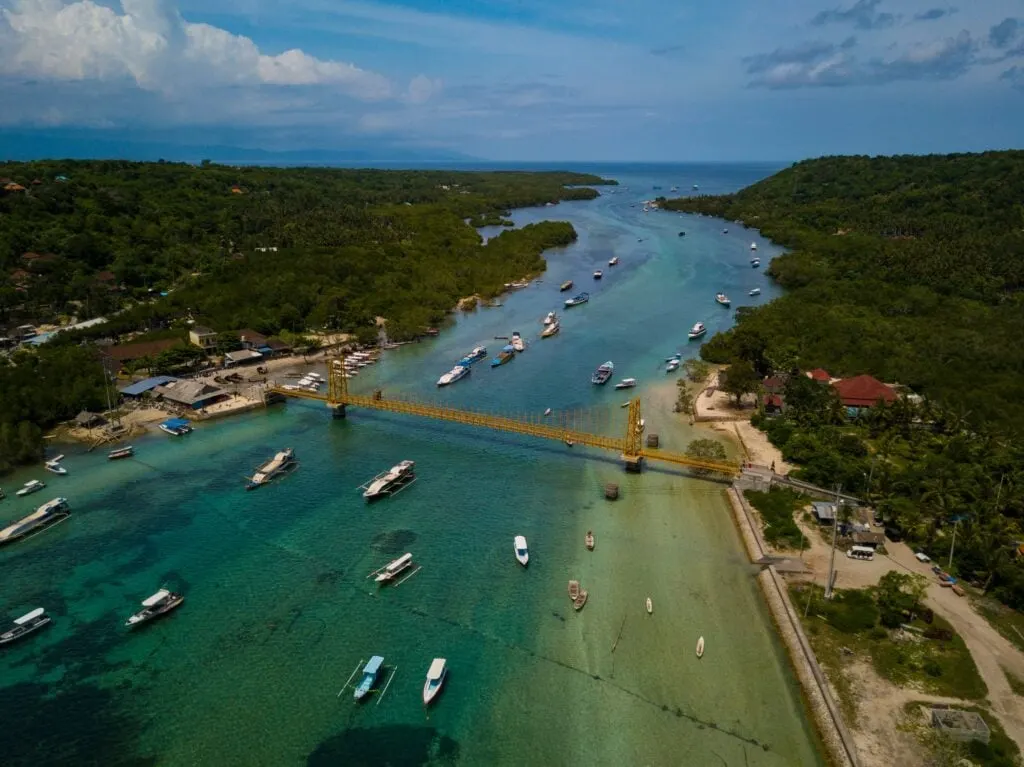 Travel southeast to discover halfway through a yellow bridge, which will take you across to the Ceningan island.
The original bridge we first saw collapsed in October 2016, and since then, there's been a much nicer new bridge.
Once we passed the bridge, we turned right first.
This route took us around to the beaches. We can't express enough how pretty they are. If you like secluded places, head there.
Turning left from the bridge will get you to the top of the mountain.
The road isn't the best one, and it takes some skill not to crash the scooter.
Well, that's how it was the first time around we were there. If things change and improve, please do let us know!
We had some close calls on the rocks that are just lying on the road and seem to be part of it.
When in Nusa Ceningan, take your time and wander around the island.
It took us two separate trips to find some isolated spots and the Blue Lagoon Cliff Jump spot.
5. Find the thrill-seekers at Blue Lagoon cliff jump point
We have to be honest here – we weren't brave enough to jump. Well, the rain and big swell didn't encourage us either to jump.
Few people we met along the way had the courage to jump a few days before, but the waters were very calm then.
The blue lagoon is very pretty to look at and this was more than enough for us.
6. Find the Nusa Ceningan viewpoint
The viewpoint sits at the highest point of the island.
We came across the viewpoint by accident. Simply by taking a road up without thinking about where it will take us.
When coming from Lembongan, take a left from the bridge and follow the road up. The road can be hard to drive, but the view is so worth it once you at the top.
7. Spend the day discovering Nusa Lembongan's beaches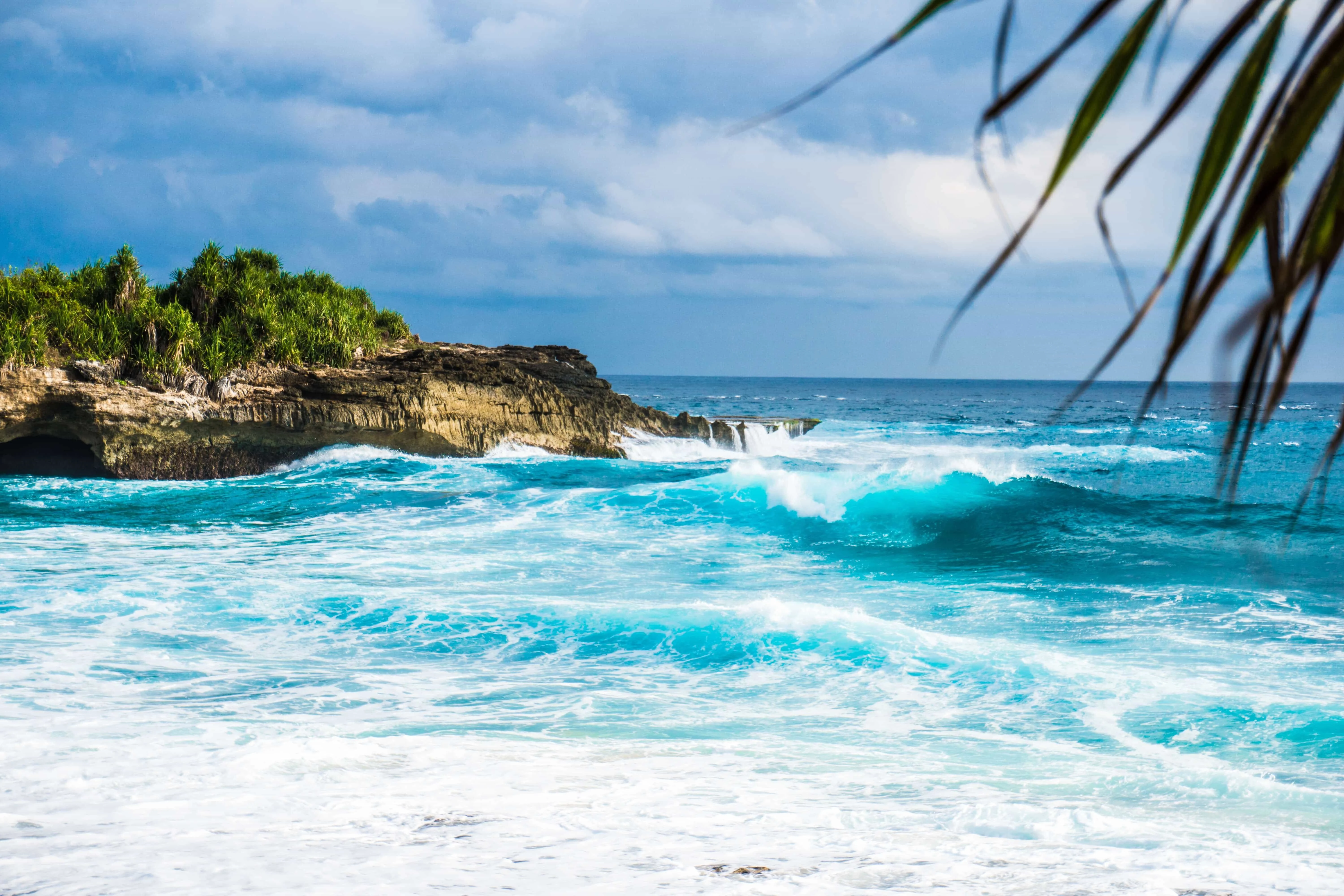 We still dream about being on Dream Beach – that's how pretty it is!
Nusa Lembongan has many hidden beaches where you can relax and swim in warm blue waters.
Jangutbatu Beach is the longest beach on the island, perfect to chill at and watch the sunset. If you get hungry, there's always a place to eat around the corner.
The Dream Beach (located close to Devil's Tear), Sandy Bay, Mushroom Beach or Coconut Bay are great for a relaxing day out where you can lie down and catch some sunshine.
Nusa Ceningan's prettiest beaches are Mahana Point and Secret Beach.
You can easily spend a few days just exploring the beaches here.
8. See the vastness of the seaweed farms at low tide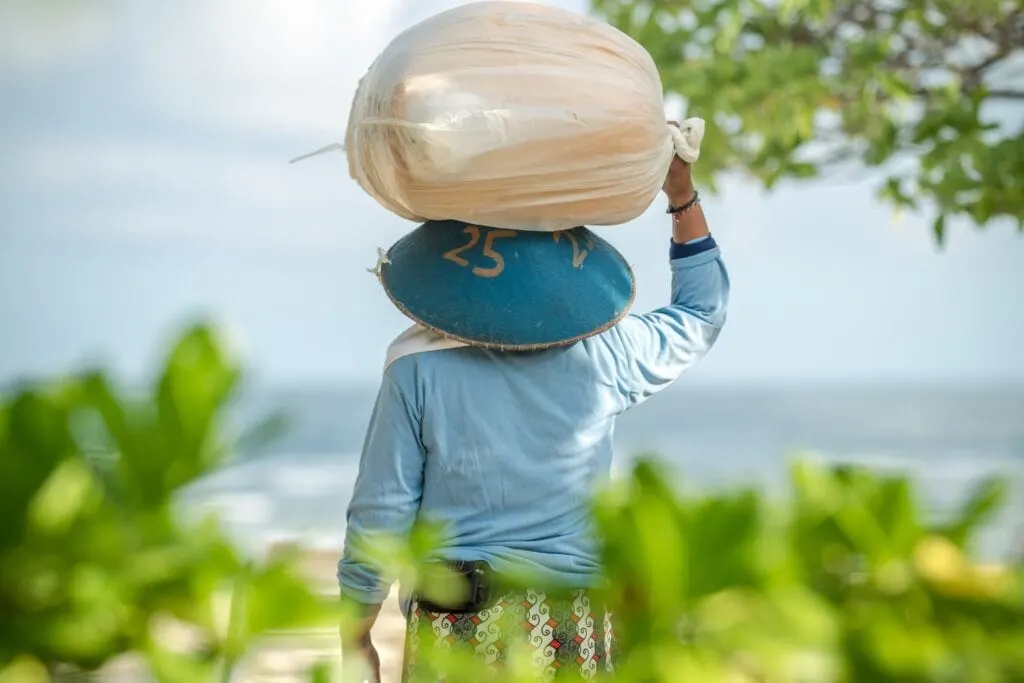 Nusa's seaweed farms sit in the channel between the two islands.
We spent a few mornings here watching farmers.
The seaweed here can only be cultivated in low tide, taking 15-30 days to grow, depending on the type.
Handpicked by the local seaweed farmers, it gets collected in baskets & taken up to the land.
9. Eat at some of the best restaurants in Nusa Lembongan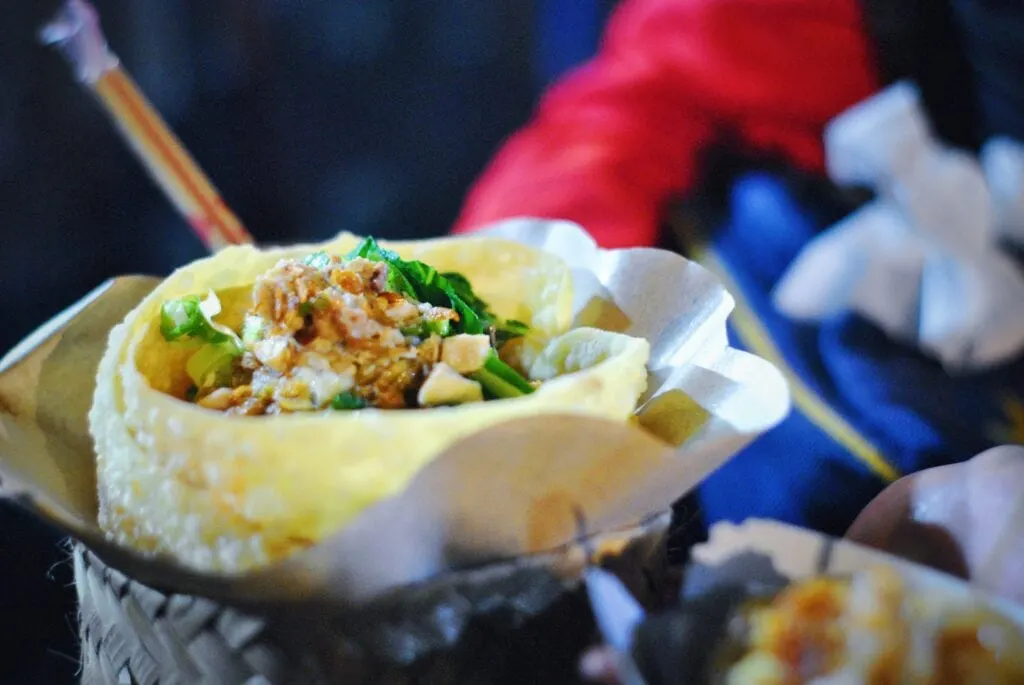 Spending here a few weeks made us realise how good the food is here. We've checked and recommended these:
J. Hai Bar & Grill – the prawns here are absolutely divine!
Sandy Bay Beach Club – the bbq tuna and Mahi-mahi are great. Don't forget to try the cocktails there too.
Next Level Cafe – one of the best breakfasts on the island!
Warung Patu – a family-owned restaurant always serving fresh and delicious food. We had many different dishes here, and they all are so good!
Bali Eco Deli – their salads are to die for.
10. Spot the friendly dolphins swimming around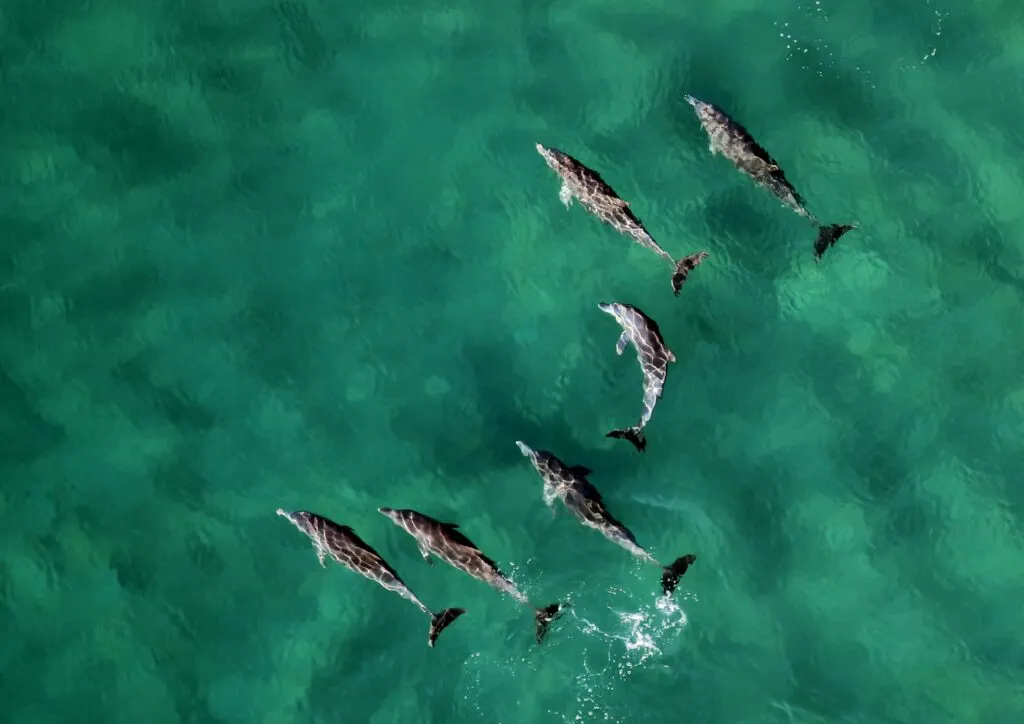 Dolphins are regularly seen at the cliffside of the island.
Just be patient and don't give up, and you'll be rewarded.
We saw them many times during our stay on the island.
There's no better way to start your morning than sipping a coffee, watching the sunrise and having dolphins swimming past.
11. Have some fun – Nusa Lembongan nightlife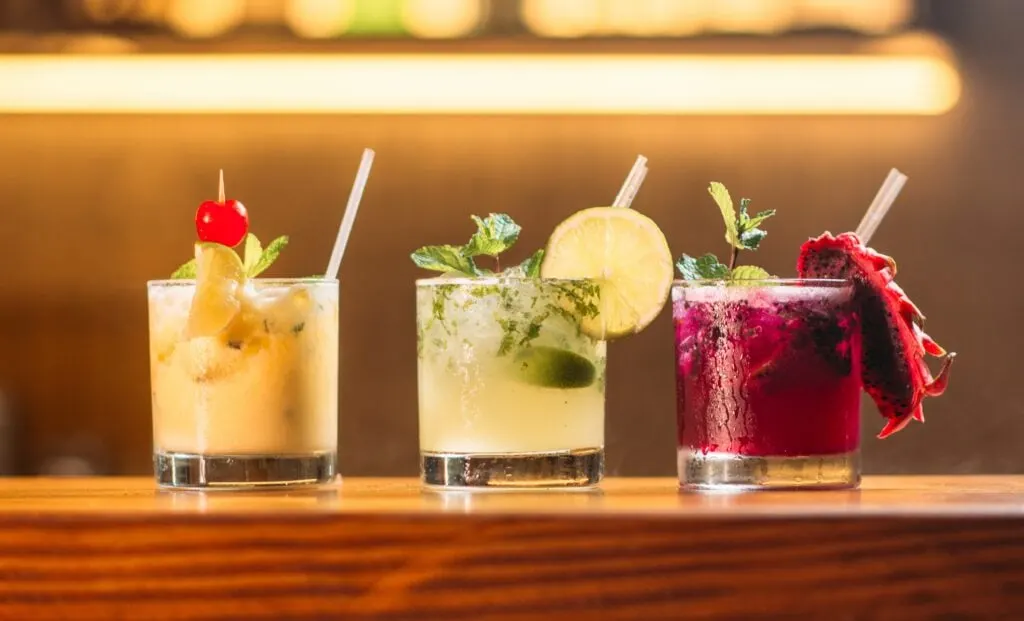 We are spoiled for choice here. There are so many places we enjoyed a cold beverage at.
Great spots to enjoy a glass of wine or cold Bintang are countless, but some that have good views include:
Our favourite spots include:
Cloudland bar
Sandy Bay Beach Club
Ginger and Jamu
Blackwood coffee shop
The Deck Cafe & Bar
Bali Eco Deli organic coffee and juice.
12. Get pampered – try yoga, get a massage and enjoy your time on the island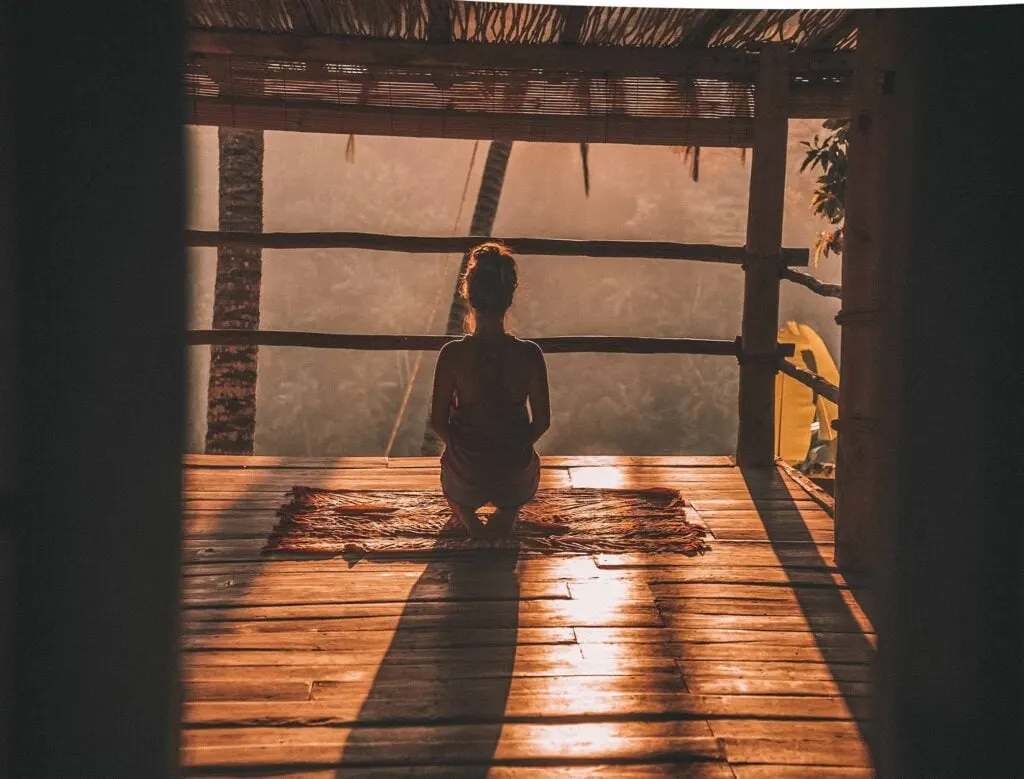 There's no better way to relax on the island!
We decided to take one of the days to just relax and get a massage at Glo Spa in Sandy Bay. This was the best decision we did that day.
We both came out new, rejuvenated, and ready to take on the next adventure.
There are also multiple yoga studios on the island, and with Nusa Lembongan's chilled vibe, it's the ideal place for a yoga flow.
13. Feel the power of the ocean at Devil's Tear
When we first got to explore the Devil's tear, there was literally no one around. But this was back in 2015, and since then, the place has grown in popularity.
Since then, it has become a popular sunset spot, a place to hang around and enjoy the vies.
The tidal pools and the blowhole are truly impressive to watch. When there are big waves at a high tide, the water spitting out from the hole can reach an impressive height.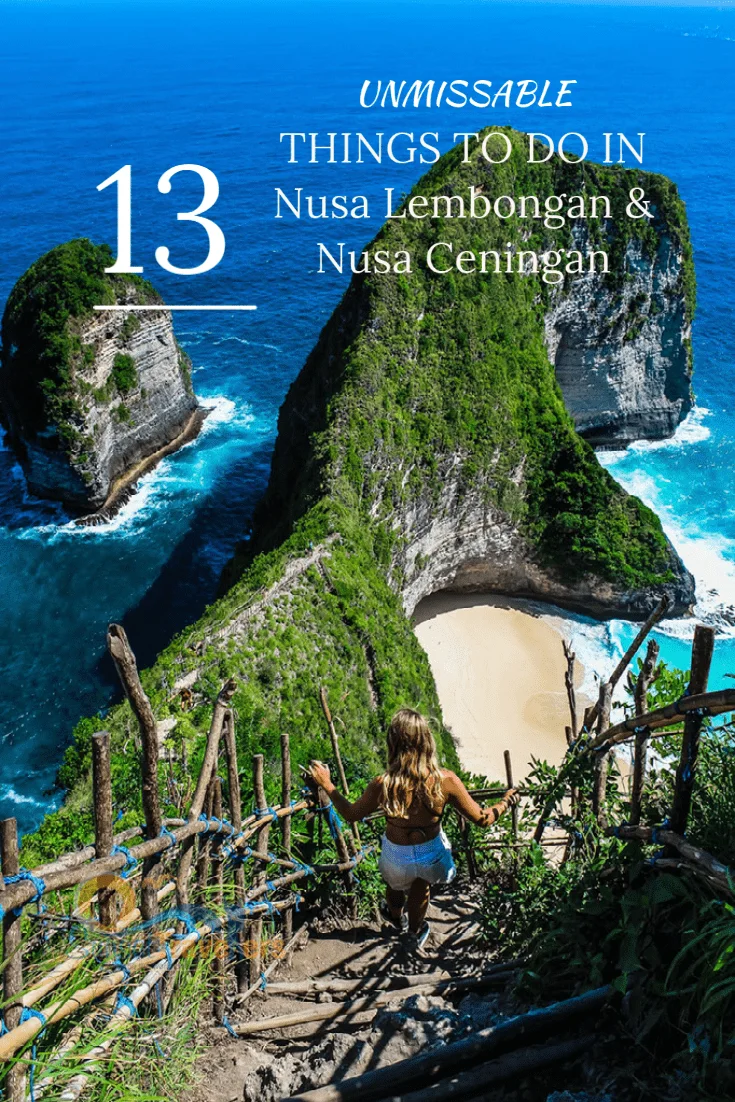 Thanks for stopping by,
Steve and Sabina