If you are wondering whether you should add the Cook Islands to your bucket list of places to visit, the answer is yes!
When we were planning our honeymoon, we didn't think that a pandemic will leave us stranded here and didn't expect that we will spend here two months.
Well, two months and still counting!
We first arrived in Rarotonga on February 27 and had our return flight to Auckland booked for March 26.
The Cook Islands are a group of 15 islands in the South Pacific. We got to explore Rarotonga, Aitutaki and Atiu island.
We still remember saying to a taxi driver that we didn't know whether we would stay the whole month or go back earlier.
'All depends on how we feel in a week', – we kept saying.
Two months later… and we are still here.
This wasn't precisely our decision to stay here so long, but the whole situation with the Coronavirus led to this.
And we couldn't be more grateful to the circumstances that led us to being stranded here.
To be honest, we feel bad to say that we are 'stuck here' as this place feels like home.
Everyone is so friendly and helpful, and we couldn't be more grateful to be here.
Only recently, the Prime Minister announced that the Cook Islands are Covid-19 free.
They carried over 900 tests. The population in Rarotonga is just under 15 000, so almost 9% of the population got tested.
We tried to get back to Europe several times, and every time we booked flights, they got either cancelled or changed.
All this uncertainty made us decide to stop trying and embrace the time we have on the Cook Islands.
From blue water lagoons, white sandy beaches, lush rainforest, to delicious cuisine and one of the friendliest nations, Cook Islands has it all!
From the very first day in Rarotonga, to now – weeks later, we still can't get enough of this place.
Every direction we go on the island, there's always something magnificent to look at.
Before the lockdown, we also managed to explore the islands of Aitutaki and Atiu.
We have spent two nights in Aitutaki and three nights in Atiu. Both islands are very different from each other and the main island of Rarotonga.
Aitutaki, an only short 45-minute flight away from Raro, has one of the most beautiful lagoons we have ever seen.
Hop on a short 40-minute flight, and you will land in Atiu – nature lovers paradise.
Atiu only gets about 1700 visitors a year, but it deserves more attention.
We stayed in Tamanu Beach Resort on Aitutaki and Atiu Villas on Atiu Island.
One day we were snorkelling on Aitutaki, the next morning exploring Atiu caves. The holiday felt like a dream come true.
The second we got to Aitutaki, everything slowed down even more. On Atiu, it felt like the time stopped completely.
We had no idea that weeks later, we will be still in the Cook Islands and planning our return trip to Aitutaki.
The borders are shut now for weeks, with no tourists coming to the island.
Only recently Air Rarotonga resumed flights to the outer island of Aitutaki.
And we will certainly explore more of this beautiful paradise and share our tips in a separate post.
The Cook Islands were supposed to be our last stop on our honeymoon, and we were going to return to Europe end of March.
Then, New Zealand shut their borders overnight, and our flight to Auckland on March 26 got cancelled.
We managed to book seats on a flight going to Los Angeles and onwards to London.
But that got rescheduled and reverted via Washington.
We were afraid to be stranded in the USA, as many countries kept shutting their borders with people ending up stranded at the airports.
After long conversations with family and friends, we decided to wait it out.
The Cook Islands had no cases at that point, and everyone was respecting government rules and restrictions.
We felt good about our decision, found a beautiful beach house with a pool and chilled at the most beautiful beaches on the island.
Days were passing, and we were swimming with the turtles, chilling at a beach or by the pool, went hiking and practised yoga- our daily fun activities.
Finally, we were told that on March 18, Germany organised a flight for all stranded Europeans on Cook Island.
We decided to catch the flight after this decision was made, we immediately started to look into flights to Poland.
Poland, unfortunately, decided to restrict access to the country to non-citizens.
And since we left for our honeymoon straight after we got married, we never legalised our marriage in Poland.
Therefore, even if we got to the Polish border, we could have been denied access to the country.
After many conversations, we decided to stay on the Cook Islands.
The moment we saw the rescue flight taking off, we weren't sure about our decision.
Today, over two weeks later, we couldn't be happier with the decision we made then.
Although we aren't sure when borders will open up, and when we will be able to return home, we are grateful to be here.
The Cook Islands are officially Covid-19 free and most of the restrictions are now lifted.
We get to go to restaurants, relax on the beach, have a cocktail, and meet others who decided to stay here too.
Life in the Cook Islands is beautiful.
Being stranded made us realise how lucky we are to be here.
The Cook Islands are one of the most beautiful places we have visited on our travels.
We are so excited to be able to call this paradise home for now.
If you haven't been here, make sure to add this breathtaking destination to your bucket list.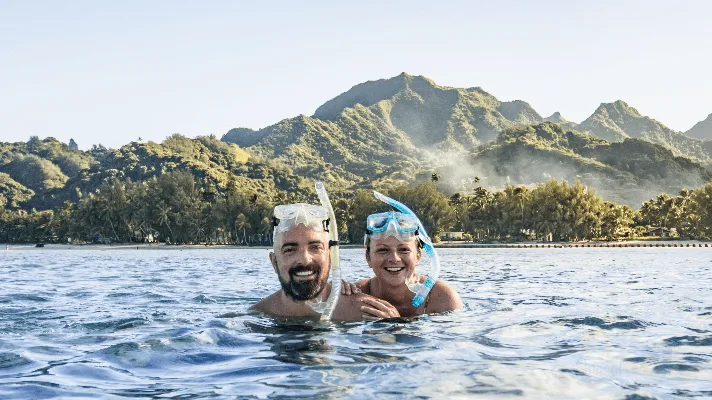 Once the borders open up again, and it is safe to travel.
Until then, Meitaki maata for reading our post.
Stay safe!
Steve and Sabina