We recently spent an incredible 14 days travelling around New Zealand South Island.
A New Zealand road trip was on our bucket list for many years now, and since we started planning our honeymoon, we couldn't help but come here for a few weeks.
We had three weeks in New Zealand and spent 14 days travelling around the South Island.
You could easily spend a few months in this stunning country and explore nature's creations.
If you, however, have a limited time, two weeks are sufficient enough to explore some of the best places in New Zealand South Island.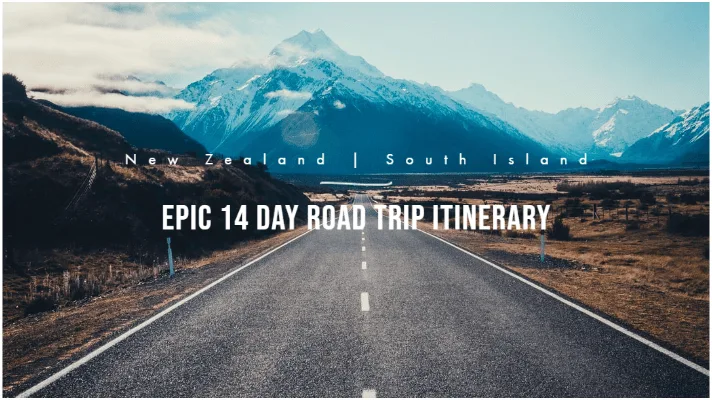 We read a lot of guides, and most of them included famous places such as Milford Sound, Fox Glacier and more – which we also wanted to see.
Unfortunately, the day before we arrived, the South Island received so much rain, that the road leading to Milford Sound was completely washed off.
Many people had to be evacuated, and no tours were going to the west coast.
If you are planning to visit some of the best natural attractions in New Zealand South Island, make sure to have the flexibility and plan accordingly.
You might need to change your plans on a daily basis as the weather changes a lot over here!
If you are flying to Queenstown, you will quickly realise why is this city so popular.
We arrived in Queenstown on February 4th and it literally took minutes to fall in love with this place.
Views everywhere, you simply can't get bored of them!
We ended up staying here for a week after our road trip, but you can easily get a feel for this place in just 3-4 days.
We will start the New Zealand South Island road trip itinerary exactly as we travelled, but you can easily start off at a different point and change the itinerary to suit your plans.
Here's our epic New Zealand South Island 14 day road trip itinerary:
Queenstown 3 nights itinerary:
Walk along the Queenstown lakefront trail and explore the town.
When you first arrive in Queenstown, you are immediately surrounded by mountains and one of the bluest lakes we've seen.
The views are literally to die for here.
One of the best ways to explore this area is on foot.
Stroll around the town, relax at the Queenstown Gardens and walk the Queenstown trail.
It is a very relaxing way to spend your first day after arriving here.
We guarantee you won't be disappointed.
Hike the Tiki Trail and the Ben Lomond Scenic Reserve
The next day, head to the bottom of Queenstown Gondola and tackle the Tiki Trail.
The trail is a bit challenging at first, but once you are at the top, you are rewarded with a stunning view.
If you don't feel like hiking, you can take the Gondola up and walk down.
We highly recommend hiking the Ben Lomond trail as well if you have the energy and time for it.
Make sure to take enough water for the hike and wear appropriate footwear.
What a great way to spend your day in Queenstown!
This is a truly thrilling adventure, and we recommend it to everyone. It isn't cheap by any means, but totally worth it.
Here you get to ride through the Shotover canyons at over 85kmp.
Afterwards, make sure to head to the Canyon Brewing for a refreshing beverage or a bite to eat.
The Brewery, located next door to the Shotover Jet centre has a great beer selection, and the food is yummy!
Hike up the Queenstown Hill
This was one of our favourite hikes we did on New Zealand South Island.
We started from the town centre and headed up the hill to the start of the trail.
To be honest, we feel like this part was actually more challenging than the actual trail itself.
Take your time, admire nature, and once you get to the top, you are rewarded with 360-degree views.
The hike took us over 3 hours with a lot of stops and a long rest at the top. Make sure to wear appropriate footwear as it can get slippery when wet.
We also recommend a jacket or a sweater as it's chillier at the top. Don't forget to pack a bug spray, hat, sunnies, suncream, water and some food.
New Zealand South Island – Wanaka 2 night itinerary:
Wanaka has a lot to offer. Here you can spend your time soaking in the views, kayaking, or hiking one of the many trails in the area.
Stroll the Lake Wanaka walk/cycle track and see the Wanaka tree
One of the best ways to see the Wanaka lake and the famous Wanaka tree is on the Lake Wanaka walking track.
The track is flat and very pleasant to walk on or cycle. We spent about two hours walking the trail, with many photo stops.
Go kayaking on the Wanaka lake
There's no better way than looking at the mountains from the middle of the lake.
You can rent a kayak and explore the lake at your own pace or join one of the many available tours.
Keep in mind that even in the summer months, the weather might not permit for you to go on the lake, so plan ahead of time and check the forecast regularly.
Take the Mt. Iron trail and see the Lavender farms
If you are looking for a short, yet challenging walk, then the Mt. Iron trail is perfect for you.
Many locals take advantage of this trail for their morning workout.
We started the trail at 9 in the morning, and by the time we were going back down, there were at least 30 others hiking up the mountain.
The trail takes about an hour to complete.
After you are done with your morning workout, head to the Wanaka lavender field. There's a small entry fee, but you get to be in Instagrammers heaven.
Take your time, take some pictures and when you are finished relax with a cup of lavender tea soaking in the views.
Go for a dip at the nearby Lake Hawea
After you are finished with the lavender farms, grab a lunch and head to the nearby Hawea Lake.
Here you will have the lake almost entirely to yourself, and if you are brave enough, jump into the water for a swim.
We guarantee you won't regret coming here!
It's such a beautiful and quiet lake. The beach is covered with stones, but this makes it even more special.
Hike the Roys Peak or the Isthmus Peak trail
Both peaks are about 8-hour hikes return, and you will need a good level of fitness to complete them.
We ran out of time to complete the hikes but if you get the chance, make sure to do one of them for some fantastic views.
The Roys Peak is by far the most popular trail. We were recommended by the locals to do the Isthmus peak instead.
Both these New Zealand South Island trails have a countless amount of photo opportunities, so the choice is yours.
Lake Tekapo 2 night stay:
From Wanaka head for a two-night stay to lake Tekapo.
We stayed in Twizel, at the Highlands Farm Stay in the dark sky reserve.
From here it's a short drive to Lake Pukaki and Tekapo lake.
The Pukaki lake, located only 20 minutes outside of Twizel, has one of the bluest waters we've seen.
Here you will find a lot of hiking trails, with the Hooker Valley trail being one of the most visited.
The trail takes about 2-3 hours to complete, and it's a relatively easy trail suitable for all ages and fitness levels.
Make sure to bring enough water and some snack for the walk.
The scenery here is absolutely stunning, and you would want to take a picture every few meters.
We started the trail at 11 am, which surprisingly didn't have too many people. When we were returning, however, it began to be a lot more crowded.
Christchurch 1 night:
After spending two days exploring some of the best trails the South Island has to offer, we headed onwards to Christchurch for a one-night stopover.
We booked an Airbnb just outside of Christchurch and got there quite late so didn't get to do much sightseeing in Christchurch.
It took us well over 5 hours to get to Christchurch from Twizel.
The next morning we headed to Kaikoura and had lunch at Hislop's Wholefood Cafe.
From there, we had a few coffee shops, including a break at the Store restaurant.
It takes just under five hours to get to Marlborough from Christchurch, so the earlier you leave, the more time you will have to explore the beautiful scenery on the way.
Marlborough 2 night stay:
The second we arrived in Marlborough, we quickly dropped our bags at an Airbnb and headed straight for Villa Maria winery.
The Marlborough wine region was on our bucket list for years now.
We still remember our first date in a restaurant back in Ireland ordering our first bottle of Marlborough Sauvignon Blanc.
We were super excited to be able to explore some of the best wineries in New Zealand's Marlborough region.
When you get to Marlborough wine region, you ideally want to visit wineries earlier in the day as they all close at 4 – 4.30 pm.
Explore the famous golden mile on a bike or foot.
But if you are planning to see some of the less-visited wineries, make sure to have a car and a driver to take you around.
During the two days in Marlborough, we visited Villa Maria, Cloudy Bay, Huia and few others.
If you get hungry after a day of wine tasting, head to Granado's Restaurant and Bar.
We highly recommend making a reservation there well in advance.
Drive the Queen Charlotte Track
The next day, head over to the town of Havelock and explore the Queen Charlotte Track.
When in Havelock, make sure to visit the Mussel Pot restaurant for fresh and delicious green limpet mussels.
If you get the chance, do one more wine tasting before heading back to your accommodation.
Greymouth 1 night stay:
From Marlborough, we headed to Greymouth.
There was a lot of stops and picture opportunities along the 4+ hour journey.
We stopped at the Alpine Lodge along the way and had a lunch stopover at Zen's Kitchen.
It was raining a lot throughout the whole journey to Greymouth. Therefore, we decided to skip some of the short hiking trails we planned out to do.
When we got to Greymouth, we decided to head for dinner to Monteith's Brewery.
Another popular food spot includes Santa Fe Milk Bar, the Hokitika Sandwich Company and Stella Cafe in the nearby town of Hokitika.
Franz Josef Glacier 1 night:
The following day the weather didn't improve. Therefore we kept driving until reached the town of Franz Josef Glacier.
Even though it was raining a lot, we decided to take the chance and see the glacier.
From the Franz Josef Glacier car park, the trail was hectic, and once we got to the end of it, all we got was more rain and thicker cloud cover.
From there we headed straight for the Franz Josef Glacier Hot Pools and spent there the late afternoon.
The hot springs were a perfect way to relax after a hike and seeing nothing.
But according to many locals, only 10% of people get to see the glacier as the weather here is so unpredictable and changes every hour.
Head to the Fox Glacier Valley
The next morning we headed for the Fox Glacier valley walk, and again, the weather was so bad that we saw absolutely nothing at the end of the hike.
Even with the bad weather, the place was pretty spectacular.
From Fox Glacier, we headed through Haast to Arrowtown. The journey itself took over 5 hours with several stops.
We stopped for lunch at the Hard Antler, a great spot if you are looking for decent food.
On the way to Arrowtown, make sure to stop at the Cardrona village with its historic Cardrona Hotel.
Arrowtown 1 night:
We heard a lot about Arrowtown and decided to stay here for one night before heading back to Queenstown.
We have booked a hotel room in town centre only to realise after arriving that the reservation was made for the next month.
Ever place was fully booked in Arrowtown, and after long research, we decided to stay a night at the nearby Nugget Point hotel.
Before you leave the charming town of Arrowtown, however, head to the lake Hayes for a lovely walk.
If you are looking for an excellent place to eat in Arrowtown, then The Fork And Tap was our personal favourite.
New Zealand South Island road trip facts:
Car rental cost: We hired care with Ezi car rental. A return trip to Queenstown cost us just over NZD800 for an SUV. We got a lot of different quotes, and they came the cheapest. Shop around before settling on any deal.
Accommodation cost: Accommodation costed us on average NZD 150 to 200 per night. We stayed at hotels and Airbnb on the road trip.
Food costs: If you are eating out, expect to pay anywhere between NZD 15-30 for a main course at a restaurant. We usually made our own breakfast and lunch and ate out for dinner only. This way you are able to cut your spending almost by half.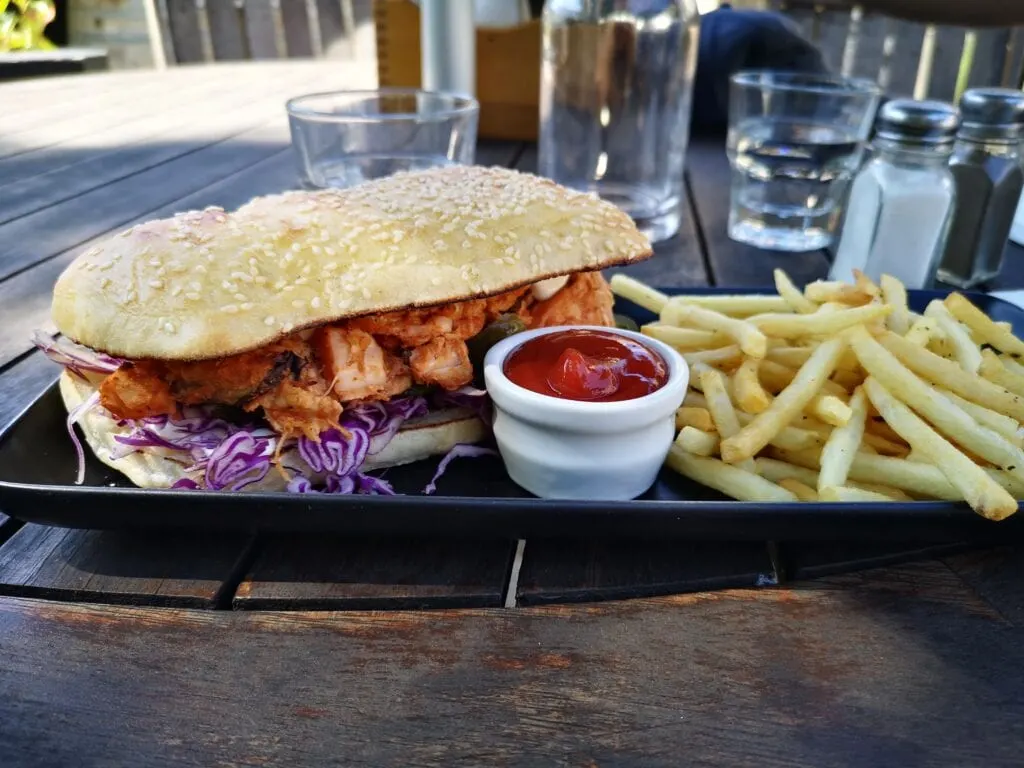 Make sure to pack appropriate clothing and footwear depending on the time of the year. There's a lot of stores where you can purchase any missing gear, but keep in mind that things aren't cheap here.
We hope that you will enjoy your New Zealand South Island road trip.
Please comment below with any questions or tips you might have.
Safe travels,
Sabina and Steve