After three weeks in the city and eating out most of the time, we have discovered the best restaurants in Antigua Guatemala.
The Guatemalan cuisine is exceptionally vibrant with many international and local dishes to choose from.
We found a lot of good spots ranging from 30 Quetzales to fine dining options for Q200 for the main course.
Here are our ten best restaurants in Antigua Guatemala:
Por Que No? Cafe
A unique style restaurant located at the corner of 9 Calle Oriente and 2 Avenida Sur. Por Que No? Cafe offers delicious food with a twist. The decor is undoubtedly one of its kind, and you won't find another place like this anywhere.
This tiny restaurant is a must to experience when looking for the best restaurants in Antigua Guatemala. We dined here several times and would return in a heartbeat. The place gets jam-packed at times as its so small. Have a drink and enjoy the experience while waiting for your table.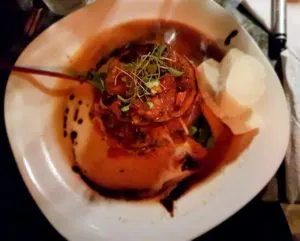 Cafe No Se
1 Avenida Sur holds in our opinion one of the best bars in town. The menu isn't extensive in any way, and we stopped here several times to grab a quick drink.
The entire place is litten up only by candles, and it's a great spot to meet young travellers. They do have food on the menu however we haven't tried it.
We highly recommend this place for its unique atmosphere and completely different feel of Antigua.
Luna de Miel
Probably Antigua's most famous crepe place and one of the best restaurants in Antigua Guatemala. You can't come here and not order one. Ranging from mouthwatering savoury fillings to yummy crepes stuffed with fruits, whipped cream and Nutella.
The place is always busy. The menu is so good; it's hard to decide what to get.
Our favourite was savoury crepes, but if you have a sweet tooth, you won't be disappointed. If you are coming over with someone, we recommend sharing the crepes as the portions are enormous!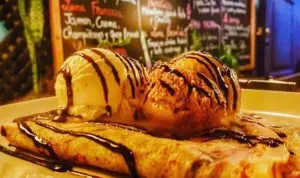 Hector's Bistro
Fine French bistro in the heart of Antigua.
We stumbled upon this restaurant by accident and loved its warm, romantic atmosphere.
This tastefully decorated restaurant has one of the most delicious steaks. We went for the daily special which included portobello mushrooms, prawns and the steak.
The restaurant is definitely for those with a higher budget, but the food is worth the money spent. Their wine list features a good selection of French wines so don't be afraid to have a glass of red.
Frida's
Located steps away from the famous arch, Frida's serves tasty Mexican food.
They usually have a band on the weekends playing Spanish music. The food is fresh, delicious; here you will find tasty tacos, nachos, burritos and more.
The drinks menu is also worth mentioning with delicious margaritas, micheladas, and mojitos.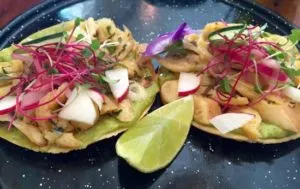 Antigua Brewing Company
Our favourite rooftop bar! The views on a clear day are spectacular, and you can see the Fuego Volcano erupting every few minutes.
The brewing company has its beer brewed right here in Antigua. A must try the taster tray.
The fish and chips are fresh, delicious and an excellent treat for few beers. This place is perfect for anyone looking for good music, impressive views and relaxed atmosphere.
Como Como
Featuring European dishes, Como Como has one of the tastiest menus in Antigua. This tastefully decorated restaurant features an outdoor garden where you can enjoy your dinner by the candles.
The tuna tartar is one of the best entrees we ever had. The goat's cheese salad is delicious and perfect for a light dinner. No matter what you get, we guarantee you won't be disappointed!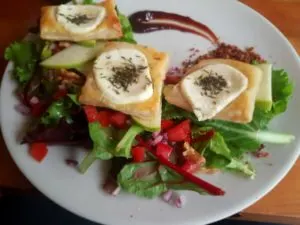 Cafe Mediterraneo
This restaurants menu will take you right back to Italy.
Featuring delicious Mediterranean dishes prepared by the owner and chef, the menu is perfect to enjoy an authentic cuisine far away from Italy.
The board features daily specials with delicious bruschettas, pasta dishes and more. The friendly staff always offers help with wine pairing so make sure to ask for suggestions.
Rincon Tipico
If you are looking for an authentic Guatemalan dish at affordable price look no further.
Rincon Tipico offers food at 30 Quetzales per plate. The menu features 3-4 dishes served with hot tortillas made in front of your eyes.
This is one of the busiest and cheapest restaurants we found in Antigua. Whether you are on a budget or just looking for an authentic cuisine, this is your place.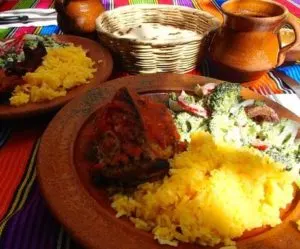 La Tortilla
This isn't your typical restaurant; La Tortilla is a Guatemalan cooking school.
Here you will learn to prepare typical national dishes with a chef. You will have the opportunity to put the ingredients together to create delicious local recipes.
La Tortilla is an experience in itself, and we highly recommend it to people of all ages. If you love food and wine, this will be your happy place. Make sure to book your spot in advance as they are usually very busy.
Hope you enjoyed your dining experience in Guatemala as much as we did and checked out at least few of the best restaurants in Antigua Guatemala. Please feel free to share your thoughts and recommendations.
If you are looking for a place to stay in Antigua, we found terrific and affordable accommodation via Airbnb. If you are new to Airbnb, you can get a discount off your first trip with this link. Enjoy!