Shipping to Canada seems to be a topic that comes up over and over again.
When we first moved to Canada, we had a lot of stuff to take with us but very little space in our suitcases.
Most airlines will charge an arm and leg for an extra suitcase or set of skis.
We've been looking at all the best options for shipping to Canada.
Like most of you, we just didn't want to spend too much of our budget on sending our belongings.
Many of our friends asked us, what's the cheapest way to ship to Canada, as they simply had too much stuff they needed.
Since this question kept coming up, we decided to put together easy shipping to Canada guide.
We all have clothes, tools, skis or golf clubs we need to send to Canada.
We've long now worked with Send My Bag to give all of our friends and readers 5% discount on shipping to Canada.
This will allow you to arrange international shipping to Canada or elsewhere at the cheapest rate.
They can even pick up your belongings from your home which makes a world of a difference!
Whether you are looking to send luggage, box, or a piece of equipment, Send my Bag has the best service one can ask for.
If you are moving from the UK to Canada or need to ship luggage from the UK to Canada, Send my bag has you covered.
Even our families used their service for sending gifts to Canada for Christmas and other occasions.
Here's why you should ship luggage to Canada with Send My Bag:
It is one of the cheapest and fastest ways to send a bag to Canada
A quick & affordable door to door delivery of your bags & boxes to over 100 countries
It is relatively cheap and hassle-free
Much less hassle than having to bring two or three bags with you on a flight
Sending luggage to Canada to and from the UK, the US, India, Europe, Asia, Africa, South America and many more.
You don't need to worry that your luggage will go missing in transit, either, as Send My Bag allows you to track your bag through both local and international couriers until delivery.
They can collect your items right from your doorstep and deliver to most major cities within 1-2 days.
Send My Bag estimates a delivery date for your luggage, and provides the best rates for shipping excess luggage to Canada and internationally.
If you're going to Canada for an extended trip, an adventure holiday or a fly-drive holiday, taking everything you need in one case can be very tricky.
Travelling to Canada in winter and have bulky jumpers or ski gear to bring with you?
Send My Bag can ship luggage to Canada for you.
If you are going on a ski holiday to Canada, moving permanently or travelling on an IEC visa, you can send your things to Canada with them.
This way, you will be able to bring many more items than you could if just checking in one bag on a flight to Canada.
With Send My Bag you can send baggage, luggage and parcels to Canada.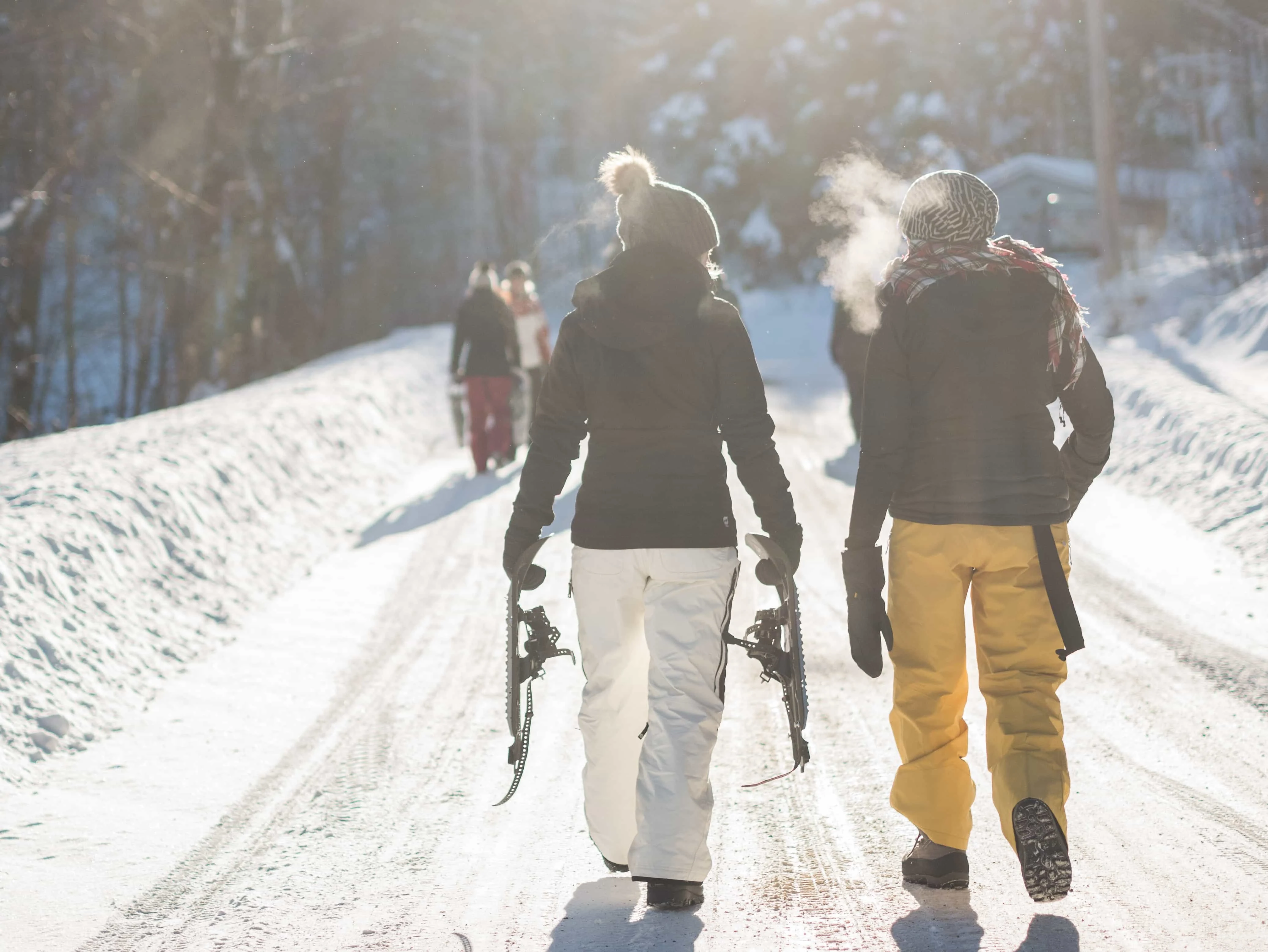 Are you looking to send large, chunky items like a desk or armchair?
Don't worry, they also have you covered!
The cheapest way to send a bag from Canada
Some of you reading this might need to send a parcel from Canada to Europe, Us or Australia.
No worries!
Head over to the Send My Bag website where you get 5% off delivery worldwide.
They are delivering to more and more countries, and since 2014 have added a whole host of countries which we never thought would be possible!
For example, we were in Nicaragua and had way too much stuff, sure enough, we were able to send a bag from Nicaragua to Ireland! Literally blown away.
So if you are looking for the cheapest way to send a parcel from Canada check out some of their rates here and reserve your 5% discount.
Make sure to read some of their customer reviews below: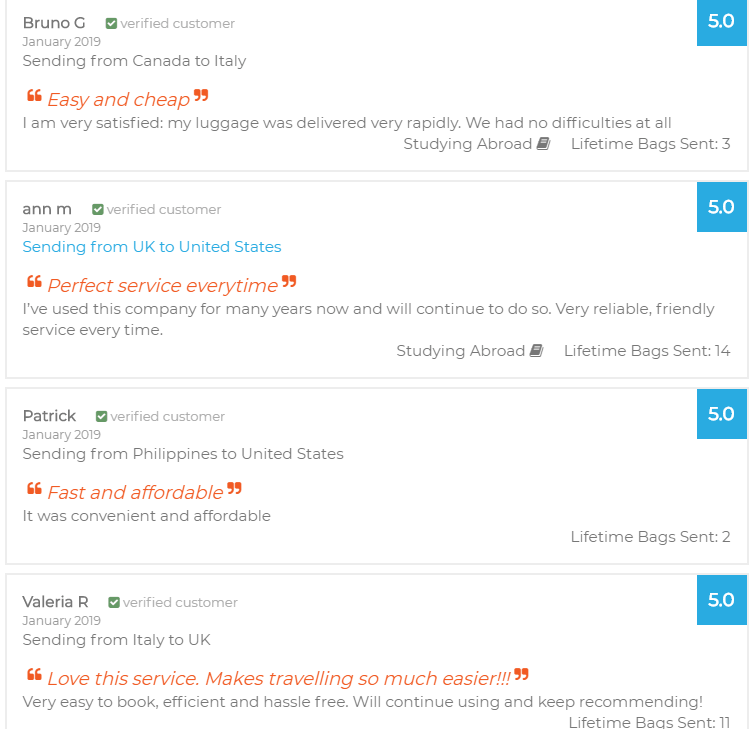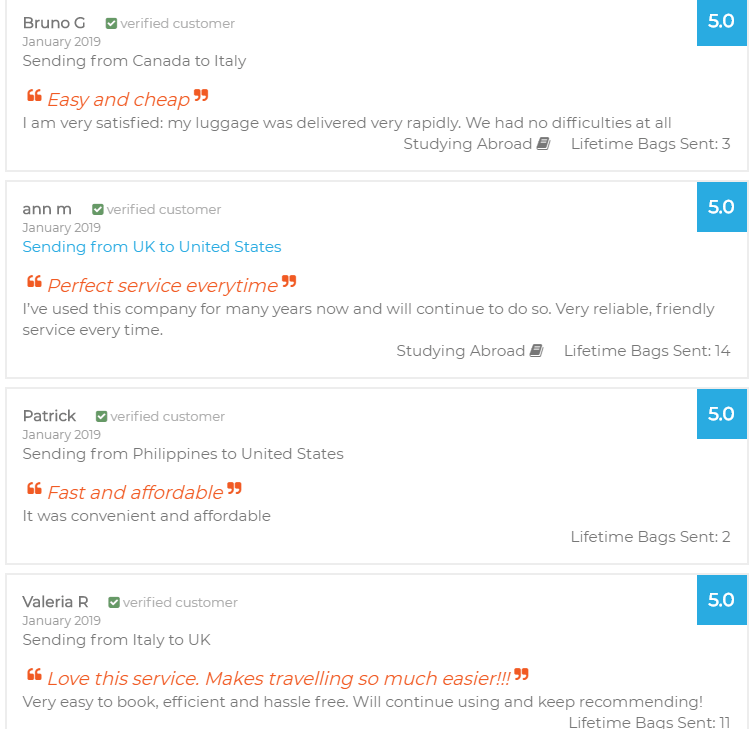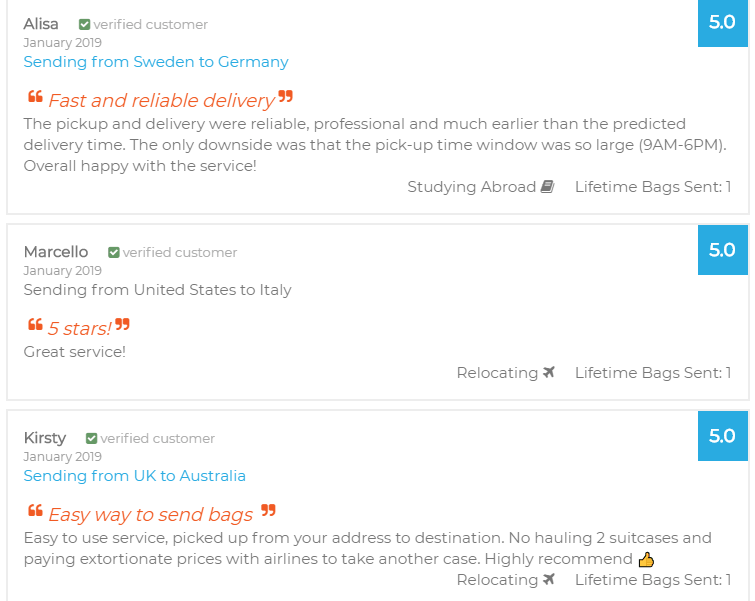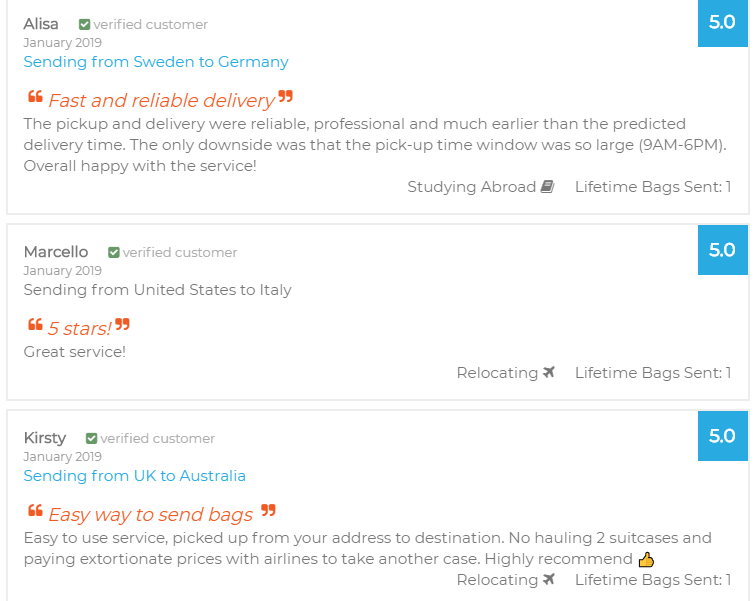 We hope that this post was very helpful and solved your luggage shipping issues.
If you need a little extra help, here are some useful links you may also like:
Airbnb – We love Airbnb and use it everywhere you travel! If you are new to Airbnb follow the link for $55 discount of your first stay.
Booking.com – Perfect alternative to Airbnb when you need a short place to stay.
Hostelworld – If you need a cheap place to stay where you can meet other travellers, Hostelworld is the best.
Scotiabank unsecured credit card – You will need a credit card in Canada! Scotiabank have a great one specifically for travel.
CurrencyFair – Our favourite money transfer company. They are 8x cheaper than banks. Follow the link for 5 free transfers with CurrencyFair.
OFX – Another great money transfer company for larger transfers. We use them for large lump sums. Follow the link for free transfers for life over 1k.
WorldNomads and TrueTraveller – The best travel insurance companies on the market! We personally used them both and can highly recommend them.
Taxback.com – Every time we have to do our taxes or claim Superannuation we use these guys.
Skyscanner – Our go-to tool for finding cheap flights.
Thanks for stopping by!
Steve and Sabina