Welcome to our ultimate 8 day Boston road trip guide on the Maine Coast including Acadia National Park.
We've recently completed an 8-day Boston road trip up to Acadia National Park.
We had an absolutely incredible time and wanted to share as many tips about this road trip as we could!
There is so much to see on the way that you probably would need a month or two to explore every bit of the coast, therefore planning this trip was not easy.
We tend to do very little research when travelling to a new destination and ask locals once we get there.
However, this Boston road trip felt different and we felt like we should plan our trip ahead of time.
So let's get into the details and tips for our incredible Boston road trip!
Our overall experiences during the road trip
We travelled from the 17th to the 25th of June and got all different weather conditions.
From 30 degrees celsius and no cloud in the sky to 12 degrees and pouring rain all day long.
The coastal weather, although bit unpredictable, allowed us to discover different sights and gain different perspectives on the area.
If you are planning to travel this time of the year, make sure to pack a rain jacket and extra layers of clothing.
Here are a few things you should know before travelling from Boston to Acadia National Park.
Weather and best time to travel the coast of Maine to Acadia National Park
The best time to visit Acadia National Park is by far outside of the high season (July and August).
March, April and May can be very wet.
June, September and October are the best times to travel the coast of Maine, as you can enjoy your sightseeing with warm weather and fewer crowds.
When travelling the coast of Maine, keep in mind there is plenty of mosquitos and black flies.
We were fortunate as there were no black flies during our trip, but make sure to have a mosquito/bug repellant at all times with you.
The second you stop on a hike, bugs can quickly become unbearable.
You might also want to consider purchasing bug sprays ahead of time. We visited three shops before grabbing the last two repellants on the shelf.
What to wear on Boston road trip
If you are planning to travel the coast of Maine this time of the year, make sure to pack comfortable, light clothing, one or two jumpers and a rain jacket.
Quality shoes or hiking boots are also a must if you want to explore the area.
Always travel with some extra water, suncream, sunnies, hat and a good map.
We found workout clothes to be the best suited for the trip, you might, however, want to consider some long pants and long-sleeved tops.
Car rental and fuel costs on coastal Maine road trip
We booked our car rental through Thrifty.
Total cost for an SUV came to USD 1200, including comprehensive insurance.
The fuel bill came to USD 115 for the entire trip, it was an eco SUV apparently.
We took the coastal route at all times; therefore we also avoided tolls which can quickly add up to a hefty bill.
You can opt-in for a toll package with your car rental provider but it worked out as USD15 extra per day so decided against it.
Although we made sure to select "avoid tolls" on Google maps, we were still billed USD 71 for tolls.
We also stocked up on some of our best travel snacks for the road to avoid unnecessary stops.
We also had some awesome tunes to play from our road trip playlist.
Where to stay on Boston road trip
We stayed in Inn's, Airbnb's and B&B's averaging USD 120-150 per night.
We will include more details on the accommodation as we go along our Boston road trip route.
Airbnb is by far our favourite way to book a place to stay.
You actually get to stay in local areas, away from busy hotels and explore the surroundings like a local.
If you are new to Airbnb, make sure to read our guide to booking your first Airbnb and get a $76 discount towards your first stay.
Now onto our Boston, coastal Maine and Acadia National Park road trip itinerary!
Boston to Newburyport road trip – 1-night stay in Newburyport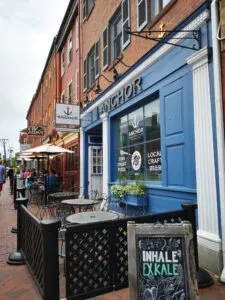 Newburyport is a small charming coastal town, located on the waterfront.
It takes approximately 45 minutes to get to Newburyport from Boston Airport.
As we had a late flight, we only arrived in Newburyport at 7 pm. We booked our first accommodation via Airbnb at Market Street Inn.
The place is very well located within short walking distance to the town centre and the waterfront.
The first night we had a seafood dinner at Michael's Harborside restaurant.
The lobster haddock and Michael's seafood pasta toss were delicious.
We didn't realise how big the portions are going to be so probably could have avoided eating bread before the food arrived.
The next day we went to explore Plum Island and the Park River National Wildlife Refugee.
Make sure to add this stop in as Plum island is an incredible site. It is only about 10 minutes drive from the centre of Newbury port
The Plum island took its name from the beach plums that grow wild along the dunes.
The area is very calm and perfect for enjoying a walk, cycle or run.
To visit the Wildlife Refuge, you will need to pay USD 5 entry fee (valid for 24 hours) per car.
It takes about 30 minutes to drive from the entrance to the end at Sandy Point.
Here you can enjoy peaceful nature at its best, with several walking trails and bird-watching platforms, you can easily spend a few hours here taking in the scenery.
After you are done exploring, head for breakfast at the Tennery Historic Marketplace.
Here you will find several quality restaurants and many unique craft shops.
We took our time here and did a bit of shopping.
If you wish to grab a bite to eat before you hit the road again, we highly recommend Black Cow Tap & Grill.
We got to enjoy an evening meal on the way back to Boston the last day, and their food was fantastic.
Newburyport to Portland road trip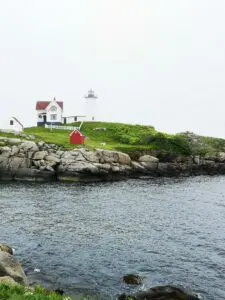 The drive from Newburyport to Portland is spectacular!
Take the 1A route that will take you along the coast through the beach town of Hampton and continue to 1B through New Castle and Portsmouth.
Portsmouth has several restaurants to choose from if you get hungry.
We were looking forward to Surf Portsmouth restaurant. Unfortunately, they were closed when we got there (they are only open from 4 pm on that Tuesday).
We opted in for the River House restaurant instead. Although the portions were generous, they lacked a lot of flavours, and they don't have any healthier options available on the menu.
When here, however, keep an eye on the Memorial Bridge.
The World War I Memorial Bridge is a vertical-lift bridge that carries U.S. Route 1 across the Piscataqua River between Portsmouth, New Hampshire, and Badger's Island in Kittery, Maine, United States.
It is an impressive sight to see when they lift the bridge for massive cargo ships to pass.
When you are ready to hit the road again, continue on Route 1 and go over the Memorial Bridge, then turn right onto 103 towards Kittery.
Pass the Cuts Island where you can stop and stretch your legs.
The Cutts Island loop trail is less than 3km long perfect for all skill levels.
If you decide to skip the trail, continue on 1A to Cape Neddick and the Nubble Lighthouse.
From here we decided to go back on the road and head towards Portland as it was already 4 pm and we still had a good 1-2 hours of driving ahead of us.
If you, however, want to stretch your journey and explore some attractions along the way, here are few places you should check out.
Rachel Carlson National Wildlife Refuge – established in 1966 in cooperation with the State of Maine to protect valuable salt marshes and estuaries for migratory birds.
Kennebunkport – This small coastal town, beloved by sea captains who once built their mansions here, has a lot to offer. From exploring the city, kayaking, sailing, whale watching or fishing to enjoying some of the summer events held here. You can easily add this town to your itinerary without regret.
Old Orchard Beach – The famous Old Orchard Beach Pier, located right in the centre of the beach the pier was first built in 1898 and once marched over half of km out into the bay. The 11 km beach attracts all ages during the summer offering a range of activities to suit all.
Scarborough Beach State Park – Open from 9 am to 8 pm during the season, the state park can be visited for a fee. Scarborough Beach offers some of the best swimming in the area during the summer months. Take your swimming gear and enjoy the day at the beach.
Portland to Camden road trip – 2 nights in Portland
Welcome to the part of your road trip where Lobster rolls become a way of life.
When you get to Portland, you quickly realise that the town is much bigger than what you saw on your way here.
We booked an Airbnb for the two nights located about 20 minutes walk outside the historic downtown.
Although the place was beautiful, it lacked a lot; therefore we decided not to include it in our post.
Instead, we recommend booking something centrally located if you want to explore downtown.
Here are some of the best places to eat in Portland, Maine
As you can imagine, the area has plenty of restaurants to choose from, and we could not miss some of the best seafood in town.
Eventide Oyster Co – This place is a must if you are after fresh seafood and oysters. We went for dinner here the first evening, and the place was packed. Expect to wait 20-40 minutes for a table if you haven't booked in advance.
Fore Street Restaurant – Your farm to table experience. The food is delicious and a must-visit when in Portland. Keep in mind to book your table well in advance.
Central Provisions – This restaurant specialises in small plates, craft cocktails and craft beer and wine. We had to give it a try, and the place did not disappoint
Blyth & Burrows – Our favourite place to relax after a day of sightseeing. Serving great cocktails and delicious food. The cheeseboard is a must-try!
The Portland Hunt & Alpine Club – This place was recommended to us by one of the locals. Although we went there only for a cocktail, the food looked fantastic.
The Holy Donut – You can't say you've been to Portland without trying the doughnut! They melt in your mouth. Our favourite? Must be the Maine blueberry.
Things to do in Portland Maine
There is a countless amount of places to see here.
Our main goal was to explore some of the areas famous lighthouses and of course, try a few lobster rolls.
We achieved the second goal more often than the first one due to the weather. In fact, some days Steve suggested that maybe he would turn into a lobster soon haha.
When we have first researched the area, we were surprised by the amount of grey looking photos, now we see why.
We had non stop rain for two days straight! But as it is on the Atlantic coast their tend to be more overcast days than clear days.
Hopefully, on your Boston road trip, you will be luckier than us! Let us know in the comments if you were.
The first day, after we woke up in our Airbnb, we were forced to change our plans and stay indoors, the next day before we left for Camden, we managed to see one of the most famous lighthouses, the Portland Head Lighthouse.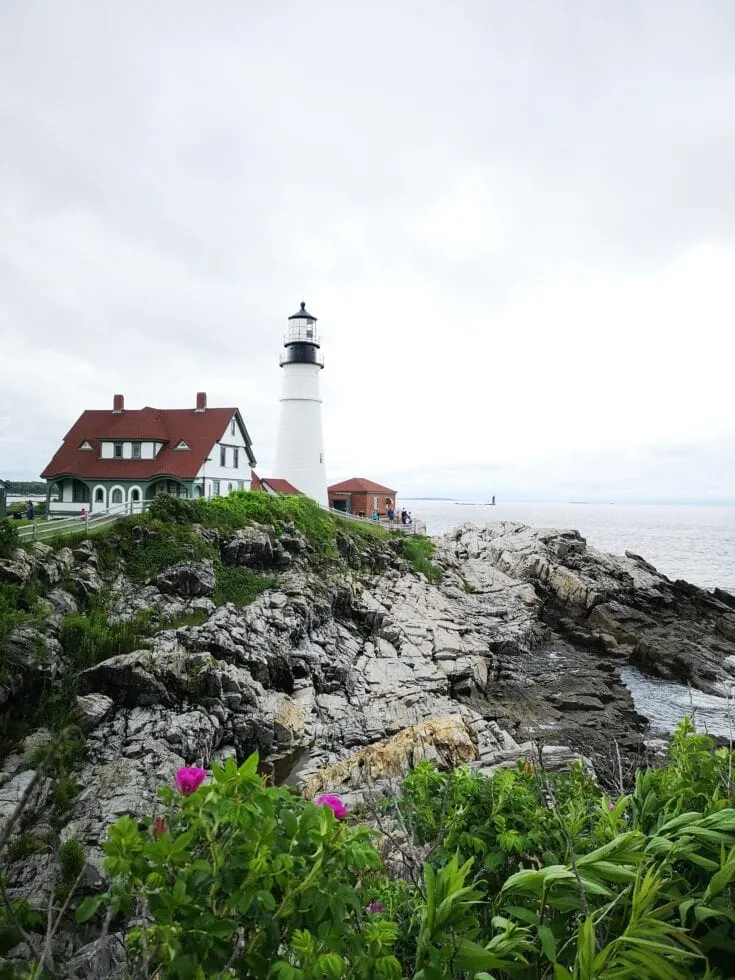 The Fort William Park, where the lighthouse stands, offers several walking trails with views over the rugged coastline.
Portland restaurants famous for its lobster rolls always compete over who's lobster roll is the best.
We got to try several of them and found two best lobster rolls in Portland:
The Lobster Shack At Two Lights – super fresh and soft lobster
Bite Into Maine – this place has two locations, one by the Portland Head Lighthouse and the second one in Scarborough. We tried both and seriously the wasabi lobster roll is hands down the best lobster roll we ever had.
Here are a few must-visit places in Portland we planned to see, but due to the weather, the plans have changed.
Eastern Promenade and the East End Beach
Bug Light Park
Go on a cruise and catch some lobster with Lucky Catch Cruise
Visit the Two Lights State Park
Relax at Crescent Beach State Park
Take a brewery tour
Explore nearby islands
Portland to Camden road trip – 2 nights in Lincolnville
After Portland, we headed straight to Camden on route 1 for our two-night stay at Victorian By The Sea Bed & Breakfast.
We stopped quite a lot on the way even though it was only just under two-hour drive, and it took us over 3 hours to get to our accommodation.
If you get hungry, make sure to add a stop at the Red's Eats and grab their famous lobster roll.
This route will take you through many charming towns and countless opportunities to wander off and explore the surroundings.
Just on the way to Camden, you will find Portland with a famous fine dining Italian restaurant, the Promo Restaurant.
Camden and nearby towns offer a variety of dining options.
Some of the restaurants near Camden and Belfast we enjoyed :
Waterfront
Whale's Tooth Pub & Restaurant
Young's Lobster Pound
There is a countless amount of restaurant options here, so choose wisely as many places may not deliver the quality you are looking for.
Things to do in Camden Maine area:
Cellardoor Winery– If you are a wine enthusiast like we, you can't miss the Cellardoor Winery in Lincolnville.
The winery offers fantastic views over the region, while you get to taste some quality regional wine.
It's hard to believe that grapes can survive Maine's climate.
Aurora was our favourite wine we got to taste here.
The Cellardoor Winery is a perfect place for an afternoon picnic with friends and family or a romantic day away for two.
Back and Forth ferry – The Back and Forth is a traditional wooden lobster boat offering a short and delightful trip around the bay.
You get to see Belfast from the water and learn more about the history of the area as well as lobster fishing.
Camden Hills State Park – The park offers some of the best views of the area, and you can purchase a daily pass to the park at USD 6 per person.
Although most viewpoints are easy to get to via car, you can also choose to hike.
We decided to hike to Mt. Bettie early morning and got rewarded with stunning views of Camden and nearby islands.
Rockport and Rockport Harbour – Here you can easily spend a few hours exploring the area.
It is a perfect place to stay active and explore the area by foot or bike. The Beauchamp Point offers panoramic views of the area.
St. George Peninsula – If you have more time, head to St. George and explore museums, taste Maine wine at the Breakwater Vineyards or hop on a cruise in a search for puffins.
Camden to Acadia National Park road trip – 2 nights at The Birches Acadian Bed & Breakfast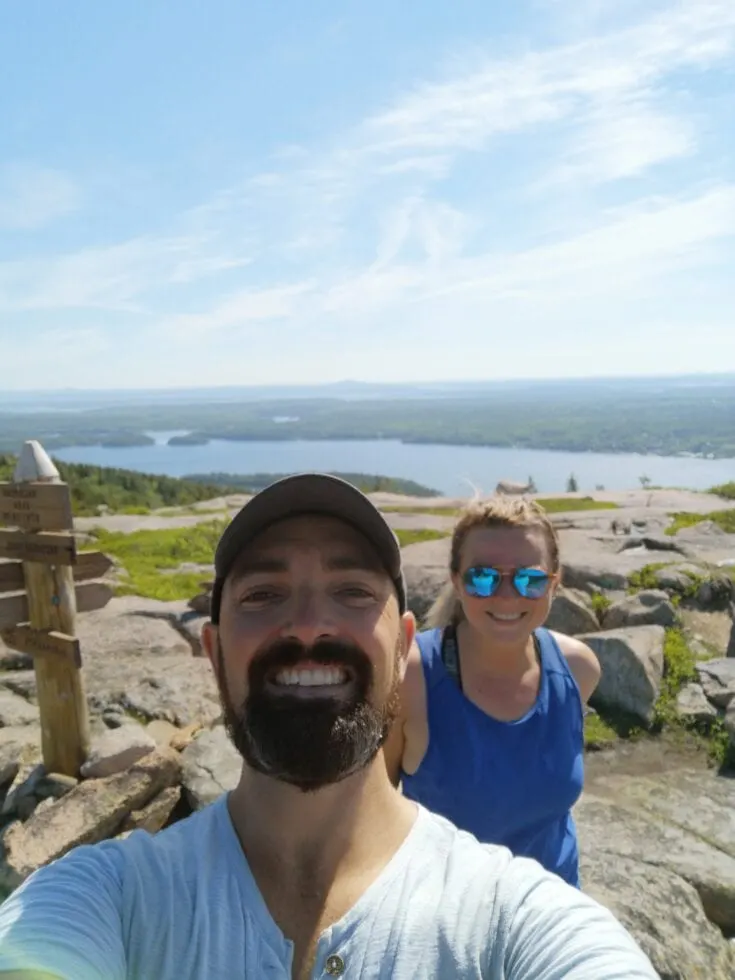 From Camden, we continued on Route 1 to Southwest Harbour where we've booked our accommodation.
It takes about 1 hour 30 min to reach the National Park, and you immediately notice how the landscape changes and how much greener it gets.
The closer you get to Acadia National Park, the more you feel like you are emerging in nature.
We got the best three days weatherwise and managed to do a lot of hiking, even in such a short time.
The good news about the park is that the peaks are not as high, and you can easily do 2 to 3 hikes in one day.
The first day we recommend exploring the area by car and doing small hikes to get to know the place.
Everything is within a short drive. Therefore, you can easily get to some fantastic viewpoints within minutes.
On day one in Acadia National Park, we did the following:
Wonderland trail – nice easy walk with a rewarding view at the end of the trail.
Bass Harbor Lighthouse – effortless walk down the steps; you will have to go over the rocks to get a good view of the lighthouse. Lovely place to chill for a while and enjoy the views.
Ship Harbor Trail – another very easy trail that offers some fantastic views along the way.
Bar Harbor – This town has everything, from an endless amount of bars, restaurants, shops and more. It is a great place to walk around but might be too busy if you are looking for a relaxing and quiet break.
Day two – best things to do in Acadia National Park:
The second day we did two different hikes, with a lunch break at Beal's Lobster Pier.
The first hike to the Mansell Mnt. took us about two hours up and down.
It does get a bit tricky in one or two parts going down, but overall, it was a fantastic hike with fantastic views.
The best part was that there were not too many people, so we got to enjoy nature.
The second hike we started at the Brown Mount Gatehouse carpark.
We took the carriage road passing the stone bridges and headed up to Bald Peak.
The second you get to the top, 360-degree views reward you. We couldn't get enough how the coast does not end.
Day three – best things to do in Acadia National Park :
Before we headed on the road back to Boston, we went up to the Cadillac Mountain.
At 466 meters, the mountain is the highest peak in the park and can be easily accessible via car.
We strongly recommend getting here very early at sunrise or late at sunset to enjoy nature at its best.
It gets jam-packed up here, and you can be stuck waiting for a car space for a long time during the season months, therefore plan ahead of time.
Best places to eat in Acadia National Park: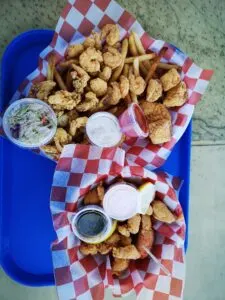 Our personal best three places we went to are the following.
Seafood Ketch – a quality restaurant with a great view, serving delicious seafood. Best lobster we ever had!
Beal's Lobster Pier – The food is prepared fresh on the spot.
Charlotte's Legendary Lobster Pound – Fantastic lobster rolls.
Final notes on our Boston road trip to Acadia National Park
No matter how many days you have, Acadia National Park is a must-visit.
Although our eight days felt a bit short, and we would love to add a week to our itinerary, we are thrilled to explore this part of the world.
Sure we only scratched the surface as there is so much more to see, but that is not the point, the most important thing is to enjoy every second of your trip.
We strongly recommend planning your days ahead of time to get the most out of your trip.
Please comment below with any questions or tips you might have for Boston road trip.
If you enjoyed this post be sure to check out some of our other road trips here.
Thanks for stopping by,
Sabina and Steve