Before we arrived in Vancouver, we had loads of questions starting from how to apply for IEC Canada visa, what to bring, where to stay or how to find a job.
Because we all go through the same process, we've decided to make your move simpler and researched for you.
Moving to Canada on IEC soon? Make sure to join our new IEC Canada Visa group here.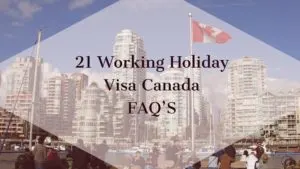 Here are all the questions we had when moving over on IEC Canada visa:
1. I just received my POE what now?
Remember that a POE Letter of Introduction is not a guarantee of entry into Canada. The POE Letter of Introduction is not your work permit.
The POE Letter of Introduction will identify you as eligible to receive a work permit under International Experience Canada when you enter Canada.
You will need to bring this letter with you to Canada and present it to a Canadian Border Service Officer at a port of entry (airport, land border etc).
Your POE Letter of Introduction will have a clearly marked expiry date. You must present your letter at a Canadian port of entry on or before this date to receive your work permit and start IEC Canada visa.
2. Do I need any other documents beside POE when entering on IEC Canada visa?
Yes, here's what you need to activate your IEC Canada visa:
your passport
your Port Of Entry (POE)
proof of funds ($2500)
proof of health/travel insurance (valid for the duration of your intended stay) – we found True Traveller, WorldNomads and Fast Cover(Australian residents) most suitable.
a ticket for your departure from Canada or sufficient funds to purchase such a ticket
copies of the documents you provided in your work permit application
3. I got a new passport after submitting my IEC work permit application. What do I do?
It's all good we've been there.
When you arrive at a Canadian Port of Entry, you must tell the Border Services Officer that your passport has been replaced.
Make sure that your work permit matches the information on your new passport.
We recommend that you bring a photocopy of your previous passport along with your current valid passport with you to Canada.
4. Can I move around and work in different states on IEC Canada visa?
Yes, as long as your work permit says 'open'.
Before living the Border Services Officer ensure that all details on your work permit are in order.
5. Do I need a medical exam for IEC Canada visa?
According to the CIC website, you need a medical exam for the following:
if you want to come to Canada for more than six months and
have lived or travelled for six months in certain countries or territories in the year before you come to Canada.
To find out if you need a medical exam, please visit CIC site here.
You will require a medical exam if you intend to work in an occupation in which the protection of public health is essential.
6. Can I leave and re-enter the country after my WHV is activated?
During our first year in Vancouver, we crossed the border six times. You have to make sure that your travel insurance allows you multiple entries.
Do not forget to always carry with you your work permit as it is THE most important document besides passport of course.
Always make sure that you have all the necessary documents with you as if you were crossing the border for the first time on IEC Canada visa.
7. What if I don't have a return flight from Canada? Will there be a problem?
Many people buy one-way tickets to Canada. In most cases, open return flights are cheaper, but sometimes it is just easier to book the one-way ticket.
The Canadian government wants you to have enough funds to support yourself for the initial three months and have an exit strategy in case things won't work out for you.
As long as you have a proof of $2500 plus enough funds to purchase a return ticket, you are ok.
If you are looking for flights, make sure to check out Skyscanner.
8. What do I show as my proof of sufficient funds at the border?
A statement of your bank account issued no more than one week before your departure for Canada must be provided.
The statement must show that you have an equivalent of CAD$2500 or more.
This is to ensure that you can support yourself for the first three months.
9. I can't get a bank statement before I come to Canada. What do I do?
As per CIC website, participants who can't provide bank statement may show the following as proof of funds:
A letter from your bank on official letterhead paper that is issued no more than one week before your departure for Canada.
The letter has to show your account balance and is signed and preferably stamped.
10. I have connecting flights to Vancouver and first landing in Toronto. Where do I activate my IEC Canada visa?
You will be activating your work permit at the first entry point to Canada.
So for example, if you are flying to Vancouver, but need to change flights in Toronto, you will activate your visa in Toronto.
11. Can I get my SIN number at the border?
In most of the cases, you don't. In Toronto, there is a Service Canada desk where you can get your SIN number.
Other airports don't have the facility so you will have to make your way to Service Canada office near you.
There is a lot you can do on day 1 in Canada and here is all the necessary info.
12. Can I purchase a 4-6 months insurance first and extend it later to cover me for the duration of my stay on IEC Canada visa?
The border officer might ask you for proof of your travel insurance.
Your travel insurance has to cover the following:
Medical care
Hospitalisation
Repatriation
Your insurance has to be valid for the entire duration of your stay in Canada.
If your insurance does not cover you for the length of your POE, you will be issued a work permit valid until your insurance expiry date.
If you don't have insurance and you are asked for it. Chances are you are not getting into Canada.
We use True Traveller and World Nomads everywhere we go and moving to Canada was no different. Their service is excellent, and you are covered even for winter sports!
If you are coming from Australia or are an Australian resident we highly recommend Fast Cover! We have only heard positive things.
13. What if I'm entering Canada by land?
If you are coming to Canada by land, exact the same rules will apply to you as you would be entering by air.
There is no advantage or disadvantage of activating your IEC Canada visa at any particular border.
14. My IEC application was approved, but I don't want to work yet. Can I enter Canada as a visitor for now?
Yes, you can, as long as you will not be working.
When you are ready to work and activate your permit, you will need to go to the border and exit and re-enter Canada.
Make sure to have all documents mentioned in point 2 with you to avoid any problems.
15. Can I flagpole to activate my visa since I'm already in Canada on a tourist visa?
You can leave Canada and cross the border to activate your work permit.
We left Vancouver for Seattle for the weekend and activated IEC Canada visa entering the country.
You need all the documents mentioned in point 2 to get your permit.
16. What to do if I get a six months work permit instead of the duration I'm eligible for?
We were always told to double-check all the information on a work permit before leaving the airport desk.
If for some reason you notice something wrong, go straight away back to the airport.
Take all your documents with you as well as printouts of the following:
17. Do I need ETA to enter Canada?
ETA would generally appear on your POE letter. ETA is automatically linked to your passport.
If you renew your passport after your POE was approved, you need a new ETA.
18. Am I entitled to one or two-year IEC Canada visa?
Each country has different agreements when it comes to the IEC programme.
19. Will they ask me where I will stay in Canada?
You will be asked for the address where you will stay in Canada.
Whether it is Airbnb, hotel, hostel, make sure to have the address available to you as you might be asked for it.
We stayed in an Airbnb for the first month in Vancouver and found it the best way to acclimatise in a new place.
If you are new to Airbnb, here is a $76 discount from us 🙂 Just follow this link.
20. What bank is the best for newcomers?
There are a lot of options out there for IEC Canada visa holders.
After changing banks several times, we found CIBC to be the best for our needs. Tangerine and Scotiabank meant to be very good too so check them out before deciding.
To open a bank account, you will need a Canadian address, passport and work permit. Some banks will also require SIN number and Canadian ID – which might be tricky since you only got here.
After you set up your account make sure to use CurrencyFair for money transfer.
We use them for three years now, and they have the best exchange rate, and you will avoid bank fees by transferring via Currency Fair.
If you are new to CurrencyFair, get your first five transfers free with this link.
To read more about the best money transfer options read our money transfer guide.
21. I'm in Canada, and my work permit is soon due to expire. How can I stay in Canada?
There are few options available if you wish to stay in the country after the IEC Canada visa.
For more information, please visit CIC website here to see what program you might be eligible for.
Read our 'How to stay in Canada after the International Experience Canada' article for more details.
Before heading over to Canada please double check if the requirements changed on Canadian Government site.
Heading over soon on IEC Canada visa? Be sure to check out our guides here:
Disclaimer: We recommend contacting IRCC directly for assistance. Please take appropriate action to verify anything you're unsure of before relying solely on the information provided here.
The requirements for the IEC Visa may vary between countries, so please check with the official guidelines for your country.
Travelling to Canada on IEC Canda visa soon?
Don't forget travel insurance!
Other useful links:
Airbnb – We love Airbnb and use it everywhere you travel! If you are new to Airbnb follow the link for $76 discount of your first stay.
Booking.com – Perfect alternative to Airbnb when you need a short place to stay.
Hostelworld – If you need a cheap place to stay where you can meet other travellers, Hostelworld is the best.
Scotiabank unsecured credit card – You will need a credit card in Canada! Scotiabank have a great one specifically for travel.
CurrencyFair – Our favourite money transfer company. They are 8x cheaper than banks. Follow the link for 5 free transfers with CurrencyFair.
OFX – Another great money transfer company for larger transfers. We use them for large lump sums. Follow the link for free transfers for life over 1k.
WorldNomads, Fast Cover(Australian residents) and TrueTraveller – The best travel insurance companies on the market! We personally used them both and can highly recommend them.
Taxback.com – Every time we have to do our taxes or claim Superannuation we use these guys.
Sendmybag – Best company to ship your excess luggage to and from Australia. Follow our link for 5% discount of your shipment.
Please feel free to comment and share. We appreciate all the advice and opinions.