working holiday visas
(Australia vs Canada) and learned a great deal from both experiences. If anyone is considering
moving to Australia
or
moving to Canada
we would say see them both! Australia vs Canada working holiday visa is very different and several rules apply when submitting your documentation and applying for whv.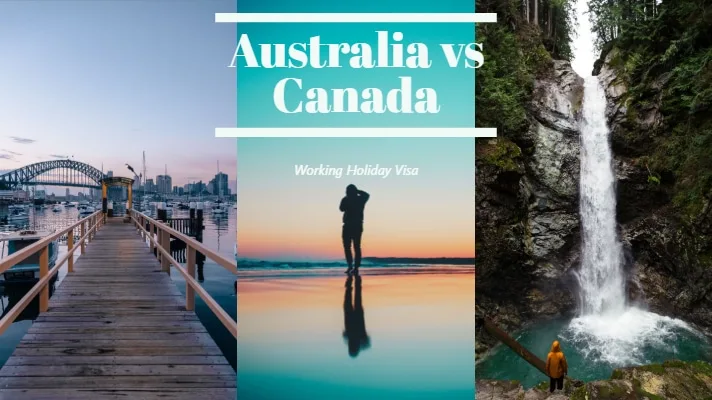 We have also created Moving to Canada and Moving to Australia e-book!
Here are the main differences between Australia vs Canada working holiday visa
Australia vs Canada working holiday visa application process
Australia and Canada both have working holiday visa programs allowing you to work for 1-2 years in the country. To apply for an Australian working holiday visa you usually need to provide several
documents
for the application. Some documents could take some time to obtain (like police checks), therefore you should have all of them ready when lodging the application. In our case, the application process was very easy and it took 48 hrs to get our visas approved. You can apply for Australia working holiday visa online.
You will have to provide all requested documents and pay the visa application fee by credit card when applying. You should provide an email address so they can communicate with you about your application. To obtain a second-year visa in Australia you have to complete 88 days or 3 months of regional work within your initial year.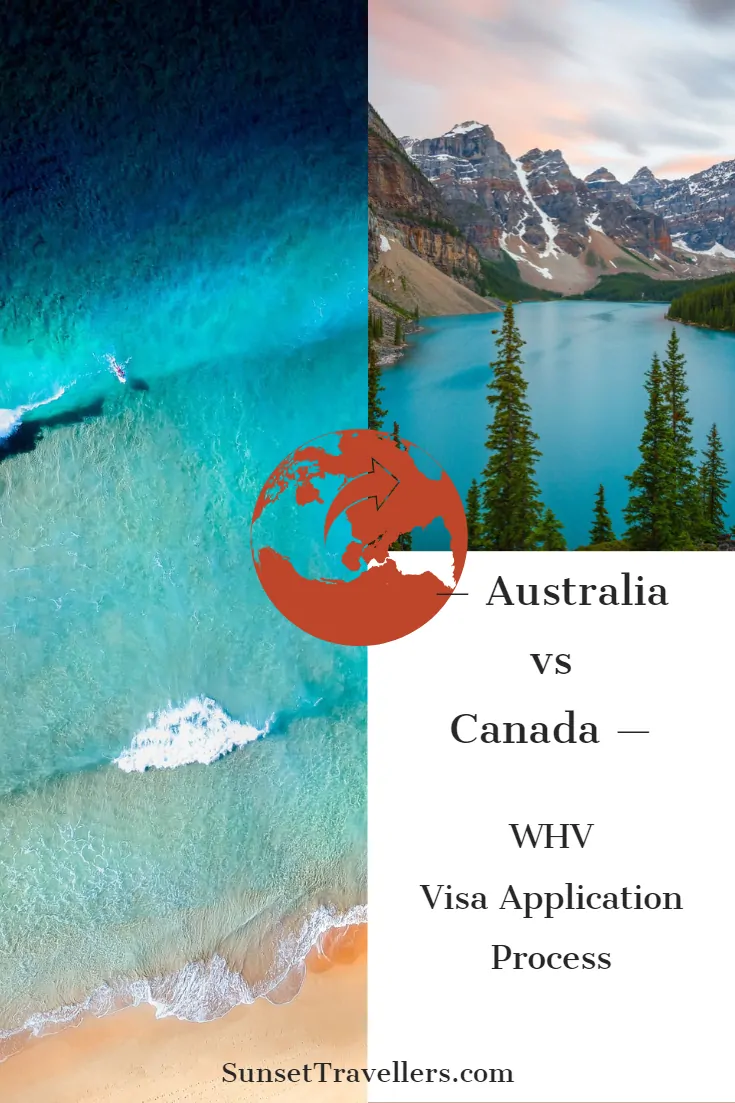 Canada working holiday visa applicants must complete the 'Come To Canada' questionnaire to first check eligibility.
Eligible candidates then create a profile (with identity details, citizenship, current residence etc.) which is put in a pool for the International Experience Canada category. CIC will regularly invite random candidates from each pool to participate in the program throughout the next year (unless the quota runs out faster). An invite may take a week or even several months to arrive, or in the case of countries with more demand than places (such as the UK) not at all. Once you receive your invite, you will have ten days to accept or decline the invitation. After the invite is accepted, you will have to submit completed forms and documents such as police certificates, resume, family details etc.
Australia vs Canada working holiday visa restrictions
Australia working holiday visa age requirement: at least 18 but not yet 31 years of age
Period of stay: 12 months with the option of extending for an additional 12 months.
Application fee: subclass 417 and 462 are currently at $450
Processing time: 48 hrs up to 35 days ( depending on the country you are from).
Time to enter Australia: you have 12 months to enter Australia. Your visa will start on the date you arrive in the country and will be valid for one year from then on. Australia travel restrictions: leave and re-enter Australia any number of times while the visa is valid. Additional Australia working holiday visa requirements: First Working Holiday visa: you must be outside Australia when you apply for your first Working Holiday visa and when the visa is decided. Second Working Holiday visa: if you apply in Australia, you must be in Australia when the visa is granted. If you apply outside of Australia, you must be outside Australia when the visa is granted. Additional requirements include:
Work only for up to six months with one employer.
Have enough money to support yourself on a working holiday (AUD 5000 is required as proof of funds).
You must have enough money to buy a return or onward travel ticket at the end of your stay
You will not be accompanied by dependent children at any time during your stay.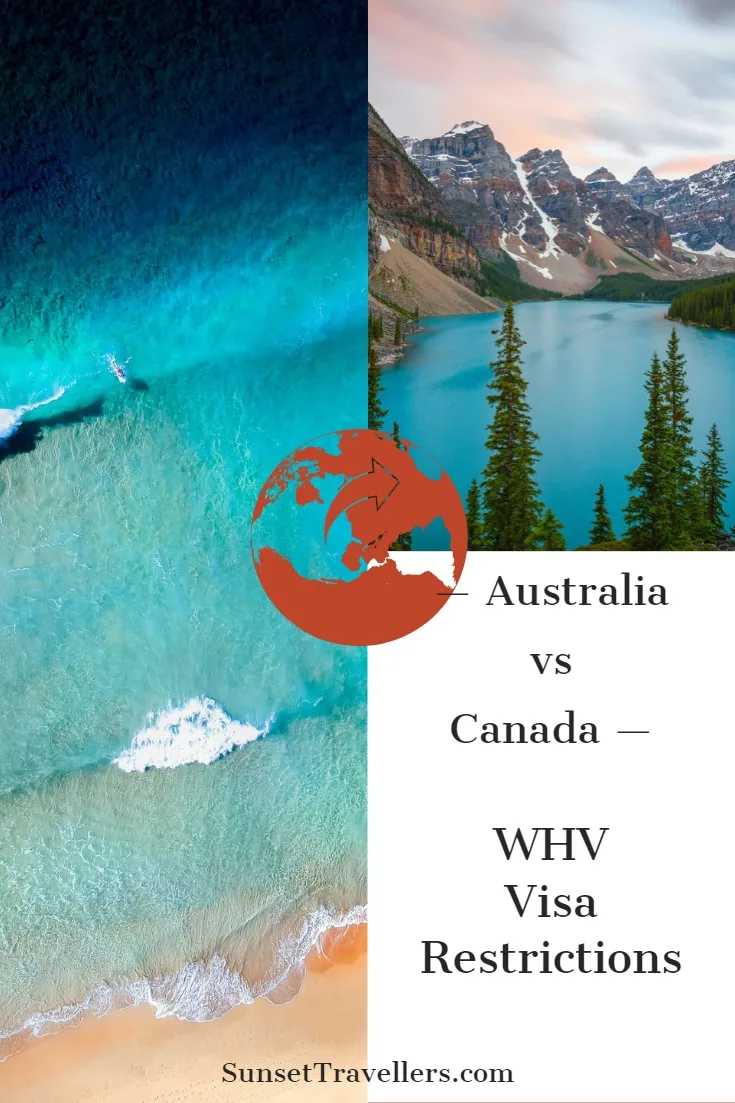 Canada has several similar working holiday visa requirements.
Canada age requirement: at least 18 and no older than 30-35 years of age (depending on the country you are from). Period of stay allowed on IEC visa Canada: 12- 24 months depending on the passport you hold. Canada whv Application fee: equivalent to CA$150 Processing time: up to 8 weeks – might be longer depending on the volume of applicants. Time to enter Canada: you have 12 months to enter Canada and your work permit will start only on the date you arrive in the country and will be valid for 1 year or 24 months (depending on the country). Canada IEC visa travel restrictions: you can leave and re-enter Canada any number of times while the visa is valid. The work permit, however, does not entitle you to freely enter the country and you might be asked to show all documentation like you are entering for the first time. Additional Canada working holiday visa requirements:
You must have enough money to support yourself on a working holiday visa (CA$2500).
Hold or have enough money to buy a return or onward travel ticket.
Have an appropriate travel insurance for Canada (we recommend TrueTraveller or WorldNomads) covering the entire duration of your stay. If you are moving from Australia, then Fast Cover insurance has the best coverage for IEC Canada. Whether you are planning to hit the slopes or just want to explore the country, Fast Cover can cover you for the two years required by the IEC.
You also must have clean police reports from countries you lived in for 6+ months from the age of 18.
Australia vs Canada working holiday visa wages
Wages vary significantly between Canada and Australia. Australia national minimum wage is AUD 17.29 per hour or $656.90 per week, but pay can vary depending on the type of work.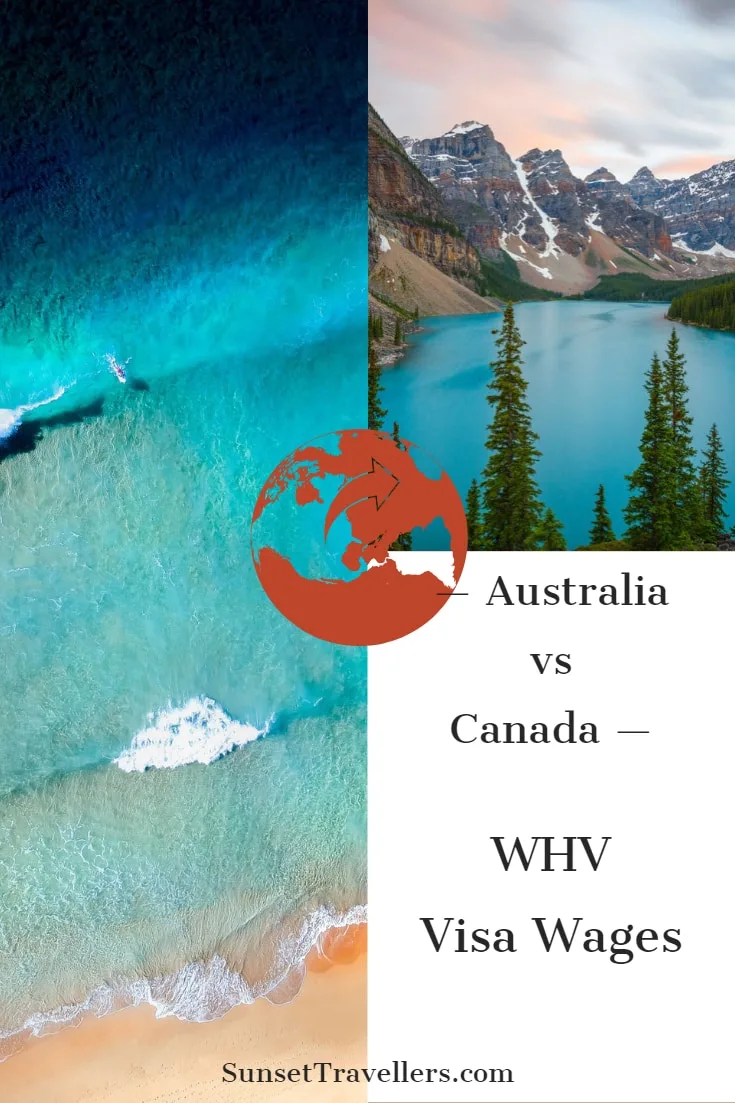 Canada minimum wage rates are between CAD 10.30 per hour to $12.50 an hour. Expect to get paid the minimum wage for a bartender job in Canada however you will receive a generous tip of minimum 10%. Tipping in Australia is less common as the minimum wage is so high. It is much easier to gain employment in Canada vs Australia as you don't have time restrictions and you can stay with one employer throughout your whv in Canada.
Australia vs Canada extending your stay after working holiday visa
Australia allows you to take several different pathways to extend your stay in Australia. The most common way to stay in Australia after the working holiday visa usually requires getting a visa via employer sponsorship or applying for skilled migration visa. Recent legislation means that for the majority of applicants getting sponsored is the only viable option. Once you are on a sponsored visa (457) for two years or more you can apply to be a permanent resident.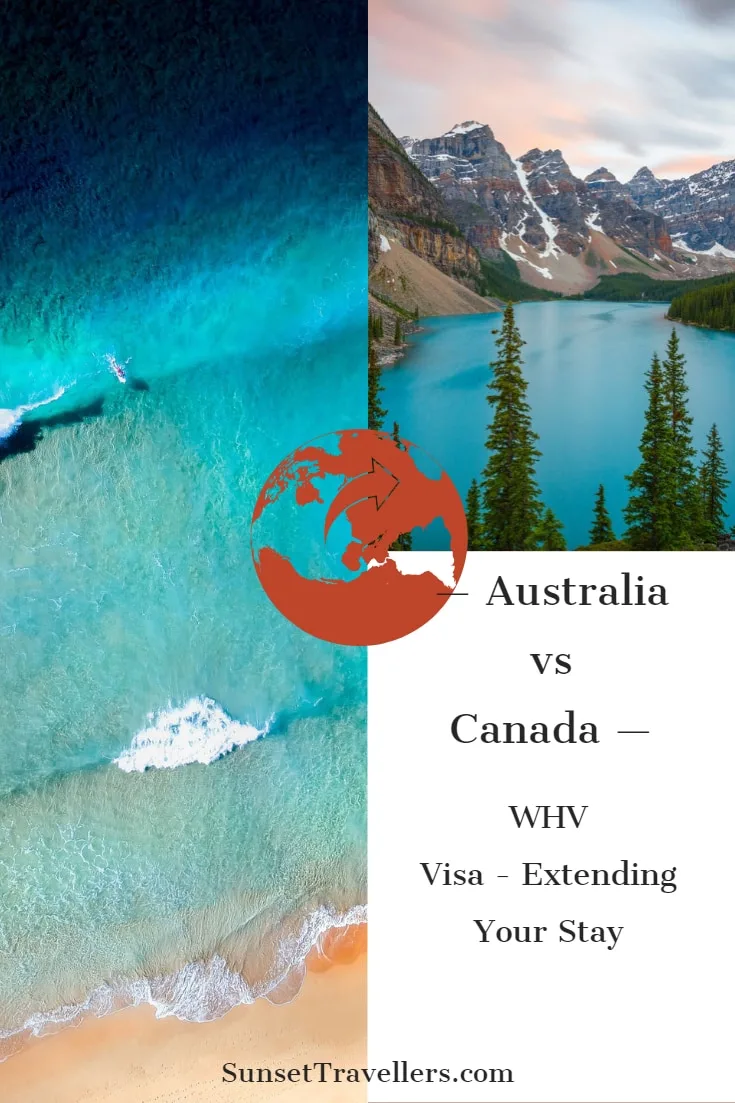 If you wish to stay in Canada after your working holiday is over, there are options to apply for a visitor visa, student visa or permanent residence depending on your occupation, education family ties, time spent in Canada, work experience, and many other factors.
In general, Canada has a less complicated and less strict immigration system and it is considerably cheaper than the Australian government fees. For a complete rundown of options, categories and fees for immigration, You can find more information on the official government websites:
Australia: https://www.immi.gov.au
Canada: https://www.cic.gc.ca
Australia vs Canada working holiday visa bank accounts
In Australia, you will need the following documents to open a bank account:
Your passport
A phone number (you can change it later)
Tax File Number (you can add it at a later stage)
Address in Australia (it can be a temporary hostel, hotel Airbnb address)
You will need 100 points to create your account. For example: passport = 70 points, international drivers licence with picture = 40 points. When you will be creating your bank account you will receive a password to access your online statements. Keep in mind that opening an account more than 6 weeks after arriving in Australia is more complicated and you will be asked for additional documents. When choosing the
best bank in Australia
make sure that you consider some of the following :
The bank coverage is Australia wide, so you have no problems with for example ATM withdrawals
The fees
The interest rates for credit and saving accounts
The existence of a superannuation account
Westpac, NAB, Commonwealth and ANZ, are
the best banks in Australia
most whv makers choose. Before you make a decision consider which bank will offer you the best deal.
Make sure to send your money the best and cheapest way to Australia
.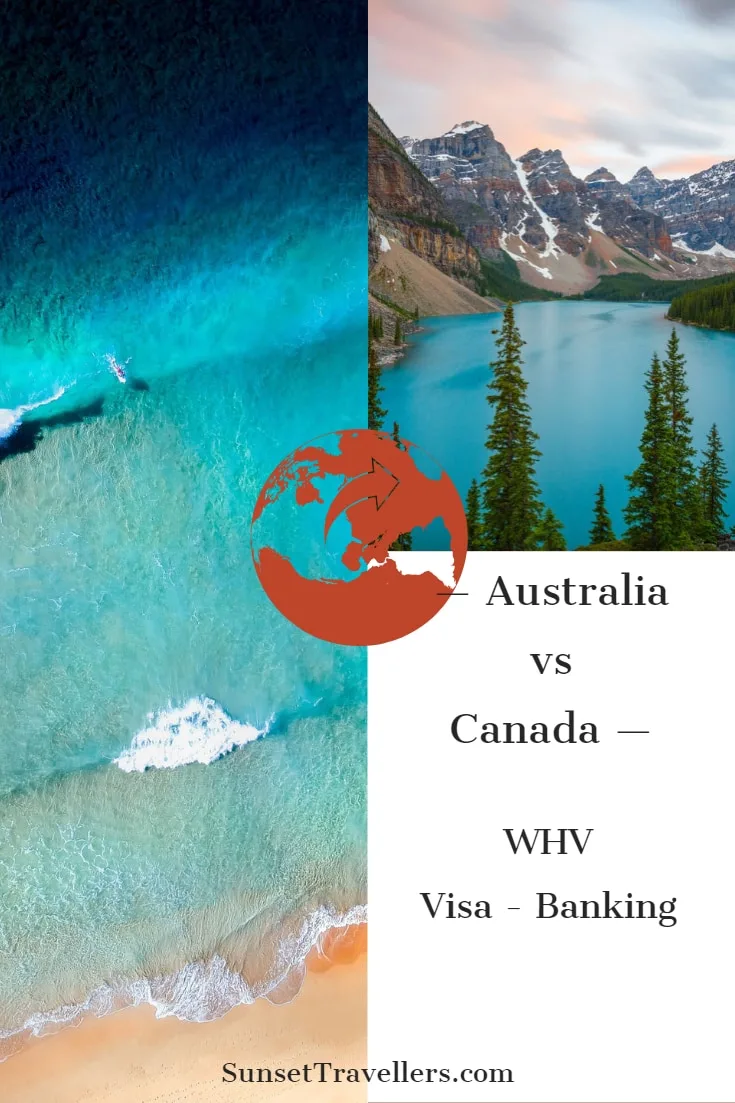 Canada banking varies.
If you are a non-Canadian citizen, a bank representative will ask you for the following:
A valid passport
Immigration documents such as:

work permit or
permanent residency card

Some banks will also require a current address in Canada and Canadian phone number.
CIBC, Scotiabank and TD are the three major banks most whv holders go with. CIBC, for example, offers special discounts for newcomers. The '
Welcome to Canada
' banking package offers no monthly fees account for the first year.
Read our recent post to choose the best bank in Canada here.
Find out here the best way to send money to Canada.
Australia vs Canada taxes
You can apply online for a Tax File Number after arriving in Australia. Simply go to
the ATO website
and complete
online
application form (it's free). All you need is your valid passport, and the ATO will verify your details with the Department of Immigration and Border Protection (DIBP) records. After you apply, your TFN will arrive within 28 days to the Australian address you have provided. You can start a job while waiting for your Tax File Number to arrive. On a working holiday visa, the tax rate is different for Australian residents. The current tax rate is at 15% until you earn $37 000. Australian resident taxpayers get the first $18 200 tax-free and then they pay 19% until the $37 000.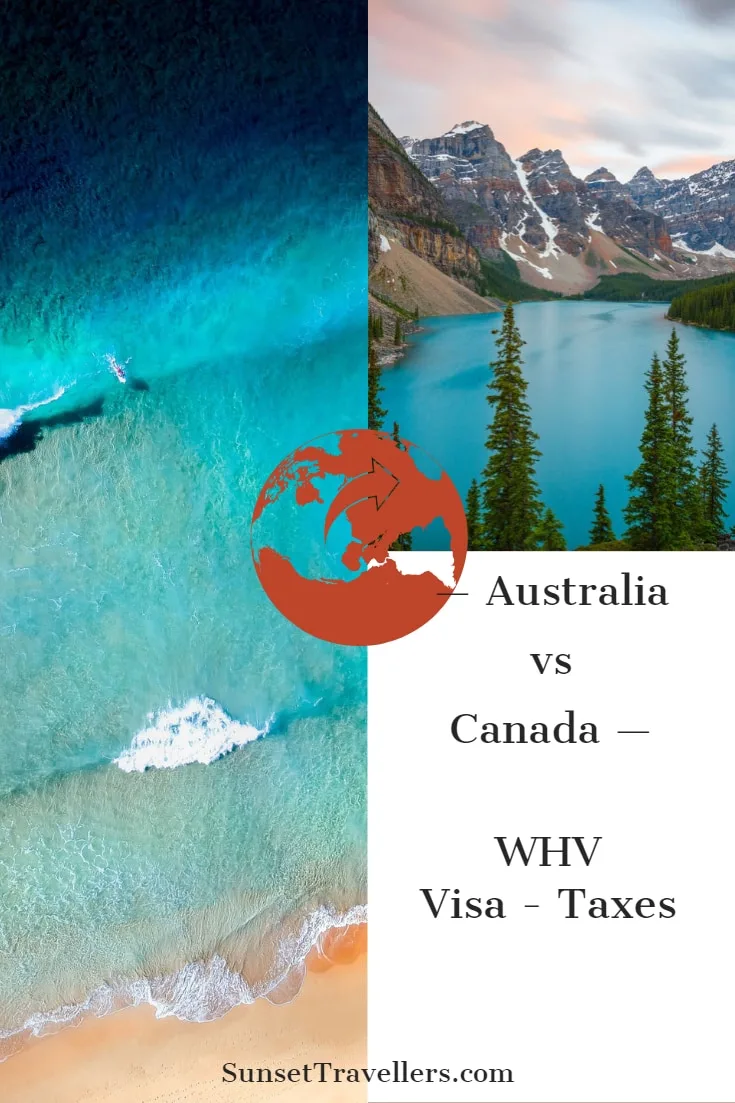 SIN or Social Insurance Number applies to Canada. It's a nine-digit number that you need to work in Canada or to have access to government programs and benefits.
To apply for it, you need your passport along with work permit. Your SIN number is valid for the length of your permit (you can, however, extend it if your circumstances change). To obtain it go to
Service Canada Office
. You can see where the nearest one is
here
. It only takes about 30 minutes to get it (depending on the queue). The tax year in Canada runs from 1st of the year to the 31st of December. From there, your employer will shortly give you your T-4 form with all your income/tax info. You must submit your tax return by April 30, and there are few options to do so. 1st option(and cheapest) is to do your tax return yourself. It is a pretty simple process, and you can find all necessary info via the
Canada Revenue Agency
site. 2nd option is TurboTax, H&R Block or
Taxback.com
. Again you fill and submit the forms yourself. This option might involve a fee depending on what your claim requires. The 3rd option is to go through a local registered tax consultant. Again you will need to pay a fee for this service. If your return is simple and involves 1-2 employers you worked for throughout the year, it might be pointless. Keep in mind that if you are submitting your claim for the first time, you will have to print the forms and mail them out.
Australia vs Canada cost of living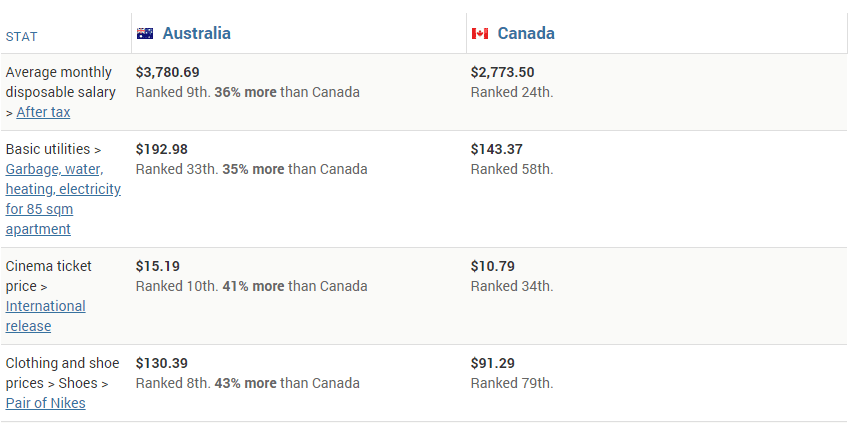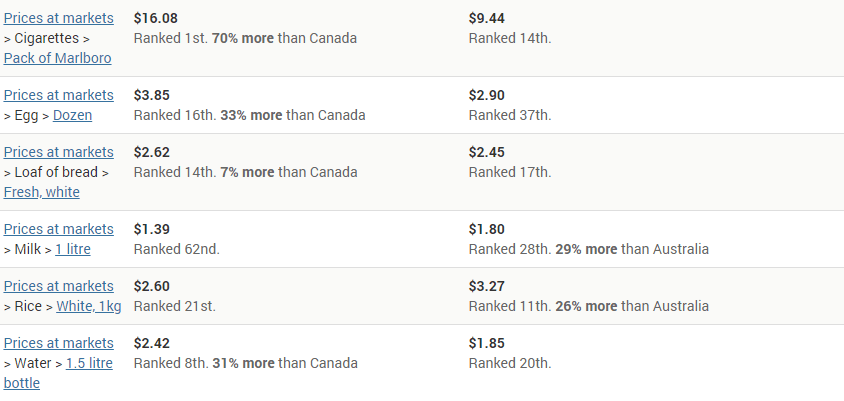 Australia vs Canada phone calls and sim cards
It might be something you won't think of first, but once you land in Australia or Canada, you will quickly learn that you need your phone and data. Make sure to unlock your phone before getting on the plane as it will make your transition just a bit easier. In Australia, the most popular phone providers include Optus, Vodafone and Telstra.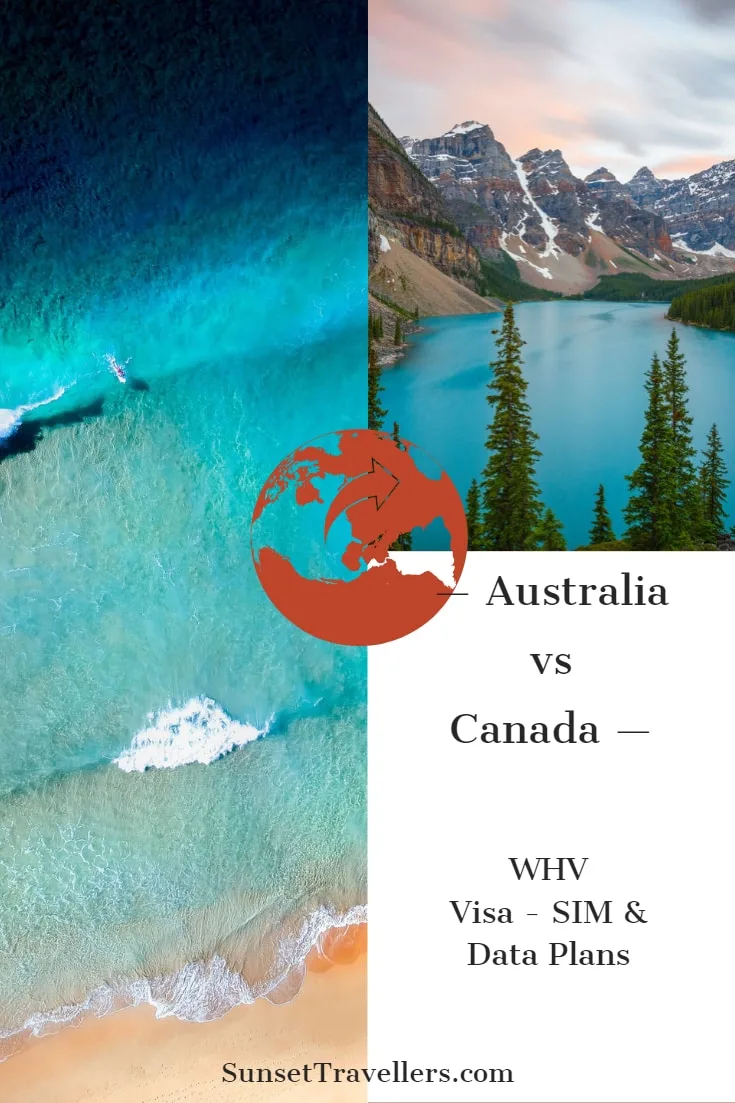 In Canada, the important thing to note for all providers is that you pay less if you come with your phone instead of getting a new one in the store.
All new phones are locked (unless you buy one in Apple or Samsung store).
Bell
does have excellent phone coverage, and if you are planning on moving a lot, it's a great way of keeping same phone number instead of switching every time you move (different cities have different codes). They do different plans, but the basic package starts with $45 but with very little data. With
Fido
for $45, you get one gig of data (usually 500 megs but when we were there they had a special deal on) 500 minutes and unlimited messages and international text messages. Wind Mobile (now called Freedom Mobile) does the most of the data plans, and for $40 you also get unlimited Canada calls and Worldwide texts as well as 3-5 gig data. If you found this post helpful, please Pin any of the images for later. Thanks for reading!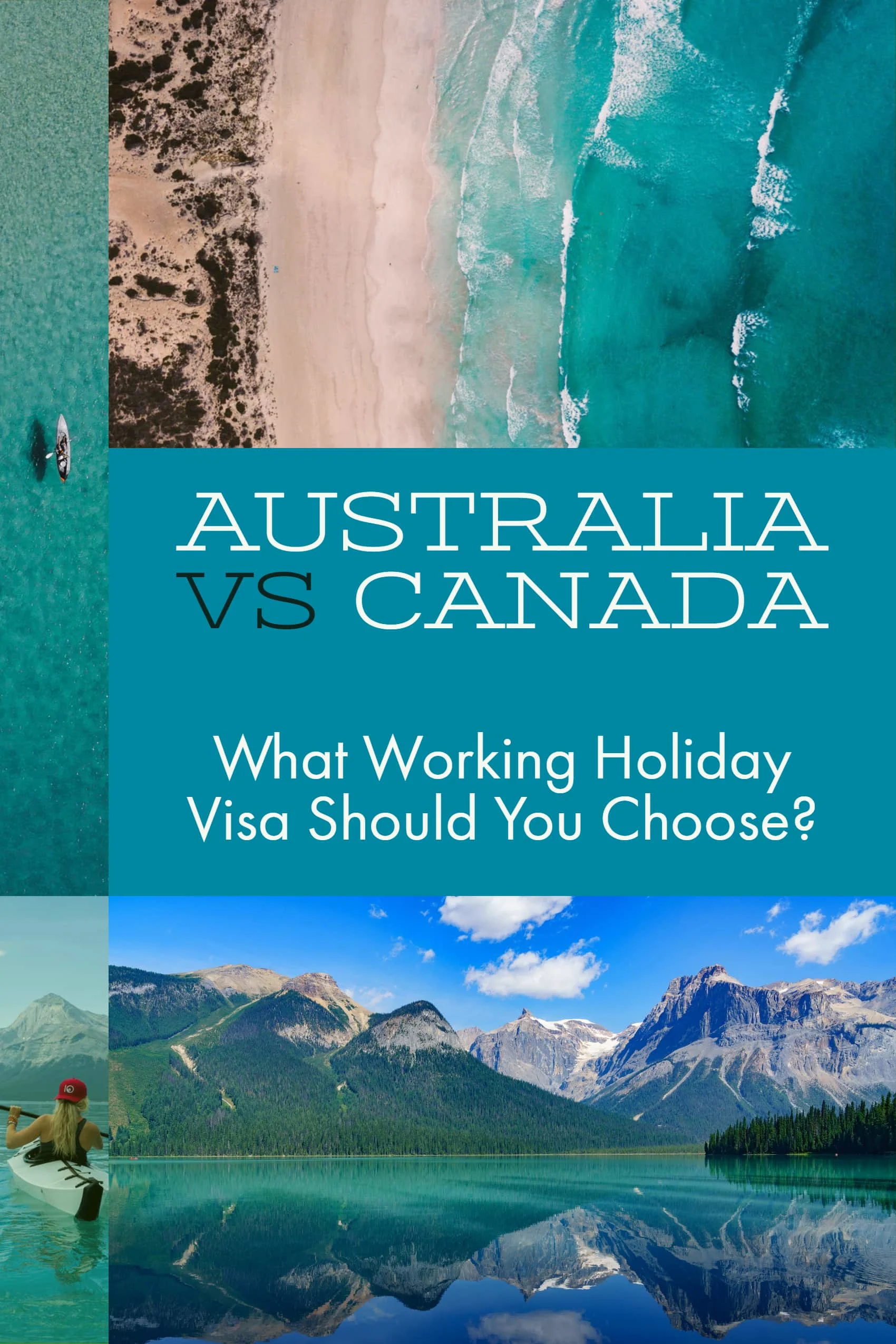 We completed two